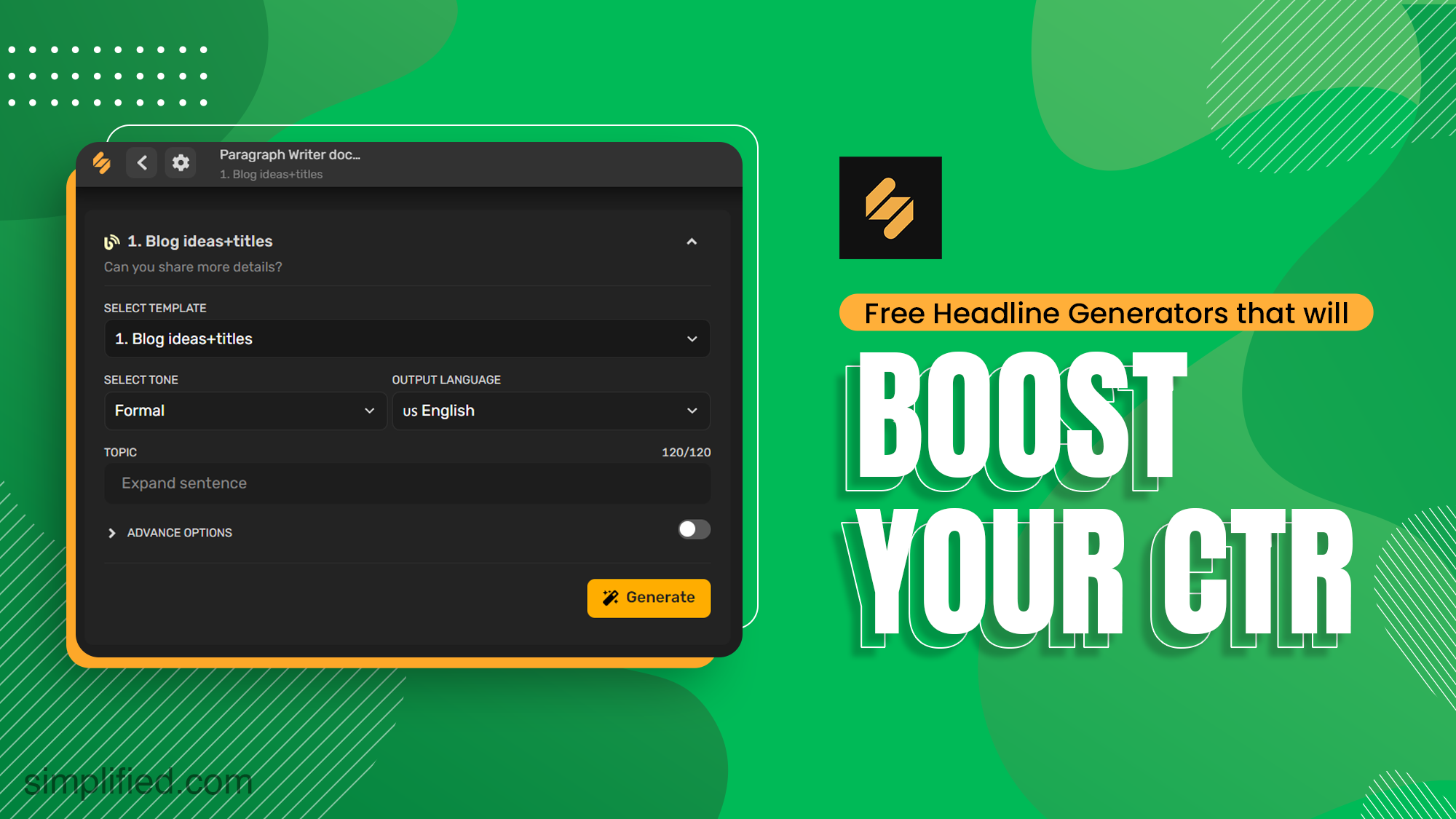 Using a headline generator can help you create headlines that are both effective and eye-catching. Since headlines are one of the most important elements of your content, a good one can make a difference in capturing your audience's attention.
If you're looking for a free headline generator that will help you create attention-grabbing headlines for your blog posts, articles, or product pages, then you've come to the right place. In this article, we'll share with you 10 free headline generators that will boost your CTR.
So if you're ready to learn how to write headlines that pack a punch, keep reading!
Why do you need a free headline generator?
The headlines are important for getting boosting engagement and clicks on your blog and social media posts. Headline generators can help you generate catchy blog titles that are SEO optimized to help you rank on SERPs (Search Engine Results Page). You'll also want to generate different headlines for different social media platforms as the audiences vary on each. Using a headline generator will help you find the best one for increasing traffic and click-through rate (CTR).
Related: 7 Tips On Creating Awesome Google Ads Headlines
10 Free Headline Generators
There are a number of different AI headline generators available online, and they can all help you create better headlines for your content. Here are some of the best out to help you create headlines better and faster.
1. Simplified AI Copywriting Generator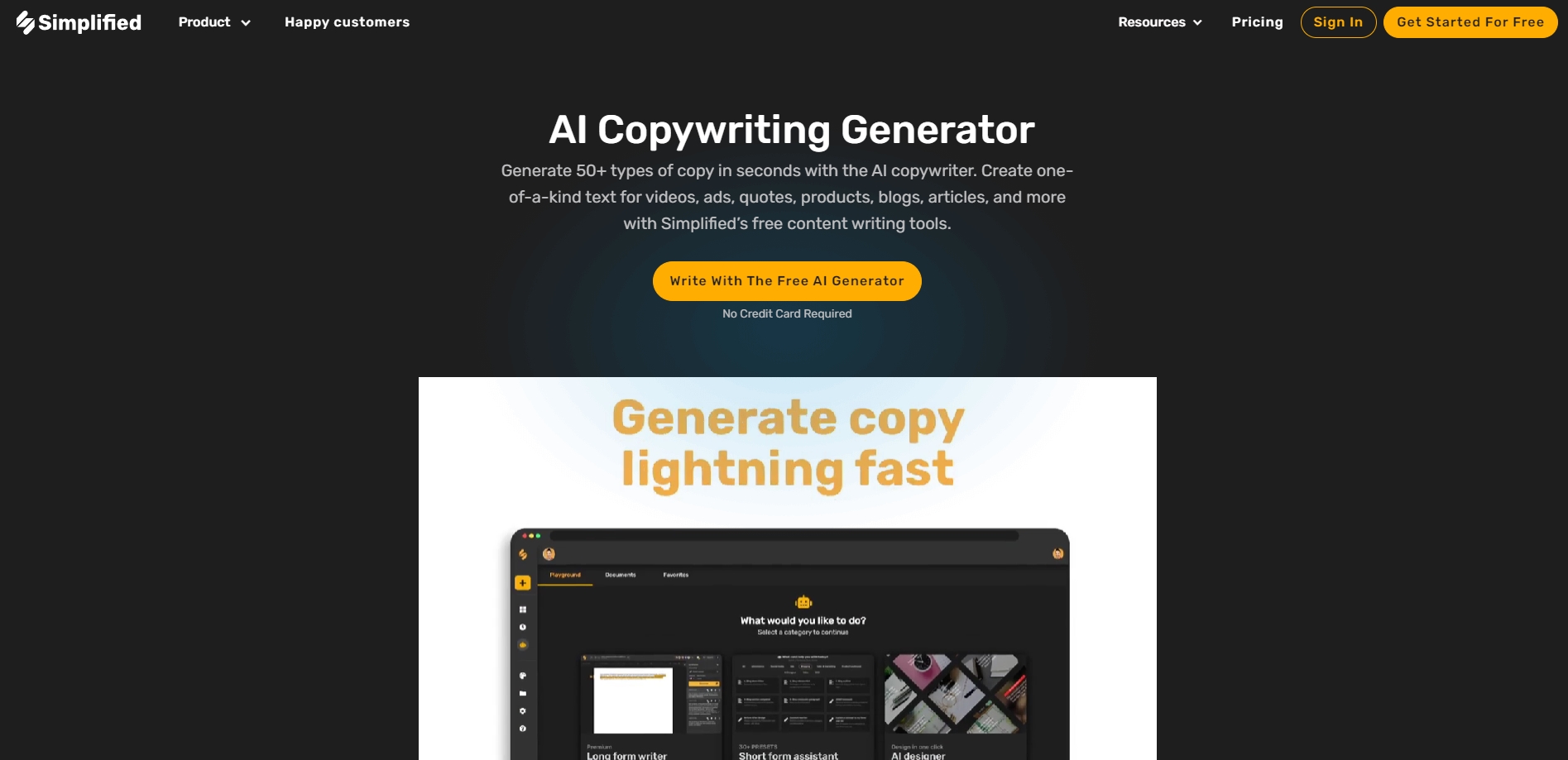 Simplified is an all-around marketing platform designed to make your processes as simple and efficient as possible. Among other amazing features, it has an AI text generator that can help you create different types of short-form content, such as headlines and titles. You can also create text for videos, ads, quotes, products, blogs, articles, and more with Simplified's free content writing tools.
Special Features:
Grammarly Integration
User-friendly interface and easy to navigate
Cool features such as a spell checker, plagiarism checker, thesaurus, and a built-in dictionary
Amazing tools such as long-form writer, article rewriter, sentence expander, AI paragraph generator, document editor
Choice of templates, tone of voice, and creativity level
Team collaboration with editors and writers
Always up-to-date with the latest writing trends and technologies
2. Blog Ideas Generator by Hubspot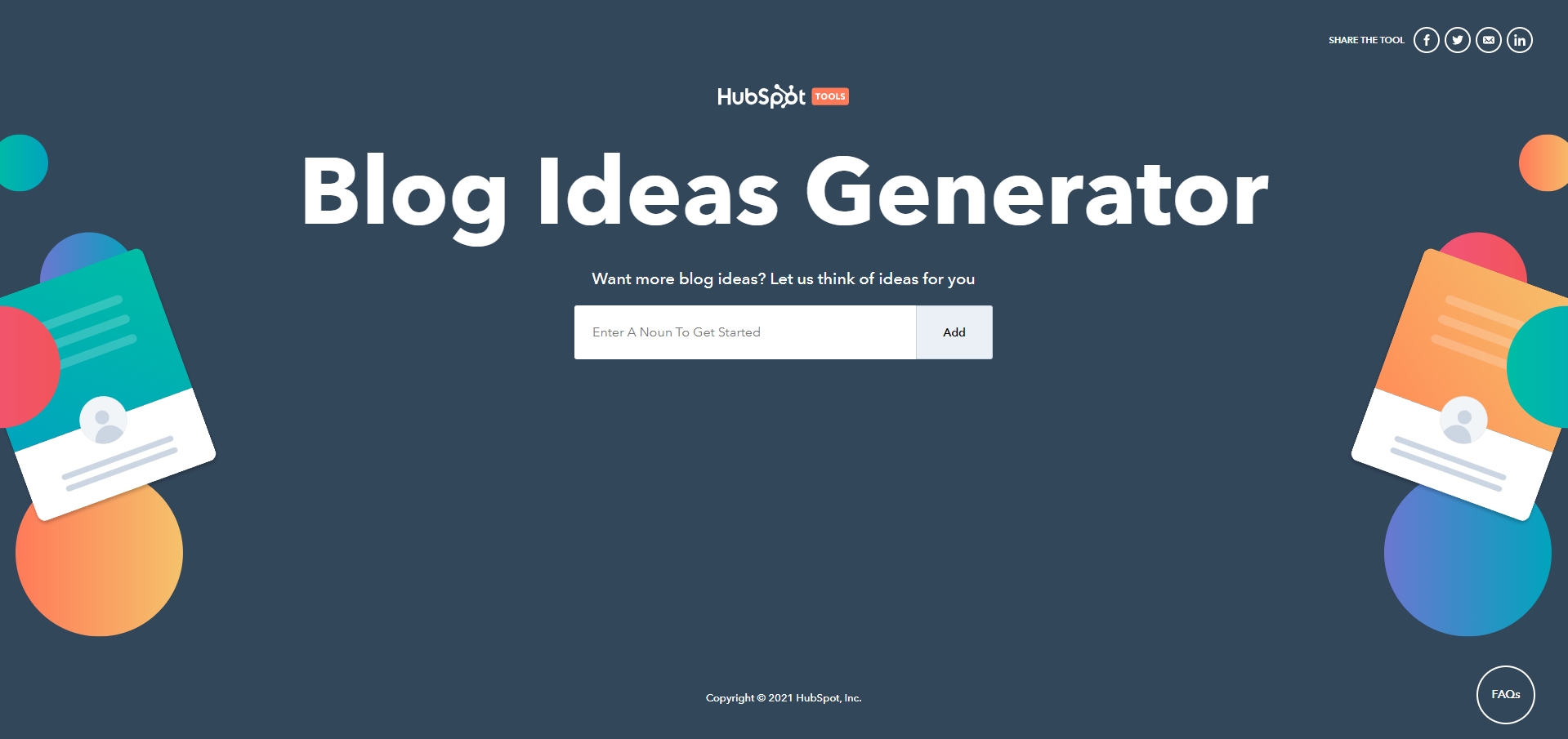 Blog Ideas Generator by Hubspot assists you with blog topic ideas and names. You only need to enter the keyword in the search box and press the "Add" button. You will get 5 results right away, and if you want to explore more, just register with your email address, and it will give you 250+ different ideas for your specific keyword.
Related: 5 Best Youtube Title Generators That You Can Use For Free
3. CoSchedule Headline Analyzer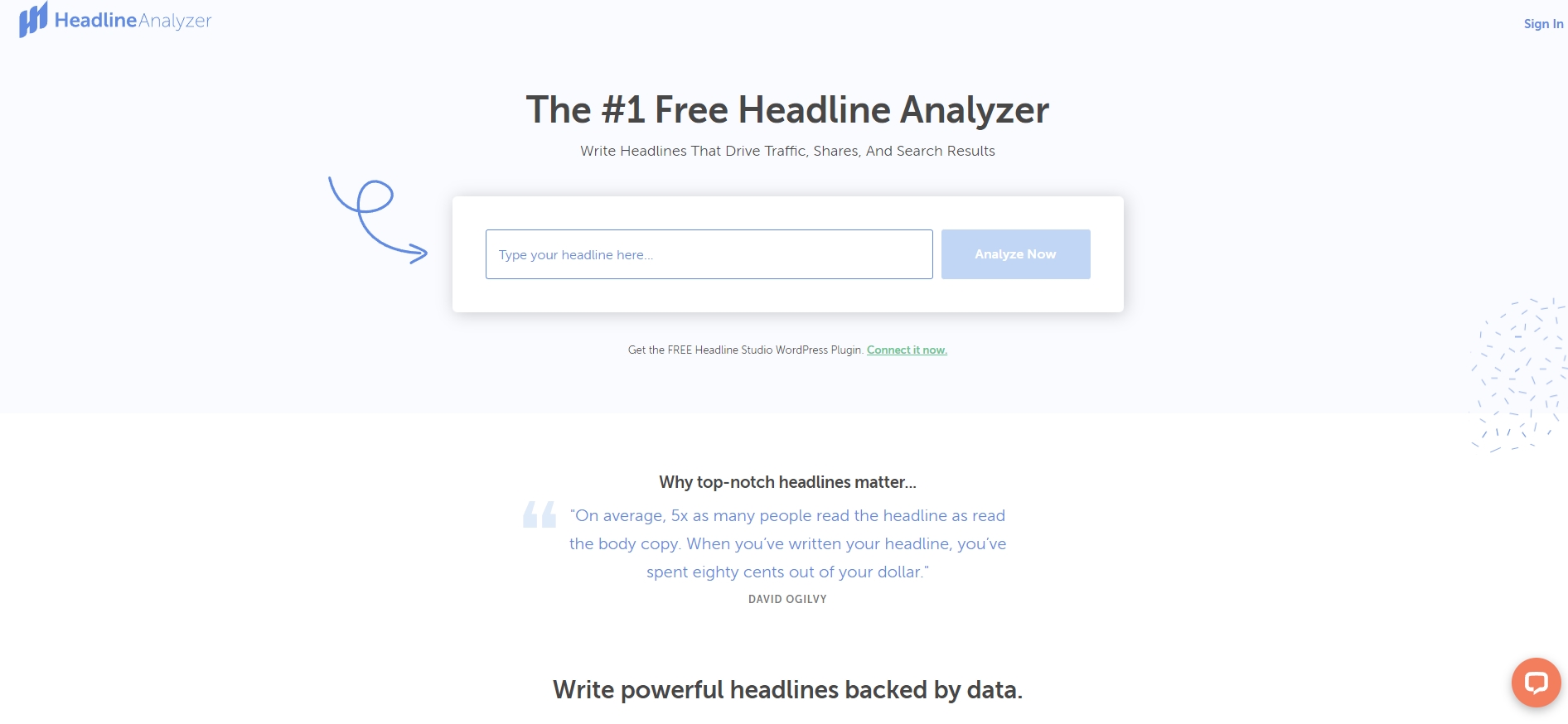 CoSchedule Headline Analyzer helps you generate better blog headlines on any platform by examining your ideas. To examine a headline on any website, simply click the "Analyze" button. You can write and analyze your headlines simultaneously on your browser and check that every headline generates the most clicks, engagement, and SEO rankings.
4. Title Generator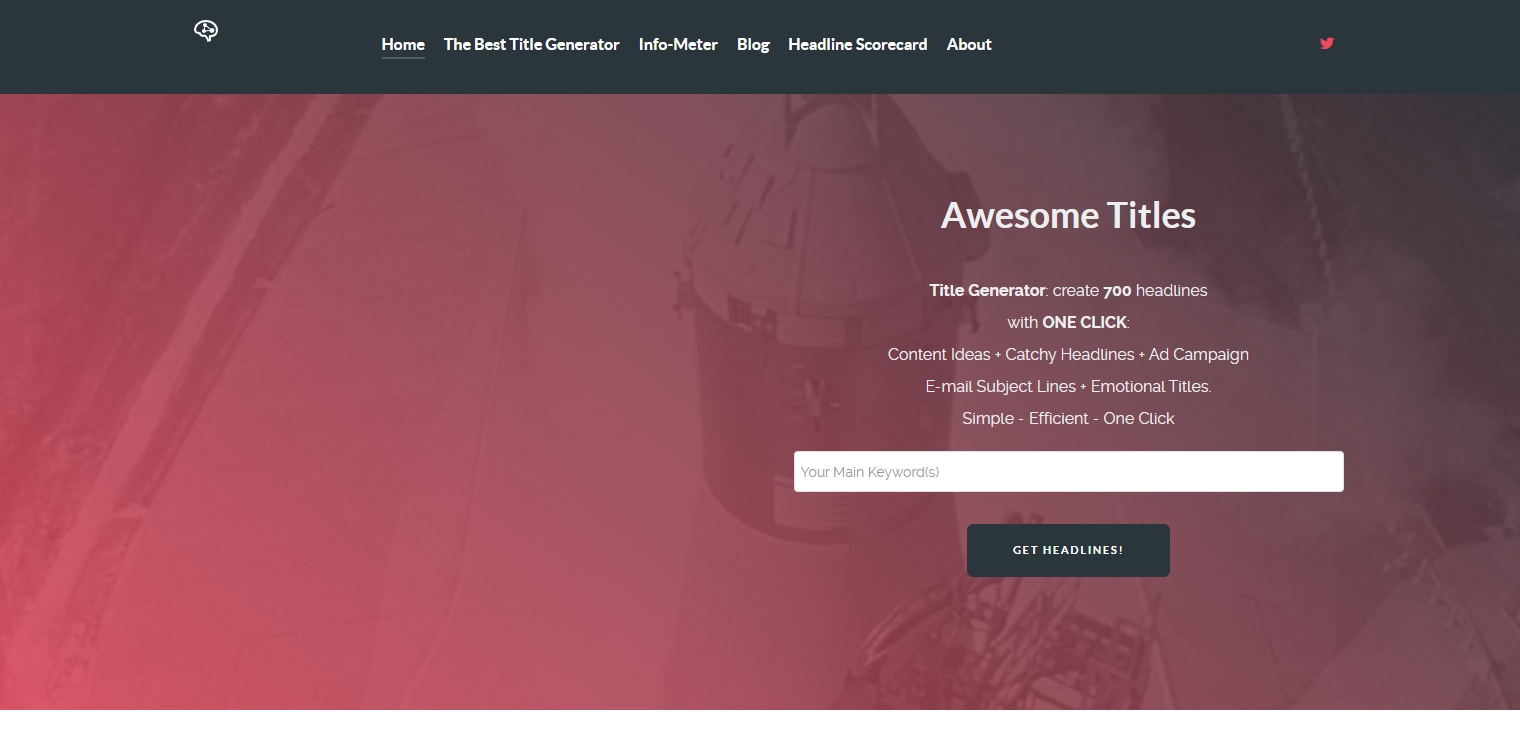 Title Generator provides you with more than 700 options for each topic you search for. Just type in your focus keyword and select the appropriate headline for your article or blog post. Because there are numerous results for a single keyword, you can combine it with other headline terms to produce the best one.
Related: How To Create Catchy & Clickable Blog Titles
5. Blog Title Generator by SEOPressor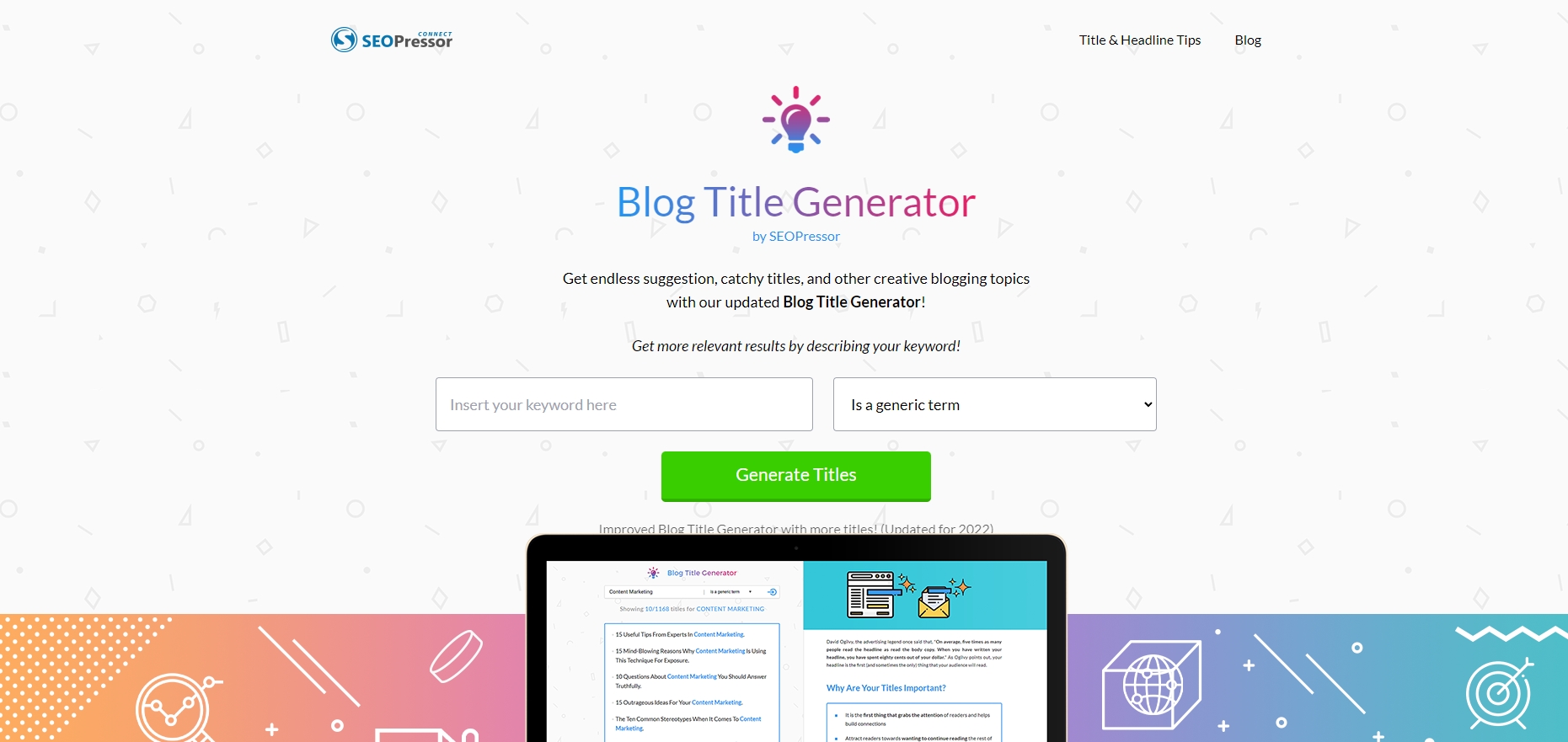 Blog Title Generator by SEOPressor helps you produce a list of title suggestions for your content, stories, essays, novels, blogs, articles, magazines, and more by just entering your keyword. You can always click the refresh button to create a new list of unique titles if you're not happy with the initial results.
6. SumoMe Kickass Headline Generator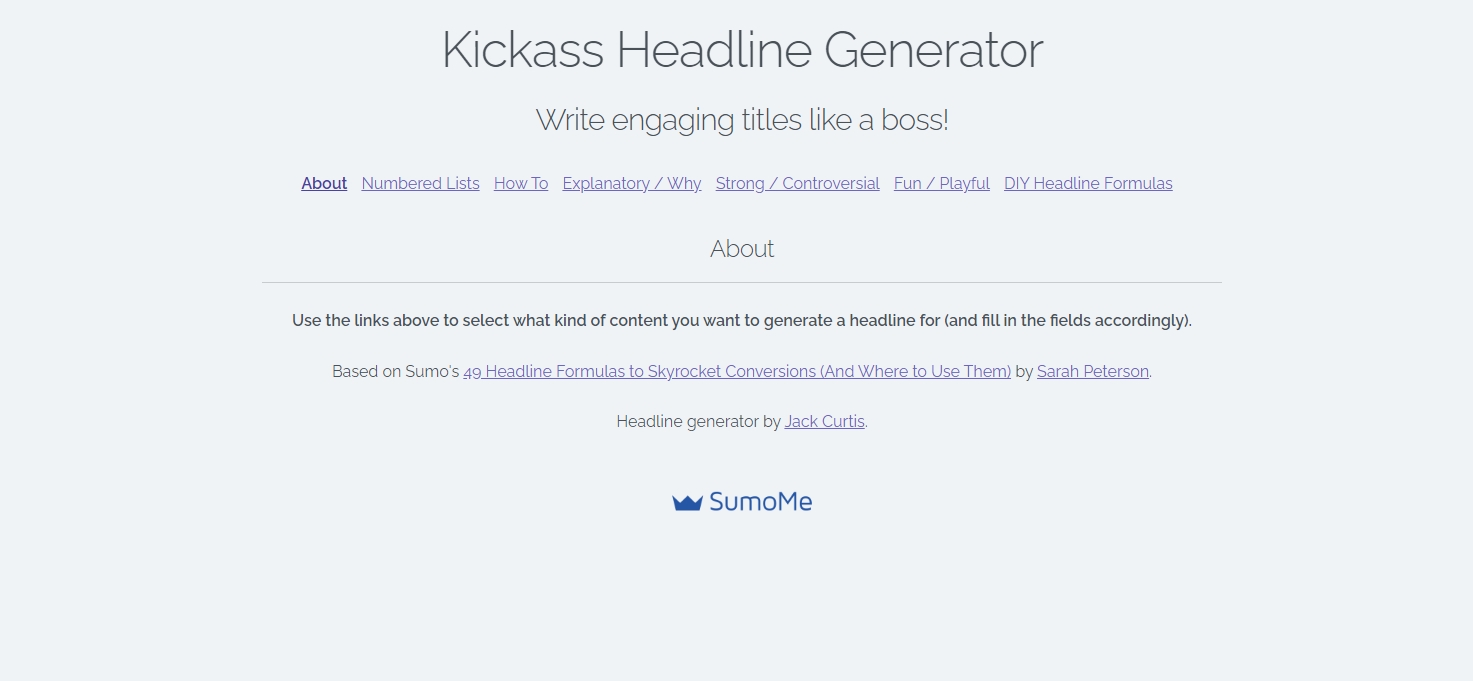 SumoMe Kickass Headline Generator has a user-friendly design that helps you better understand types of headlines. It has different tabs that can generate headlines depending on their categories, including numbered lists, how-to, explanatory, controversial, fun, and DIY formats. Simply choose a category and fill out the form on the left side, and the headline generator will produce the ideal headline for you on the right side.
7. Tweak Your Biz Title Generator
Tweak Your Biz Title Generator is an online web-only creative blog topic generator for experienced and inexperienced bloggers and social media influencers. It serves both as an article headline generator and analyzer. The keyword can be searched as a noun or a verb. The results can be in title case, sentence case, or all caps.
8. Blog Title Generator by Impact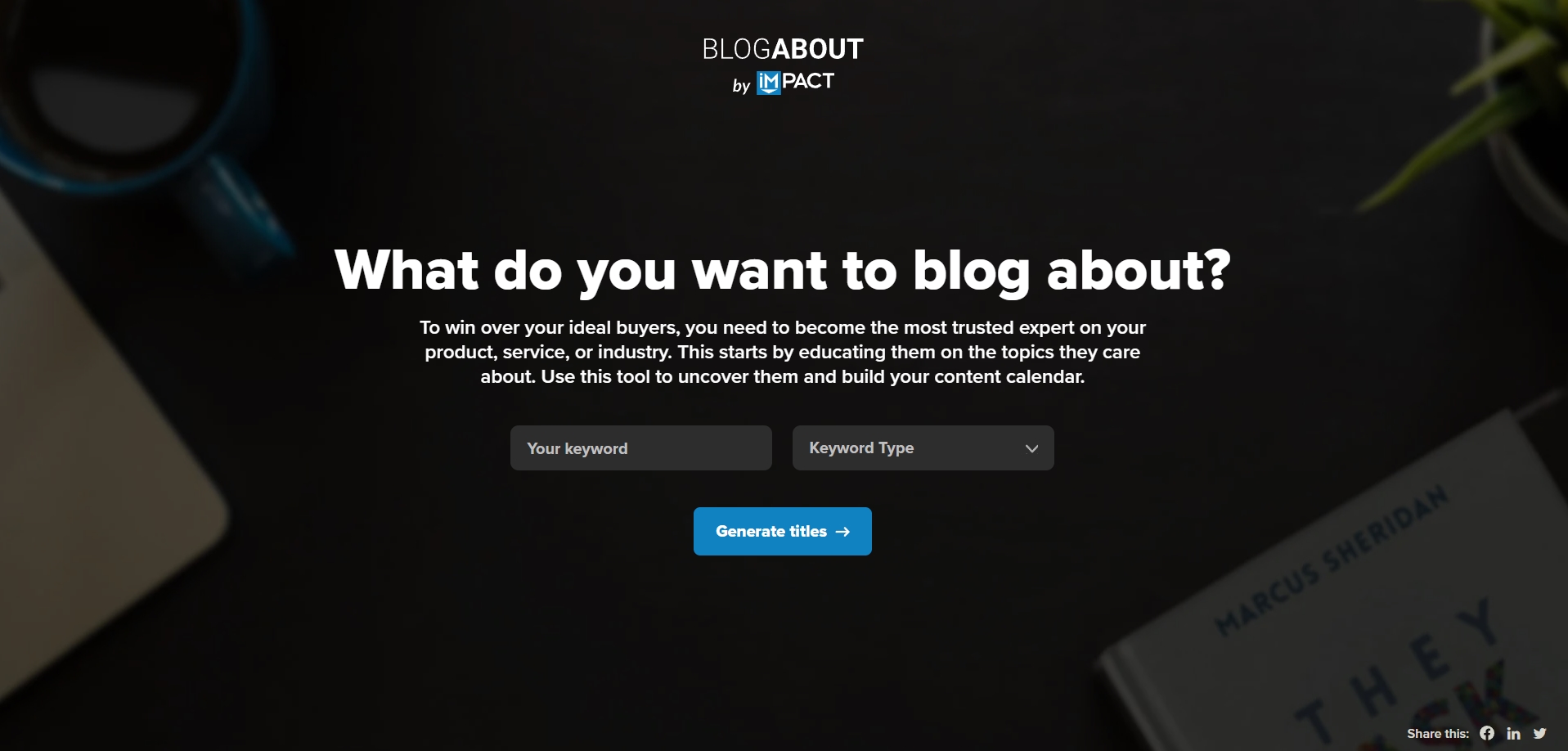 Blog Title Generator by Impact is a user-friendly website where it instantly asks you what you want to blog about. Just enter the keyword and the keyword type you want to generate. Browse the headline results until you find the one that's ideal for your content. Generated results have headline categories and you have the option to save the titles you like.
9. Content Row Heading Generator
Content Row provides specific outcomes when a specific keyword is used. You can use this free tool to analyze your headline score as well. You can check the topic's strengths as well. But you need to sign up if you want to discover the titles that are currently trending for your keyword. It also shows suggestions to give you ideas on your new headline.
10. The HOTH Headline Generator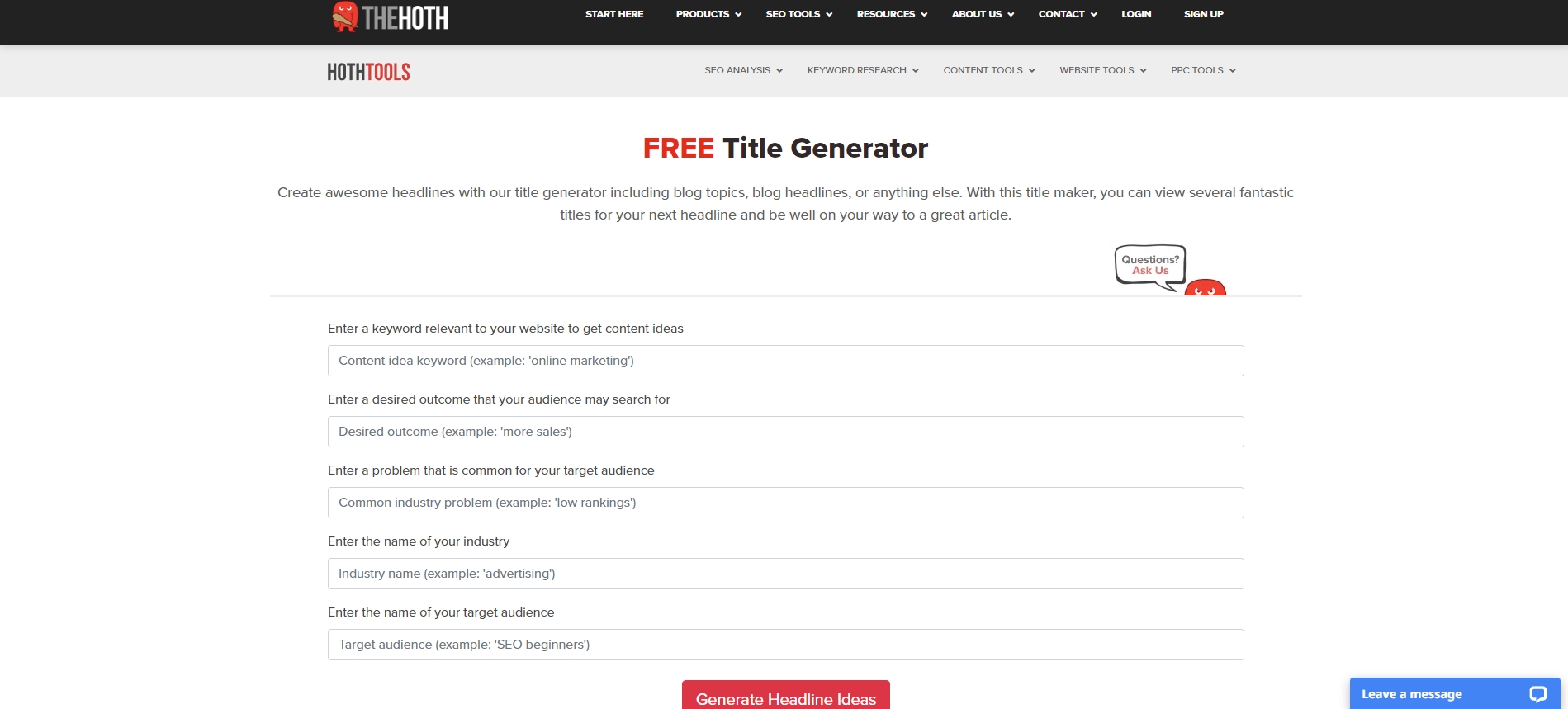 The HOTH Headline Generator enables you to create headlines with just the click of a button. To make the headline work best for your content, you may also include details like your selected keyword, target audience, and more.
Simplified: The best headline generator!
This list presents different free headline generators with similar ways how to use them. But if you're looking for a tool that can do it better with more features, we have the free headline generator that can help you – Simplified!
With Simplified's AI copywriting tool, not only can you generate titles and headlines, but you can also come up with high-quality SEO-driven and plagiarism-free texts. The added special features can help produce content for videos, ads, quotes, products, blogs, articles, business bios, emails, landing pages, YouTube descriptions, taglines, and more using this AI copywriting tool.
Other features of this amazing AI copywriting tool include long-form writer, article rewriter, sentence expander, AI paragraph generator, and Grammarly integration. Plus, if you have clients or teammates, you can work with them easily because you can collaborate on the platform itself.