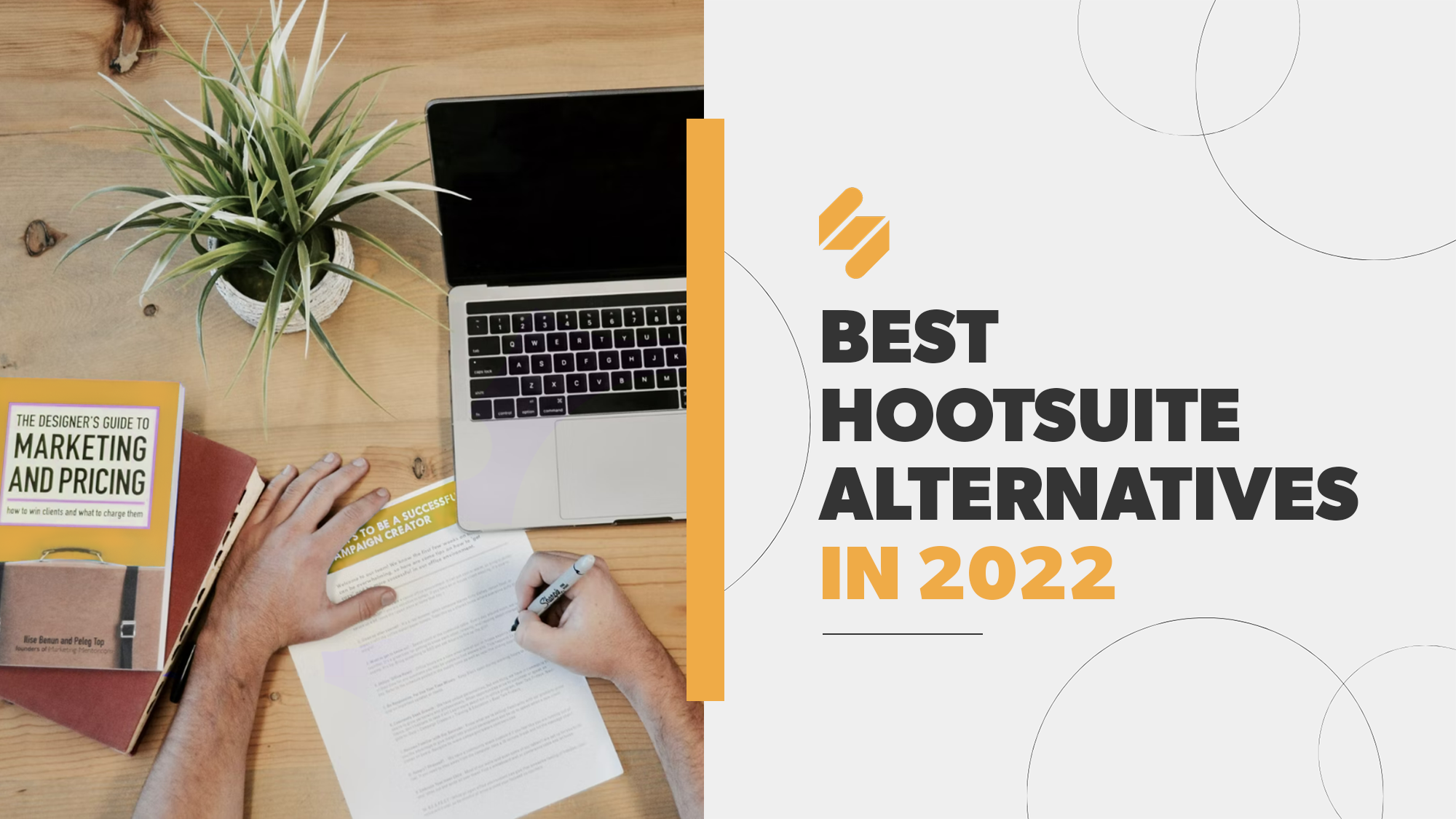 For social media managers, it's great to know that there are Hootsuite alternatives out there. Managing several social media accounts on your own can be difficult. There is the everyday challenge of thinking, producing, designing, and sharing content on various social media platforms. There is also a need for tracking, engaging, and reporting, among other tasks. Each of these duties takes a significant amount of time and effort. So, it's good that we have tools for social media management.
What is Hootsuite?
Hootsuite is a well-established tool for managing several social media networks. All major social networking sites may be managed from a single dashboard. It offers a straightforward dashboard that allows you to plan, prepare, send, and track brand actions. It doesn't require any further downloads and has superb management skills for monitoring the workflow of social media activity.
Managing social accounts, whether you're a one-person shop or part of a larger group, may be challenging. Read on to find out how you can overcome this challenge and choose the best Hootsuite alternative for your needs.
Hootsuite Alternatives You Can Explore:
1. Simplified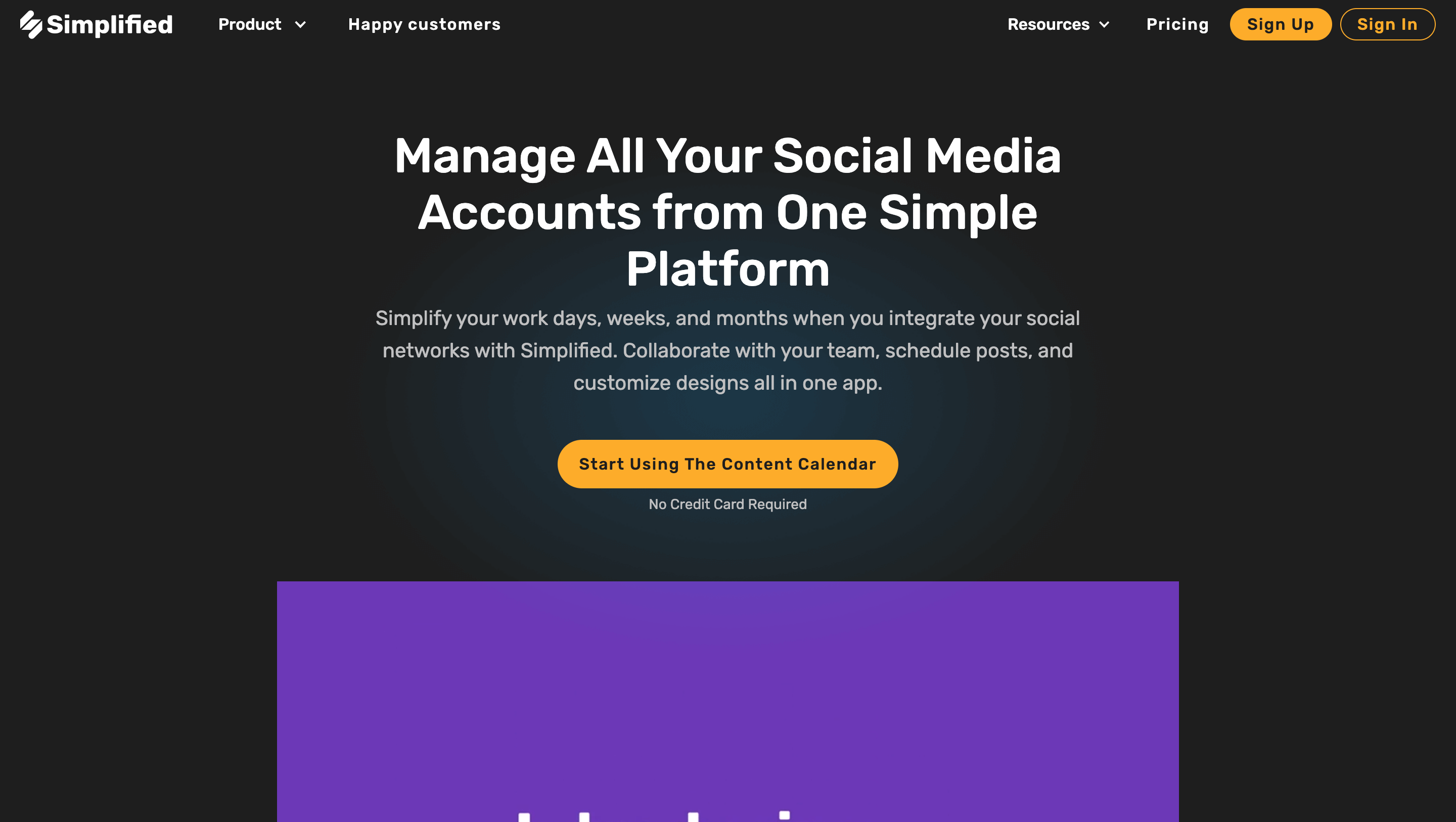 Simplified is your one-stop-shop for all of your marketing needs. It is the best alternative to Hootsuite because it has a content calendar that allows you to plan marketing materials both ready-made and from scratch. This all-in-one tool lets you manage the entire social media process from producing an image or video to publishing online.
Pros:
Connects your content calendar to more platforms such as Instagram business, Facebook groups and pages, LinkedIn profiles and company pages, Twitter, Google Business Profile, Pinterest, and TikTok.
Allows you to add photos, videos, and descriptions that are formatted however you like before you set up the schedule of posting.
Create posts from scratch right from the Content Calendar.
Upload your own designs and schedule all your posts.
Schedule dozens of posts for multiple accounts at once.
Share the page link with anyone so your clients and team members can see your posts before they're posted.
There is a "free forever" option!
Monthly Pricing:
Free account to $999
2. Social Champ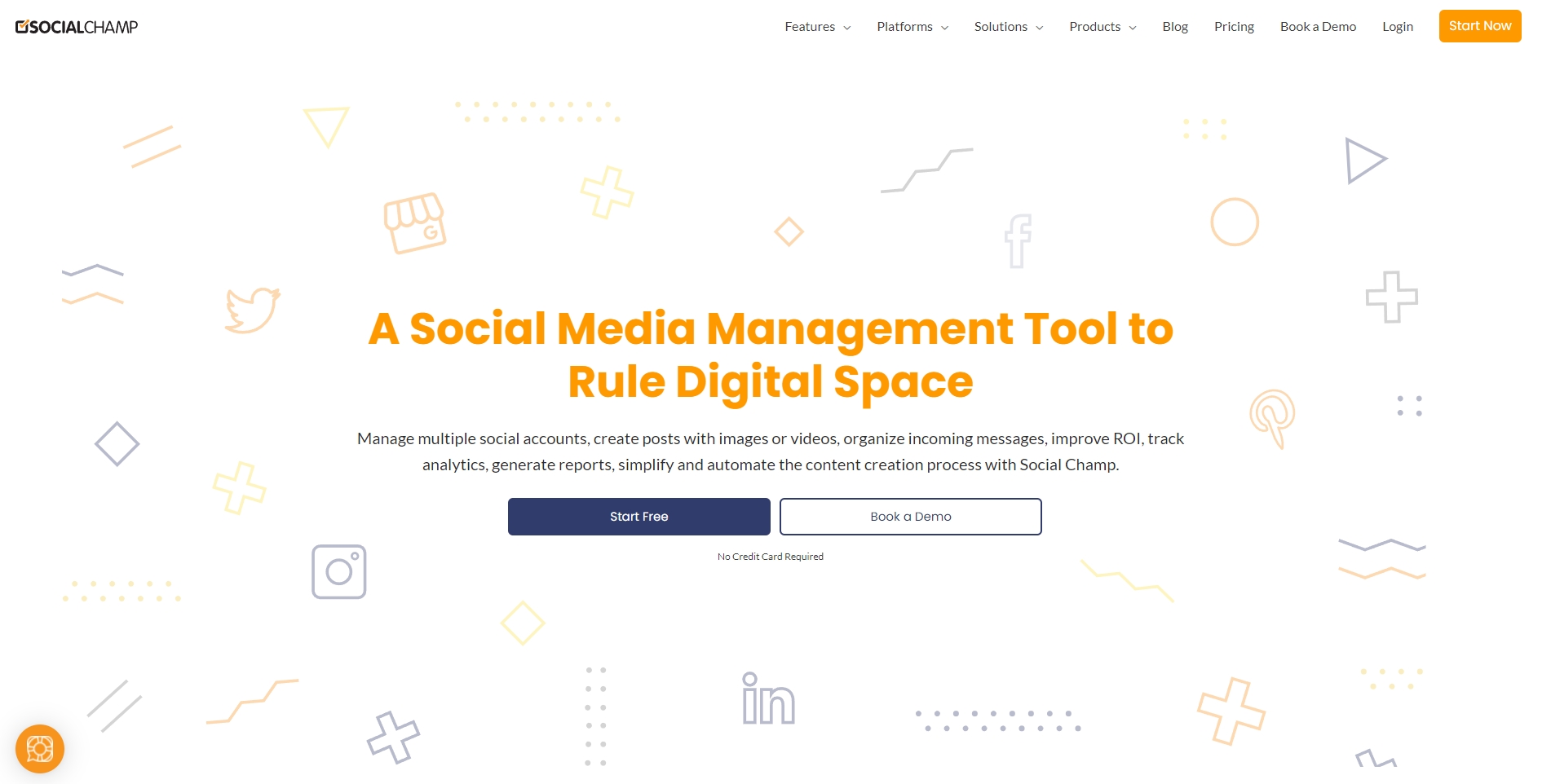 Social Champ is one of the many social media management platforms similar to Hootsuite.
Social Champ Supports, Instagram, Facebook groups and pages, LinkedIn, Twitter, Google Business Profile, and Pinterest. It also includes integrations with some of the most helpful social media management services, such as a royalty-free visual library.Pros:
Post or schedule content across numerous social networks.
Track the performance of your posts.
Can post a certain content on repeat
Cons:
Has a confusing user interface.
Has little room for customization.
Monthly Pricing:
Free account to $89
3. Agorapulse
Similar to Hootsuite, Agorapulse makes managing social media easier. It has a social inbox that records all conversations and allows for customizable scheduling. It is well-known for real-time team collaboration, which helps to keep social media moving along efficiently.Pros:
Provides seamless communication for small to large teams.
Can do competitor research and analysis.
Can do social listening.
Cons:
Free version is only for 15 days
It is a bit expensive.
Lacks customer support for enterprise users.
Lacks integrations.
Monthly pricing:
$39.50 to $49.75
4. Buffer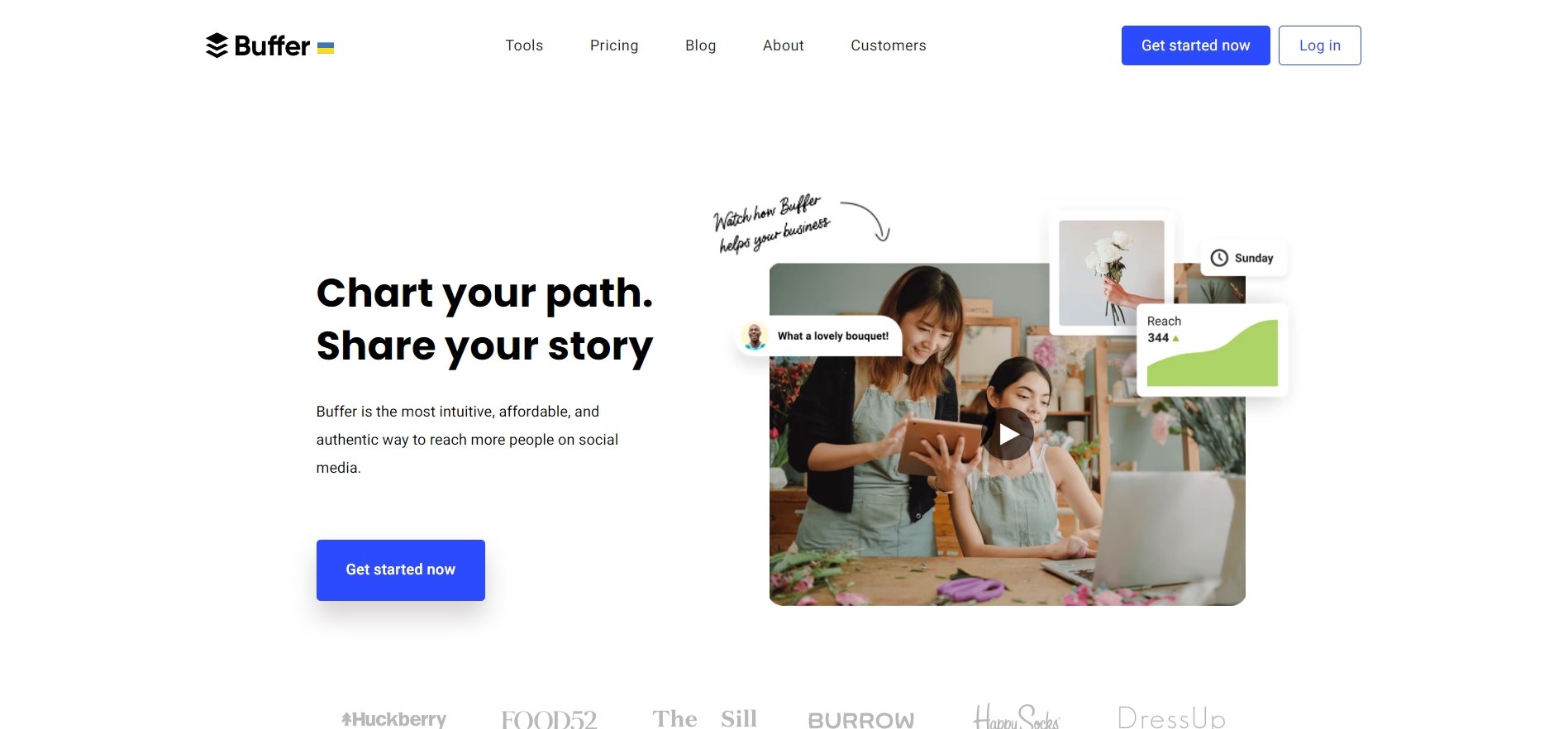 Buffer is an online and mobile software program that is used to manage social network accounts and monitor interaction with the connected community. It's a platform similar to Hootsuite, focusing on developing a deeper understanding of the audience and keeping them satisfied.Pros:
Provides a monthly calendar view.
Has its own photo editor and landing page option.
Cons
Pricing is per social media platform.
Has a maximum of 2,000 scheduled posts per social media account.
Limited social media integrations.
Monthly Pricing:
Free account to $100
5. Loomly
Loomly is a Hootsuite alternative that can manage all your social media content, including organic posts and ads, on one platform. It helps you store, organize and use your assets in a central, intuitive Library.Pros:
Provides advanced analytics.
Has an approval workflow for the team and push notifications.
Includes a community management system for engagement purposes.
Cons:
Free version is only for 15 days.
It is a bit expensive.
Monthly pricing:
$35 to $359
6. Sendible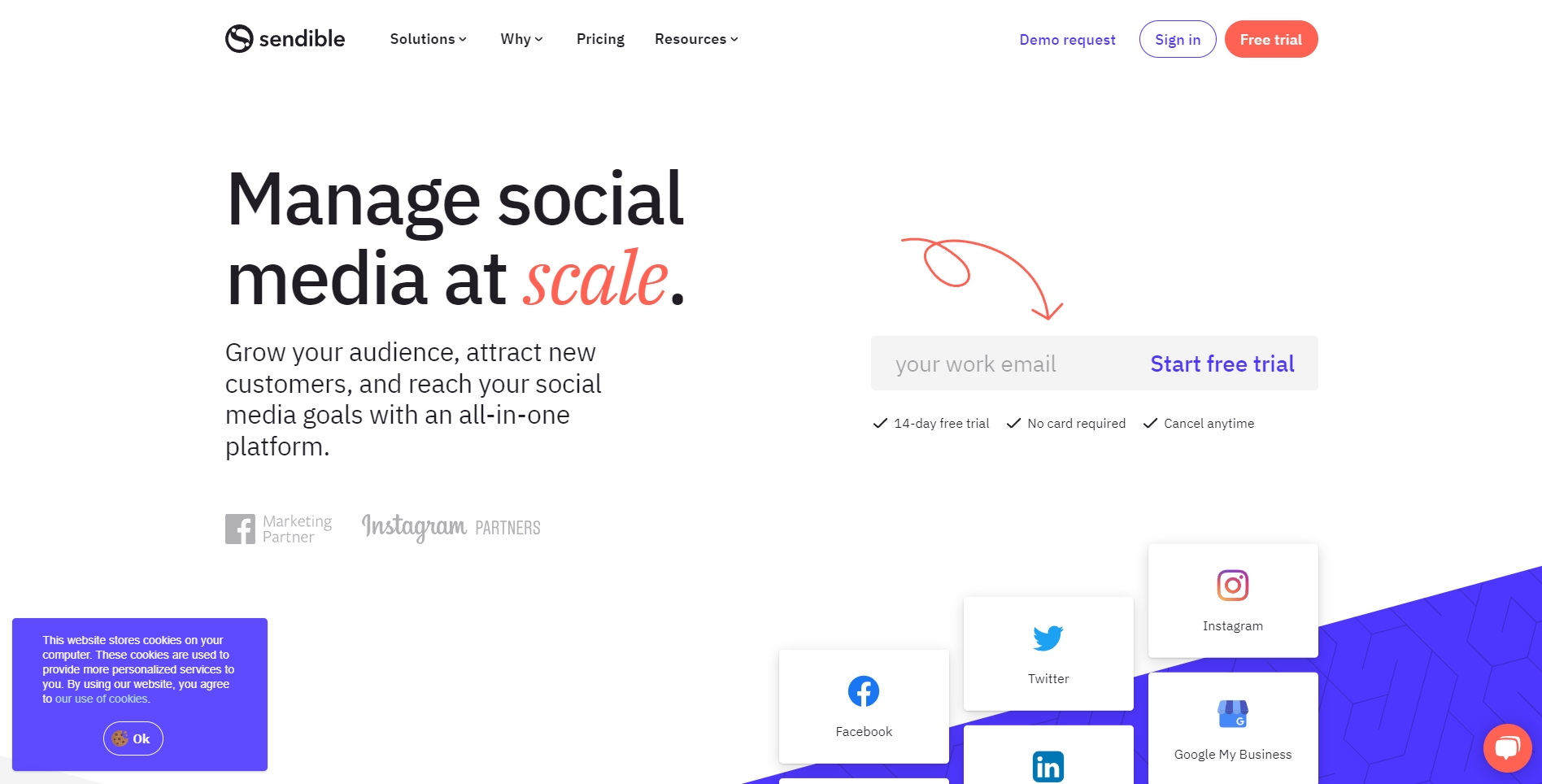 Sendible is a social media management solution for many clients. It is a centralized hub that keeps track of all the procedures in progress. It has apps for everything from planning, to cooperation, to analytics.
Pros:
All pricing plans have a free trial
Has agency-ready partnership feature
Has a time management system and custom reports
Cons
The user interface can be confusing.
Remote teams encounter time stamp errors when posting.
It is a bit expensive.
Monthly Pricing:$29 to $399
Final Thoughts
Hootsuite alternatives are valuable for businesses, social media teams, and marketers who want to make their social media presence stronger. This list can help you gain a better understanding of platforms similar to Hootsuite.
Simplified is the best Hootsuite alternative
Depending on your marketing needs, choose the platform that can offer high-quality work in a shorter amount of time. If you want a Hootsuite free alternative that can manage social media accounts and lets you create, schedule, publish, collaborate, and monitor your performance across social media platforms, the answer is simple.