If you're like most people, you probably have a love-hate relationship with rewording tools.
On the one hand, they can be a lifesaver when you need to quickly come up with new content. On the other hand, it can create a frustrating experience if the tool doesn't work well and produces low-quality content.
In this blog post, we'll take a look at three of the best tools on the market to reword your content, Simplified, Quillbot, and, Paraphraser.
We'll compare and contrast their features, tell you the pros and cons, and give our recommendation for the best tool for the job.
So, let's get into it!
Related: How To Use AI Sentence Expander For Essay Writing?
What is a rewording tool?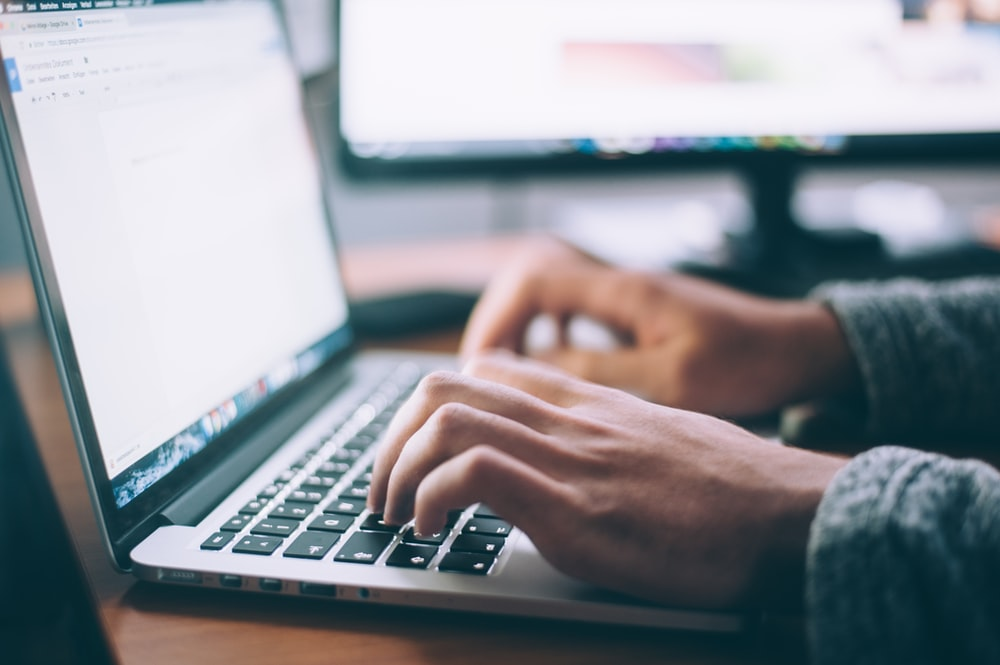 A rewording tool is a tool that helps you to reword sentences or paragraphs. This can be useful when you want to paraphrase something or when you want to create unique content. It's also helpful when you want to create different versions of an article for different platforms.
Related: The Best Blogging Tools in 2022
Why do you need a rewording tool?
There are many reasons why you might need a rewording tool. Maybe you want to paraphrase a text so that it doesn't look like plagiarism, or perhaps you're just looking for a better way to express something. Either way, a rewording tool can help you get the job done.
Related: How to Create High-Converting Blog outlines with Simplified's AI Text Generator 
How do I choose the right tool?
There are a few things to keep in mind when using a rewording tool. First, make sure that you understand the original text before you start changing it. It's also important to choose a tool that will allow you to make changes without affecting the meaning of the text. Luckily, we're here to help you with that!
Related: 5 Best AI Copywriting tools for freelancers
What are the Best Rewording Tools?
There are many tools out there, but we've narrowed our list to three of the best you can start with.
1. Simplified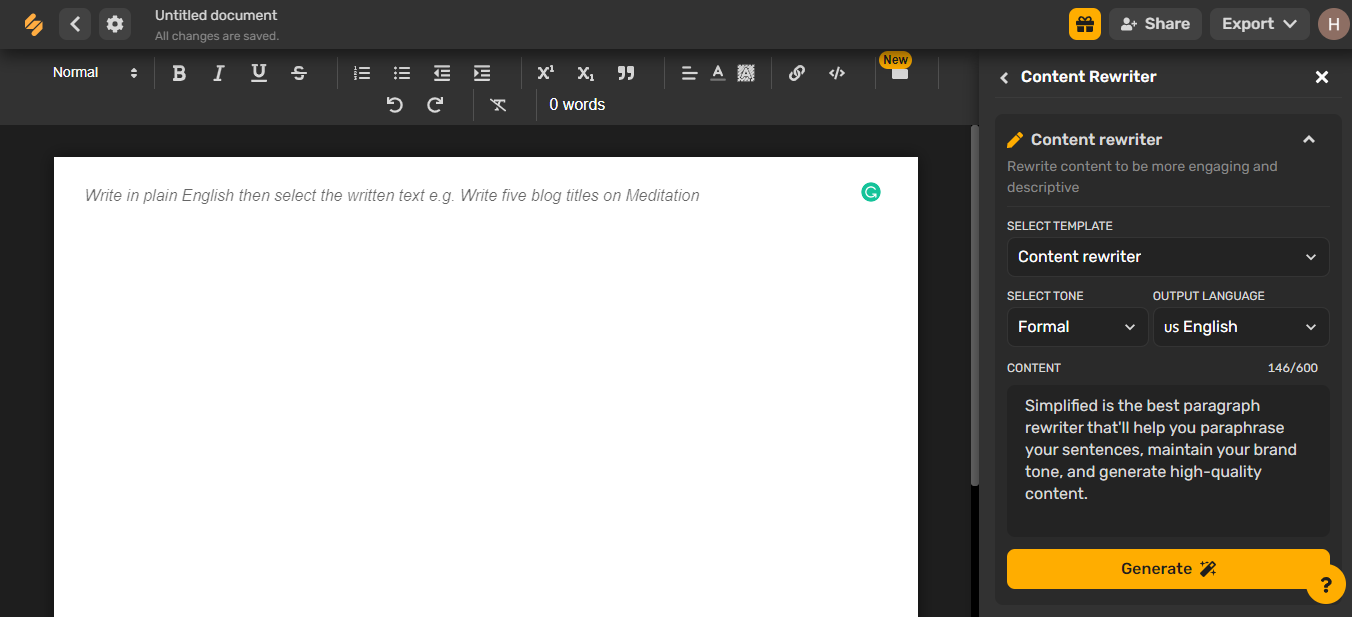 Simplified is an all-in-one marketing platform designed to help content creators, marketers, business owners, and more with everything from social media management and video editing, to content writing. It's also one of the best paragraph rewriters on the internet today.
Whether you want to rewrite a paragraph, blurb, or even a whole essay, Simplified will generate brand-new, brand-aligned copy with just one click.
And you don't have to settle for the first results — just keep clicking 'Generate' until you're given fresh new content you love! You can also switch up your tone with over 10 writing tones and generate copy in over 20 languages.
Pros:
Users have access to all 10 + writing tones and 20+ languages for free;
There are no ads to distract your work while using the app;
There is no limit on the number of words or characters;
There's an in-built plagiarism checker to help generate original content;
File export option available;
Easy-to-use interface.
Cons:
Grammarly integration is needed as there is no in-built spelling checker
Pricing:
Simplified has a free forever plan, which allows you to do way more with less. If you'd like to enjoy other juicy features, you can try out the premium plans:
Starter (up to 5 team members): $9 monthly
Small team (up to 5 team members): $18 monthly
Business (up to 5 team members): $30 monthly
Growth (up to 5 team members): $75 monthly
Related: How To Write A Blog Post Using AI Content Generator
2. Quillbot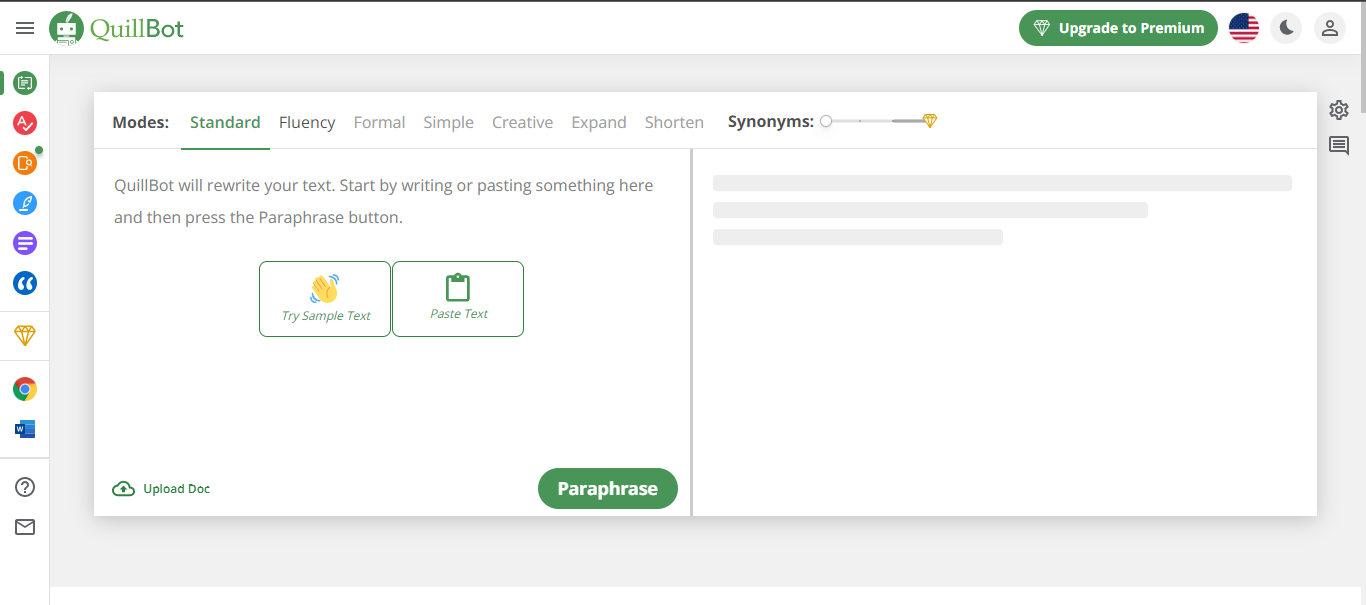 Quillbot is an AI-powered writing assistant that can help you with all sorts of writing tasks, from proofreading to writing entire documents from scratch. Quillbot has features like a 'citation checker' that can help assist with academic writer and professional correspondence. Overall it's a good tool and it has a build in spell and grammar checker.
Pros:
Free plan available
No ads;
Export feature for downloading content;
File upload option available.
Grammer Checker
Cons:
10,000-word character limit on their premium plans;
The free plan is limited to 125 words, two writing modes, 1 freeze word or phrase, and 3 synonym options;
Not available in other languages
Pricing:
Monthly: $9.95 
Semi Annual: $6.66 per month; $39.95 every 6 months
Annual: $4.17 per month; $49.95 every 6 months
3. Paraphraser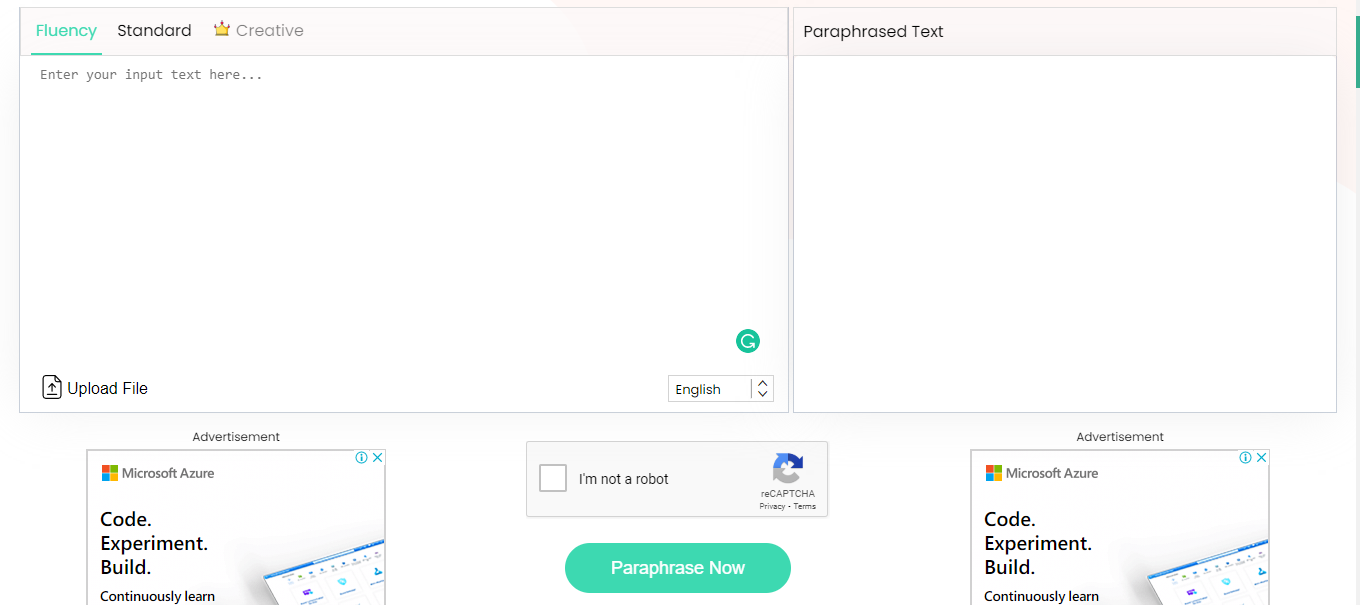 Paraphraser.io is a powerful paraphrasing tool that can help you rewrite text quickly and easily. The platform positions itself specifically as a sentence rephrasing and word changer, meaning it's a pretty basic and straightforward platform to use.
Pros:
Offers 15 languages, including English
Easy to use
Available in three writing modes
File upload option available
Cons:
Way too many ads
Allows only 1000 words to be paraphrased at once
Pricing
The Takeaway
We've all been there: staring at a blank document, trying to come up with the perfect way to say something. But sometimes, the hardest part isn't coming up with original content – it's finding the right words to convey your ideas. That's where rewording tools come in. And after trying three of the best rewording tools on the market: Paraphraser.io, Quillbot, and Simplified, our vote goes to Simplified–obviously!
Although each platform has its unique offering, Simplified is the only one that not only gives you a powerful rewording tool but many other content writing features that help you create ad copy, social media captions, blog posts, and so much more to power your marketing.
So, now that we've given you an in on the best rewording tool, all you have to do is try it out and see for yourself! Sign up and give Simplified's AI rewriter a try today!
We think you'll be glad you did.