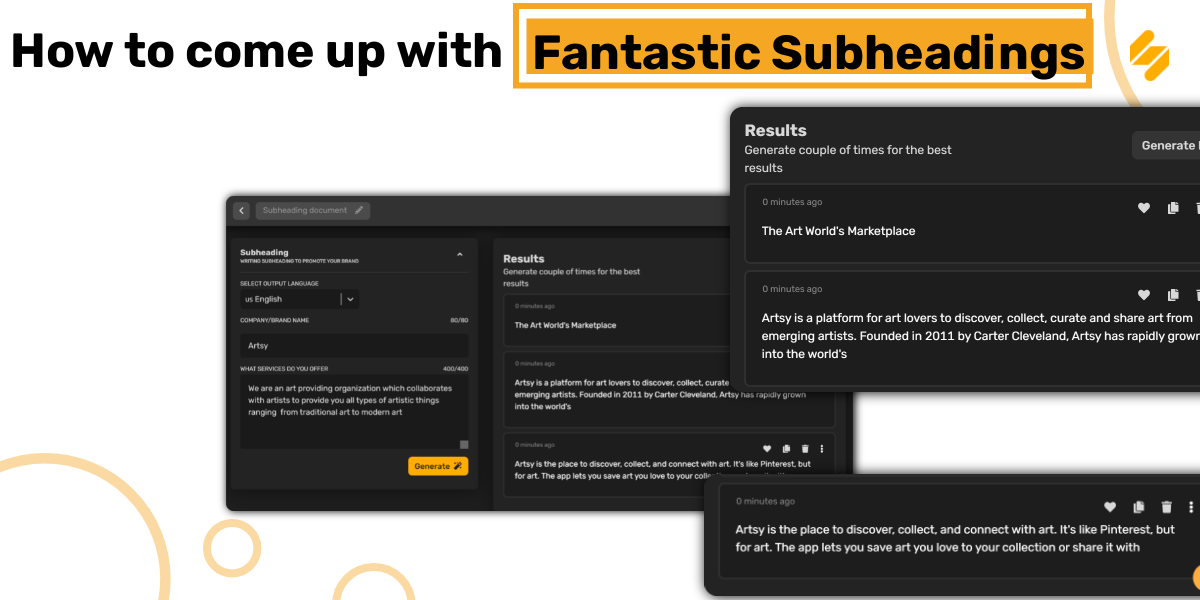 With blog posts, particularly long-form content, it's important to break up the text into easily digestible sections. This is where subheadings come in handy. Subheadings can be placed anywhere, but ideally, they should fall every couple of paragraphs or even sentences. Cover up your text for a minute. Read the document with only the headings in view. What is the main idea? Does each sub-heading encapsulate the paragraph underneath? Effective subheadings help clarify concepts for readers. And, as we all know, content is the heart and soul of every brand. One of these AI content generators that help save time is Simplified. Simplified's AI assistant can craft different types of texts, including subheadings. So here's everything you need to know about subheadings, how to create them, and a few examples. So let's get right to it!
What Is a Subheading?
Subheadings are smaller headlines that come after the main headline. Their purpose is to give more information on the topic that's being discussed in the content. They can also be used to create subsections and divide the content of your post in a way that makes it more digestible.
A subheading could also be defined as a secondary headline that supplements the main headline with further information. What's more, a subheading's purpose is to grab attention. That's the reason they're written with a larger font than the rest of the body of a post. As an example, check out one of our blogs: How to Upload Custom Fonts? It has a few subheadings that give the reader a clear overview of what each section is going to be about.
The following image will give you a visual example of how that looks:
Subheadings are an important part of writing and they're used quite often in newspapers, academic articles, essays, blogs posts, magazines, and more. They make your content easy to scan and build anticipation in your readers of what's to come!
Examples
In this section of the blog, we'll showcase two ways in which you can use subheadings in your content:
1. A subheading that gives more information about the topic of the main headline
Here, we see the subheading come right after the main headline. What it does is provide more context as to what's to come in the article, which is an argument for government to establish a Department of the Future. While the main headline cuts straight to the point, the power of this subheading is the way it piques the reader's interest. We now want to know what it means for politics to take the longer view with regards to the future.
2. Using Subheadings to Create Different Subsections
Having different subheadings is a traditional way to structure your blogs and make them clearer for your readers. By using several different subheadings, you can easily divide all the information into smaller bits that are more user-friendly. That's how you can create easy-to-read sales copy, marketing copy, or even longer pieces that take more time to read.
Related: LinkedIn Headline Ideas That Make You Stand Out
4 Components Of Effective Subheadings
1. Wording
Choose carefully, because the subheading shouldn't be too long, meaning you have to choose the right words to fit. To do this well, you need to know your audience and what they respond to. For example, if you're targeting young people you'd aim for short, snappy subheadings that would attract their attention. For instance, Discord is one example whose subheadings say everything you need to know in a persuasive way that promises something to the user.
2. Length
As mentioned above, your subheading shouldn't take too long to read. A good subheading is quick to read but also it will give enough information to make the user read more. Coming back to our previous example, Discord's subheading happens to be way longer although it is worded flawlessly. There is a chance the user drops off of it halfway and misses some useful information.
3. Amount of Information
Keep in mind to not give out too much information with your subheading because your main goal is to make the reader click on the CTA below, so tease them and spark their curiosity. The subheading has to make it easy for the users to find the section of the post that would give them the information they're looking for, and make the article scrollable for search bots.
4. Amount of Persuasion
You need to use your subheading for its purpose. Try to communicate clearly what the reader will find out in your body. It needs to persuade the reader that the information that they'll find after the subheading will be worth their time.
A subheading that doesn't fill at least one of the four main components is more likely to go unnoticed. So try to incorporate as many of them as possible to achieve your goal.
5 Brand Examples of Catchy Subheadings
1. Simplified
Simplified makes sure to include all four elements, and this is the reason why its subheading works. In fact, Simplified stays true to its name as its subheading is a clear example of simplicity, good wording and length.
2. Apple
Apple does a great job when it comes to subheadings. They're short and catchy because their products are self-explanatory, so they aim high with a persuasive approach. In addition to this, the subheading that rhymes cannot be missed because of its snappiness.
3. Chrome
With their subheading, Chrome undertakes the benefit-focused approach, explaining the way in which the user can utilize the software. This subheading works, because it tells the user that they will experience security and speed that's unmatched by any other browser.
4. Samsung
Samsung's subheading encourages the user to browse and explore the "newest offers." Moreover, they rely on persuasion and wording to accomplish the wanted effect. In this way, Samsung's subheadings are compact and highlight the products they offer.
5. GitHub
The subheading of GitHub is slightly longer than usual. However, it works perfectly because it gives an overview of what the platform does and enlists everything you can do with it.
How to use Simplified's (Free) Subheadings AI Copywriting Tool ?
Now that you know the basics of what a subheading is and its four components, let's see how you can use one of Simplified's features for sales copy, marketing copy, or anything your brand may need.
Example 1 : Created Using Subheading AI Copywriting tool
Company Name: Greenhouse
About the brand: Greenhouse sells succulents and small table plants. We add a greener touch to your home.
Example 2: Created Using Subheading AI Copywriting tool
Company Name: Boho bird
About the brand: We sell block-printed cotton material from Jaipur, India. Hand-dyed, sustainable, and 100% ethical.
Example 3 : Created Using Subheading AI Copywriting tool
Company Name: Work Party
About the brand: We're a marketing agency based in Toronto, Canada. We offer all digital media solutions. Build your brand from scratch or scale it with our winning strategies.
Conclusion
Now, you have all the knowledge you need about coming up with good subheadings and how to use Simplified's subheading generator. All that's left is signing up for Simplified. Did you know that it is totally free of charge and you can use all of its features to improve the branding and marketing of your company? Not only is it user-friendly, but it has an Academy that answers all your questions.
One Free app to design, collaborate, and scale your work – try Simplified today.