Dall-E 2 is the latest AI art software from OpenAI, and it's been making waves in the art world ever since it was released. If you're unfamiliar with it, Dall-E 2 is an AI-image generator that can create images from textual descriptions, and artists often use it to create surreal and dreamlike images.
However, OpenAI recently released DALL-E 2's pricing model, which has some people up in arms. In this blog post, we'll explore everything you need to know about Dall-E 2's pricing model and why some people are upset about it.
So, without further ado, let's get into it!
How does DALL-E 2's Pricing Model Work?
Previously, DALL-E was free to use for people who were already given access by OpenAI. These users were entitled to 50 free generations daily, and they used this text-to-image AI to create art like mood boards for restaurants, music videos, 3D renderings, product designs, and magazine covers.
However, on July 20th, 2022, OpenAI announced the DALL-E 2 beta launch, alongside a new pricing model. Every DALL·E 2 user will receive 50 free credits for the first month of use, and then 15 free credits for every month after that. Each credit can be used to submit a text prompt to the AI, which returns four images at a time. (For edits and variations, three images are returned at a time.)
But here's where it gets complex — to get extra credits, users have to buy them. For $15, you get 115 credits. You can purchase another credit pack of 115 credits for $15 if you've used them up.
So if we do the math:
1 credit – 4 images
115 credits – 460 images

OpenAI has said that artists with limited financial resources can request for subsidized access by filling out this form. Another thing to note is that free credits expire one month after they're given, while paid credits expire 12 months from the purchase date.
Opinions about DALL-E 2's Pricing Model
There has been a ton of opinions from people after DALL-E 2's pricing model was announced. While some have expressed unhappiness about it, there are others who've expressed their support. Let's check out a few opinions and concerns raised by users:
That compared to the prices human professional artists charge for their time and expertise, $15 for 115 prompts doesn't seem expensive at all."
Users are encouraged to pay for a minimum of 5,750 credits (worth $750) at once, meaning you can't start by buying just 115 credits.
Most times, it takes several tries before users the exact image they want. What if the credits run out before the perfect image is generated?
Some are also not happy with the fact that paid credits have an expiration date.
How To Start Using Dall-E 2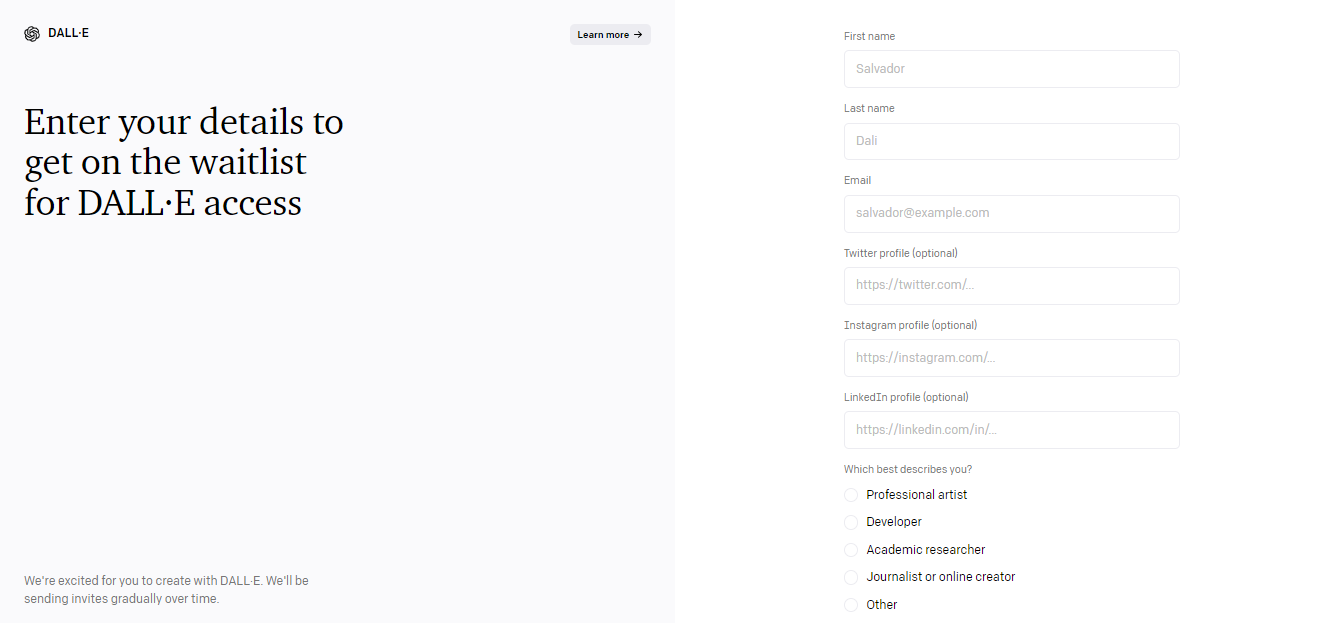 As stated before, the Dall-E 2 software was only accessible to a small number of users via invite-only access.
If you'd also like to get access to the first beta phase of DALL-E 2, you'll need to join the waitlist if you haven't already. All you have to do is fill out your information on their waitlist page. According to OpenAI, invites will be gradually sent over time. Once you've gotten your invite, you can buy credits and start creating amazing AI art.
Here's what you need to do if you'd like to buy DALL-E 2 credits:
Go to the official DALL-E 2 website and click "Login"
On your account page, click on the "Buy Credits" button.
You can either start with the set minimum of 750 credits or click on the + sign to add more.
As a paying user of the AI image generator, you are the owner of your work and have the right to use all DALL-E 2 images you create in commercial projects. That means you can reprint, sell, or merchandise them however you want.
Other information to take note of:
The company does not accept image uploads that contain realistic faces and instead tries to create the likeness of well-known political figures and celebrities while also increasing the accuracy of its content filters.
DALL-E 2 can generate images of people that are more accurate reflections of the diversity of the world's population.
Open AI has improved the accuracy of content filters to create more efficiency in blocking images that violate its content policy – the creation of violent, adult or political content is not allowed. However, the tool still allows creative expression.
So, What's The Bottom Line?
No matter what you may think about Dall-E 2's pricing model, there's no doubt that you can use the AI image generator to get some of the best images on the internet today. As already mentioned, every invited DALL·E 2 user receives 50 free credits for the first month of use, which gives you time to test out the platform before getting stuck paying or trying to figure out the complexities of Dalle-E 2's payment model.
And hey, while we're on the subject of art, did you know that you can make amazing graphic designs using Simplified?
Our easy-to-use graphic designer lets you create original graphics, or you can use one of our thousands of templates. You can also write content with our efficient AI Writer, edit videos, publish content, and manage your social media accounts – all in one place.
Simplified is the best all-in-one marketing tool you'll ever find. So, check it out for free today – trust us, you'll be glad you did!