Do you know that Facebook is 17 years old as of February 2021? Even today, the social media platform is the second most downloaded app on the internet! Whether you use the platform to remember your friends' birthdays (we know we do) or to attract eyeballs for your brand and profile, Facebook is an essential marketing channel in our virtual worlds. Simplified offers you the perfect copy AI companion to create and ideate content for catchy Facebook ads headlines!
What are Facebook Ads Headlines?
Imagine there is a newspaper in front of you and of the 10+ articles on the front page, you end up reading 2-3 articles in full. That is the power of headlines – they generate interest to compel a reader to read more. When it comes to Facebook, these ads headlines are the sneak peek at your brand's story. They don't give away all the information at once. Instead, they assist in nudging a customer toward clicking on the ad instead of scrolling past it. For example, below, Adobe has used one of its stock photographs with clear iconography and a tagline.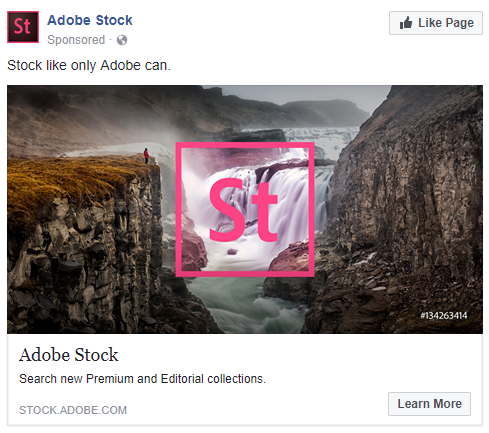 Is Facebook Still Relevant?
Marketing your brand or profile on Facebook is highly rewarding, and for this reason, it is important that your Facebook ads headlines are punchy and memorable. Let's take a look at the power of Facebook marketing below:
Related: Understanding Facebook Post Dimensions: Types & Usage
5 Tips and Examples: Copywriting Facebook Ads Headlines
The strength of your ad headline is an important part of the anatomy of your marketing strategy on Facebook. The most successful Facebook ads headlines are eye-catching, clear, and concise. So, what makes a good Facebook ad headline? We're glad you asked! Here are Simplified's top tips and tricks on leveling up your Facebook marketing game:
1. Ask a Question
Ask questions that address your target audience's pain points. Then, draw them to click on your Facebook ad headline with the promise of a solution. For instance, the Finnish Design Shop asks and answers its audience's questions with a directed ad to the products on its website.
2. State a Benefit
How does your brand provide a solution to your targeted audience? In other words, how can your brand bring value to its customers? Instead of taking an aggressive approach, try offering your potential customers a window into why and how your brand will help them. So, instead of saying "Take Our Classes Now", adopt a more conversational and friendly approach like Swolverine and their catchy Facebook ads.
3. Power of Lists
Listicles are a great way to tease your audiences with engaging content! We are constantly bombarded by information across all virtual channels, so lists are helpful in breaking down the subject matter into digestible bits. For example, we love how Shopify connects with its customers through attention-grabbing headlines for Facebook ads. The magic formula of an attractive listicle article is the number of items + a superlative/positive adjective.
4. Clear Call to Action
Whether you want to increase sales or build brand awareness, inserting a command into your ad headlines delivers a clear message – you want your audience to engage. This could mean pushing for flagship products or increasing website clicks. Either way, tell your customers where you're taking them and what you want them to do when copywriting Facebook ads.
5. Organic CTR
The goal of paying for brand advertisements is increased visibility and engagement. Are you following the simple rules of character limits and keyword research? Keep your Facebook ads headlines between 15-40 characters for the best results. Furthermore, using a keyword in your Facebook ads headlines improves your organic click rate by 45%! While you're at it, try using emojis to capture immediate attention, just like Funboy has done perfectly!
Related: Simplified's Tips For Designing Facebook Ads That Actually Work
How Can I Generate Facebook Ads Headlines for Free?
Simplified has you covered – we'll help you create attention-grabbing headlines for Facebook ads using our copy AI assistant. What's more? It's absolutely free! Let's get you started with copywriting Facebook ads! Here's a step-by-step guide.
1. Not Having Clear Objectives
Do you want to increase website traffic or boost sales for a specific product? These are examples of two very different objectives, which will determine how your ads' headlines are written. If you're not clear on what you want to achieve through targeted Facebook ads, you risk wasting time and money.
2. Choosing the Wrong Facebook Ad Type
You have a strong headline and you've spent time thinking of a clear call-to-action. However, if you select the wrong sub-category of Facebook ads, your copy will not be fully optimized! Make sure you know which category your Facebook ad falls into.
3. The 80/20 Rule
Most importantly, when copywriting for Facebook ads headlines, remember that your brand's content must be of value to your audience. Make your ads 80% about talking to your customers rather than talking at them!
One Free app to design, collaborate, and scale your work – try Simplified today.