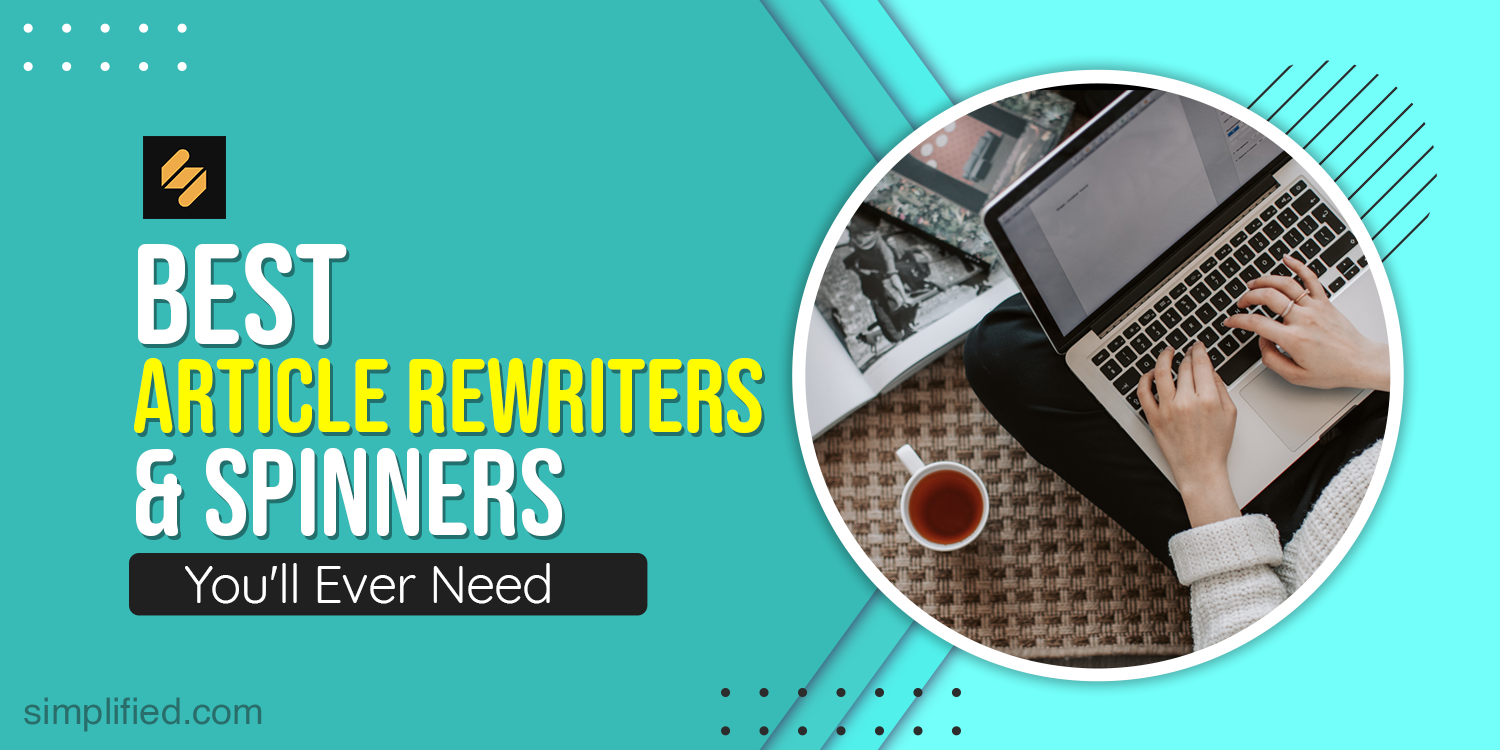 If you're looking for a tool that can help you rewrite your articles, then you've come to the right place. Article Rewriter is a tool that will help you change the words and phrases in your article so that they can be more easily understood by your readers.
This tool is particularly useful for those who write in a foreign language or who want to target a different audience with their writing. It can also be used to improve the clarity of your writing and also offer a whole new article that's 100% plagiarism-free.
We did all done the hard work for you, so you can just sit back, and pick your favorite one from our list of the 5 best article rewriter tools the internet has to offer.
1. Simplified [Best Article Rewriter Tool]
Simplified is a tool that will save you time, make you more productive and efficient, and help you get better results from your content marketing efforts. In fact, it's our best article rewriter pick.
With Simplified, you can create high-quality content for any niche—and do it quickly. You can also use our software to automate your social media marketing efforts by creating compelling posts that will go viral on every major social media platform all while maintaining your brand voice.
Simplified is not limited to just creating content; it also allows you to optimize your existing articles and make them better than ever before. This way, you don't have to worry about outsourcing content creation tasks or spending hours re-editing old posts.
Why choose Simplified?
Can write full blogs in less than 5 minutes.
30+ languages to reach a wider audience.
70+ AI Templates
Can write both long and short-form content with over 70+ AI templates to choose from.
Has a free forever plan for users on a tight budget.
Equipped with Grammarly integration and plagiarism checker.
Makes team and client collaboration easy with real-time editing and planning.
Keyword-rich SEO content so your content ranks organically.
All-in-one platform for all content needs- AI copy, design, videos, content calendar & even publishing
Related: Simplified's AI Sentence Rewriter: How To to Reword and Paraphrase Effortlessly
2. CleverSpinner
If you're looking for a way to rewrite your articles quickly and easily, then you'll want to check out Clever Spinner. This tool allows you to take your existing articles and automatically rewrite them with just a few clicks.
Not only is Clever Spinner fast and easy to use, but it also produces high-quality results. With its advanced artificial intelligence, Clever Spinner can quickly and accurately rewrite your articles without changing their meaning.
The extensive library gives always the right synonym suggestion as an alternative. The software simplifies complex content by reducing complicated expressions in your original text. And best of all: Spin in bulk — you can upload several text files and rewrite them using API.
3. TheBestSpinner
The Best Spinner uses a unique algorithm that analyzes your articles and determines which words and phrases can be replaced with more readable and engaging alternatives. The software also includes a thesaurus with over 1.5 million different words and phrases, so you can be sure that your rewritten content will be of the highest quality.
4. Quillbot
QuillBot's summarizer is useful for condensing lengthy texts into a concise summary of their key ideas. Quillbot uses natural language processing to analyze text for useful information while preserving the original meaning.
Within the summary function, you may choose between two different approaches:
With Key Phrases, you'll have all the fundamental sentences in a convenient bullet point format.
Choosing a Paragraph as your report type will generate a summary paragraph on the issue, with the length customizable.
The Summarizer tool is available in free and premium plans, with the free plan restricting each run to 10,000 characters.
Related : Quillbot Alternatives: 6 Free Options You Need To Check Out Today
5.SpinRewriter
SpinRewriter is a tool that can rewrite articles so that they are almost unrecognizable from the original content, but still engaging and easy to read. Artificial intelligence and natural language processing can comprehend your writings just as well as any person.
It can produce thousands of unique versions of a given article with a single push of a button. In addition, it guarantees that the material produced is original and SEO-rich. It Supports all rewriting levels; reword whole paragraphs or just a few words. Let's you customize tone of voice and use stock images to incorporate into your writing.
The Takeaway: Which is the Best Article Rewriter?
AI content generators make copywriting easier and hassle-free, and the five tools mentioned above are the best in the market right now. However, if your focus is to find an all-in-one tool for all your marketing & copy needs, then Simplified is the best pick.
With 70+ AI templates, a document editor, easy app integration, and team collaboration, our app is perfect for everyone. From full-length articles, blogs, and social media copy to quotes, product descriptions, and ads you can generate all your marketing copy using Simplified's AI Copywriting Tool.
That's not it! Create stunning designs, make & edit videos and publish your content in minutes for all socials. What used to take days can now be done in minutes using Simplified. The best part? It's free forever!