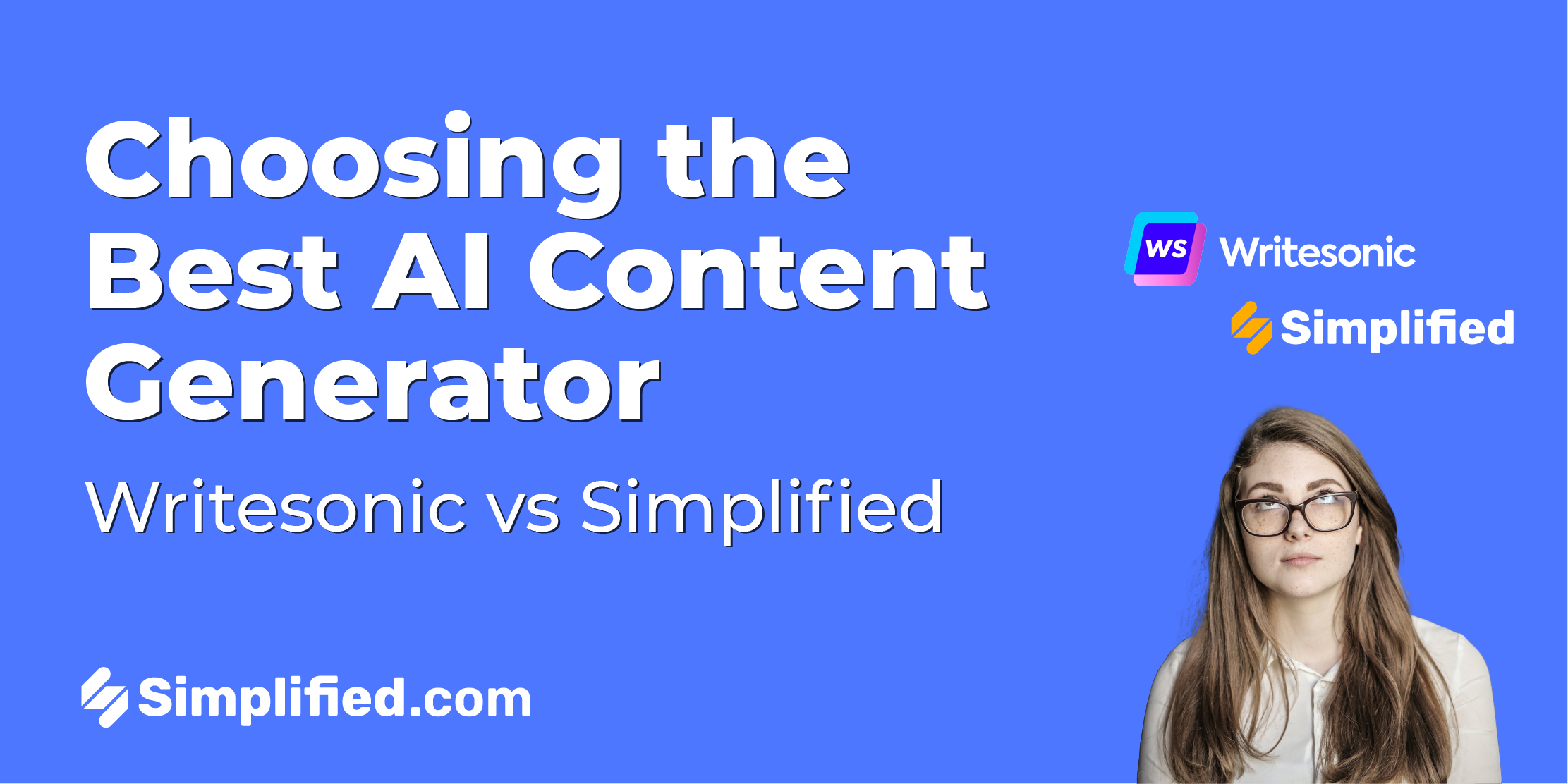 Thanks to AI tools, everything has become a bit easier for us. Whether we use it for school or for work, these AI Content Generators have definitely allowed us to work hassle-free and think with ease. However, because how there are so many applications to use out there, which is the best for you? Today, we will be comparing two of the most used AI Content Generators today. As we walk you through the features of Simplified and Writesonic, we hope to make it easier for you!
Simplified vs Writesonic: Which is the Best AI Content Generator Today?
Down below are just some of the features that you should know about the AI Content Generator that you should be choosing!
| | | |
| --- | --- | --- |
| Basis | Simplified | Writesonic |
| AI Technology: GPT 3 | Yes | Yes |
| Free Trial | It's free forever! | Yes |
| AI Copywriting Templates | 79 | 50+ |
| Long-Form Writer | YesWrites articles in under 1 minute | Yes |
| Built for teams | Yes | No |
| Customer Support | Yes | Yes |
| Commenting | Yes | No |
| Organizing: Folders | Yes | Yes |
| Premium Community | Yes | Yes |
| Integrations | Here's where you can use Simplified:Shopify, Google Sheets, Google Drive, Unsplash, Pixabay, Pexels, Brandfetch, Storyblock | Here's where you can use Writesonic:Shopify, Magic Email, Cloudfare, Chargebee, Airtable, Webflow, Monday.com |
| Mobile Friendly | Yes! Also has an app for iOS | No |
| Multilingual | 25+ | 24 |
| Multiple Brand Kits | Yes | No |
| Unlimited Storage | Yes | No |
| Approval Workflows | Yes | Coming Soon |
Here are more things you should know about Simplified and Writesonic!
Now that you already know about each of the program's features, down below are some of the common questions that we get asked that might also just help you figure out how the AI Content Generator works for you!
Which is more team friendly?
Because Simplified is designed for teams, this is the content generator that is more team-friendly. Though Writesonic features are also good, unfortunately, the application itself is not built for teams.
Which AI Content Generator has an easier interface?
Simplified, as the name suggests is simple! All templates and features are easy to find within their dedicated categories. The app interface is straightforward and very basic, even for people who don't have any design background. The tool also offers dark and light mode letting the user shift according to their preferences.
Writesonic, on the other hand also has a basic white and blue theme which is easy to access. However, the interface may feel very basic and dated because of its white boxy appearance and buttons that merge with the background.
Related: The 5 Best AI Writers Of 2023 – Ranked and Reviewed
Which AI Content Generator Offers More Value For Money?
Here's the million-dollar question that everybody will always ask: Which AI Content Generator is most cost-effective?
Well, with Simplified, you will be able to access and use the application for free, forever as opposed to Writesonic's 7-day free trial! However, if you want to use both the apps out for teams, here's what the pricing plans looks like 👇🏼
Packages
Simplified's Pricing
Writesonic's Pricing
What's the difference?
Free Forever Plan
$0 Free of Cost
$0
Everyone can access to Simplified's free plan. The same with Writesonic, but is only limited to AI Writing.
Small Teams
$30/Month$21/Yearly
N/A<