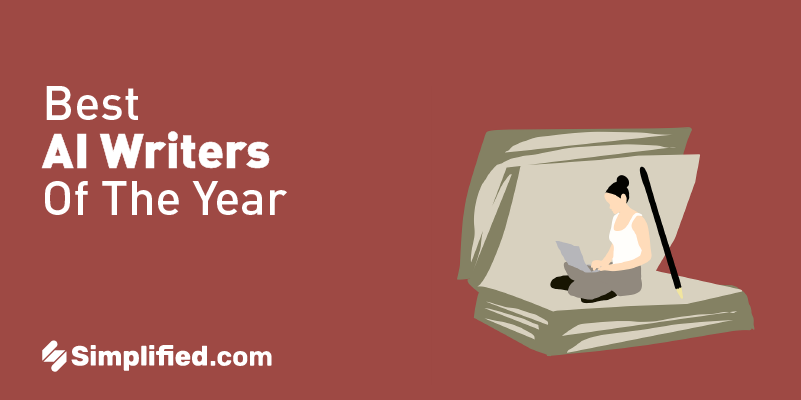 Artificial intelligence (AI) has come a long way in recent years, and one of the areas where it is making a significant impact is writing. But AI writers are becoming more popular, with many businesses and individuals using them to generate content quickly and clearly, with so many AI writers in the market, it can be difficult to determine which ones are the best.
That's why we have created a list of the best AI writers of 2023, ranking and reviewing them based on their performance, user-friendliness, and output quality. In this blog, we will take a closer look at the top AI writers on the market and what makes them stand out. So if you're a content creator, marketer, or business owner looking for an proper writing solution, read on to discover the best AI writers of 2023.
1. Simplified (Free Forever)
Simplified's AI-powered writing tool offers an array of personalised designs to help create convincing content for blogs, ads, and product descriptions. Its intuitive AI editor suggests edits to enhance writing quality.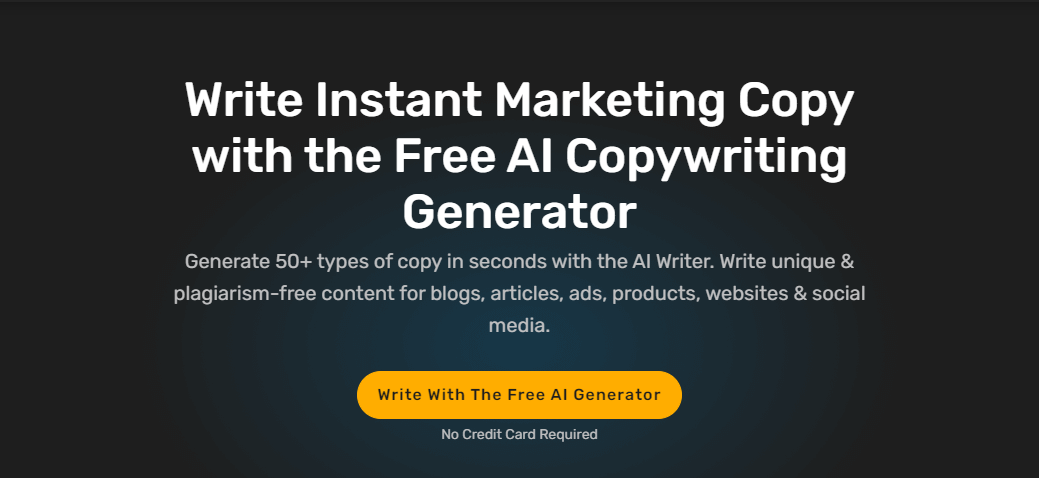 Features:
Simplified's AI Writer creates copy in seconds, giving unique and plagiarism-free content for various purposes.
70+ AI templates are available for high-quality content creation, including business bios, Facebook ads, product descriptions, and more.
The Long Form Writer feature helps users write faster and includes tools for improving their copy.
The Copy AI Rewriter tool allows users to improve or rewrite inspiring copy for various purposes.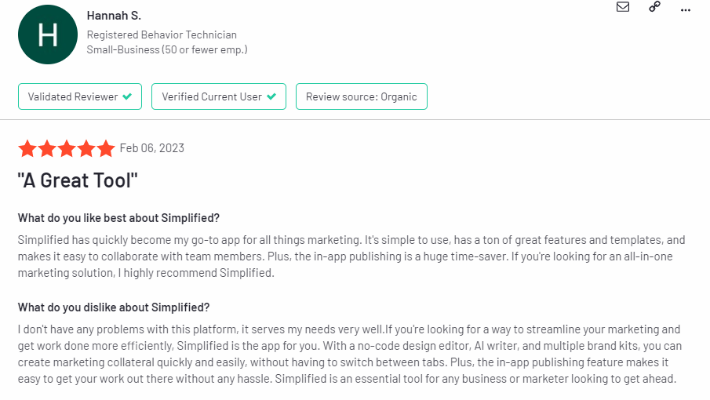 User Experience:
Simplified offers a user-friendly interface and seamless integration with your browser, using the free chrome extension
The clean and easy user interface allows users to quickly find and use the characteristics they need.
Output Quality:
Simplified's advanced AI-powered algorithms provide personal advices for grammar, style, tone, and other factors.
The reviews and advices are precise, specific, and easy to understand.

Performance:
Simplified provides fast and efficient real-time feedback and suggestions.
The tool's AI algorithms are optimized for accuracy and speed, and it can handle large amounts of text with ease.
Related: The 5 Best Article Rewriters & Spinners You'll Ever Need
2. ChatGPT
ChatGPT is a conversational AI chatbot that can create text based on any prompt you input and is expert in STEM to write and debug code and solve complex math equations. It is free to use and offers conversation chances. Still , the service is often at ability due to its immense popularity.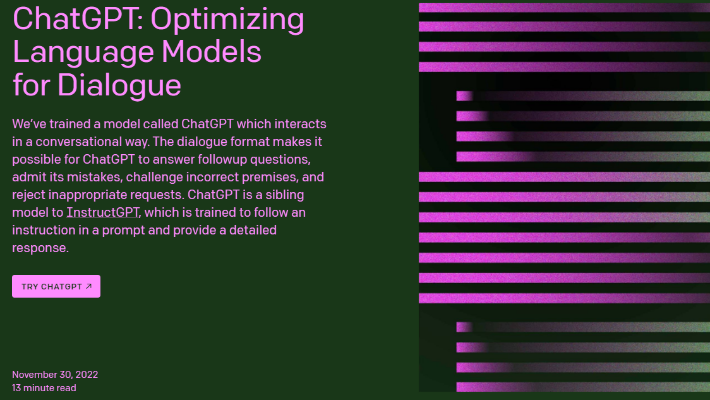 Features:
A language model capable of creating human-like text in response to prompts
Can perform a variety of tasks such as language translation, text completion, question answering, and more
A vast amount of training data allows it to create high-quality text in various styles and formats
User Experience:
Provides a direct user experience through its API, allowing developers to quickly integrate its language processing capabilities into their applications
It can create quality text with minimal input from the user, making it easy for non-experts to use
Output Quality:
Also generates high-quality text that is often indistinguishable from text written by a human
Anyways , there may be instances where the generated text contains errors or is not entirely correct, and users should verify the output before using it
Performance:
GPT-3 is a high-performing language model, capable of creating large amounts of high-quality text quickly
The generation time of text may vary based on the length of the input and the complexity of the task
Subject to occasional downtime or performance issues due to the high demand for the API
3. Jasper
Jasper is a flexible and powerful conversational AI framework that offers a range of characteristics to enhance your natural language processing (NLP) applications.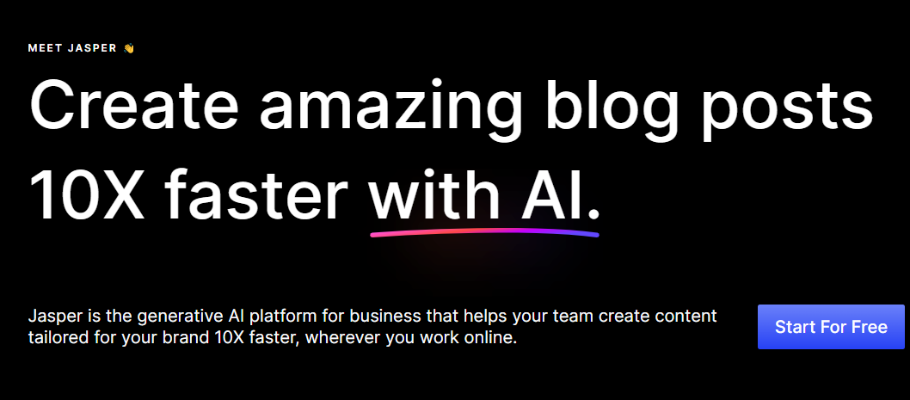 Features:
Provide users with multiple input and output channels, like text, voice, and chat interfaces, to give them an effortless experience
Customize the conversational flow and integrate external APIs using Jasper's flexible architecture
User-experience:
Integrate with messaging and voice assistants for a seamless user experience
Manage your conversational AI application with ease
Output quality:
Provide contextual and personalized conversations to enhance the user experience
Test and debug the conversational flow to ensure quality output
Performance:
Scale and deploy your conversational AI application with ease thanks to Jasper's modular architecture
Enjoy robust error handling and recovery mechanisms, making sure the application can handle unexpected user input and errors
4. Writesonic
Writesonic also uses AI to create various types of content such as blog posts, landing pages, product descriptions, and emails. The AI algorithm updates constantly to reflect the latest SEO trends and search rankings.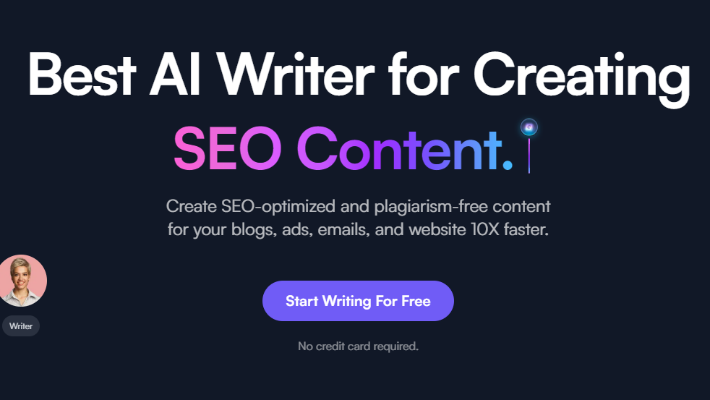 Features:
Generate high-quality content for blogs, landing pages, ads, and more with Writesonic's powerful AI language model powered by GPT-3
Choose from over 40 templates and more than 20 languages to create content that suits your needs
Get 12 styles of your content with just a few lines of input, and publish after a quick edit
User experience:
Create content easily with Writesonic's simple and user-friendly interface
Saves time with pre-built templates and fast generation of high-quality content
Publish with confidence after just a light edit
Output quality:
Receive search ranking and SEO-optimized content
Choose from 12 variations to find the content that best suits your needs
Performance:
Get your content in seconds with Writesonic's fast AI-powered language model
Always stay updated with the latest SEO trends and search rankings with constantly updated AI
5. WordAI
WordAI uses AI to improve your written content by restructuring sentences, adding keywords, fixing spelling and grammar, and creating up to 1,000 article rewrites. This AI writer enables bulk article rewriting and exports and offers an API for integration with other software.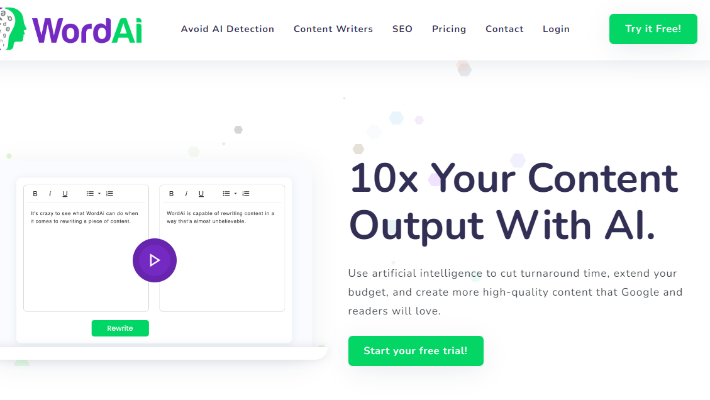 Features:
Improves clarity, avoids duplicate content, and creates up to 1,000 rewrites per article
Enables bulk article rewriting and exports, and you can view the HTML behind your articles
Its API can be integrated with other software to support customized enterprise packages
User Experience:
Friendly interface that makes it easy to use for both new and experienced users
Features HTML viewing, bulk rewriting and exporting, and an API for integration with other apps and sites.
Output Quality:
Automatically adds keywords and makes writing more varied to enhance readability
Ensures writing is free of repeated content and errors by checking spelling, grammar, and clarity
Performance:
Can restructure up to 1,000 article rewrites per article
Provides enterprise-level support for multiple users and higher volumes
Conclusion
In conclusion, AI-powered writing tools have revolutionized the way we create and consume content. They offer a range of benefits, from improving productivity and efficiency to enhancing the quality and accuracy of our writing. Whether you're a professional writer, marketer, or student, an AI writer can help you take your skills to the next level. While all the tools above are super helpful in creating content, however, if you're looking for an all-in-one marketing platform that can create copy for all your socials in minutes. Then Simplified is the perfect tool for you. Choose from 25+ languages, different tones of voice, and over 70+ AI templates; content creation has never been easier.
Create Engaging Content In Minutes For Free With Simplified