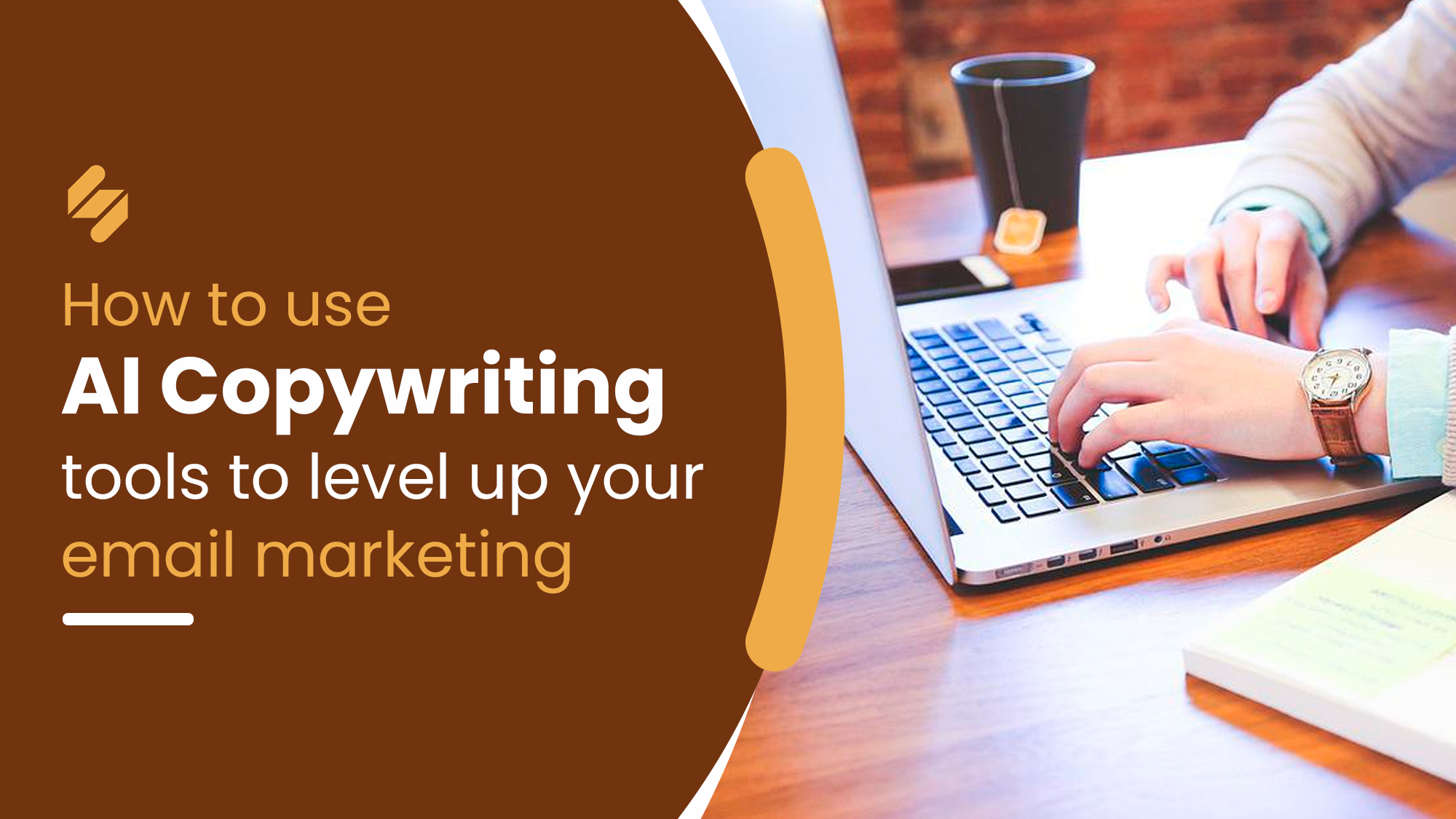 If you want to connect more with your customers, then you shouldn't underestimate the power of email marketing. Email marketing not only helps you keep in touch with your customers, but it's also a great way to promote your products or services. The question is – how do you create email content that stands out from the crowd? Well, that's where artificial intelligence (AI) comes in! With AI-powered copywriting tools like Simplified, you can easily create compelling, personalized content for your email marketing campaigns that will engage your audience and boost your results. This blog will show you how to use AI copywriting tools, and contains email marketing tips for small businesses. Let's get into it!
What Is AI Copywriting, Anyway?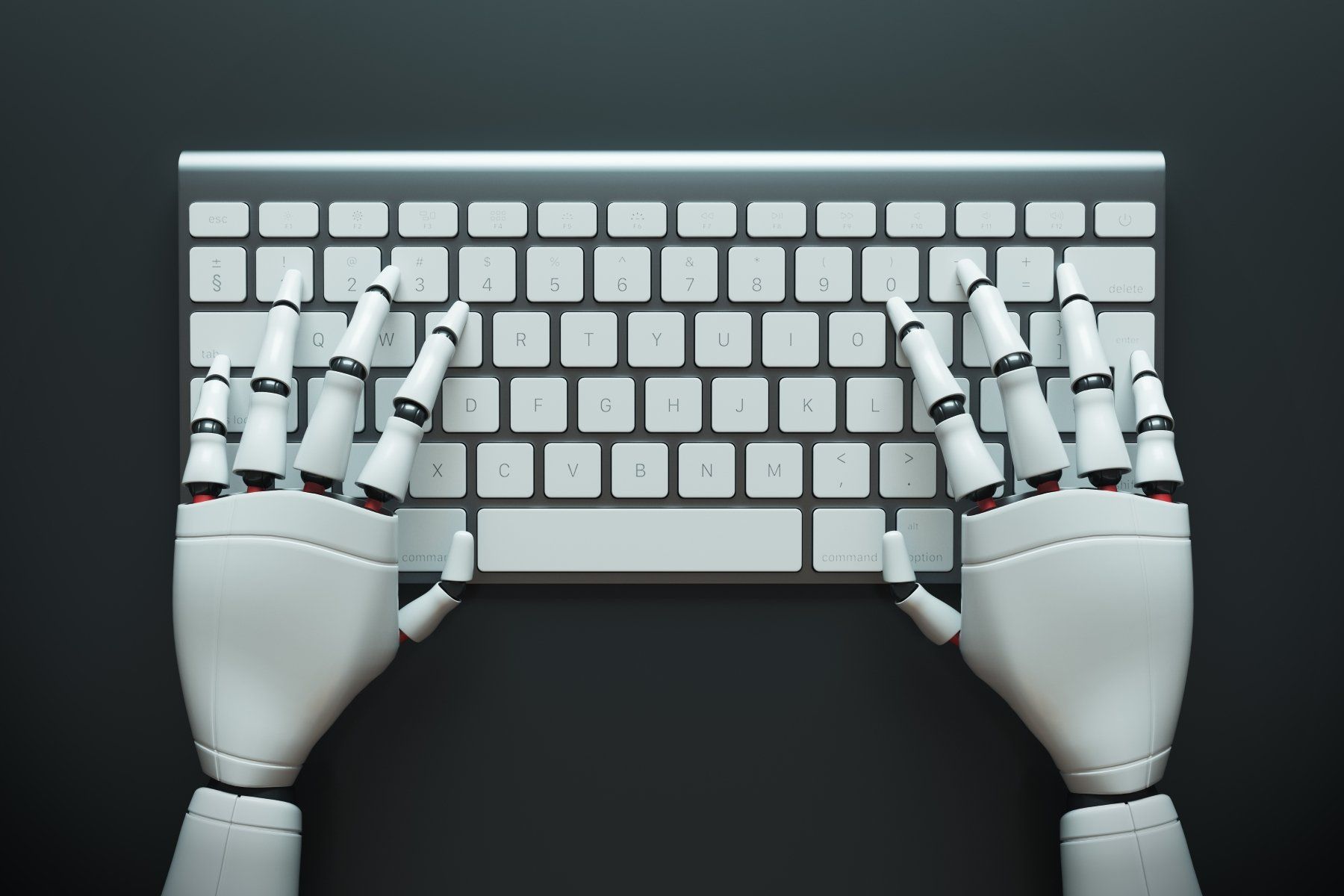 AI copywriting means content that is generated using artificial intelligence (AI). All you have to do is set the parameters and the AI copywriting tool will work its magic to help you generate your marketing copy. With AI copywriting tools, you can write emails, product descriptions, blog posts, and social media captions. There are tons of copywriting frameworks, but the most common amongst copywriters include:
AIDA (Attention/Interest/Desire/Action)
BAB (Before/After/Bridge)
FAB (Features/Advantages/Benefits)
PAS (Problem/Agitate/Solution)
The 4 P's (Picture/Promise/Prove/Push)
Benefits of AI Copywriting Tools
Ever heard the statement 'the future is AI'? It's no wonder why – using AI in tasks like copywriting comes with many benefits. For one, using AI to generate your email marketing copy will save you precious time, as it generates content in seconds.
You're probably familiar with writers' block. Well, with AI copywriting tools, you can easily produce fresh content frequently without having to rack your brain for ideas.
Having well-optimized marketing copy will help boost your brand's organic reach. That's why it's so amazing that some AI copywriters like Simplified generate copy that boosts SEO. For instance, our product/service description generator uses the SEO keywords you input and adds them to your content naturally.
How to Use Simplified's AI Email Copywriting Tools To Improve Your Email Copywriting
They say seeing is better than believing. That's why we'll use this section to show you Simplified's AI-powered email marketing tools work.
1. BAB Framework
These are the three inputs that we'll be using for some of our examples below:
Company name: Simplified
Product/Service description: We are a design and collaboration platform for marketing teams Language: English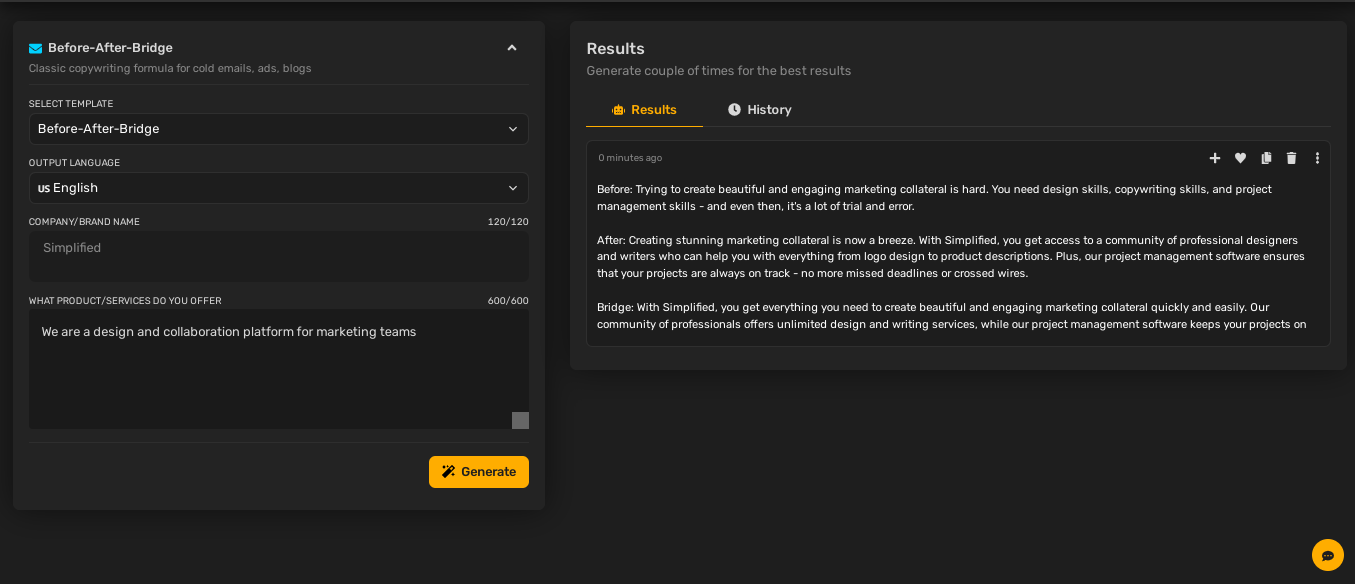 Voila! All that generated in a matter of seconds – how amazing is that? Now, if you're not satisfied with the first result, click 'Generate' again (as many times as you like!)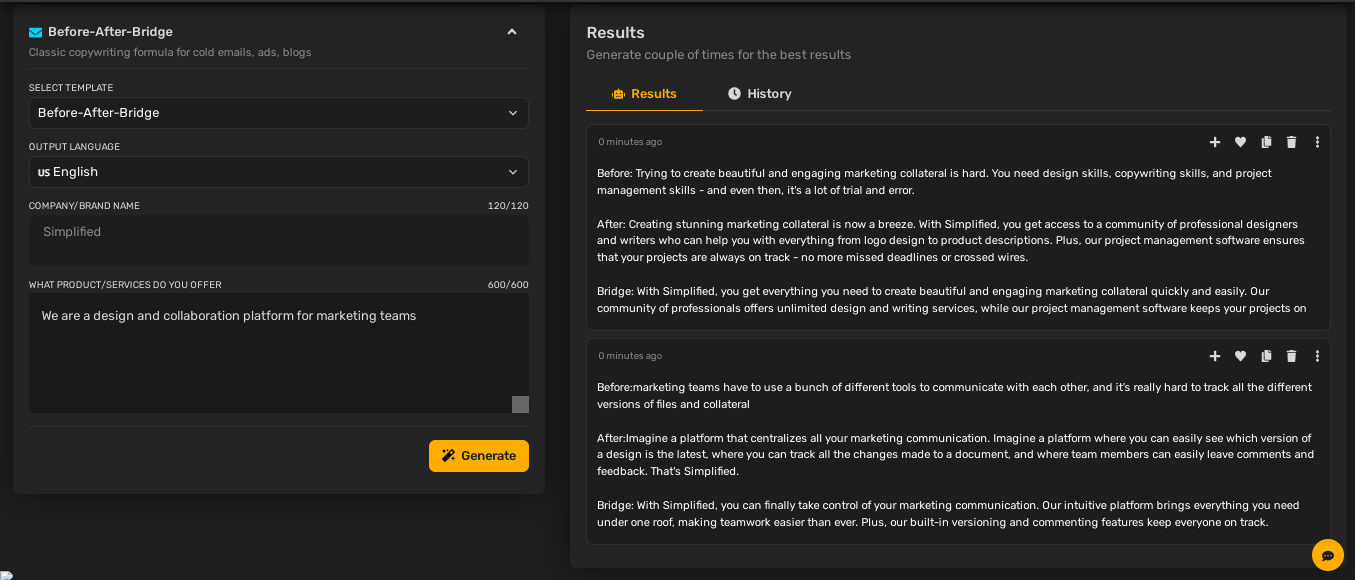 2. AIDA Framework
Using the three inputs we stated above, here is an email marketing copy generated using the AIDA framework: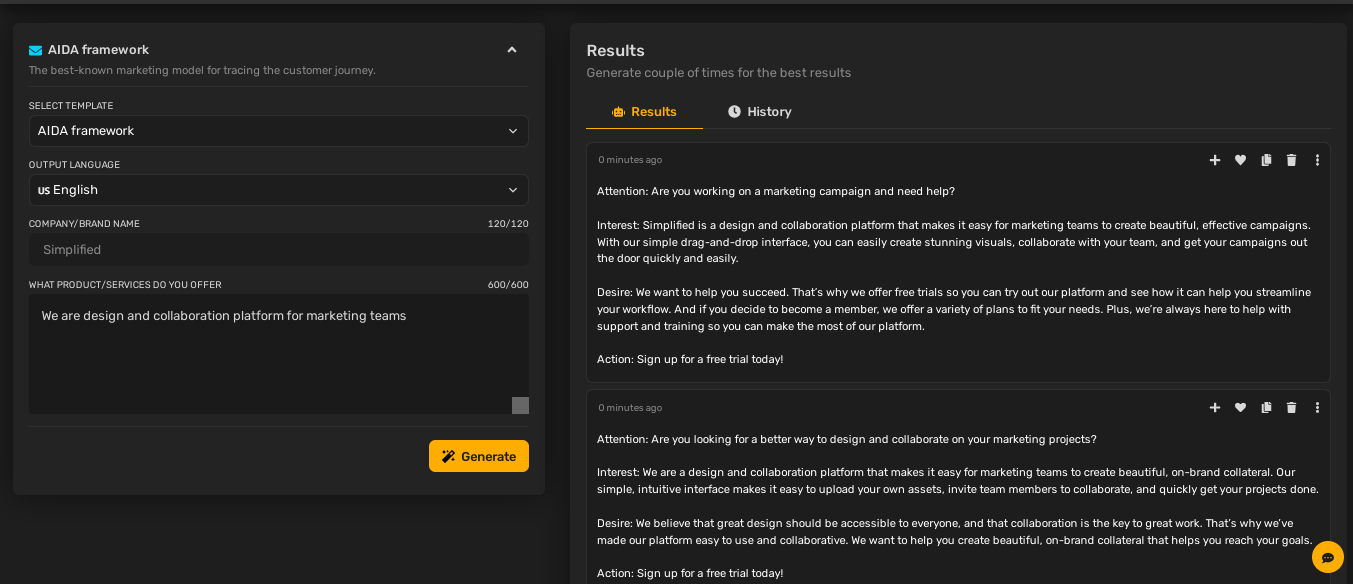 3. Event Promotion Email
Have a big event coming up? Let Simplified's event promotion tool tell your audience in the best way: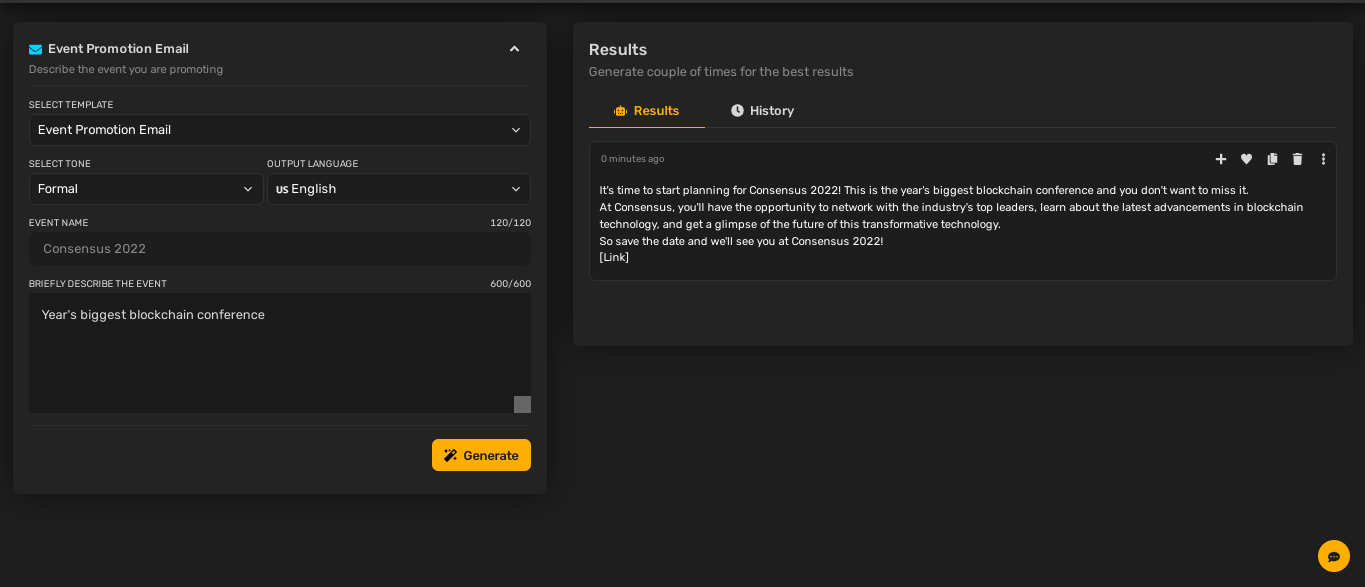 4. Pain Agitate Solution
Use our tool to write the most persuasive and customer-centric marketing copy ever!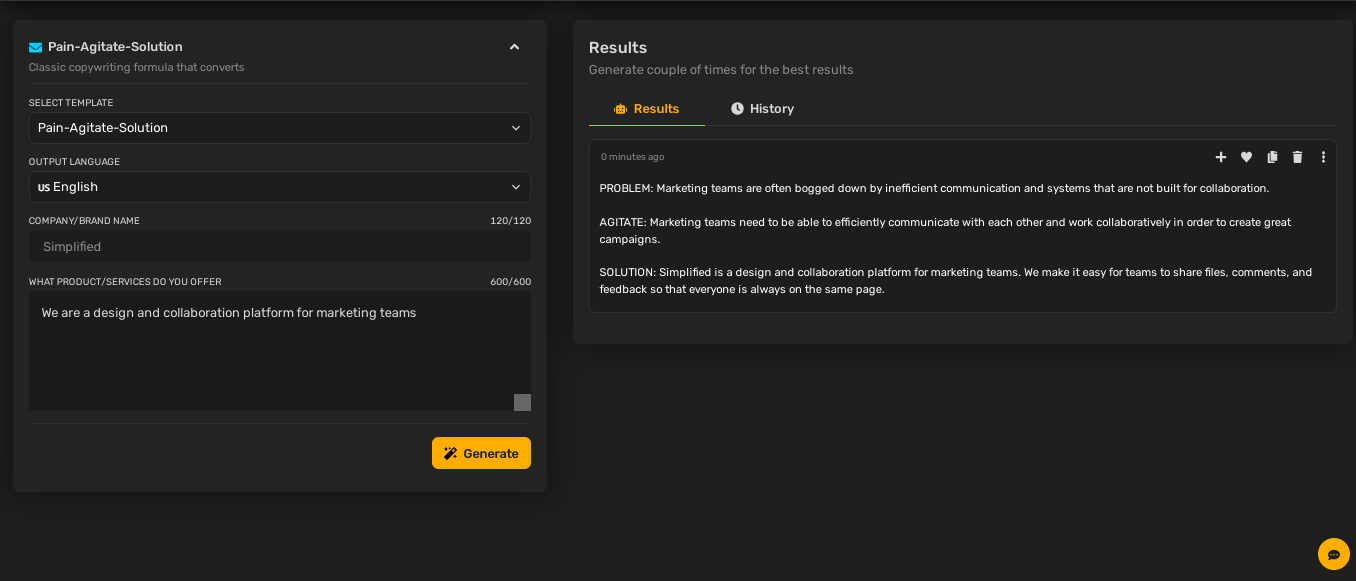 5. Persuasive Bullet Points
This email marketing tool will help you write concise and persuasive bullet points. Let's check out an example using the three inputs: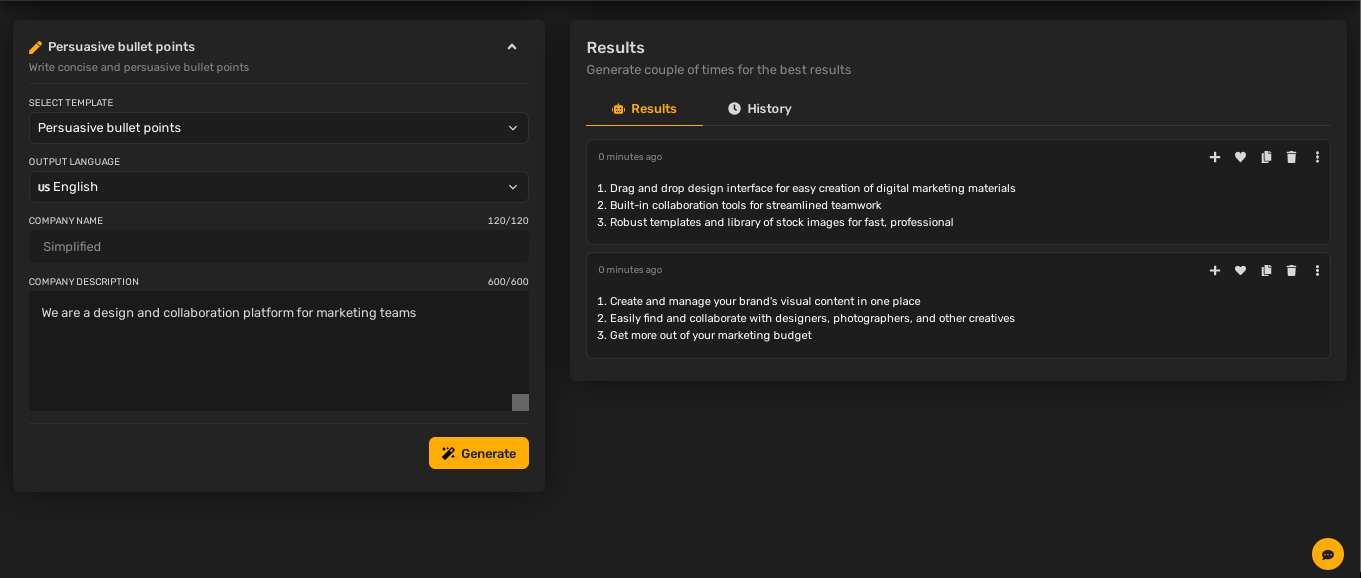 6. Product Value Proposition
You can easily write creative value propositions for your products or services.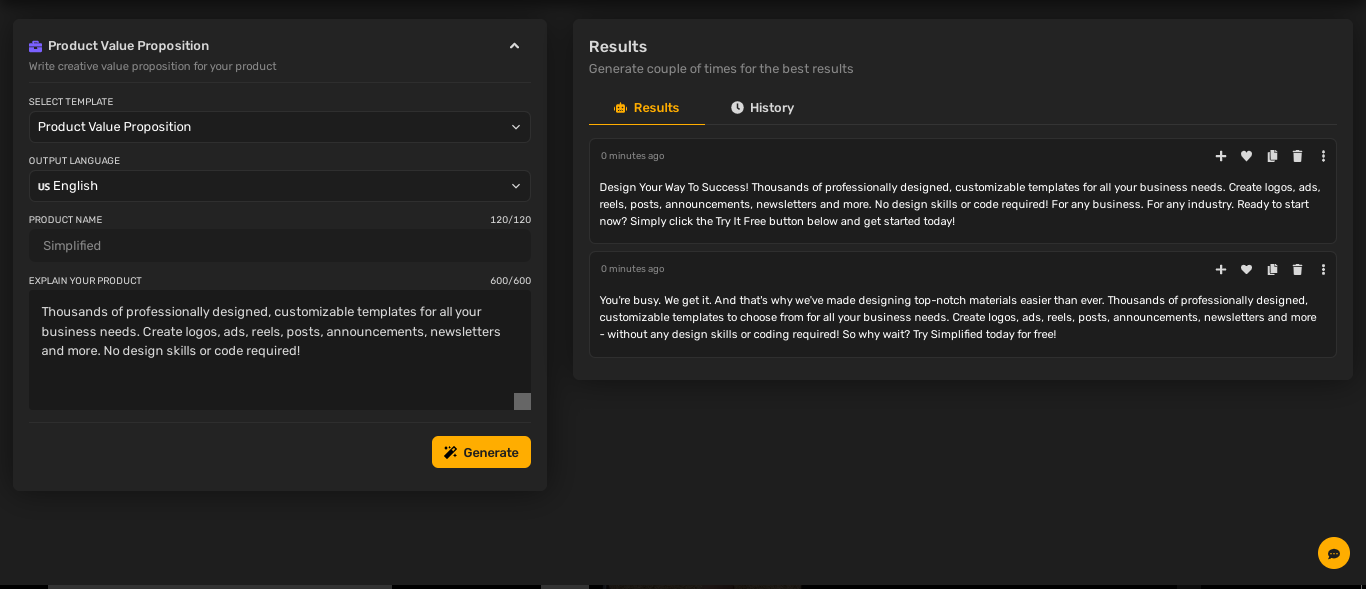 Our tool also helps you write different forms of emails! Take a look:
Email Marketing Tips For Small Businesses
Let's give you a few tips on how to handle some of the limitations of AI email copywriting.
1. Don't overlook the human touch
Yes, AI copywriting tools are great. However, in your business, it should be more of a support tool than a stand-alone one. No matter how effective the AI copywriter is, it's not entirely perfect. You should have an editor who can review, edit, and fine-tune your AI-generated marketing copy.
2. Research!
This is one of the most important email marketing tips for small businesses. Remember that bots aren't exactly spectacular when it comes to strategic thinking. There's only one way to remedy this limitation, and that's through research. Researching gives you insights into the type of content that your audience likes, for example. With the knowledge you gain from your research, it becomes easier for you to optimize your AI-generated copy.
3. Don't be anxious about plagiarism
Don't fret, my friend. It doesn't matter how many times you generate copy at a go. AI copywriting tools are tested with plagiarism tools and are programmed to formulate original content for you. If you want, you can use plagiarism tools like Grammarly to cross-check your work.
4. Add some flair
AI is impressive, but it lacks the element of a personal touch. Don't make your audience go through the pain of reading uncreative emails – use eye-catching subject lines or even funny graphics. It'll add personality to your emails.
With Simplified's free AI Copywriting Generator, you can write over 50 types of one-of-a-kind marketing copy in just seconds!
Start writing today; you (and your readers) will be extremely glad you did!