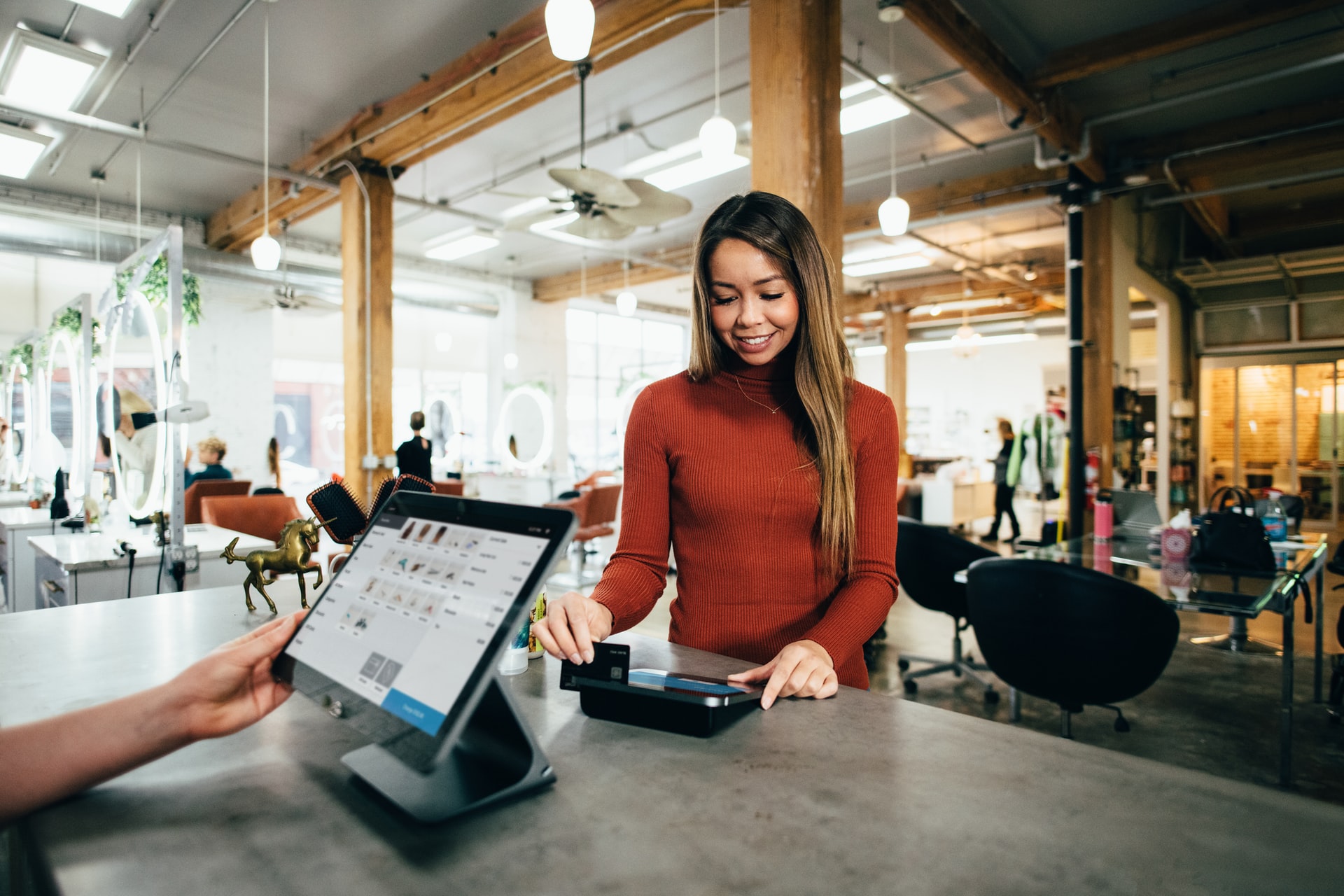 Consumers today want to buy from brands they feel connected with, which is why it's essential to have a genuine, consistent voice in all your marketing efforts. As a marketing manager, you need the perfect engagement strategy that is consistently fresh, relevant,, and personalized for the brand's target group. And you all would agree that creating good content consistently needs time and loads of mental bandwidth.
Times are changing, and so is the content creation landscape. Bye-bye old ways of creating content with 30 crushed papers in the bin and hello— AI copywriting. AI copy not only saves time and helps tackle writer's block but also generates content that converts! In this blog, we'll show you 6 ways to use AI copywriting to create a strong brand identity and increase sales. Let's get started!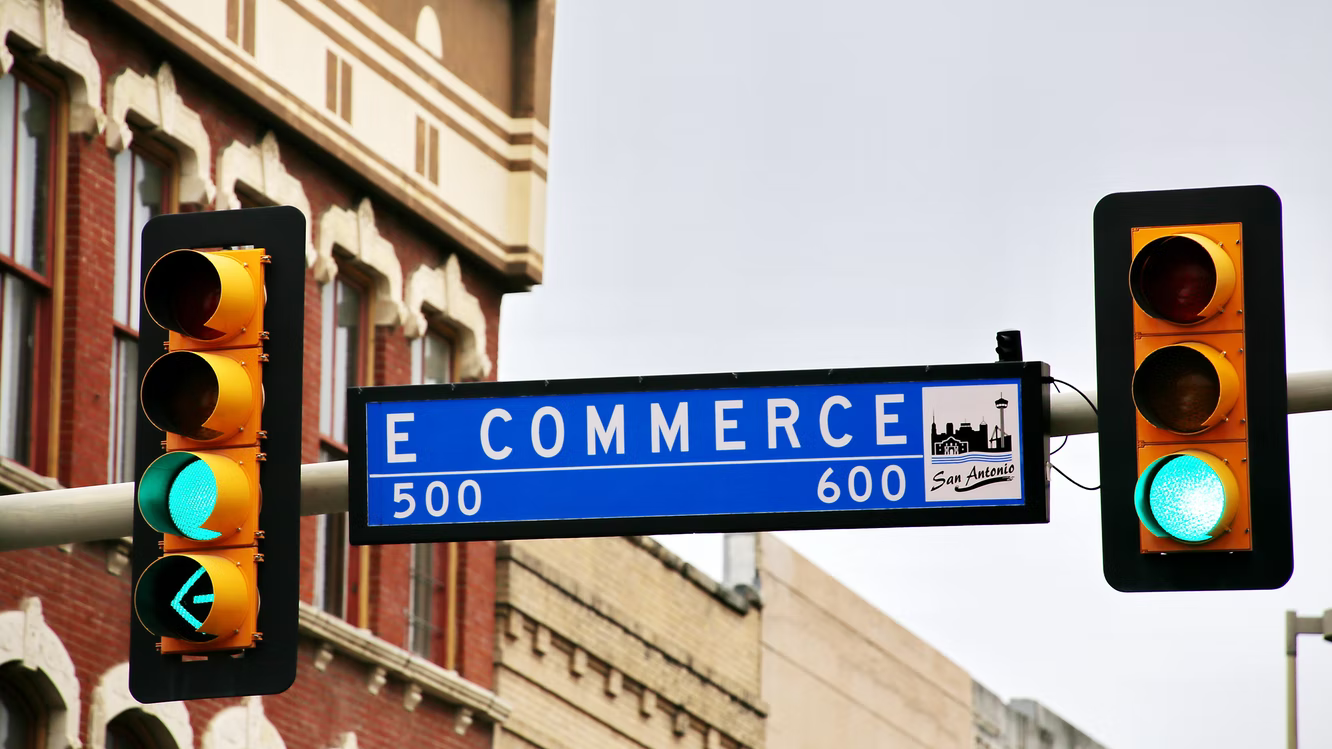 How To Create Killer Content For Your Business
Technology has improved significantly in the recent decade. So much so that computer software can even recognize speech patterns and imitate a brand's voice!
When companies utilize the top AI copywriting tools, they have access to everything(it learns about previously successful campaigns). As a result, you can develop campaigns that set your business apart from the competition.
Related: How Simplified's Copy Writing AI Can Help You Create Formidable Content
Simplified's AI writer can reduce your workload and eliminate the monotonous activities that drain your creativity. With AI copywriting in retail, we'll take care of content heavy-lifting while you focus on getting other tasks done. That being said, here are 6 (free) AI templates on Simplified specifically catering to retail marketing needs.
Amazon Product Listings
AIDA Framework
Google Ads
Hashtag Generator
Review Responder
Product Name
#1: Amazon Product Listings
Significance of Amazon Copywriting in Retail Marketing
Optimized content for product listings will increase traffic to your site and generate more sales. Additionally, keyword optimization and relevance, extensive descriptions, and bulleted text are proven techniques to enhance organic traffic to your listing.
How To Use Amazon AI Copywriting in Retail on Simplified
With Simplified's product description generator, you can create compelling product descriptions that will attract consumers. We tried our hand at writing some product descriptions, and they panned out perfectly!
All you have to do is enter the name of your product and the aspects you want to promote. Click 'Generate Now' and watch the AI writer do its magic! You can also 'Favorite' the results you like most. Simplified also features a one-liner product description tool to make your workflow simpler.
Related: Copywriting for Amazon Listings: Secrets to Increase Conversions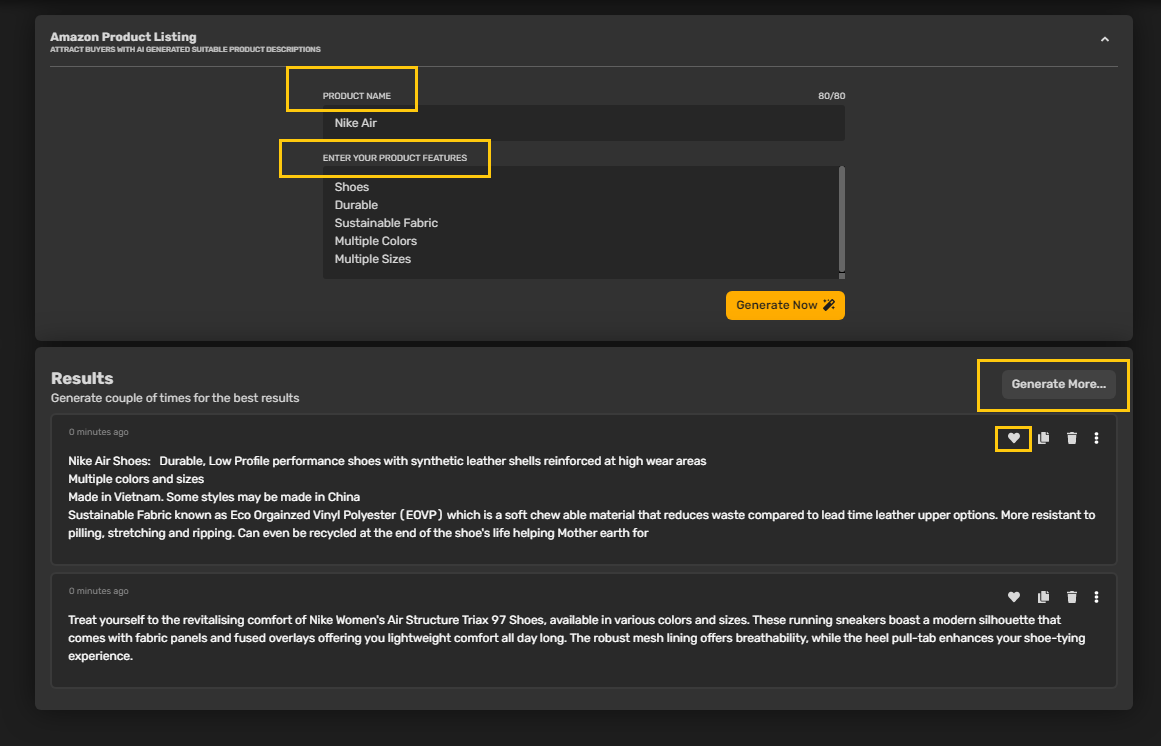 📌 Simplified Tip: For the best results, generate a couple of times!
#2: AIDA Framework for AI copywriting in retail
The AIDA framework acts as a base for marketers to understand their customers. From the initial stage of being aware of a product to its final purchase, the AIDA model can lay out the consumer's journey in different stages.
This model helps brands channel their efforts while optimizing marketing strategies. And using AIDA copywriting in retail can help you do just that!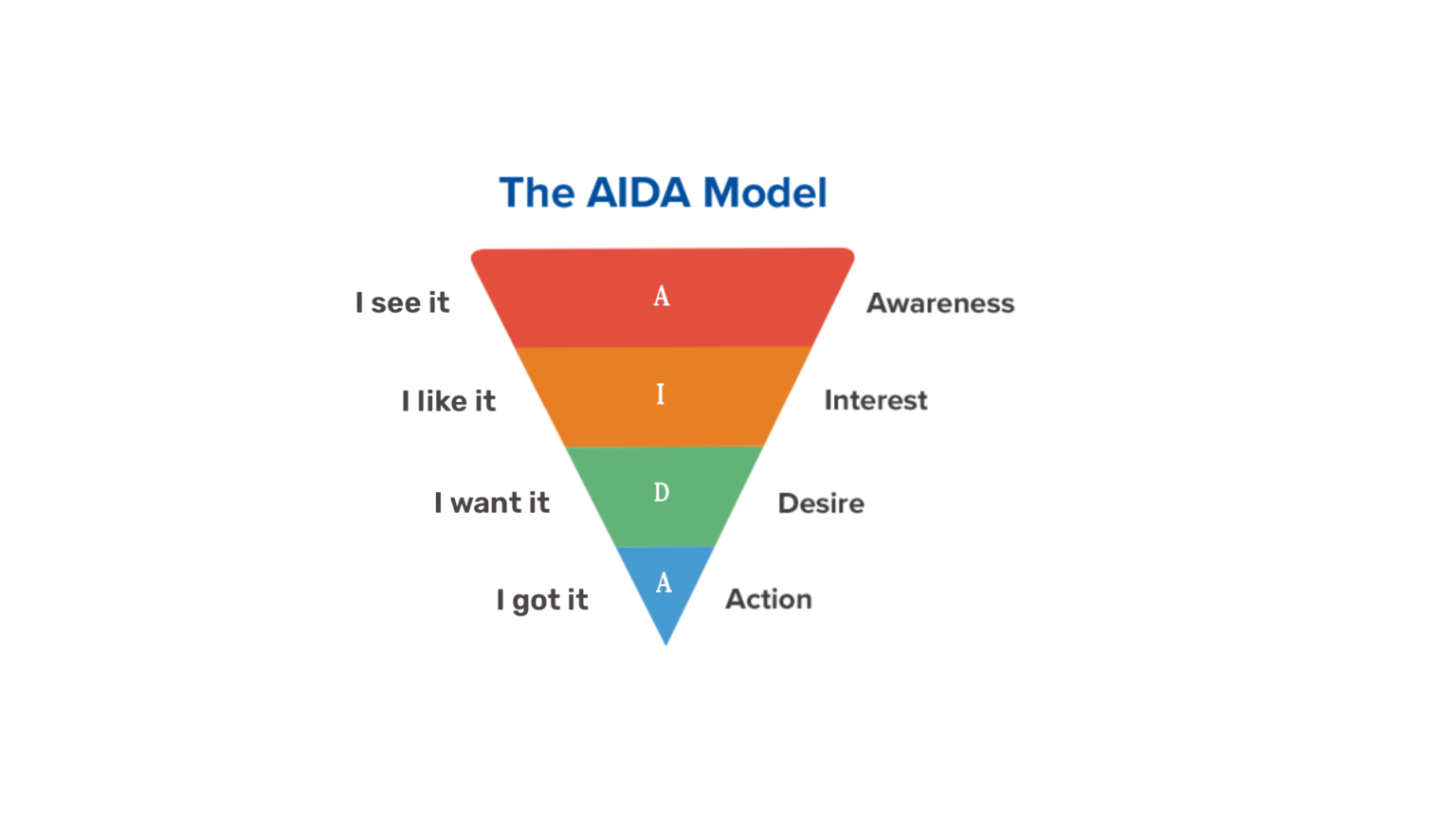 Understanding AIDA copywriting in retail marketing.
Simplified also provides the AIDA framework to deliver more targeted prospects and customers through content. Here's how Simplified generates fresh and engaging AIDA copy.
First, enter your company name and the product/service you offer.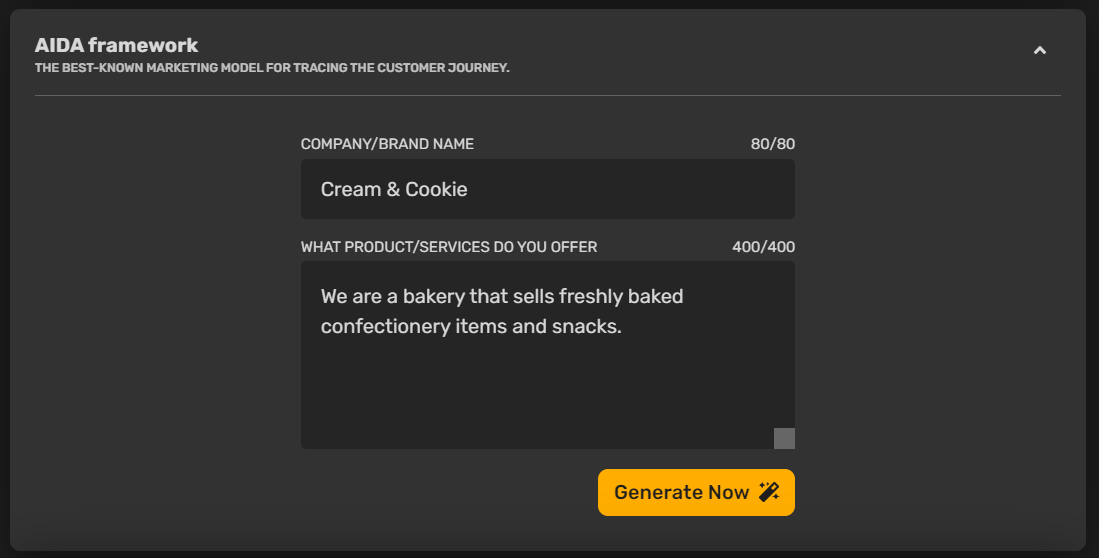 Click 'Generate Now' to create truly catchy content!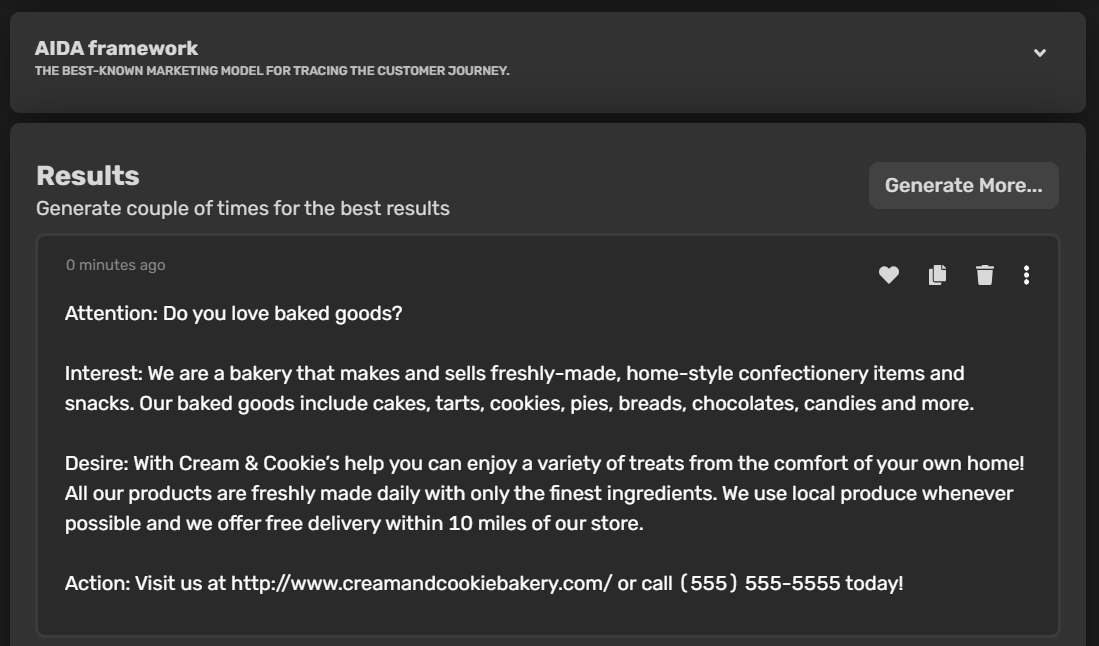 Related: Using Simplified's AI To Create AIDA Framework For Your Next Marketing Campaign
#3: Google Ads
First impressions matter a lot when it comes to acquiring new clients. Which is why it's essential to understand Google ad headlines. Potential consumers will notice your headline first, and getting it right might be the difference between them clicking on your ad or not.
💡 You can also checkout Simplified's Facebook Ad Headline tool
Simplified's Google Ads AI copywriting used in retail generates great copy. The tool will ensure that the copy is conversational and uses the right keywords to maximize results. Moreover, you can also add a CTA which will attract your customer's attention and make your ad seem interesting.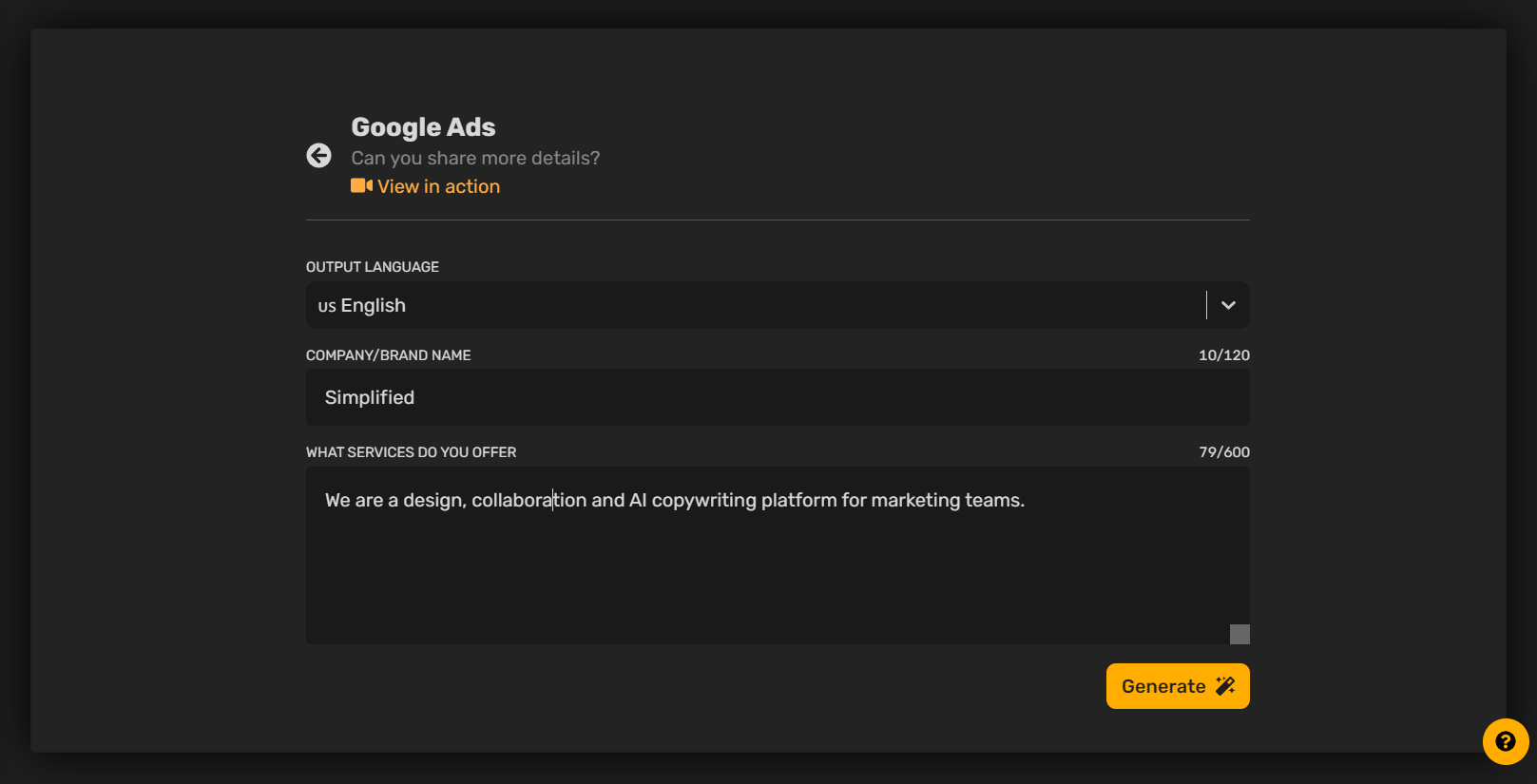 #4: Hashtag Generator
Finding the best hashtags is a challenging task, no matter how social media savvy you are. And that's exactly why you need Simplified's hashtag generator for your AI retail copywriting needs.
Hashtags take relatively little money and effort to implement, but they can direct individuals who are eager to know more, directly to your content. That's why, in order to achieve your social media marketing objectives, you need to be selective about the hashtags you use.
Here's what our AI writer generated in a few seconds with minimal input: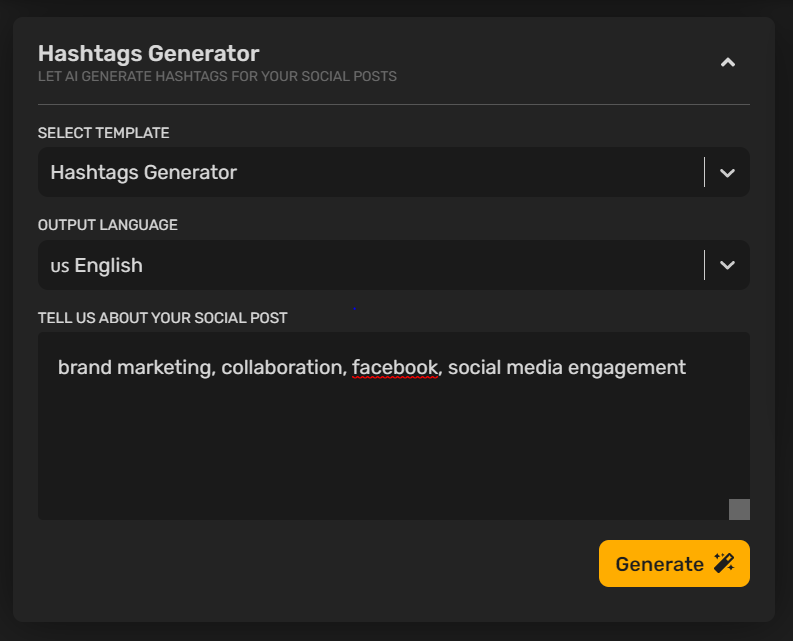 Related: Create a #Winning Instagram Hashtag Strategy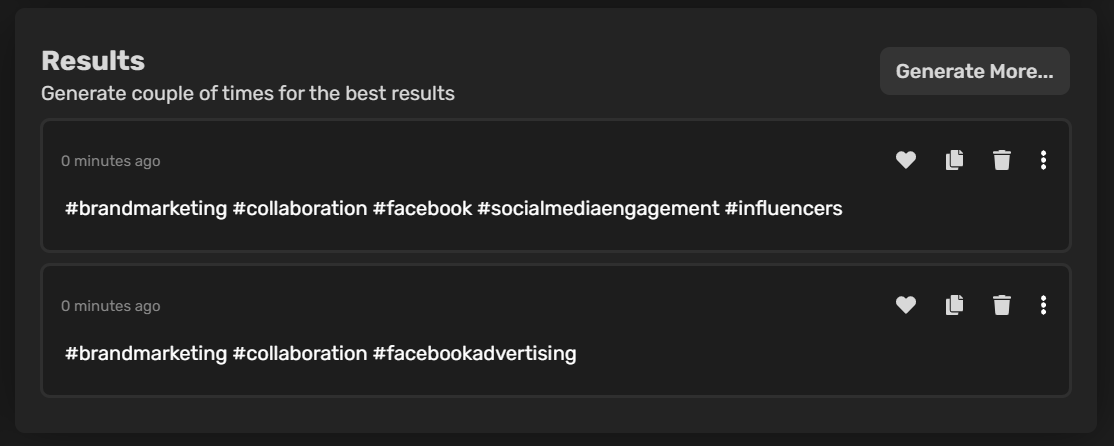 #5: Review Responder
Importance of Review AI Copywriting in Retail Marketing
Getting good or negative online reviews is an important part of sustaining your brand's reputation. Positive reviews may be used as a certificate of client satisfaction on your company's website.
Negative reviews, on the other hand, provide a window into improvement and a chance to rectify a disappointed customer's experience. With Simplified AI, you can effortlessly create review answers, whether good or bad!
Related: Simplified AI Tools For Small Businesses: Generate Review Responses Easily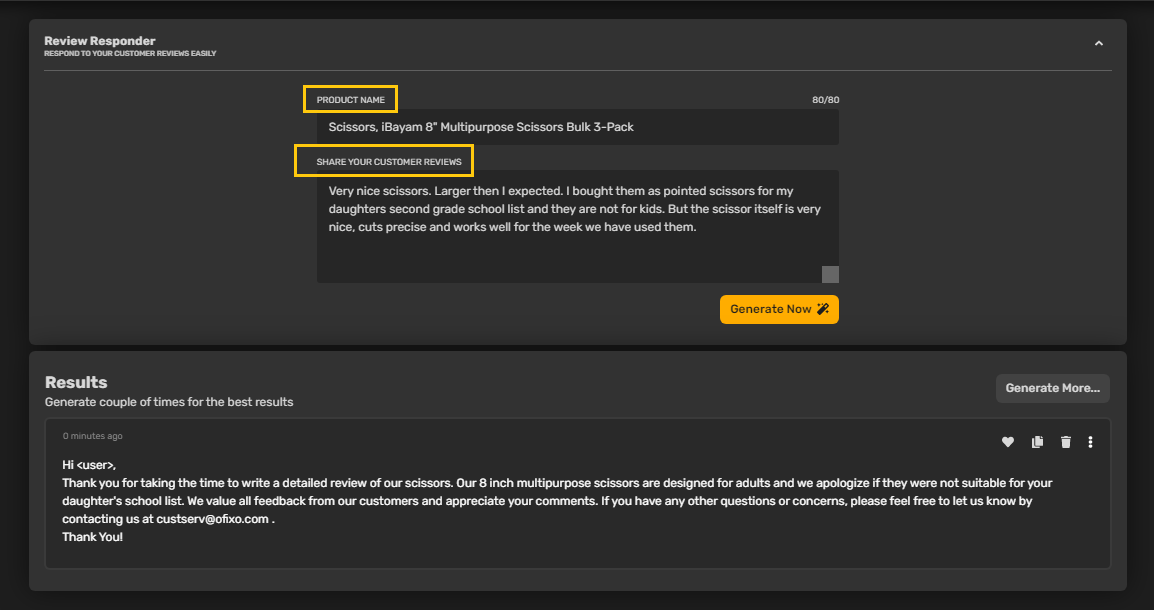 #6: Product Name
There are so many new businesses emerging these days that coming up with fresh names is incredibly difficult. Any random name will not work if you want your product to stand out.
Your product name should be consistent with your larger brand name while still presenting a unique message to customers.
Simplified's product name generator makes it easy to come up with names that are memorable and searchable (especially on search engines).
Product name AI copywriting in retail marketing needs to be creative, clear, and relevant.

Related: Building Brand Awareness: Top Secrets That Competitors Won't Share
To Sum Up
Simplified AI uses your keywords to create copy for deals, sales, and inspired calls-to-action that increase clicks and turnover. AI copywriting in retail is relatively new but this tool makes your copies on-brand always. Simplified's AI copywriter grabs visitors' attention with crisp content that gets you clicks.
So what are you waiting for?
One Free app to design, collaborate, and scale your work – try Simplified today