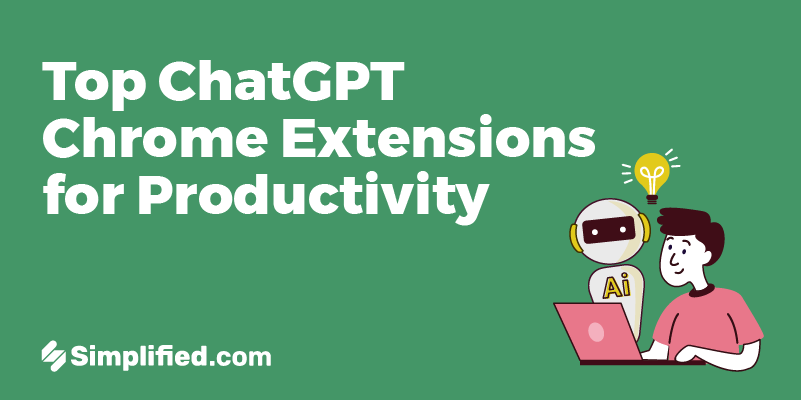 ChatGPT, a language model developed by OpenAI, has revolutionized the way we interact with AI technology. With its ability to generate text based on a prompt, ChatGPT has proven to be a powerful tool for businesses and individuals alike, streamlining their workflow and improving their overall productivity. To take advantage of the full potential of ChatGPT, it's essential to have the right set of tools. In this blog post, we will be highlighting the most useful and productive ChatGPT Chrome extensions available in the market in 2023.
ChatGPT and Its Future
ChatGPT has come a long way since its inception, and its future looks even brighter. In the years to come, we can expect ChatGPT to become even more integrated into our lives, and it is essential for us to be prepared for it. By equipping ourselves with the right set of tools, we can take full advantage of the benefits that AI ChatGPT has to offer.
The Most Productive ChatGPT Chrome Extensions in 2023
1. WebChatGPT
ChatGPT is an AI with a wealth of information, but its knowledge is limited to data from 2021. Upgrade your experience with WebChatGPT, the premier ChatGPT Chrome extension.
Offers access to up-to-date information by searching the web for relevant answers
Allows you to filter results by time, region, and number of results
Gives you the option to switch back to native ChatGPT functionality at any time
Increases the size of the text response, but with potential concerns about plagiarized content.
2. YouTube Summary with ChatGPT
Streamline your YouTube experience with YouTube Summary with ChatGPT, brought to you by Glasp.
A summary box appears next to videos when you are logged in
"View AI Summary" opens a new tab with ChatGPT and provides a quick summary based on the entire video transcript
The accuracy of the summary may vary, but it works well for videos with clear audio
Saves time and is considered one of the best ChatGPT Chrome extensions available.
3. ChatGPT Writer
Unleash the power of ChatGPT for your email and messaging needs with this handy Chrome extension.
Log in to OpenAI and activate the extension for instant use
Provide context for your email or message, and receive an instant response
Ideal for writing emails and messages with efficiency and ease
Can also be used for conversing with ChatGPT.
4. TweetGPT
Experience the ease of ChatGPT on Twitter with tweetGPT, a convenient Chrome extension.
No more copying and pasting between the ChatGPT website and Twitter
Generate tweets with a variety of moods, including funny, snarky, optimistic, excited, smart, and hillbilly
Simply click the robot icon in the "New Tweet" pop-up and select your desired mood
One of the most entertaining and effective ChatGPT Chrome extensions available.
5. ChatGPT for Google
Say goodbye to juggling multiple tabs with the ChatGPT for the Google Chrome extension.
Brings the AI chatbot directly to your Google search results
Simply log in to OpenAI and enjoy seamless access to ChatGPT's capabilities
Automatically displays a ChatGPT panel next to your search results, eliminating the need for special prompts
Convenient and efficient for answering questions, writing code, and more.
6. Merlin
Transform your browsing experience with Merlin, the OpenAI ChatGPT-powered extension for your entire browser.
Access the extension quickly with the keyboard shortcut CTRL + M (CMD + M on Mac)
Sleek and modern UI allows for easy query entry and fast response time
Works on any webpage, making it a versatile assistant for quick replies, coding help, and more.
7. Summarize
Get quick and efficient summaries with the Summarize Chrome extension, powered by ChatGPT.
Provides summaries of articles, emails, and other website text
Works with any text content, not just videos like the YouTube Summary extension
Integrated into Chrome, eliminating the need to visit the ChatGPT website
Simply click the extension to generate a summarized version within seconds
A valuable addition to the best ChatGPT Chrome extensions, with reliable performance most of the time.
8. Promptheus
Unleash the power of ChatGPT through voice commands with Promptheus, the Chrome extension that transforms ChatGPT into a voice assistant. The extension seamlessly integrates with ChatGPT's conversation window, offering a discreet and convenient way to interact with the AI.
Easily activate voice input with a simple press of the spacebar in the ChatGPT conversation window.
Enjoy a seamless and unobtrusive experience with Promptheus discreetly placed on the right side of the window.
Interact with ChatGPT using voice commands for a hands-free experience.
Requires a functioning microphone for optimal use.
9. ChatGPT Prompt Genius
ChatGPT Prompt Genius is a Chrome extension that ensures you never run out of prompts for ChatGPT. It provides a vast selection of prompts sorted by category, making it easier for you to explore new inputs.
With a single click, access a page full of prompts sorted by category
Click the yellow "play prompt" button to open an AI Chat window with the selected prompt pasted
Discover new possibilities and expand your ChatGPT experience with the help of the extension's dedicated subreddit
10. Fancy GPT
Bring a fresh and visually appealing look to your ChatGPT conversations with Fancy ChatGPT, a Chrome extension.
Adds unique visual elements to your ChatGPT conversations
Offers Neon and Sketch styles, with the possibility of more being added in the future
Customize your conversation by excluding certain messages and adding highlights
Activating the extension provides a new UI to see your entire conversation
Ability to export the conversation as an image or PDF.
Conclusion
We've highlighted some of the most productive ChatGPT Chrome extensions in 2023. These tools can help streamline your workflow, automate repetitive tasks, and enhance your overall productivity. As AI technology continues to advance, it's exciting to see how it can be integrated into our daily work lives.
We highly recommend Simplified's AI writer if you're looking for an even more effortless and efficient way to write. With this cutting-edge technology, you can easily create compelling content in a fraction of the time.