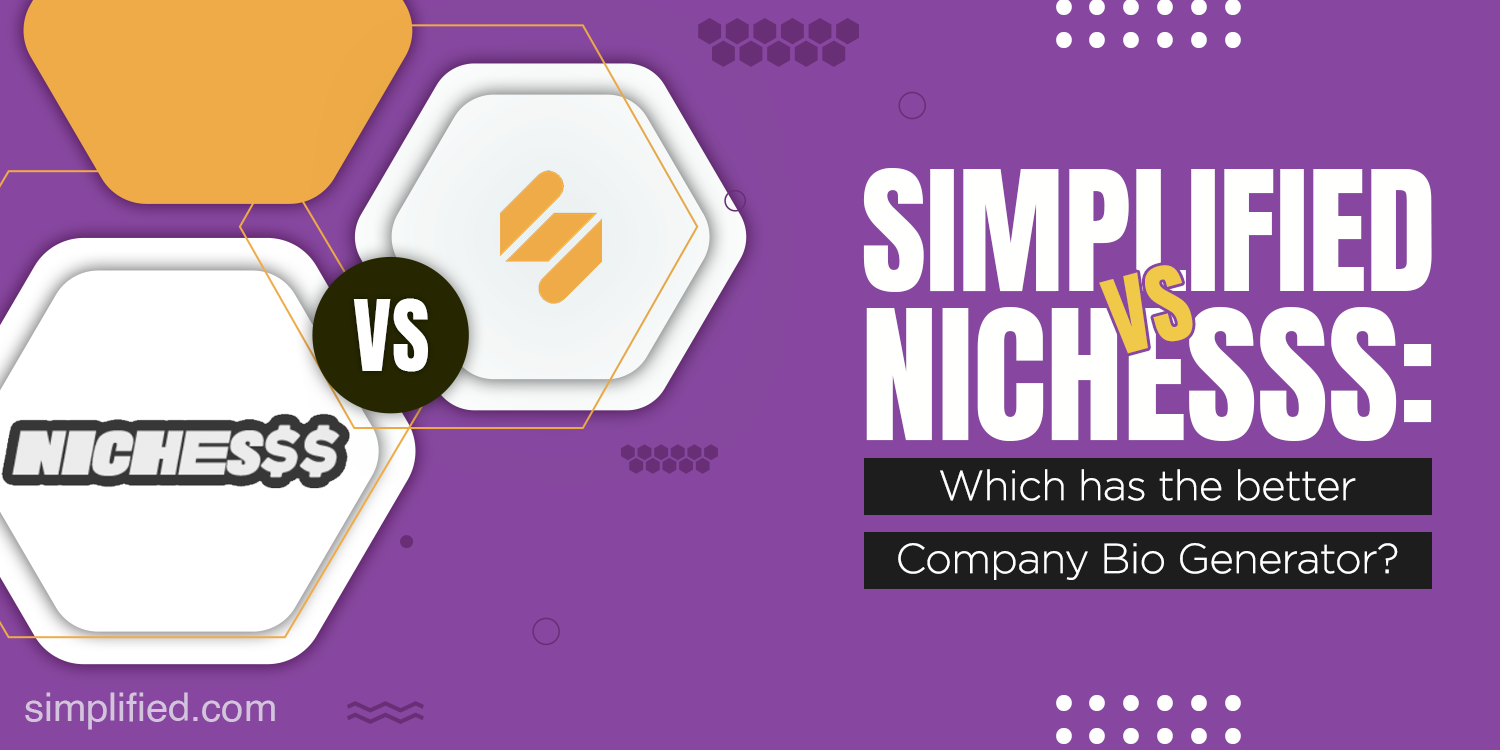 A company bio is a great way to give potential customers and clients the low-down on your business. It is one of the first chances you have as a brand to make a good impression. If the bio is confusing or yawn-inspiring, your potential clients are going to walk straight into the arms of your competitors who can showcase themselves more interestingly. A company bio is not at all like a personal professional bio. Instead, it can go on your professional website to highlight why customers should invest in your products and services.
A company bio needs to be well-written so your potential clients know exactly what you're trying to convey. However, many of us don't possess a knack for writing, which can make this part a little tricky. That's why AI tools like company bio generators exist! In this blog, we'll be comparing two such AI tools – Simplified and Nichesss. Let's begin!
Related: Simplified vs Nichesss: The Complete Review
What is a company bio and why do businesses need it?
Your company's bio is key to letting customers know what your business is all about, what separates you from the competition, and why they should do business with you. Your bio is an opportunity to establish your company's expertise, longevity, and commitment to customer satisfaction, which can encourage people to use your products or services.
Your company biography is a crucial part of your marketing strategy because it allows you to show off your company's personality. You can use your biography to be reflective, personal, or even a little witty, depending on the type of client you want to reach. By having a strong company biography, you can appeal to your target clients and solidify your place in the market.
Simplified v/s Nichesss – which is the better company bio generator?
The Price Point
Let's face it – one of the first things we look at when trying out a new app is how much it'd cost. The worse thing is falling in love with the idea of a product only to ultimately discover that it's way out of our budget.
Nichesss offers three different price plans, each of which offers the option to browse 40k+ subreddits and the use of its AI-Powered Idea Generator. Now let's look at what makes them unique–
The Rookie plan costs $19 a month, which lets you generate 200 short-form copies a month. Pretty sweet deal if you're only looking to use the company bio generator. Along with that, this plan lets you use the Marketing Copy Generator. However, you can't generate any long-form copy in this plan.
The Intermediate plan is for $39 a month and allows you to generate 500 short-form copies each month. Similar to Rookie, you can create marketing copies in this plan but no long-form copy.
Now for the Pro plan! This one costs $99 a month with unlimited short-form copy generations and – you guessed it – a thousand long-form copy generations as well. However, they've failed to mention if there's an option to extend the plan if we happen to exceed the thousand-copy limit.
Before you subscribe, however, you have the option to avail a free trial of the tool which lets you generate an unspecified, limited number of copies.
On the other hand, Simplified has five different subscription plans, one of which is a Free Forever plan. Let's compare each plan, discussing only Simplified's AI writing tool –
The Free Forever plan costs $0 and allows you to generate up to 1000 words of short-form copy every month. You get access to 50+ AI templates, 25+ languages, and the Simplified community!
The Starter plan costs just $9 a month ($9 if you bill annually) and allows you to add up to 5 team members to the same plan! Here, you get to generate up to 10,000 words of short or long-form copy, 50+ AI templates, 25+ languages, and the Simplified community.
The Business plans start from $18, $30, and $75 per month each, with a 40% discount if you wish to bill annually. The number of tools and templates offered also goes up with each price point! Check out the rest of the plans here.
Now, there's clearly no doubt here that in terms of price, Simplified is clearly the winner. Shall we compare the other factors too?
Languages & Tone of Voice
Both Simplified and Nichesss seem to be on a similar wavelength when it comes to offering multiple in their company bio generators, with 25+ "formal" languages in each.
In terms of tone of voice, Simplified has the option to choose from over 12 tones of voice for its content. On the other hand, however, Nichesss doesn't seem to display any such option at all. This means that all copies generated on Nichesss would probably be more or less monotone.
Other Features
As far as we can observe, Nichesss is primarily an AI copywriting tool with no plans to venture into other domains any time soon. While the tool offers several different templates for copy, that's all you can do with it.
Simplified, on the other hand, happens to be an all-in-one, multipurpose tool that allows you to generate copy, design stunning graphics, edit videos, and plan your social media calendar – all in one place! Not to mention – each tool has received stellar user feedback, so it's clearly an all-rounder.
So, who's the best?
After comparing the two tools in three different areas, we're confident in saying that Simplified is clearly the better company bio generator. And it's not just us – all of these's people think so too!
Although we hope we've done a good job of convincing you already – we also believe in showing not just telling. So try out Simplified's company bio generator (for FREE) today!