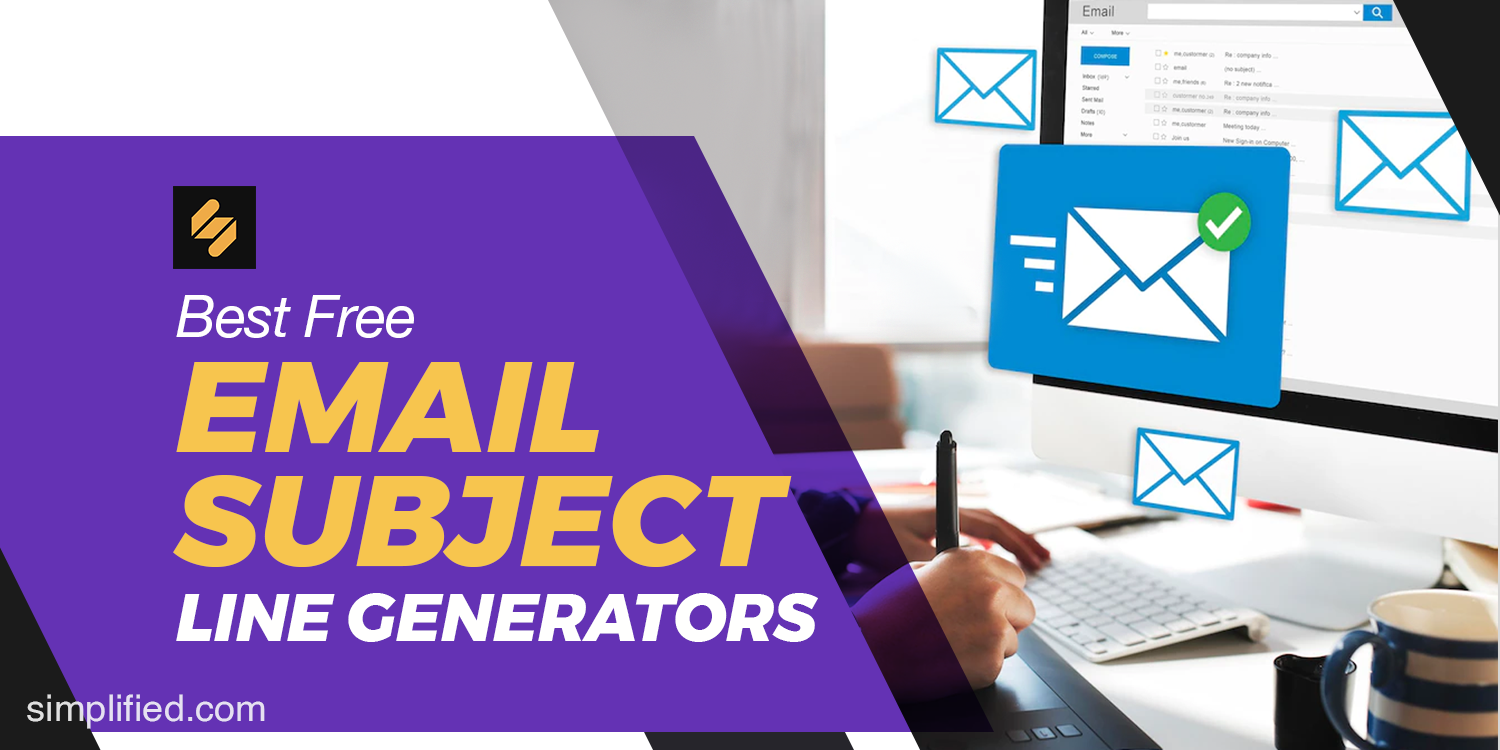 Your email subject line is one of the most critical elements of your email. It's what determines whether your email will be opened or sent straight to the trash. In fact, 64% of email recipients decide whether or not to open an email based on the subject line alone.
That's why it's so important to take the time to craft a catchy, relevant, and interesting subject line for each of your emails.
However, coming up with a great subject line can be easier said than done.
Luckily, there are a number of free tools and resources that can help. In the next section, we'll share six of the best free email subject line generators that you can use to create attention-grabbing subject lines for your emails.
Related: How to Write a Sales Demo Cold Email That Gets Results
The 6 Best Free Email Subject Line Generators
1. Simplified [Free Forever]
If you are looking for a free email subject line generator, Simplified is one of the best options out in the market today. Our advanced AI writer can help you create great-looking subject lines for your emails. All you need to do is describe your topic and the tool will generate a list of subject lines for you to choose from. You can also explore the AI copywriting tools for email marketing and get the best results for every campaign. Use the dashboard to organize your content and collaborate with your team members.
Simplified is a great tool for those who are new to email marketing or who don't have time to come up with creative subject lines every time. It is also a great tool for those who want to test different subject lines to see what works best for their audience.
2. Portent Title Maker
The Portent Title Maker is another great tool for coming up with attention-grabbing headlines and subject lines. To use the tool, simply enter the subject of your email into the text box and click "Create Title." The Portent Title Maker will then generate a list of potential titles for you to choose from. You can refresh to get as many options as you like. The tool is also free to use.
3. HubSpot Blog Topic Generator
The HubSpot Title Generator is a tool that helps you generate content ideas. But it can also be used to generate ideas for email subject lines. Simply enter up to three nouns into the generator and click "Give Me Blog Topics!" The tool will then provide you with a list of 5 potential topics and subject lines to use for your email marketing campaigns. However, there are limitations to the number of copies you can generate using their free plan. If you wish to use the tool more often, you can subscribe to one of their pricing plans that suit your needs.
4. CoSchedule Headline Analyzer
CoSchedule's Headline Analyzer is a tool that allows you to test and improve your headlines and email subject lines before you hit "send." To use the tool, simply