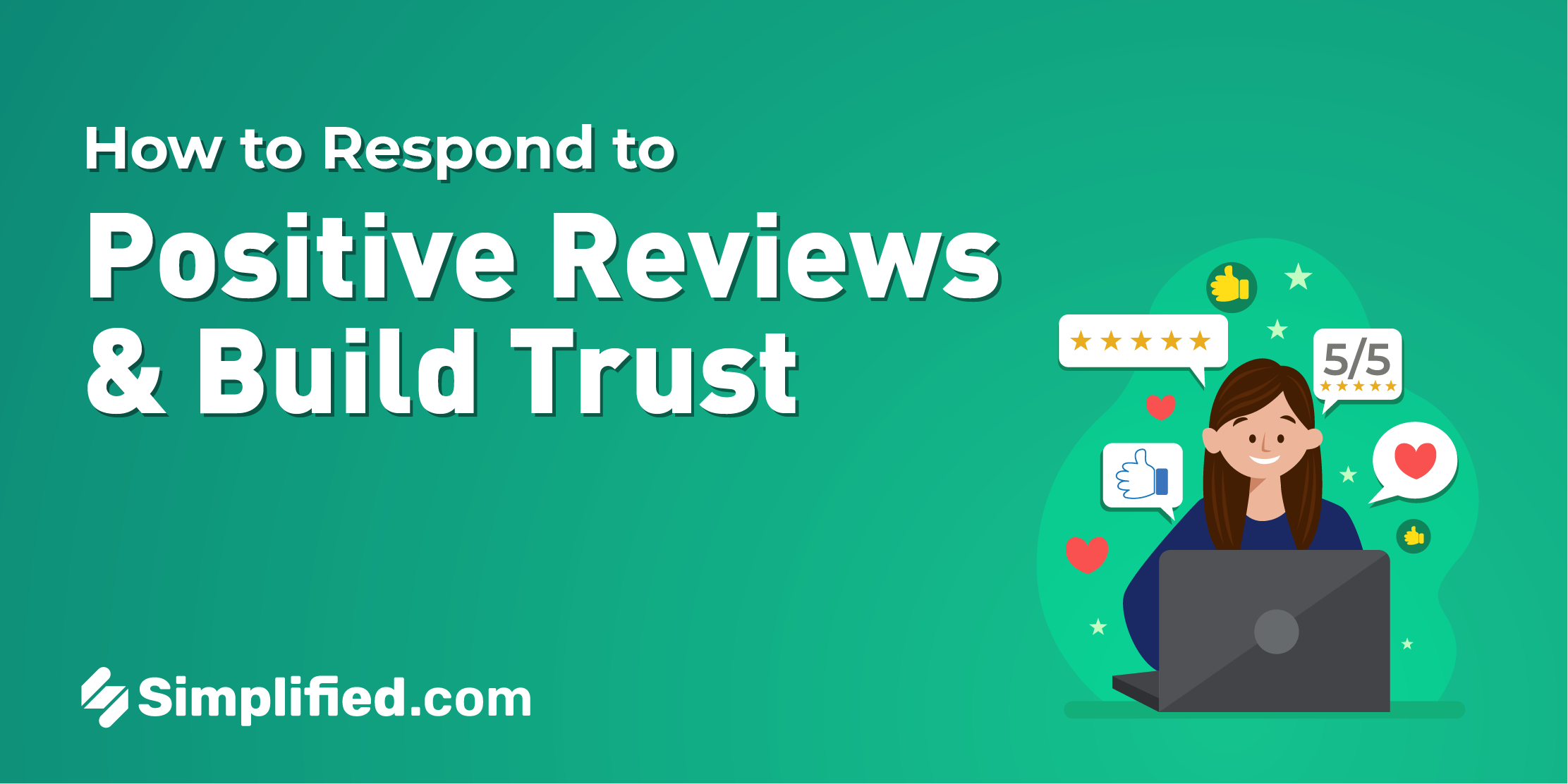 It's always nice to receive positive reviews from customers and clients. But how do we acknowledge their effort?
Responding to positive reviews is a great way to show your appreciation for the customer's feedback and to build on the relationship. But you don't want to leave a generic thank-you message. You want to take the opportunity to connect with the customer and to show that you're paying attention to what they're saying.
In this blog post, we will tell you how to respond to positive reviews to build trust and create a personalized experience for your customer base. By following these tips, you can ensure that your happy customers come back to you, and others follow suit.
How to Respond to Positive Reviews: 9 Ways to Build Trust & Keep Your Customers Engaged
1. Be Quick to Send a Response
So, you have worked really hard for your services, and now you are glad to see that business is flowing. Positive review response are one of the primary ways to promote your brand. And when you send a great reply, the effect multiplies. Though you may want to take some time to make the message special, don't wait too long to send a response. It's best to send a response within 2-3 days to show that you're all ears and really value your customer's feedback.
2. Refer Them by Their Name
Template responses will take your business nowhere, instead, personalize your messages as much as you can. Start by addressing them by their name. It should feel like you are talking directly to the customer and no one else. Use their name instead of "Dear Customer" and the message instantly becomes more personal. This will show that you are not just copy-pasting a message for the sake of it but care about the effort your customer put in to appreciate your business.
3. Personalize Your Message
While using the name is the first step, it's also a common practice to copy-paste the rest of the message. Avoid it at all costs while responding to a positive review. Take the time to sit and draft a personalized message. It doesn't take a lot- highlight what they liked about the product and how your team is constantly working to make it better.
Related: A Step-by-Step Guide to Make Videos With Photos
4. Show Gratitude and Make Them Feel Valued
Consider that your customer took the time and energy to type a great review. While this does mean that they must have liked your product, you should value their effort. Thank them with an open heart and show them how much the message means to you.
5. Be Real and Authentic
While you can maintain a formal and professional tone in your response, don't be all uptight! Your reviewers would love to know that a real person is listening to them. Let them know how much you enjoy offering a good service and it's not just about sales.
Related: The Benefits of a Customer-Centric Marketing Approach
6. Keep the Message Concise
In the flow of keeping it personal and authentic, you may end up writing too much. Understand that most of your customers don't have the time to read lengthy messages. Keep your responses brief but impactful. Choose your words carefully so that they have the best impact.
7. Invite Them to Visit Again
A positive review means that your customer has liked your service. And while they already should want to try your services again, an invite will make it easier. Remind them that they can visit again and let them know if there's a special event or discount they would adore. You can also ask them to bring their family and friends to enjoy the services.
Related: How to Write the Perfect Survey Invitation Email: 10 Best Practices
8. Tell Them About Other Products & Services
If you are offering more than one service, responding to a positive review can be a great promotional opportunity. Let your customers know that there are other good things waiting for them. Describe other services that can be related to the one they tried. And chances are that they will like them equally or even more!
9. Share the Review
Finally, after sending a great response to a positive review, you must spread the word. You may have plenty of potential customers who are looking for good reviews. Promote your testimonials along with your response on social media and in ads. You can post images or create videos with photos for better engagement. Add them to your Instagram Highlight for future reference. This is the best way to build trust and expand your community.
Related: Building Brand Awareness: Top Secrets That Competitors Won't Share
Examples of Positive Review Responses
Here are some examples of positive review responses from leading brands to inspire and help you draft your next message:
Here's an example of how an executive at Mercedes-Benz responds to a positive review. You can see the personal touch that mentions the customer and what they liked. It further shows the promptness of the team to support the customer.
Here's another great example of a positive review and the response. The template is slightly more formal but the message is brimming with gratitude. It shows promise that the service will stand up to the expectations of the customer.
The Only Free Tool You Need to Write Great Responses to Positive Reviews!
We understand that personalizing your response for reviews can be quite challenging and time-consuming. Don't worry though we have a tool that can do all the heavy lifting for you while you take care of all the other important aspects of your business.s
Simplified's review responder helps you write personalized responses for all types of reviews, whether good or bad. Just tell the AI writer what your product is, paste the review, and voila our Review Responder will generate responses for you to choose from in seconds. Amazing right?
Write original, unplagiarized, and personalized responses for your customers with the Simplified review responder! And that's not all, you can also use the Simplified AI Writer to generate social media or marketing copy for your brand in seconds.