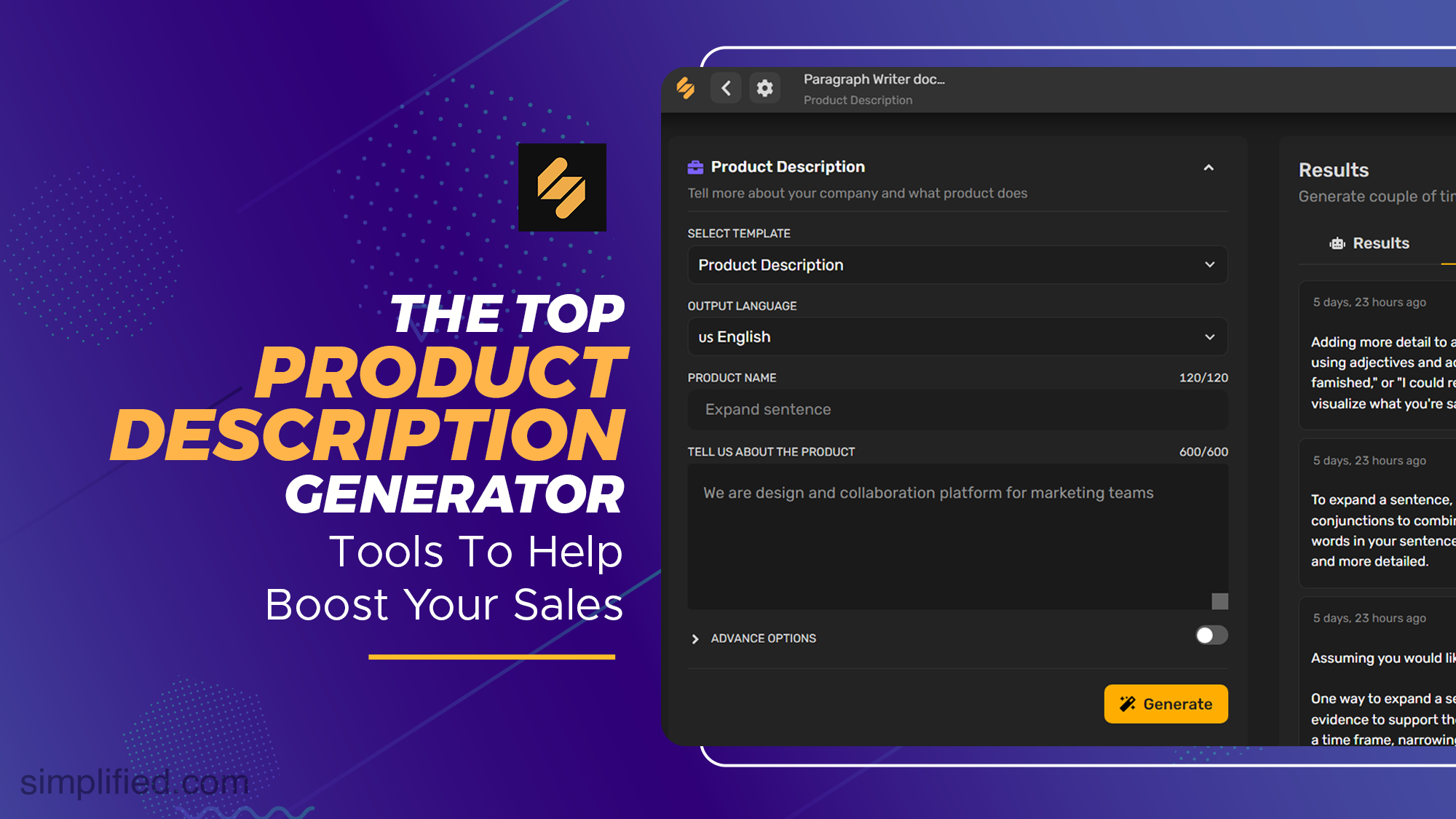 When it comes to e-commerce, product descriptions are everything. They're what convince customers to buy from you rather than your competitor.
But crafting descriptions that are both accurate and compelling can be time-consuming – especially if you have a lot of products. That's where product description generators come in. These tools can help you quickly create accurate and persuasive descriptions for your products.
In this blog post, we'll introduce you to the top eight product description generator tools that can help boost your sales.
Related: 10 Amazing Product Description Examples For Increased Sales
What is a product description generator tool?
A product description generator tool is a piece of software that helps you create product descriptions. This is done either by scraping existing product data or by using artificial intelligence to generate descriptions from scratch. This data can include the product's name, price, features, and benefits. The product description generator tool then takes this data and creates a product description that is realistic, grammatically correct, persuasive, and aligned to your brand messaging.
Some product description generator tools also help you optimize your descriptions for search engines. This is important because product descriptions that rank high in search results are more likely to be seen – and clicked on – by potential customers.
Related: The Ultimate Guide to Shopify Image Sizes
Why use a product description generator tool?
Creating product descriptions by hand can be a time-consuming and tedious task, especially if you have a large inventory of products. A product description generator tool can save you time and energy by quickly creating high-quality product descriptions for you.
In addition, product description generator tools can help you create product descriptions that are more accurate and persuasive than those you would write by hand. This is because they draw on data that you may not be able to access or think of on your own.
Related: 6 Great Ways To Use AI Copywriting In Retail For Marketing Managers
Top 8 Product Description Generator Tools
Here are the top eight product description generator tools that can help you boost your sales:
1. Simplified
Simplified is the best all-in-one app for your needs as a business owner. With its free AI copywriter, you can generate product descriptions in a matter of minutes.
The app comes with over 50+ templates, 10+ tones, and 30+ languages to ensure you are reaching your target market no matter where they are. Simply select what you need and let the app do the rest.
Plus, it has Grammarly integration, so you know your copy will be error-free, plagiarism-free, and high-quality.
Pricing:
Simplified has a free forever plan, which allows you to do way more with less. If you'd like to enjoy other features, you can try out the premium plans:
Starter (up to 5 team members): $9/month
$18/month for a small team (up to 5 team members)
Business (up to 5 team members): $30/month
Growth (up to 5 team members): $75/month.
Related: Simplified's AI Sentence Rewriter: How To to Reword and Paraphrase Effortlessly
2. WriteSonic
WriteSonic is another helpful tool that can come in handy when you need to generate product descriptions.
It's simple to use—just enter the product name and a few other details, and the tool will create a description for you.
Pricing:
2,500 words for 1 user
Short-Form-Starts at $10 per month for 1 user.
Long-Form-Starts at $13 per month for 1 user
3. Copysmith
Copysmith is an AI-based tool that can help you generate product descriptions (as well as ads and social media posts).
Just enter a few details about what you're selling, and Copysmith will come up with a list of potential descriptions for you to choose from.
You can also use the tool to rewrite existing product descriptions.
Pricing:
Free Trial: available
Starting at $19 per month,
Professional: $59 per month
4. Adzis
Adzis offers done-for-you and do-it-yourself services, where you can either outsource your product descriptions to their team of copywriters or use their product description generator tool to create them yourself. With Adzis, you can generate product descriptions for multiple products at once and optimize them for search engines.
Pricing:
Starter: $9 per month,
Intermediate: $49 per month
Professional: $99 per month
5. Ginnie
Business owners and e-commerce sellers can use Ginnie to generate thousands of unique product descriptions quickly and affordably. This content writing software uses Artificial Intelligence (AI) to automatically transform your raw product specifications into engaging, unique, and optimized content.
Pricing:
Free Trial: 25 free descriptions
Standard: $50 per month
Pro: $75 per month
Premium: $100 per month
6.Hotshp
HotShp offers product descriptions written not by AI writers but by a team of human writers. This is in contrast to other AI-based content writing services that rely on algorithms to generate their content. Each piece is curated from scratch, so you are assured of quality content that is well-researched, keyword-enriched, SEO-optimized, and error-free.
Pricing:
$3 ( 30-35 words)
$6 (60-75 words)
$15 (150-175 words)
$25 (250-275 words)
Related: How Simplified's Copy Writing AI Can Help You Create Formidable Content
7.ItemScribe
This product description generator tool uses a combination of templates, natural language processing, artificial intelligence, and a huge database to create product descriptions. It has an easy-to-use interface, perfect for beginners and professionals alike.
Instead of a free trial, they offer a free product description tool demo to help you get started.
Pricing:
Use the Best Product Generation Tool for Your Business.
Your business is only as good as the products you sell. If you're not selling quality products, you're not going to stay in business for very long. That's why it's so important to use the best product generation tool for your business.
There are a lot of different product generation tools out there, but not all of them are created equal. Some are better than others, and some are better suited for certain businesses than others. That's why it's important to do your research and find the right tool for your business.
Simplified is the best product generation tool for businesses that want to create quality products quickly and efficiently. We've helped thousands of businesses create quality products, and we can help you too.
If you're looking for the best product description generator tool for your business, look no further than Simplified. We can help you create quality products quickly and efficiently, and we're here to help you every step of the way.