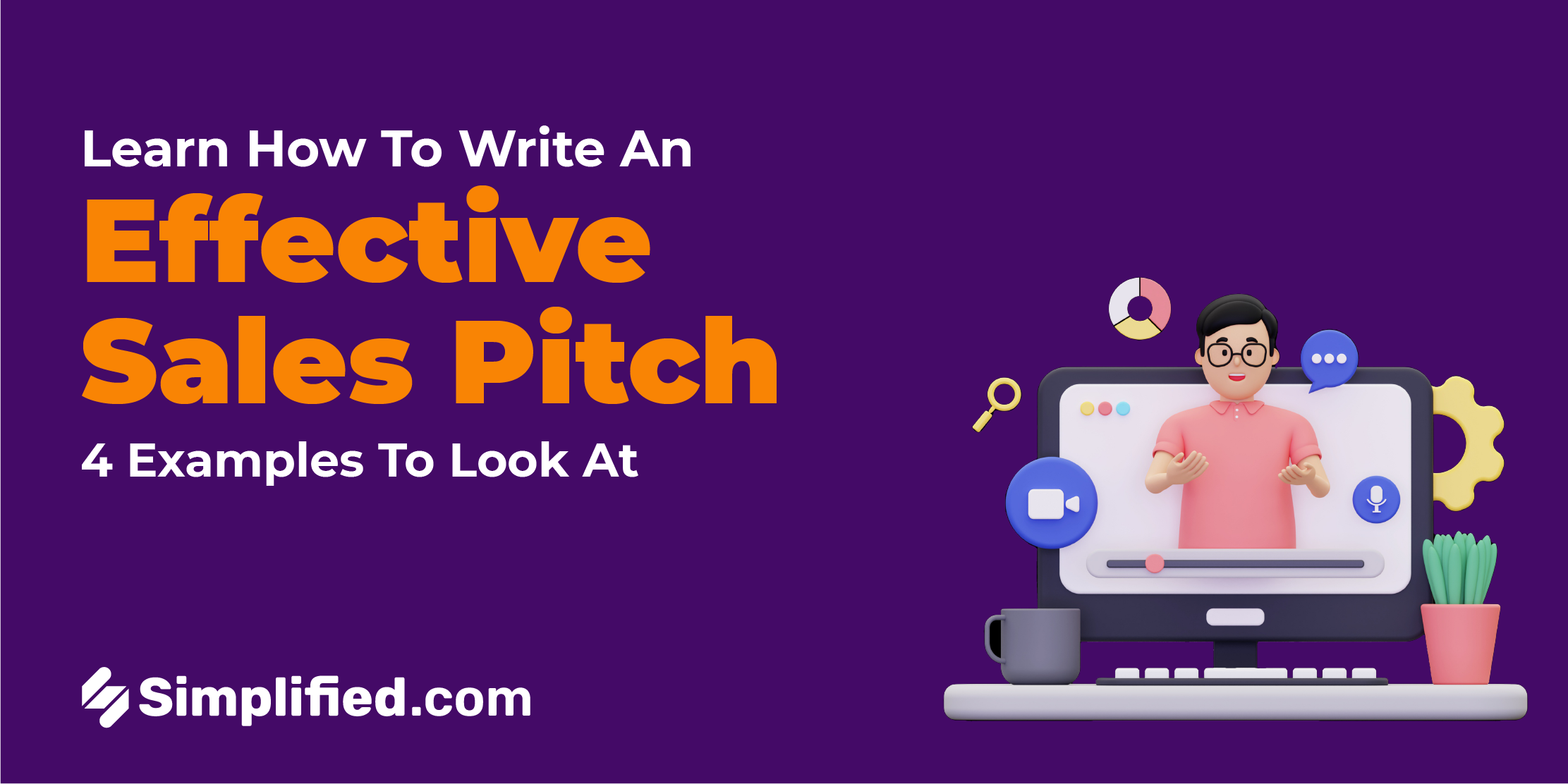 If sales is the soul of every business, a sales pitch is soul food. When selling products or services, every business uses a sales pitch to convince the customer or client to buy. Do it right, and you will never run out of customers or leads.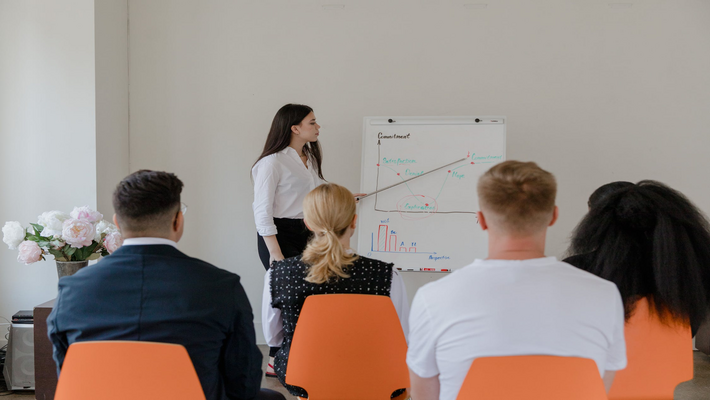 But what exactly makes a sales pitch effective? In this blog, we will explore some key elements of a successful sales pitch and provide examples of how to put them into practice.
What Is A Sales Pitch?
It is a brief, persuasive message that is designed to convince a potential customer or client to take a specific action, such as purchasing a product or service, scheduling a consultation, or signing up for a trial.
A sales pitch can take many forms, including a face-to-face conversation, a phone call, an email, or a video.
Key Elements Of An Evergreen Sales Pitch
When it comes to writing a sales pitch, there are a few key elements to keep in mind. Some of the most important are-
1. Understand Your Audience.
This means identifying their needs, pain points, and goals and understanding their buying process.
For example, if you're a freelancer selling social media marketing services, your target audience might be small business owners who are looking to increase their online presence. Knowing this, you can tailor your sales pitch to speak directly to their needs and address their challenges in digital marketing.
Here is an example of an elevator pitch you can use-
Hello [Name],
Are you a [target audience] looking to stand out from the competition? I can help you build your online presence and generate leads with effective social media marketing strategies. My approach includes creating a strong brand, increasing visibility, lead generation tactics, audience research and analytics. Let's schedule a call to discuss how we can work together to achieve your goals. Best, [Your name]
2. Clearly Communicate The Value Of Your Product Or Service.
This means clearly and concisely outlining the benefits of what you have to offer and how it will help your target audience achieve their goals. Use sales copywriting to deliver your message with ease and a professional tone.
For example, if you're a marketer offering lead generation services, you could emphasize the importance of a steady stream of new leads for businesses and explain how your services can help them achieve this.
3. Use Storytelling To Make Your Pitch More Engaging.
People are naturally drawn to stories, and incorporating storytelling into your sales pitch can make it more engaging and memorable.
For example, if you're a freelancer offering website design services, you could tell the story of a small business that was struggling to attract customers online until they revamped their website with your help.
Related: The 10 Best Free AI Writing Generators & AI Writing Assistants For 2023
4. Use Data And Statistics To Back Up Your Claims.
While storytelling is a great way to make your pitch more engaging, it's also important to back up your claims with data and statistics. This helps to build credibility and trust with your audience, and it can also help to make your pitch more persuasive.
Build a pitch deck with previous results, projects, and client testimonials and use it to strengthen your stand.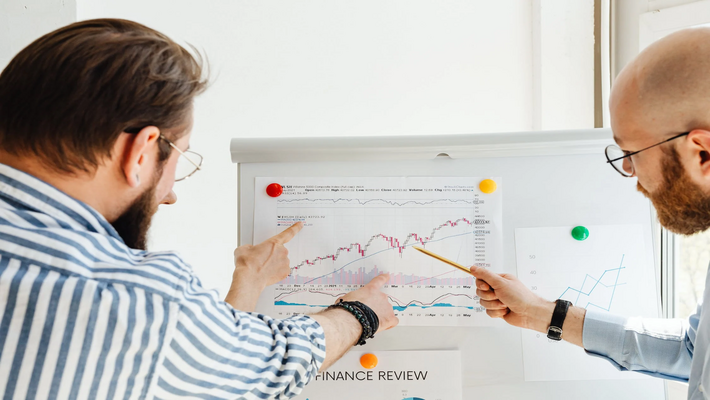 For example, if you're a marketer offering SEO services, you could provide data on the impact of good SEO on website traffic and conversions.
5. Keep It Simple With A Call To Action
One of the most common mistakes that people make with a sales pitch is filling it with too much information to present. Keep the pitch short, crisp, and to the point to save time and deliver maximum value.
Remember to include a call-to-action, and inform your audience exactly what you want them to do next, whether it's scheduling a call, signing up for a free trial, or making a purchase.
For example, if you're a marketer offering PPC advertising services, you could end your pitch by inviting the audience to schedule a call to discuss how you can help them achieve their goals with PPC advertising.
Here is an example of an elevator pitch you can use-
Hello [Name],
Are you an e-commerce brand looking to increase your revenue with ads? Let me help you achieve your goals with my PPC advertising services. My approach includes targeting the right audience, creating compelling ad copy, and continuously optimizing for performance. With my expertise, we can drive more traffic to your website and increase your ROI. Let's schedule a call to discuss how we can work together to take your e-commerce business to the next level.
Best, [Your name]
In Summary, if you want to write an effective sales pitch, long or short, you should focus on your unique value proposition. Use storytelling to make your pitch more engaging, be concise and to the point, and remember to end it with a clear call to action.
Examples Of Successful Sales Pitches From Different Industries
1. Oodie
One of the fastest-growing Australian e-commerce brands, Oodie promises a mix of jumpers and blankets. Oodie's website is a treat to watch. All of the product benefits and features are mentioned on the home page itself. This entices the customer to stay on the website to explore more and eventually buy.
When constructing your sales pitch, you can take inspiration from this brand on how to win your customer's trust with just the product's benefit.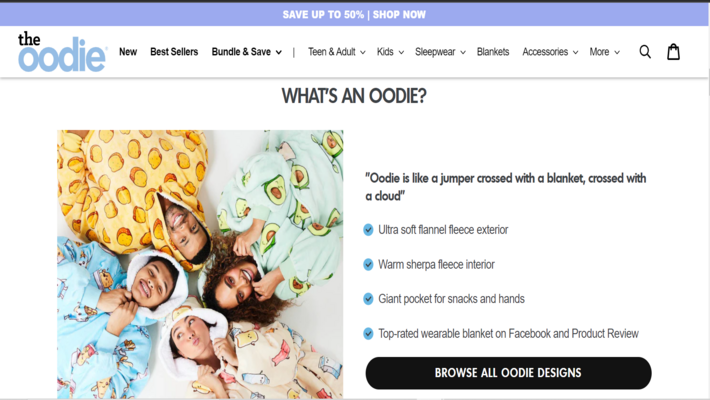 2. Scrub Daddy
The famous Shark Tank pitch was one of the best investments made on the show. Watch how the founder of the company pitches the product with benefits, values, functionality, and visual representation.
Construct your sales pitch as a full-proof presentation with demonstrations, results, and customer reviews to win over the investors just like Scrub Daddy did.
3. Apple
The brand always makes sure to make an impression by showing more with less. This simple and powerful pitch of the new MacBook pro highlights the device's features with additional details. Notice the headline and how 'Mover and Maker' points directly to Apple as a company , its position in the market.
Position yourself as an expert in your sales pitch and back your claims with proven results and positive reviews just like Apple.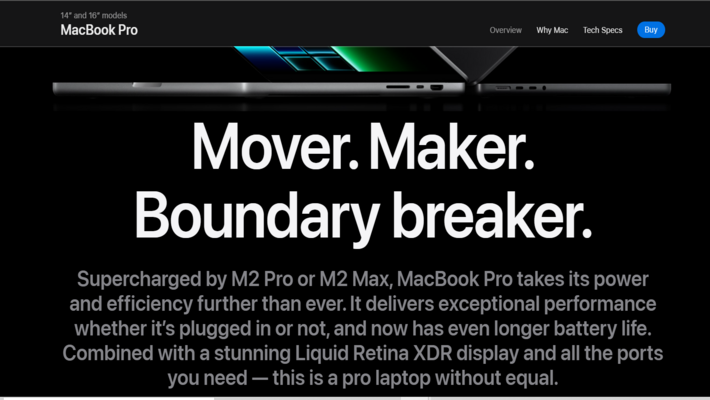 4. The Wolf of Wall Street
Have you watched the best sales movie of all time? I am talking about the Wolf of Wall Street! Recall the 'sell me this pen' scene where the seller pitched on the basis of understanding the audience and creating a demand.
When constructing a pitch, put the customer's interest at the forefront and build a solution around it. This will help you with brand awareness and customer retention in the future.
Related: 10 Best Email Writing Tools To Help You Write Better & Faster
Are You Ready For Your Next Pitch? [ + Free Sales Pitch Generator]
In this blog, you read through the basic fundamentals of the construction of a sales pitch with examples and various types of successful pitches to take inspiration from.
But, creating a tailored sales pitch for every client is impossible and very time-consuming. Instead, you can use Simplified's AI-powered sales pitch script generator to generate detailed pitches.
It helps you personalize your message with a clear and specific call to action. It will also direct them to an appropriate landing page.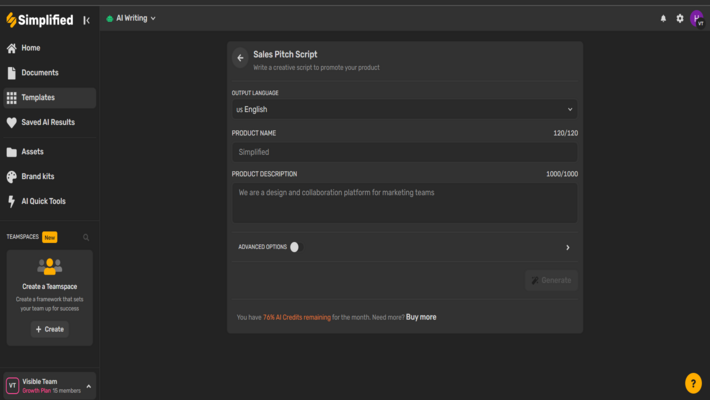 Do not miss out on a chance to bring your ideas to life. If you want to start acquiring customers and investors for your business, use Simplified's sales pitch generator. It will save time, effort, and money.