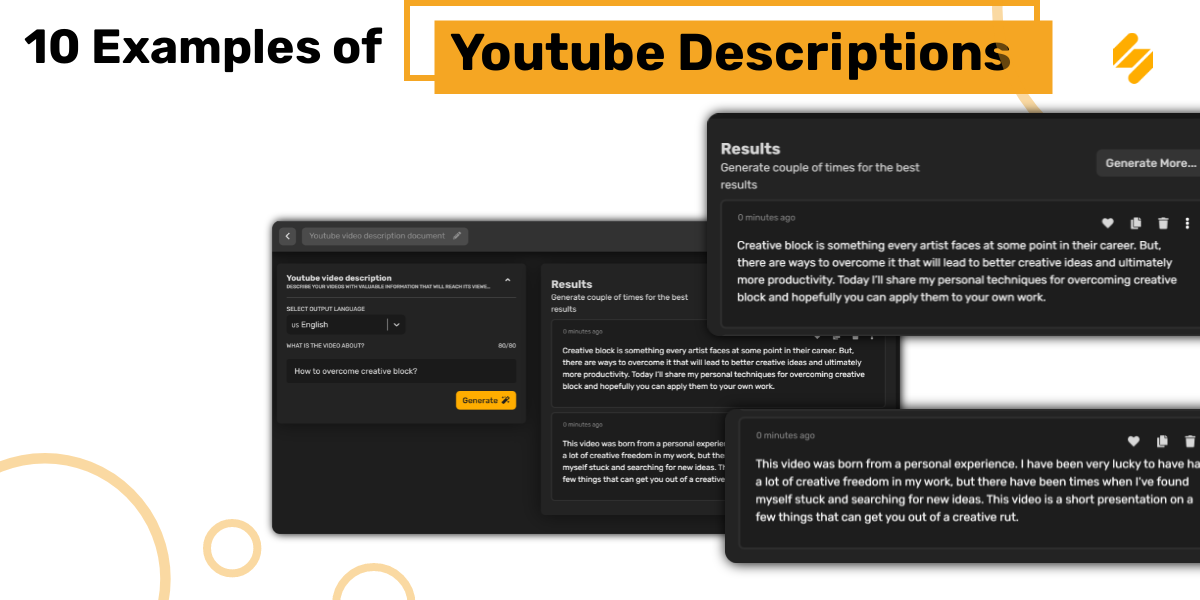 When scrolling through Youtube videos, do you notice Youtube Video descriptions below that help to address the video's content? What if I told you that Youtube video descriptions do more than just help you easily access your favorite brand's social media accounts. Yep! You heard that right! YouTube's famous algorithm also crawls this information and uses it to rank your video. This is why it's extremely important for your Youtube video copy to be SEO-optimized. However, writing can be time-consuming, especially if you're just getting started. Fortunately, there are Copy AI tools like Simplified AI that automatically generate these descriptions with just a few inputs.
Here are 10 examples, a free tool, and effective tips to help make the process of writing YouTube video descriptions easy.
What is a Youtube video description?
A Youtube Video description is the text below each video on the channel. These video descriptions all have the same purpose: they provide important information to the user.
A Youtube video description can:
Help describe the video to your audience or
It can even be used to provide a solution to a problem you are stating in the video
It has SEO value as it provides context and other important data to the YouTube algorithm.
YouTube awards a good Youtube Video description in the form of more views.
It is also important to note that the YouTube video description is different from a YouTube channel description which is the text on your channel's "About" page. While this description also helps provide SEO juice for the overall channel, it helps educate the viewers regarding your brand.
10 examples of Youtube video description
1. Bright Side
Bright Side is known for its engaging youtube video descriptions. Not only do they use a combination of hashtags and keywords, but they make the description pleasing to the eye with emojis, timestamps, and more.
2. Living Big In A Tiny House
Although Living Big In A Tiny House has a relatively short youtube description copy, the text immediately talks about the essence of the video before moving to their CTA. Then add more information regarding the video, making it not only SEO-optimized but also optimized for conversions.
3. Wim Hof
Wim Hof, on the other hand, doesn't go in-depth into the video right away. He uses the description to link out helpful resources and market his social media channels.
4. Sorelle Amore
SEO-optimized descriptions don't have to be bland or mechanical. Sorelle Amore's descriptions are not only SEO-optimized but also showcases her strong personality.
5. MTV Impact
MTV Impact is known for its descriptions that immediately pull in the audience. They don't beat around the bush and what's truly amazing is that they move on to a solution-oriented CTA right after.
6. Edgy Veg
If you want to learn how to create an effective CTA, then Edgy Veg should be your primary reference. Other than linking out to a bunch of resources, she has managed to also create the most keyword-rich description.
7. TED-Ed
TED-Ed is different from other channels that usually try to sell something. This is purely an educational channel that links out to their other channels to boost view. However, you can learn a lot from their usage of the fold.
8. Apple
If you have a product-centric video, you can learn a lot from Apple's short descriptions. All they do is describe the product and provide a link to it. However, don't forget to optimize it.
9. Buzzfeed Video
Buzzfeed is a great example of how simple and consistent youtube video copy can grow any channel.
10. SEMrush
Even digital services don't have to have a complicated youtube video copy.
Why are Youtube Video descriptions important?
Other than providing readers with useful information or context regarding the video, the YouTube Video Description is extremely important for YouTube's algorithm to help rank you. YouTube has evolved to become a search engine of its own. So, the video giant strongly recommends that the channel owners optimize their videos.
YouTube refers to the video description. Video title and tags to understand the content and rank it accordingly. Once optimized, the YouTube description can boost SEO and even help increase views, watch time, subscriber count, and revenue.
5 Tips for writing effective YouTube video descriptions
Tip 1 – Use specific keywords
Using 1 or 2 primary keywords, you can SEO optimize your youtube video description and Youtube Channel description to help you drive more traffic to your video and channel. The YouTube algorithm awards channels with a keyword-optimized About us page.
So, instead of stuffing in various keywords, it would be best to double down on 1-2 that have a high search volume and low competition. You can use free tools like Google Ads Keyword Planner and Google Trends to find the keywords.
All you need to do is describe the channel or the type of video, and these tools will generate all the keywords.
Pro Tip – Repeat your keywords: Unfortunately, simply using the keywords once will not be effective. Keyword Repetition lets YouTube know that the specific search query is relevant to the video. We recommend using it 2-3 times, as simply stuffing it might work against you.
Tip 2 – Find complementary keywords
Related and complementary keywords are just as important as primary keywords. These keywords give context to the video and help the youtube algorithm rank you. Additionally, it also helps you get on the suggested videos section, which can drastically increase your views.
So, make sure to include these keywords in the youtube video description. Most importantly, an attractive description for a youtube channel can help you rank for not only YouTube but also Google.
For example, if you want to rank for Copy AI tools, adding copywriting alternatives and content generation tools to the youtube video description can help rank for those keywords as well.
Tip 3 – Front-load important information
The above fold is where you want to have the most important information. Especially since the huge majority are not going to click on show more. So, you have about 2 lines of prime real estate. To summarize the video for SEO purposes with the top keywords, as this will result in you ranking for the video.
This is because Youtube's algorithm also prioritizes this prime real estate in order to understand your video. It is also why you see most of the best-performing Youtube videos have SEO-optimized text above the fold instead of links.
Tip 4 – Add links and metadata below the fold
The moment your audience clicks on the show more section of the description, it means that they already find your content useful. So, you should take this opportunity and optimize the description to bring as much value as possible.
Not only can you promote your brand or even get them to sign up for your social media, but you can even leverage the description section to close sales. Of course, you'll need to provide value first, which is the core essence of organic CTR. For example, provide a free E-book in the description for them signing up to your email list.
Other than promotional links, we also recommend you use this area below the fold to help you rank. So, this is essentially the best place for boring SEO stuff that the readers don't care about. You can add metadata and, if you can, even add timestamps to help make navigation easy.
Tip 5 – Optimize for Organic CTR
Well, more often than not, your youtube video is a solution to a problem, and if you're a business, then your product/services are solving that problem. So, aim to create clickable descriptions that link out to a solution.
Optimizing for organic CTR could even exponentially increase your revenue. So, it's definitely worth refining.
A huge majority of people who have buying power are going through youtube to look for solutions to help them solve their problems. Simple writing completing descriptions from a problem-solution can result in higher click-through rates.
Learn how to use all our Copy AI Tool & design features on Simplified Academy
To wrap up, the YouTube Video Description informs the user regarding the video and sets the context from an SEO perspective. So, a good YouTube video description will be rewarded by YouTube's algorithm and will rank better for the optimized keywords.
The cumbersome process of coming up with the Youtube video copy is made easy with Simplified's AI Assistant. So, you don't have to waste time or money coming up with the most effective description.