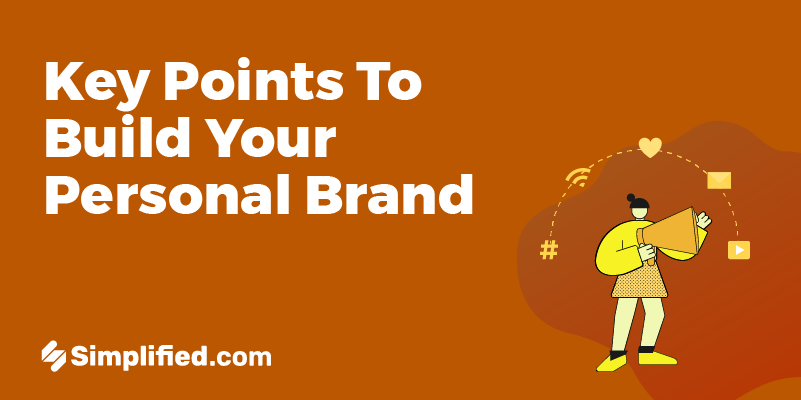 A study conducted by Upwork tracked the growing trend of freelancing and revealed that by 2027, the freelance workforce will hold the majority position in the US. This will mean increased competition and a stronger need to stand out from the crowd. You can achieve this with personal branding.
Whether you're a talk show host, a freelancer, or a CEO, building your personal brand is vital. It tells your audience or your clients what makes you unique, and this gives your work a big boost. Luckily, anyone with an internet connection and a platform has the potential to build their brand.
Personal Brand Building and Why You Need It
If you're starting a small business in your area of expertise, building your personal brand and your company's brand happens simultaneously. The mutual growth makes perfect sense, and the connection happens organically.
However, if you're part of a larger company, the lines are more distinct. You may wonder whether you should focus on building the company's profile rather than your own. The truth is that audiences prefer following people to brands. So there is definite value in building your personal brand and then leveraging it to promote the company. In fact, it is not unusual for a personality's following to outshine their company's. And it doesn't have a negative impact. It helps the company's profile grow.
Related: Looking Inside Advertising: What Does a Creative Director Do?
How Does Building A Personal Brand Help You?
Even if you don't have a top position in a big company, your personal brand is still important. With fast-paced jobs and a perpetually evolving market, being just another face in the crowd doesn't help your chances. This is where your personal brand comes in.
Your personal brand tells the world what you are capable of, what you stand for, and how you operate.
With a well-curated personal brand, you can –
Position yourself as an authority in your field, helping to gain the trust of potential clients or employers
Grow your network by showing others in your field or outside of it the value of connecting with you
Charge premium pricing. Products and services of quality are usually expected to be priced higher.
All this helps build your credibility and encourages more clients to come your way. These are just a few benefits of building your personal brand.
How To Build a Personal Brand? Simplified's Straightforward Guide