We all know that blogging is one of the best ways to increase long-term brand visibility. Without a blog, you're depriving your brand of the perfect platform to get more traffic, improve your website SERP(search engine ranking position), and build a community.
Producing consistent high-quality blog posts helps you build authority & trust within your niche while boosting search engine rankings. For small businesses, posting about one to four times a week may suffice, but for others, it may be necessary to post even multiple times a day!
But writing a blog post is tough, and quite time-consuming as well. So, what if there was a simple solution to help you post consistently?
Here's where AI Content Generator can be a game-changer for your business; from generating something as simple as a blog idea, to writing blog posts, AI and machine learning can help businesses produce blog content at scale.
In this blog post, you'll find everything there is to know about producing high-quality, informative, and engaging content—super fast!
Let's start by understanding what a blog post really is
First things first, what is a blog post? Is it the same as website content? Are all blog posts the same? We're covering that and a lot more in this section.
Simply put, a blog post is any written content that is published on the blog section of a website. It can be a new article, guide, or news piece that helps answer a specific query that users may have; it may be directly related to your brand or a general post addressing queries about your niche.
Unlike website content, blogs are updated regularly to share informational, educational, and even fun posts to build an audience and brand community. Website content, on the other hand, is not updated as frequently and tends to be organized across different pages rather than a specific blog.
So, how long do blog posts need to be? A blog post can be as short as 600+ or it can be as long as 2000+ words. To understand which word limit to stick to, you'll need to know a little more about the different blog posts there are.
To know what kind of content is suitable for your business or blog, it's crucial to understand how to write a blog post that connects with your audience. In addition, you can also keep your blog interesting by focusing on a different type every week.
Here's a little more about the types of blog posts out there:
Listicles
You've seen these floating around everywhere on the internet, from the top 5 movies you should watch to a list of recipes you can try for Halloween. Listicles are easy to skim through which makes them a popular choice for blogging. Need some blog post examples to know what a listicle should look like?
Check out Simplified's post on 5 Examples of Excellent Landing Page Copy!
How-to Guides
When thinking of how-to guides your mind may immediately wander off to wikiHow pages. However, a how-to guide focuses on a particular problem and provides detailed instruction on how to solve it. They can cover a variety of topics, from improving your sleep schedule to helping you learn how you can change your ink cartridges; there's an answer for everything!
Our guide on writing blog descriptions is a great example of informative how-to posts. These posts not only bring value to your blog but to your readers as well.
Cheatsheets
Though you may want to help your readers learn about the best way to create a blog post or hacks to improve productivity, not everyone wants to go through how-to guides or educational content. Cheat sheets are an easy way to provide your audience with a quick reference guide when they don't have the time to sit through a 2000+ word blog post.
We understand that sometimes your writer's blog may keep you from coming up with something as simple as a blog title. So, we've included our free AI blogging tool when sharing our tips on creating catchy blog titles.
Infographics
Need a break from words? Well, an infographic blog post is the best way to do it. Rather than writing a wordy post which can be an overload of information, an infographic presents vital data in an easy-to-digest manner which is much easier for your audience to go through.
Pilar content a.k.a the ultimate guide
Finally, there's the type of blog post that you're currently reading, a pillar blog! Generally, Pillar blog posts are long, informative blogs that help in creating different topic clusters. They're packed with information and contain relevant images, videos, and relevant media to help support facts and insights.
By the end of this blog post, you'll know what a pillar blog post should look like and what it entails.
So, how can you write a blog post faster?
Struggling to understand how to write a blog post that engages users? We know how difficult it can be, so, how about a few useful tips?
Whether you're a newbie or a seasoned blogger, it's no secret that blogging is time-consuming. When you start, it's easy to come up with topic ideas as you haven't covered much on your blog. But, how do you keep up an engaging blog after years of producing consistent content?
What if there was a secret formula that showed you exactly how to write a blog post for your business? Creating blogs is a long process, but it has some fixed steps that everyone should follow. Once you're able to nail the processes down, you can create blogs much faster.
Don't expect any miracles, though; even with these steps, it may take days to create a single blog post.
Here's where AI writer Blogging Templates can be a boon. From generating awesome blog ideas, to blog outlines, and even writing an entire blog for you in seconds— the sky is the limit with these AI Templates.
Bloggers have already put AI text generator to the test and agree that it makes it easier to generate content ideas, create SEO-friendly content, and improve their grammar as well.
Step 1: Ideating Your First Blog Post (+Free AI Ideation templates)
Understanding your Audience: Who are you writing for?
Before you can even pen down the first word for your blog post, you'll need to understand who you're speaking to. Who's your audience? What are their interests? What do they already know about your business or your niche?
It can be a struggle to truly understand your audience, especially when you're creating educational or informative content. The urge to share everything about the subject may be strong, but it's not an effective approach. Here's where you can start by creating an audience or buyer persona.
Map out what your ideal audience looks like, what you think their interests may be, and what are some things they may already be aware of through their varying interests. Once you've nailed the audience persona, you'll have an easier time figuring out how to write a blog post that will interest them.
What's Your Blog Post Title Or Idea?
How do you write an in-depth blog post if you have no idea what you're writing about? An effective blog post or title is important to guide your research for the topic and the keywords you'll use.
Blog titles should not only reflect the information within your post but should be eye-catching and interesting to your audience as well. your blog title is what entices users to click on your blog, and helps them learn what they can expect. Hence, it's vital to come up with an interesting yet informative blog title.
Catchy blog titles are crucial to getting more eyes on your blog. You need to come up with a title that connects with your audience, and which matches their search query as well.
If you've been finding it impossible to come up with titles that just roll of the tongue, you may want to try out Simplified's Blog title generator AI Template that helps you come up with effective titles and ideas in seconds.
Feeling stuck: Try Simplified's Free Blog Title Generator
Step 2: Competitive Research
What's already out there? How does your blog fill the gap in the market, or improve existing information?
Reading existing blog posts
Whether you need to come up with new blog ideas or identify the content which your target audience needs, it is crucial to go through blog post examples to know what's already out there. By researching existing content, it's easier to know where your knowledge can help. You can plan your content strategically and cover topics with a unique spin.
As you research existing blogs, you'll know what's already been written and how you can package the information better while adding more value for your readers.
Keyword research to make sure your blog reaches your audience
The words 'keyword research' are often used only in terms of your blog's SEO. However, sometimes it can be easy to forget that keyword research is important to understand your audience as well.
Keyword research can help you come up with blog ideas and know what your audience is looking for. Or, you can identify the core keywords related to your blog idea and research keywords that will help you connect with your audience.
Ultimately blog posts and keywords are deeply intertwined; you can't have one without the other. Ensure that you use free keyword research tools Google's Keyword Planner to come up with a list of effective keywords.
Step 3: Pick A Framework For Your Blog (+Free AI Framework Templates)
AIDA Framework
Been humming along to Ariana's 7 Rings? You're already pretty familiar with the AIDA framework.
AIDA stands for Attention, Interest, Desire, and Action; they're keywords that help in describing a consumer's buying journey. AIDA framework is effective in even converting strangers to buyers as it grabs their attention, piques their interest, builds on their desire to solve a problem, and then provides them with an action that can help with this problem.
Tempted to create powerful marketing campaigns using the AIDA framework for your business? Try out Simplified's AIDA framework generator for your next campaign to see some great results.
PAS Framework
The most common marketing strategy that has been around for ages is the PAS copywriting framework. It stands for Pain-Agitate-Solution, and makes you think from the perspective of the buyer. What problem does your product solve? Why does the buyer need to have your product in their life?
Though it may seem like a simple copywriting formula, it's not always easy to come up with an effective PAS framework. After all, in the market-centric world, audiences are too used to companies using this framework which makes them wary of falling for it.
Here's where Simplified's free AI writer can help you out. Focusing on your brand and services, this template is designed to generate persuasive PAS content.
Before After Bridge
The idea behind the Before After Bridge copywriting or the BAB framework is to show your audience how you can improve a specific problem in their lives. It's all about taking something from a bad to a better place. When you need to come up with a compelling before-after-bridge framework, you'll need to have a deep understanding of your audience and their needs.
Often, experienced writers struggle with coming up with a BAB framework that works for your business. Simplified's Ai writing software can provide you with a Before After Bridge Generator framework that just takes seconds to generate.
Step 4: Time To Start Writing (+Free AI Blogging Templates)
So, here's what we've learned so far:
What do we mean by a blog post?
Understanding how one can ideate their first blog post
Why competitive research is important
What frameworks we can choose from
And now, it's finally time to learn how to write a blog post! Unfortunately, it's not as easy as sitting in front of your computer and letting your thoughts flow.
Blog Outline
What's the secret to knowing how to write a good blog post? A great blog post outline.
Once you've decided on the topic, it is important to create an outline for your blog post. With an effective outline, you can keep your thoughts from wandering and keep your blog focused on a specific aspect of the idea. Remember, you're writing an engaging blog post, not a book on the topic!
As you create blog outlines, it also helps you come up with catchy subheadings for your blog. Your blog outline should be able to inform your reader about what they can expect from the blog and it's various sections. Ultimately, it helps in making your blog more skimmable so that users can get to the information they're looking for.
Coming up with an effective blog outline isn't easy, especially when it's a topic that you're passionate about. Even seasoned bloggers struggle with coming up with effective outlines and dedicate a day or two to this process alone.
But, when you need to post consistently, you can't afford to dedicate endless hours to framing your blog. Want to know how you can write a blog outline in minutes?
Simplified's Blog Outline Generator helps you generate effective blog outlines, allowing you to produce blogs a lot faster. You're brainstorming days just got a lot easier.
Blog Introduction
The introduction is crucial; it's what converts the traffic to your blog into actual readers who'll want to follow your blog for more informative content; readers feel interested because they get to learn from your expertise. It's not the catchy headlines but the Blog introduction should hook the reader in, and inform them what the blog is really about; it's the most important aspect of knowing how to write a blog post.
When you're starting, it can be hard to know what an impressive blog introduction looks like. How can you successfully engage your reader and show them that your blog is worth a read? AI Templates are, perhaps, the best way to get started with blog introductions. Besides, how will you know what blog introductions should look like unless you can see an effective example?
Simplified's Blog Introduction Generator helps you come up with a compelling introduction, every time. Don't believe us? Test it out today!
Blog Section Completer
You've got a mammoth blog on your hands, and it seems like you've used up all your words at the start and are unsure how you can complete sections towards the end. Sounds like a familiar problem? It's one of the biggest challenges of writing a blog,
Though you may have great ideas about the topic, you may not know how to complete specific sections, especially if you've embedded a lot of information throughout the blog. We've all been there at some point! So, who can come to your aid? Hint: It's a well-loved article writing AI tool.
AI Templates, like Simplified's Blog Section Completer, is the perfect tool to help you overcome this problem and come up with compelling content that resonates with your audience.
Try the free AI Blog section completer today!
Blog Conclusion Paragraph
Just as the introduction needs to inform the user of what they can expect from the blog, a powerful blog conclusion needs to sum up what you've covered in the blog. A good conclusion paragraph should not only provide the main takeaways from the post but also guide readers towards the next action. It's where you include your CTA why your blog post stands, especially for those who only plan on skimming your blog. With Simplified's effective tips for writing a blog conclusion, there'll be no risk of messing up your concluding paragraph.
Don't want to keep second-guessing yourself? How about giving Simplified's Blog Conclusion Copywriter a spin?
Free AI templates to rewrite, simplify and repurpose existing content
What we've discussed above are the most important elements of coming up with a powerful blog post. But, when you have years of posts behind you, producing unique content can be challenging. But, what if you could rework an older blog successfully? We have a few additional Free AI Copywriting templates to help you completely overcome your writer's block.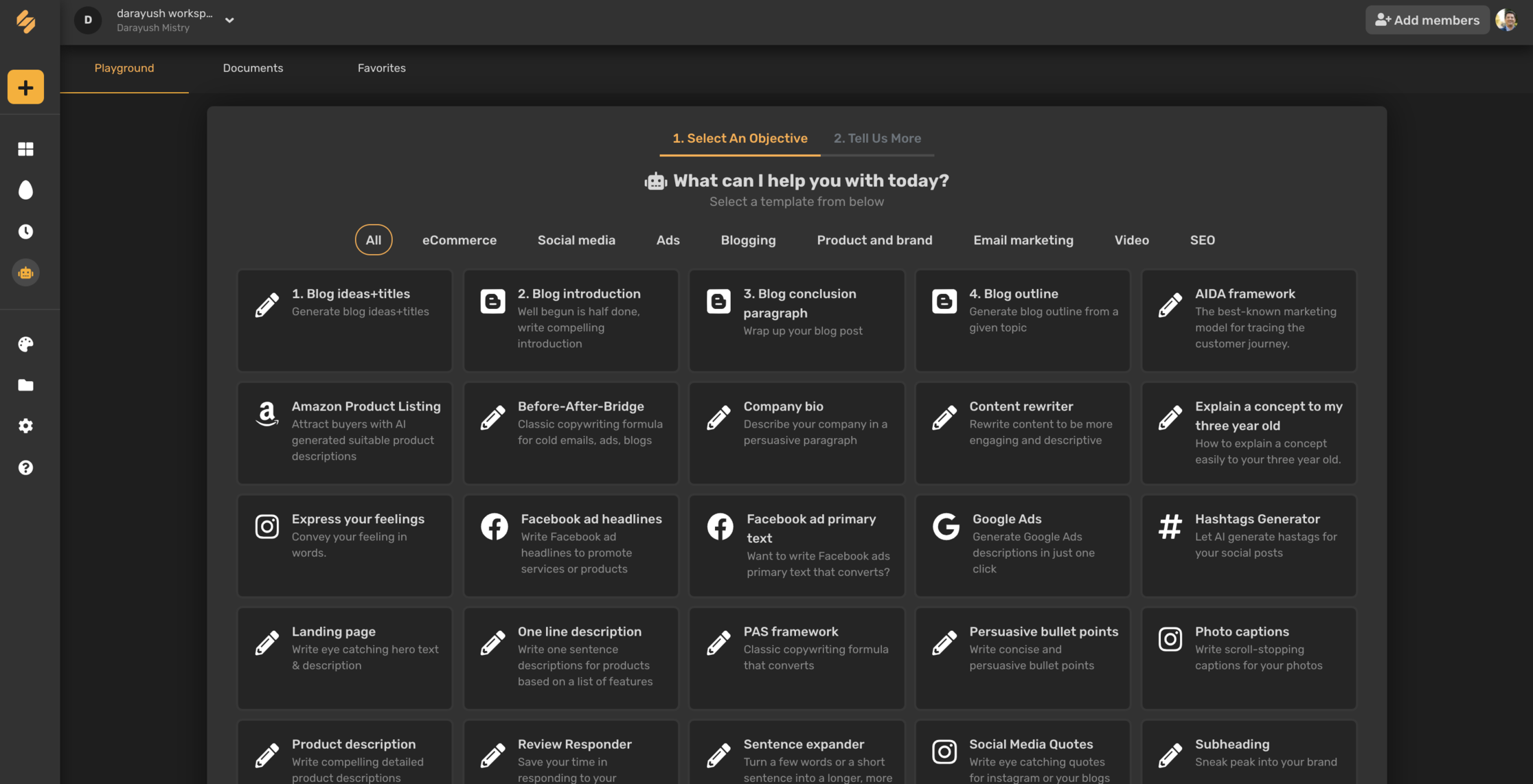 Use Simplified Sentence Simplifier to put a new spin on existing content, or make complex topics sound easy with Simplified.
Sentence Expander: For when your brain won't cooperate
Got the perfect start to your sentence but not sure how to frame it? Sometimes your brain may be full of ideas but lack the words to express them.
What could be better than knowing how to expand a sentence in such situations? And, yep! You can try Simplified's sentence expander AI copywriting tool on Simplified for free.
Sentence Simplifier: For when you need to explain a complex topic
Though you may be an industry expert for a specific topic, your audience may struggle to understand the basics of it. And, if they don't understand your concept or business, how will they engage with your brand?
Simplified has helped both writers and brands overcome the issue of using complicated jargon within their content by introducing the Sentence Simplifier AI copywriting template.
AI copywriting tool helps make your writing simple and more informative for your audience.
Content Rewriter: For when you need to rewrite and repurpose existing content
If you've been in the blogging space for years, the chances are that you've written blog posts on similar topics throughout the years. Previously, you would just bite the bullet and come up with new outlines and sections for your blog posts, but what if there was a way you could write blog posts in seconds?
With Simplified's Content Rewriter, you can come up with endless blog posts on similar topics! Based on what you've already written, Simplified's Content Rewriter Generator AI copywriting tool comes up with new content which is plagiarism-free.
Need some magic to make the words flow? Well, we don't have a spell for you, but we do have Simplified Copy AI Templates, which is as close as it gets. What are you waiting for?
Step 5: Making your blog post interactive
No one likes to read a huge block of text. So, how do you keep your readers engaged through a really long post?
Featured Image
A picture speaks a thousand words, and in the case of blog posts, it can also help keep your readers engaged. Break the monotony of endless paragraphs with colorful pictures to keep your audience from snoozing in front of their screens.
Websites such as Pexels and Unsplash make it easy to find royalty-free images that you can use as featured image on your blog. Type a relevant keyword in the search box, and you'll have hundreds of free images at your fingertips.
Media Within Your Blog
You may have noticed that we've sprinkled various images and media throughout the blog. But, why is that? Is it simply used to fill up space on the blog? Nope, it isn't.
Not only do media like videos, gifs, open graph images, stats, and infographics keep the audience engage, but they also help in presenting information in an interesting manner. No one wants to read pages upon pages of statistics when it could be shown in the form of graphs as well.
Sooo.. Can AI really write a blog?
Yes! AI tools can totally write a blog! AI content generators are useful for ideation, improving grammar, and creating awesome copy for all your content & marketing needs in seconds. You want it, and you got it! These AI tools help you get inspired and think outside the box and, most importantly, make content generation simple and faster so you can focus on all the other details and processes of your business, knowing that AI has got your back.
Want to see what the hype is about for yourself? Why not try out Simplified's AI Blog Post Templates for free today?