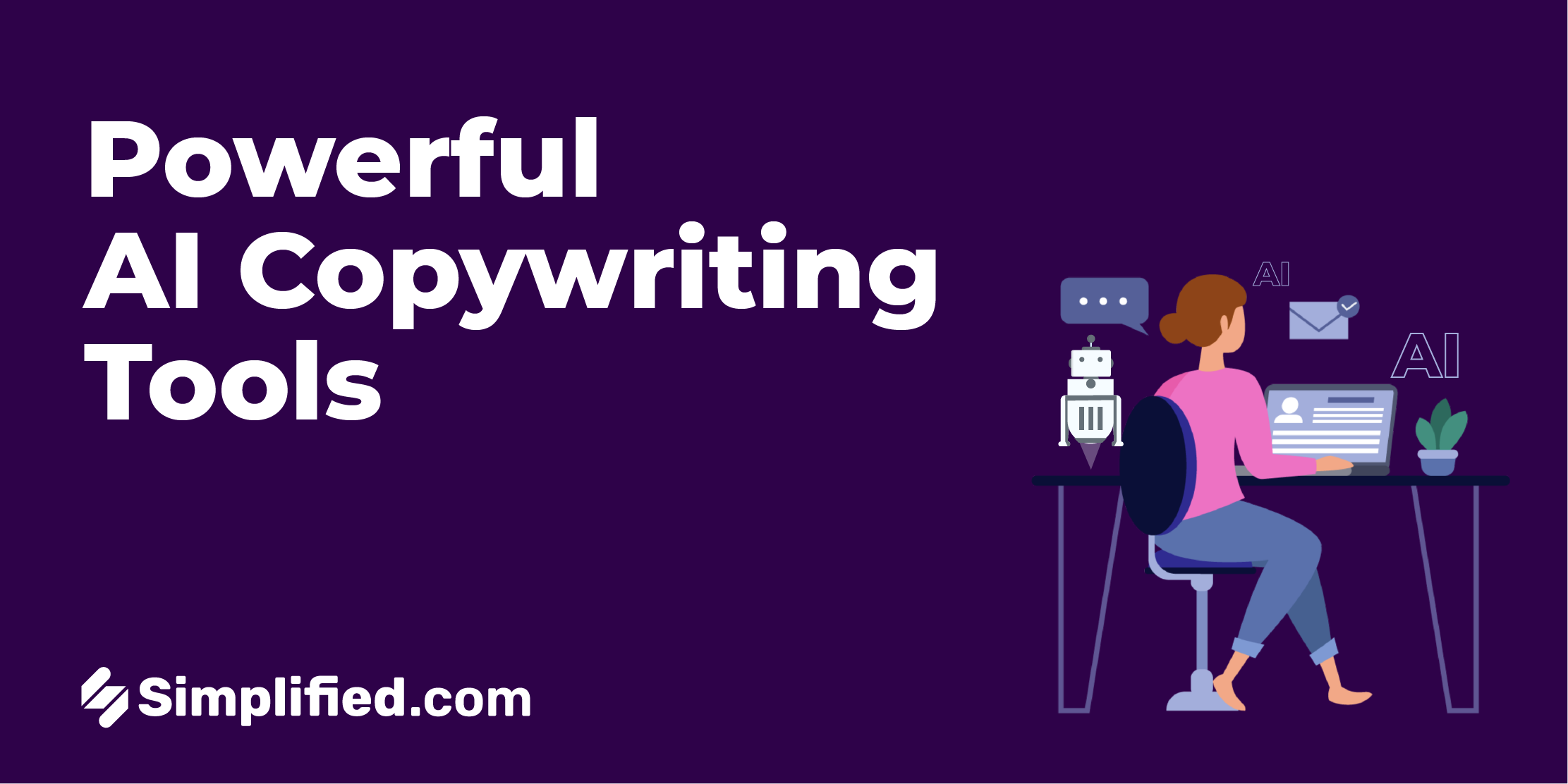 Table of contents
Do We Really Need AI Copywriting?
1. Simplified – Free Forever AI Copywriting Tool
2. CopyAI ($432 paid annually)
3. Snazzy AI ($480 paid annually)
4. CopyShark ($300 Paid Annually)
5. Shortly AI ($780 paid annually)
6. Nichesss ($228 paid annually)
7. Jasper AI ($480 paid annually)
8. Writesonic ($152 paid annually)
9. Copysmith AI ($228 paid annually)
10. Headlime ($708 paid annually)
11. Kafkai ($588 paid annually)
12. ArticleForge ($156 paid annually)
13. Content Villain ($588 paid annually)
14. Rytr ($290 Paid Annually)
15. ClosersCopy ($959.88 paid annually)
16. Wordtune ($119.88 paid annually)
17. Peppertype.AI ($420 Paid Annually)
18. Outranking ($660 Paid Annually)
Can AI Replace Content Copywriters?
Elevate Your Marketing Game With AI Copywriting Tools
Create content in seconds, deliver on-brand content and push out innovative campaigns that get results.
Getting Started
Think of a life where you don't have to sweat over writing blogs every day, but instead simply type what you want into a computer, and content creation is automated. It means you can spend your time optimizing content for different channels, focus on scaling your brand and work on expansion strategies. Well, all of that's possible and more. Meet our best AI copywriting tools, who handle the tiresome writing tasks so you can concentrate on what matters most: getting campaigns to convert.
AI copywriting tools not just help with easier writing & content creation but also do it faster, so you never have to stare at a blinking cursor again! Having a AI copywriting tool by your side, reduces your workload, and eliminates the monotonous nature of activities that sap your creativity. That being said, we are here to help you to choose the best AI writer. That does the content heavy lifting while you focus on getting other tasks done.
With so many AI text generators out there, choosing one can be a daunting task. This blog will help choose the best AI writer based on your content creation and marketing needs for you and your team. Let's dive right in, shall we?
Do We Really Need AI Copywriting?
Copywriting refers to any conversion-focused writing, such as ads, sales pages, and marketing emails.
And GPT 3 is the base for all of the latest AI copywriting tools.
It performs this by teaching an algorithm to sift through millions of online pages in search of patterns. It then applies what it has learned to create fresh material on a specific topic.
So simply enter what you want and leave the rest to the computer. It's that simple!
1. Simplified – Free Forever AI Copywriting Tool
Want to generate engaging copy at no cost? With Simplified, it's possible!
Simplified is the world's first copy AI + Design tool, with thousands of design and AI templates for free, Simplified's pricing plans help you scale every day!
Get your hands on ready-to-use and all-inclusive, user-friendly designing tools that save time. And, several wide-ranging services that provide personalized AI-generated content for your brand.
Get an instant, effective copy for every type of marketing campaign you need—from Facebook Ads to social media quotes. Plus, take it a step further by automatically generating visual creatives using the copy you generated. Moreover, you can also optimize text for various marketing-related activities for free! Only a few premium features would need you to get a cost-effective subscription. AI copywriting features on Simplified that help you generate compelling and creative content –
50+AI Templates
Write in 25+ languages
Free flow mode
AI Long-form writer
Full Blog Writer
Publishing to WordPress
Built-in commands
Built-in Grammarly support
Built-in plagiarism checker
Real-time collaboration
Downloadin PDF, DOCX
Millions of free stock photos & videos
Collaborate with the entire team
What's more? Simplified offers a solution for all your design, team collaboration, and content scheduling needs. So now instead of switching between 4 different apps, you can do all of that and more on Simplified. No wonder it's a go-to app for all business owners, freelancers, and marketers.
2. CopyAI ($432 paid annually)
Founded in 2020, Copy AI comes with a variety of different templates you can choose from which allow the tool to understand which type of content you want to write. This software although provides many templates is probably not the ideal option for you if you have a big project and need to generate multiple results.
In particular, if you utilize smaller section generators like "Bullet Point to Blog Section," creating content might take longer. On the plus side, it does, however, provide enterprise plans that allow you to include team members, as well as allow you to choose the tone of your content. You can choose from 6 tones (Friendly, Luxury, Professional, etc) which can be restrictive if you want to use a tone off the menu.
3. Snazzy AI ($480 paid annually)
Snazzy AI pricing plans lean more towards businesses in their growth stage. And may not be suitable for small teams or solopreneurs. While Snazzy AI copywriting tool's Starter package is free, it has a restriction of only 40 credits a month. Snazzy AI offers a bright, white & blue theme, with a side panel of AI template categories.
The AI writer even has a share option that allows you to share the link to your work with your teammates. In order to edit it, they'll have to copy it onto a third-party document app like Google Docs and work on it. This may be quite troublesome for some teams who are looking to collaborate on the platform itself.
4. CopyShark ($300 Paid Annually)
Built by founders for founders, CopyShark is an AI writer powered by GPT 3. It has a minimalist gray and black color palette clean layout and distinctive CTAs. When it comes to plans, CopyShark AI doesn't have a separate plan for small teams. While creating copy, you can't store any of AI copywriting tool content. However, it does enable you to copy it.
You'll have to copy it into a third-party document tool like Google Docs/Sheets and work on it there, in order to modify or add content. For certain teams who want to collaborate on the platform itself, this might be a concern. CopyShark offers 50+ tools that provide several services but it is pertinent to mention that the output quality is minimal.
5. Shortly AI ($780 paid annually)
Shortly AI is an AI writer that offers the services of a writing partner to help you write blog posts or even stories. An important factor to note is, the pricing is sky-high compared to other platforms. While using the platform, with just the click of the button "Write for me", this AI text generator will continue writing for you.
Unfortunately, there aren't any collaboration features in Shortly AI. With no flexibility in content tones, Shortly AI copywriting tool can also be restrictive when it comes to choosing the tone of your copy.
6. Nichesss ($228 paid annually)
In addition to some of the other AI copywriters listed above, there is a brand new GPT-3 powered service called Nichesss. This AI writer generates the tone of the copy based on the type of platform you choose whether it's Facebook Ads or your blog. Also, you can write blogs and generate great short-form copy with Nichesss.
However, its interface is a little cluttered as the platform makes it fairly difficult to navigate important buttons with lots of emojis and small-size text in typewriter font. Although there is an option to "star" and export your work, the starred copies do not show up on the project dashboard when you're trying to find your favorite copies. This can make you scroll endlessly to find an important project.
7. Jasper AI ($480 paid annually)
Jasper AI copywriting tool is great to create high-quality content effortlessly. It's very user-friendly, especially for new users. Despite the interface not being too fancy, it is concise and clear. The software displays projects on your dashboard which can be accessed when you log in. However, Jasper's plagiarism detection costs extra to use, whereas most tools offer this feature as part of the subscription.
8. Writesonic ($152 paid annually)
Writesonic was born out of the need to build landing pages for a product, Sam (the founder) was working on. This got him thinking: what if he could use GPT-3 to create landing pages that were optimized for conversion? This gave shape to Writesonic AI.
Writesonic employs simple buttons and solid bright hues like white and deep bluish-purple. The user interface is quite straightforward. However, Writesonic doesn't allow for commenting or seamless group work, although it does provide you with a shareable link to your copy.
9. Copysmith AI ($228 paid annually)
Copysmith is built for marketers, content creators, and e-commerce platforms. When it comes to interface, Copysmith has minimal distractions making it extremely easy to use. While it is without a doubt one of the finest AI writers in terms of UI/UX, it does contain several limitations. The copy for the blog post, for example, isn't entirely split down into paragraphs. As a result, you'll have to sift through a mountain of material and format it on your own.
10. Headlime ($708 paid annually)
Headlime, now acquired by Conversion AI, uses a variety of templates powered by GPT-3 to generate content. The Headlime motif is a combination of bright green and white. Library and Projects are the two primary sections on the AI copywriting platform. The library is a collection of templates from which users can select. It's worth noting that Headlime doesn't have a search bar for users, and finding the template you want requires a long scroll.
11. Kafkai ($588 paid annually)
Kafkai, just as other AI writers, is a machine-learning algorithm that can write articles from scratch. While Kafkai is one of the most user-friendly AI Copywriting tools in terms of navigation and mass copy production, it's not without flaws. Generating full articles can be a disadvantage since they will likely be lower quality than other templates that create small but specific content at a time. In the end, it just depends on how you plan to use the content.
12. ArticleForge ($156 paid annually)
Article Forge is the result of five years of artificial intelligence research, and its deep learning models have been trained on millions of pieces so that it can intelligently write on almost any topic. Except, there are no collaborative or personalizing features such as setting a tone for the content. Although Article Forge offers a 5-day free trial, you will have to add either your credit card or your PayPal, meaning that soon you will have to pay for this service.
13. Content Villain ($588 paid annually)
Automation and integrations are the core features at Content Villain. Although they have an affordable starter plan, it doesn't include the plagiarism checker. They also have a few special add-ons. For instance, it enables you to gather emails from any URL. This might be a huge benefit for those who handle cold email outreach.
While working on it, you'll notice how the saved copies are accessible through the 'Saved' option, which stores all papers in one place. Though the search bar can be used, this might pose an issue if you're trying to find something created long ago.
14. Rytr ($290 Paid Annually)
Launched in April 2021, Rytr works well across the whole writing workflow. It also offers a free subscription that generates 10k characters per month. Despite the fact that Rytr's UI is simple and tidy, the workspace has a boxy, email-writing feel to it, which most users may find limiting. By clicking "Move" in the right-hand corner of the screen on Rytr, you may move documents and folders to a new folder. Moreover, Rytr also makes it simple to rename and remove documents to meet your specific copy requirements.
Related: 10 Best Rytr Alternatives You Need To Get Your Hands On In 2023
15. ClosersCopy ($959.88 paid annually)