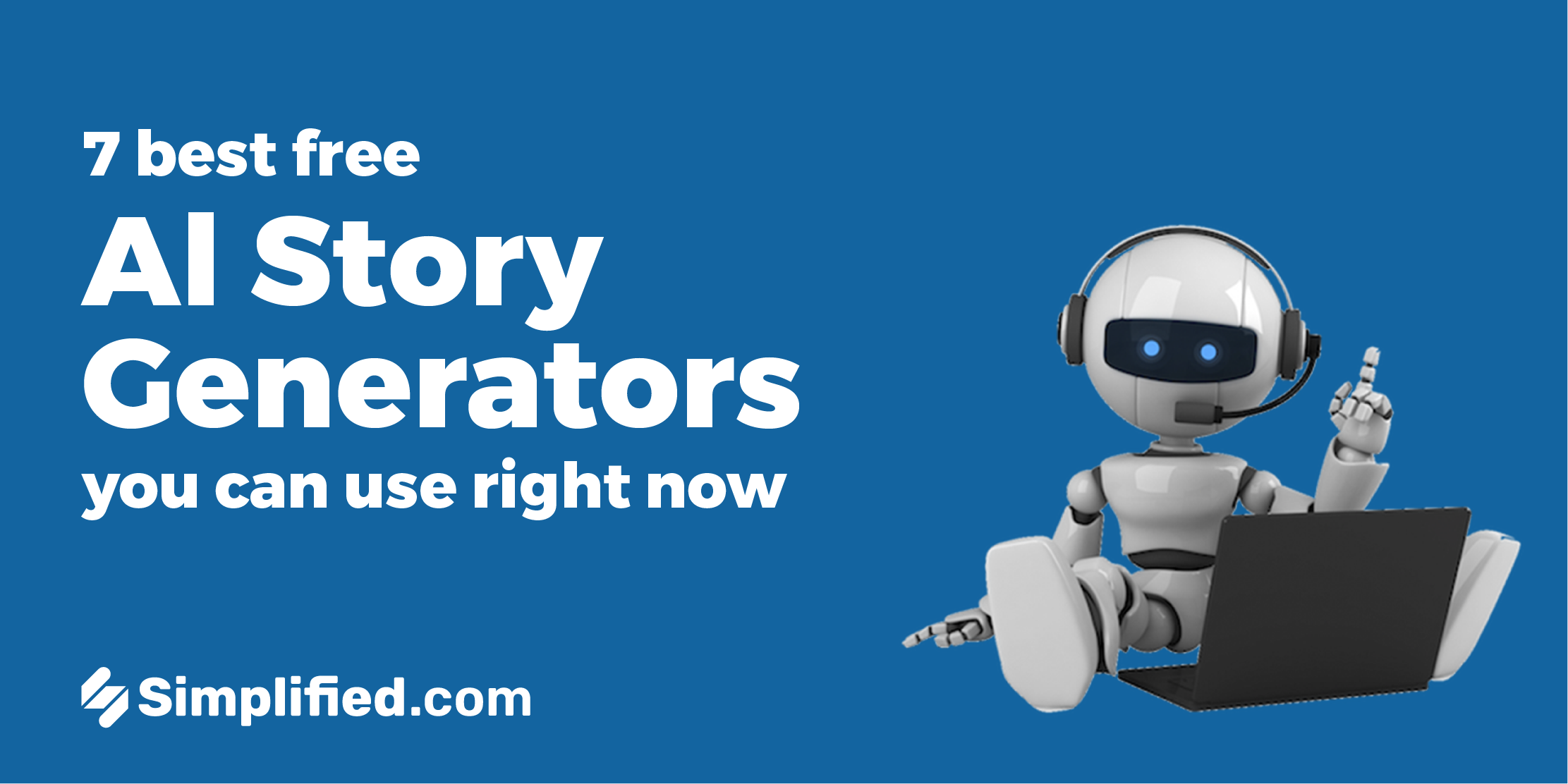 Storytelling is a time-honored tradition that helps us make sense of the world and our place in it. So, if you're looking for a creative outlet but don't know where to start, you've come to the right place.
With the rise of artificial intelligence (AI) to create all kinds of content, anyone (even beginners) can now create their own stories with the help of an AI story generator. An AI story generator is an online tool anyone (mostly writers) can use to help with brainstorming, creating, and writing original stories, characters, plot lines, and the other essential parts of a story.
In this article, we'll introduce you to the 7 best free AI story generators that you can use right now. These generators use AI to create everything from the first lines of dialogue to entire plots, so read on to learn more about them and know what's the best one to use.
7 Of The Hottest AI Story Generators This 2022
An AI story generator is a great way to kickstart your writing journey. It can help with writer's block and what's even better is it creates original content based on keywords or descriptions that you put. Here are 7 of the best short story generators to get you started:
1. Simplified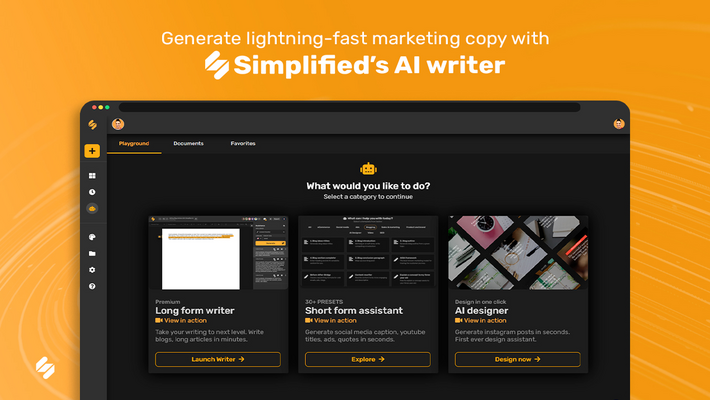 Simplified is a social media management tool equipped with an all-around AI writer that can generate short and full-length stories for you. Its AI story generator has over 50+ AI templates, more than 10 tones of voice, and 30+ languages available to use. More than that, you can easily improve your AI-generated stories using the AI rewriter, sentence expander, or AI paragraph generator tool.
Pros
Has a Free Forever plan with basic features.
Has 50+ AI templates, 10+ tones of voice, and more than 30 languages.
Integrated with Grammarly and a plagiarism checker.
Easily connect all your social media channels and schedule multiple posts in advance.
Collaborate with team members and different clients in real-time.
Cons
The tool can be a bit overwhelming at first, but Simplified Academy is complete with video tutorials.
Pricing: There are three paid plans: Small Team ($18/monthly), Business ($30/month), and Growth ($75/monthly). Simplified also has a separate price for enterprises or agencies.
Related: Facebook Stories for Business: Dimensions, Hacks, and Metrics
2. Rytr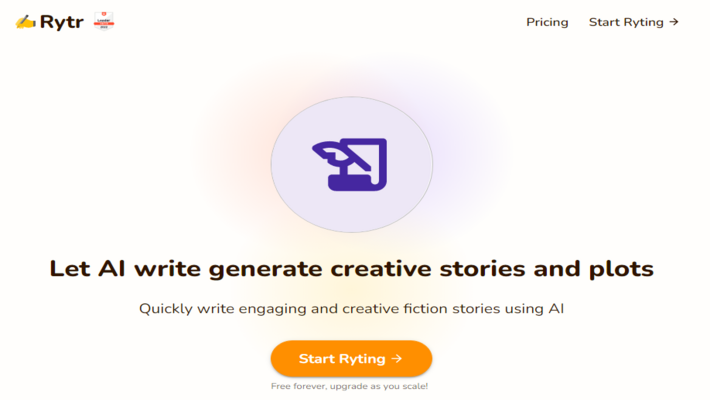 Ryter is another tool powered by AI that can produce computer-generated stories. The tool has 30 languages, 20 tones, and 40 use cases available. Rytr can also create marketing copies, SEO titles, and product descriptions. When creating a story, you can choose the genre, style, and length. Plus, the tool generates more than one version of the story so you can choose the version that you like best.
Pros
Has a free version.
Has 30 languages, 20 tones, and 40 use cases. It also has a built-in plagiarism checker.
Uses AIDA and PAS copywriting frameworks.
Cons
Has limited characters/credits even with the Saver plan.
There's no option to generate long-form content of more than 1000 words in one go.
Pricing: Rytr has two paid plans: Saver ($9/month) and Unlimited ($29/month).
3. NovelAI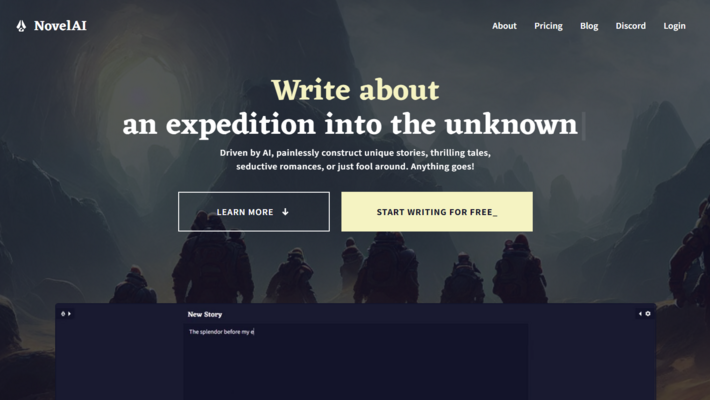 NovelAI is ideal for aspiring or already novelists. It's an AI story writer that can produce different genres of stories with AI modules (wherein you can copy the voice of known literary authors), a Lorebook, and even an Image Generation feature. The tool also has an editor where you can change fonts, sizes, and color schemes at any time.
Pros
Has a free version with limited features.
Cons
Tool is only meant to write fiction and fantasy only.
Can be a tad bit overwhelming for beginners.
Pricing: NovelAI has three paid plans ranging from $10 to $25 per month.
4. Shortly AI
If you have a problem with writer's block, Shortly AI can help you overcome that. Its AI story generator can create stories, plotlines, characters, and settings based on the descriptions or keywords that you input. Its features include being able to specify the number of words, pages, and even the characters in the story.
Pros
Easy to use and has a simple interface for beginners.
Has /commands that can help create content instantly.
Cons
No free version.
Only has one language (English) and doesn't have writing tone features.
A bit expensive for its writing features.
Pricing: Shortly AI only has two paid plans: Annual Plan ($65/month) and Monthly Plan ($79/month).
Related: Instagram Stories For Business: The Ultimate Cheat Sheet For 2023
5. ClosersCopy
ClosersCopy is a copywriting tool with an AI story generator. The tool can create articles, marketing copy, social media content, emails, stories, and scripts. Plus, it also has tools for SEO, templates, outlines, and even keyword-focused content.
Pros
Can choose the genre, style, and length of the story to generate.
Has templates, frameworks, and over 128 different languages available.
Cons
No free version.
The tool is a bit on the expensive side.
The tool's long-form writer needs improvement.
Some users report that the tool is hard to use and has a high learning curve.
Pricing: CloserCopy's paid monthly plans start at $49.99 to $99.99. Its annual prices range from $419.90 to $839.90.
6. Plot Generator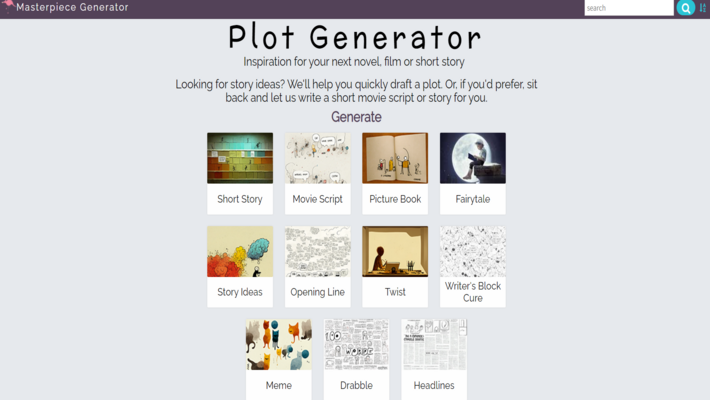 A story isn't complete without plot lines and that's what Plot Generator is for. It's an online AI story writer that creates the plot lines of the characters in your stories. The tool lets you choose among its five styles, then have you fill out a list of nouns, adjectives, adverbs, verbs, and names to generate your story.
Pros