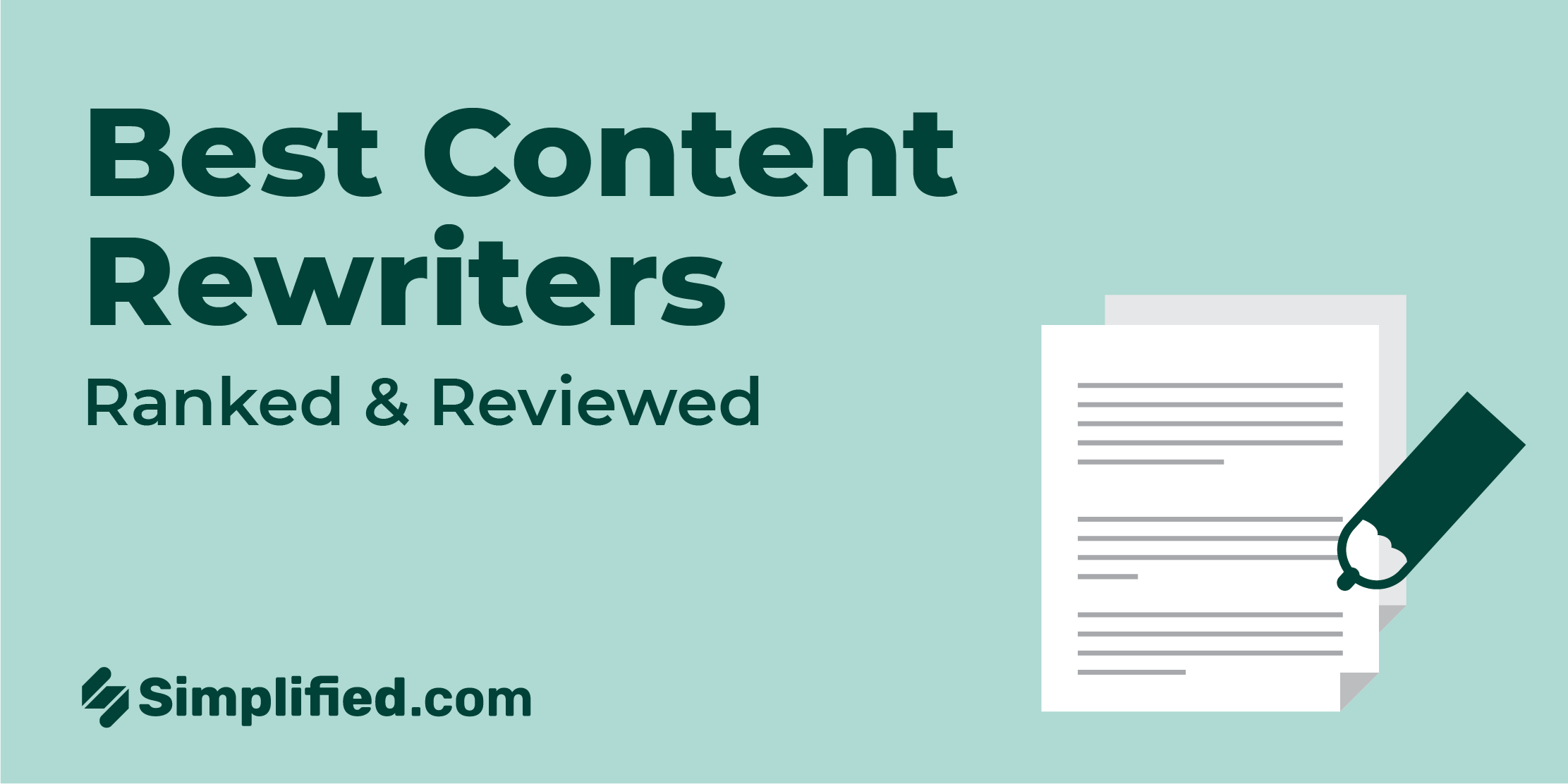 If you're a writer, marketer, or blogger, you know the struggle of creating quality long-form content. The good news is that the world of content rewriters has evolved, and it's now easier than ever to generate high-quality, engaging content in less time.
In this blog post, we'll be sharing our top picks for the best content rewriters of 2023, based on our in-depth evaluations of their performance, user experience, and feedback. We'll give you the inside scoop on the pros and cons of each, so you can make an informed decision that meets your unique needs.
We know that creating great content can be a challenge, whether you're a professional writer, a small business owner, or just starting out in content creation. That's why we're here to help you find the best tools to make your life easier, your content more engaging, and your audience more loyal.
So, let's dive in and explore the best content rewriters of 2023 !
1. Simplified – the Content Rewriter That Stands Out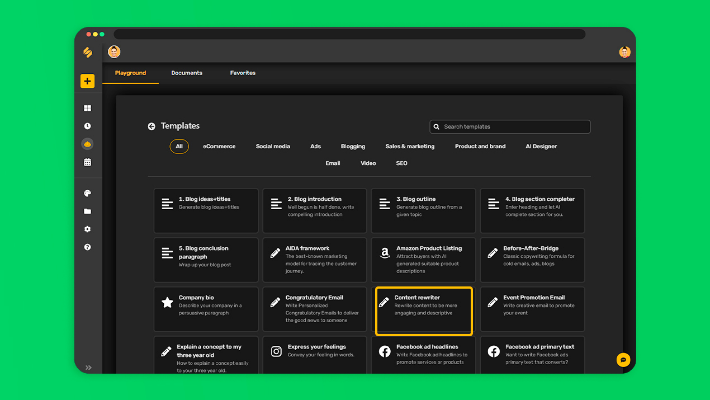 Simplified is a content rewriter that has quickly gained popularity in the market—thanks to its unique approach to rewriting content! Probably the best part about the tool is how it analyzes the original context of the content. And it uses that information to generate a new version that retains the meaning and tone of the original. The beginner-friendly interface makes the tool very easy to use. You can also use the advanced AI writer to explore over 70+ AI copywriting templates.
One of the major pros of Simplified is its ability to produce high-quality, unique content that's optimized for SEO. Simplified offers budget-friendly pricing plans for small businesses, larger enterprises as well as free forever plan for individuals. Check out the video below to see how the content rewrite works.
Switch the tone of your writing with Simplified's Content Rewriter Tool
Pros
The Simplified content rewriter is absolutely free to use and is very beginner-friendly.
You can select from over 10 different tones for your content and generate the content in just a click.
Simplified offers over 25+ languages and gives great accuracy in every language. It also comes with an in-built grammar checker to help you spot the errors and fix them.
The support team is very active and promptly resolves your issues in case you face any problems.
You can also access over 70+ copywriting templates. The blog writer also helps you create original blog content in minutes.
The best part is that Simplified is an all-in-one tool for modern content creators. You can explore plenty of tools beyond content writing for your business or brand.
Cons
Some of the AI writer's initial results may feel basic, but with every prompt entered, it improves significantly understanding your preferences and style.
Price
While Simplified offers a Free Forever Plan for individuals, it's better to switch to the paid version to use the tool to its full potential. The paid plan starts at $21 per month for five members.
2. ContentBot
One of the best features of ContentBot is its ability to rewrite content in multiple languages, which makes it an ideal tool for businesses that operate in different regions and require content in various languages. ContentBot is an AI-driven content rewriter that aims to revolutionize how we create and produce content. It is therefore a very useful tool for companies that operate in various regions and need content in a variety of languages.
Pros
ContentBot offers more than 100 languages in content writing. So, there are plenty of languages you can explore.
There are over 40 writing templates available to write anything from short-form content to blogs.
The SEO tool (available in the Premium plan) helps writers create more relevant blog topics and content.
Cons
ContentBot does not offer the option to change the tone of the content. Hence, there's always the risk of generating that is too simple with little variations.
ContentBot is strictly a writing tool. Hence, you cannot get access to video editing or images to create other forms of content like Simplified.
Price
Once you log in, your demo account is automatically activated with a limited amount of credits. Once your credits are over, they charge $0.5 per 1000 words. You can also upgrade to the Premium pack, priced at $29.5 per month to get access to all the tools like SEO.
3. Quillbot
Quillbot is a powerful content rewriter that uses advanced natural language processing to generate high-quality, unique content quickly and accurately. The user interface is very easy to use, so you can drag and drop your text. Once you click on "Paraphrase", you instantly get the rewritten text.
One of the unique features of Quillbot is its ability to rewrite content in various styles, including creative writing, academic writing, and casual writing. This makes it a great tool for businesses and individuals who need content for different purposes. Quillbot also has a built-in thesaurus and grammar checker, which helps to ensure that the rewritten content is of high quality and free of errors.
Pros
It has the ability to rewrite content in various styles and formats, making it a versatile tool for different purposes.
Its built-in thesaurus and grammar checker also helps to ensure that the rewritten content is of high quality and free of errors.
Cons
There are no options when it comes to tone modulation in content. Hence, the rewritten is often flat and not engaging.
Quillbot only operates in the English language.
There are no options to add images or videos to your content, unlike Simplified.
Price
Once you start using Quillbot, the free plan is activated. It offers to paraphrase only 125 words at a time and offers limited options. The premium plan comes at $9.95 USD billed monthly.
4. Spin
Spin Rewriter is a popular content rewriting tool that uses advanced algorithms to produce unique and readable content. It offers several features that make it an excellent choice for content marketers, bloggers, and SEO professionals.
Spin Rewriter has a simple and intuitive interface that is easy to navigate, making it ideal for beginners and experienced users alike. The tool can automatically spin content to create new and unique articles that retain the meaning and message of the original text. This feature saves users a lot of time compared to manual rewriting.
Pros
The user-friendly interface makes Spin a great choice for new writers.
Spin also offers a quality checker to ensure error-free content. It also integrates Copyscape, a plagiarism checker.
Users can customize the content by entering the word limit and optimizing their content for SEO.
Cons
Spin Rewriter only offers a five-day free trial, which may not be enough time for users to evaluate the tool's effectiveness fully.
Spin Rewriter only supports the English language, which may not be suitable for users who need to rewrite content in other languages.
Prices
After the 5-day trial, Spin is priced at $47 per month. You can also get lifetime access with a one-time payment of $497.
Related: The 5 Best Article Rewriters & Spinners You'll Ever Need
5. Article Forge
Article Forge is a content rewriter that uses advanced artificial intelligence to create high-quality, original content on any given topic. It is designed to streamline the content creation process for businesses and individuals, while also ensuring that the output is unique and relevant.
Article Forge's unique feature is its advanced artificial intelligence engine, which enables it to generate content that is both unique and relevant. It analyzes millions of articles to create a comprehensive understanding of any given topic, and then generates articles that are high-quality, original, and optimized for SEO.
Pros
Article Forge has a simple and intuitive interface that makes it easy to use, even for beginners.
Article Forge supports multiple languages, including English, French, Spanish, German, Italian, Portuguese, and Dutch.
The tool offers several customization options that allow users to control the length, tone, and style of the articles they generate.
Cons
Article Forge only offers a 5-day free trial, which may not be enough time for users to evaluate the tool's effectiveness fully.
Article Forge may not be suitable for users in certain niches or industries, as the tool's algorithm may not be able to generate content specific to their needs.
Prices
After a 5-day trial, you can take the annual subscription to Article Forge for $27 per month.
Related: The 5 Best AI Writers Of 2023 – Ranked and Reviewed
Simplified Takes the Crown as the Ultimate Content Rewriting Tool in 2023!
In conclusion, Simplified is the best ai content rewriter of 2023. With its AI-powered technology, it offers premium features that help modern content creators generate high-quality content quickly and easily. Simplified's seamless integration with other tools and platforms makes it a versatile option for anyone in need of content rewriting services.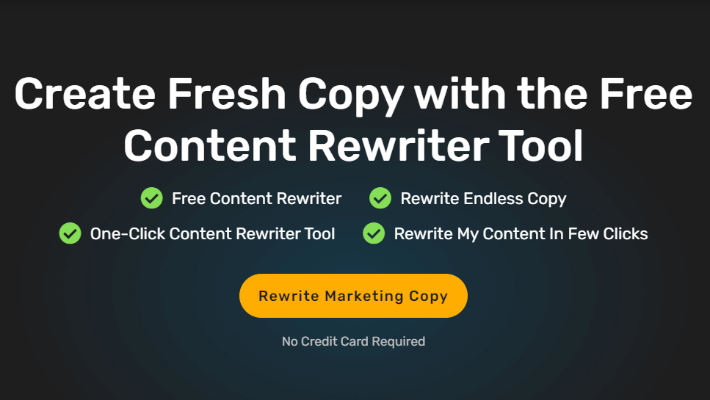 Moreover, Simplified offers several other features that modern content creators will find useful. The tool's content analytics feature helps users track the performance of their content, allowing them to make data-driven decisions. Simplified's team collaboration features make it easy for teams to work together on content creation and management, saving time and improving productivity. The tool's multilingual support also makes it an excellent option for users who need to rewrite content in multiple languages.
Overall, Simplified is a powerful and reliable content rewriter that offers unmatched quality and seamless integration. And the wide range of features can help modern content creators save time and improve their productivity. If you're in the market for a content rewriter, Simplified is definitely worth considering. The best part? It's absolutely free to use. Get started today !