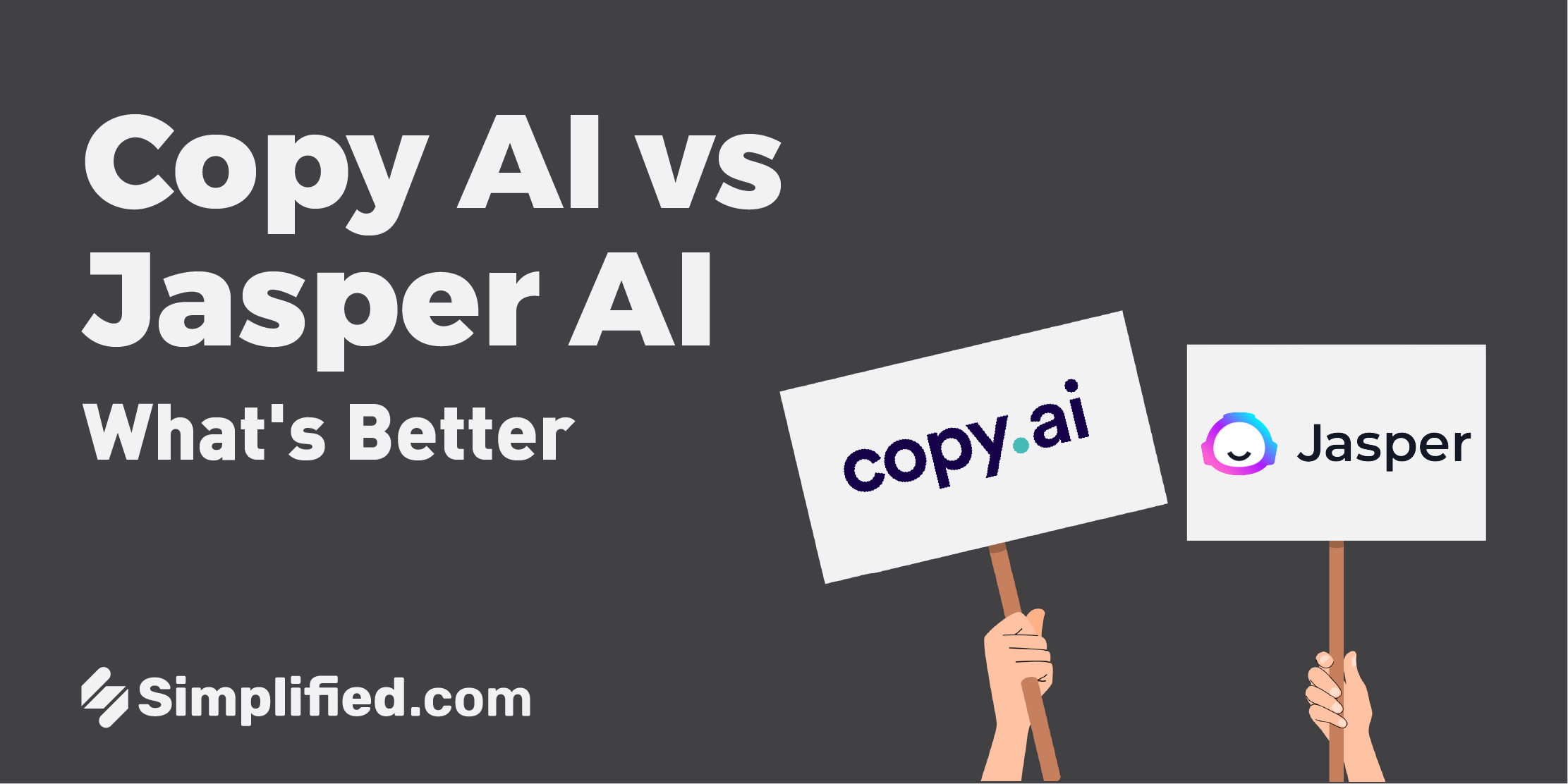 With AI copywriters, you can easily save hours of writing time and generate copies in a matter of seconds. And today, there are many AI copywriting tools emerging, but Copy AI vs Jasper AI are undoubtedly two of the most popular ones on the internet.
With AI copywriters, you can easily save hours of writing time and generate copies in a matter of seconds. And today, there are many AI copywriting tools emerging, but Copy AI vs Jasper AI are undoubtedly two of the most popular ones on the internet.
Copy AI vs Jasper AI
Let's briefly look at these two tools before we start comparing, shall we? Powered by OpenAI's GPT-3, CopyAI is an AI copywriting tool that can create a copy in as little as 30 seconds. It's used to create marketing copy, website copy, and blog content.
On the other hand, Jasper AI, formerly known as Jarvis AI, helps you generate all sorts of content including blog posts, emails, and ads for marketing or content purposes.
So, between Copy AI vs. Jasper AI, which is better? Let's find out!
1. Pricing
With Copy AI, there are two plans: Free and Pro. The Pro costs $36 billed monthly for the yearly plan and $49 for the monthly plan. The Free plan only gives you 2,000 words per month with only one user seat.
With Copy AI's Pro Plan, there are five user seats, unlimited runs, access to all the writing tools, and 25+ languages.
Jasper AI provides the Starter, Boss Mode Plan, and Business. The Starter plan begins at $40 per month, which gives you access to 20,000 monthly generated words of content, over 50 AI templates, chat support, and 29+ languages.
The Boss Plan starts at $59 per month and offers 50,000 words generated per month, a long-form writing assistant, Jarvis Chat, a Plagiarism checker, and Document Editor. The Business plan has the features of both Starter and Boss Mode starting at $499 per month.
The thing with Jasper AI's pricing models is that they don't offer a free plan and you can't write more than 20,000 words with the Starter Plan and more than 50,000 words with the Boss Plan. If you want to pass the limit, you'll have to pay extra.
Let's look into the details below:
2. Features
Some Copy AI features include:
eCommerce product descriptions to help eCommerce site owners create product descriptions quickly;
Easy-to-use UI;
Many ad options to choose from. For instance, under its digital ad copy, you have Facebook headlines, Google descriptions, LinkedIn ad copy, etc.;
Features like a Hashtag generator, Instagram captions, and video calls-to-action make creating social media posts easier;
Allows AI-generated copy to be shared through unique links;
Google Chrome extension.
Some Jasper AI features are:
User-friendly UI, although it may be tough to understand for beginners;
Offers a real-estate listing-residential feature;
Offers marketing content frameworks, including AIDA, BAB, and PAS;
Comes with a keyword input tool to increase a copy's SEO ranking.
Google Chrome extension.
3. Integrations
One of the beauties of AI copywriting is being able to save time. However, without the ability to integrate third-party apps (such as Google ads or Google Docs), you'll lose out on time-saving as you'll have to copy your content and paste it to another location manually.
Unfortunately, both Copy AI and Jasper AI fail to offer this feature. With Simplified, it's easy to connect to third-party apps and directly post or schedule a post to save time.
4. Collaboration: Is it good for teams?
Copy AI doesn't have any collaboration features while Jasper AI has document sharing available only in their Business plan.
For teams, Simplified offers real-time collaboration with mentions, comments, and the ability to assign roles to team members.
5. Number of Copywriting Templates
If we want to compare Copy AI vs Jasper AI in terms of copywriting templates, it's safe to say that Copy AI comes out on top. Copy AI provides 90+ tools and templates, while Jasper AI provides just over 50 templates.
Simplified has over 79+ quality templates ranging from product descriptions, business bios, and Instagram captions to SEO keywords. You can write in 10+ tones and usez 25+ different languages to reach a wider audience.
Related: The 5 Best AI Writers Of 2023 – Ranked and Reviewed
6. Long-form content
In this category, Jasper AI has the upper hand. If you're searching for an AI copywriter that you can use to write long-form content, then Jasper AI is your pick. On the other hand, even though it has the bullet point to blog post feature, many users say that Copy AI isn't optimal for long-form content.
Simplified's long-form writer is a game-changer. The tool can generate full-length articles, essays, and even books in an instant. All you need is a prompt and a brief description of the topic and the writer will produce the article for you.
7. Premium community
With the Copy AI tool, you can access the premium community with the Pro and Custom Plans, and not the Free Plan. However, Jasper AI is primarily premium AI copywriting software.
Whether you're using the Free Forever plan or the Enterprise plan, Simplified gives you access to the premium members' community where you can connect with other Simplified users, ask and look for tips and tricks, and learn more about the tool.
8. Support
Both Copy AI and Jasper AI provide customer support.
Simplified also provides chat and email support, with priority support for Business and Growth plans.
Looking for Something Better? Try Simplified, It's Free Forever!
Now that we've compared these AI copywriting tools, it's up to you to decide which is best for you. However, with cons such as the lack of SEO features, not supporting long-form content (Copy AI), and even non-integration with third-party apps, how do you bridge the gap between them?
With Simplified, of course!
Pricing: If you want more options, check out Simplified. There's a Free Forever plan that has all the basics for those on a budget. You can also choose from the Small Team ($30/month), Business ($50/month), Growth ($125/month), and Enterprise/Agency (contact Simplified's sales team for a quote).
Features:
Has 79+ types of copy, more than 10 tones of writing, and 27+ languages available.
Short and long-form AI writer.
Improve your content with the Content Rewriter.
Grammarly integrated and a built-in plagiarism checker.
Real-time team collaboration features.
Premium members community.
Generate original images with the AI text-to-image generator.
One-click graphic design and video editing tools.
Unlimited Brand Kits.
Related: 6 Wordtune Alternatives You Should Know About in 2023
Still Looking For The Best Copywriting Tool?
Besides generating both long-form and short-form content for videos, ads, quotes, products, and blogs in seconds, Simplified's AI Copywriter allows you to write in 10+ tones of writing and over 30+ languages for a wider reach.
Other cool features include providing real-time workflow management, in-app collaboration, integration, an easy-to-use interface, and content optimization tools like the article rewriter and sentence expander.
Also, unlike Copy AI and Jarvis AI which focuses on small marketing teams, Simplified is perfect for large teams! And guess what? It's totally free! So, sign up at Simplified today and forget that writers' block even exists. No credit card is required.
Easily Write Instant Marketing Copy with the Free AI Copywriting Generator and manage your business without hassle with Simplified.