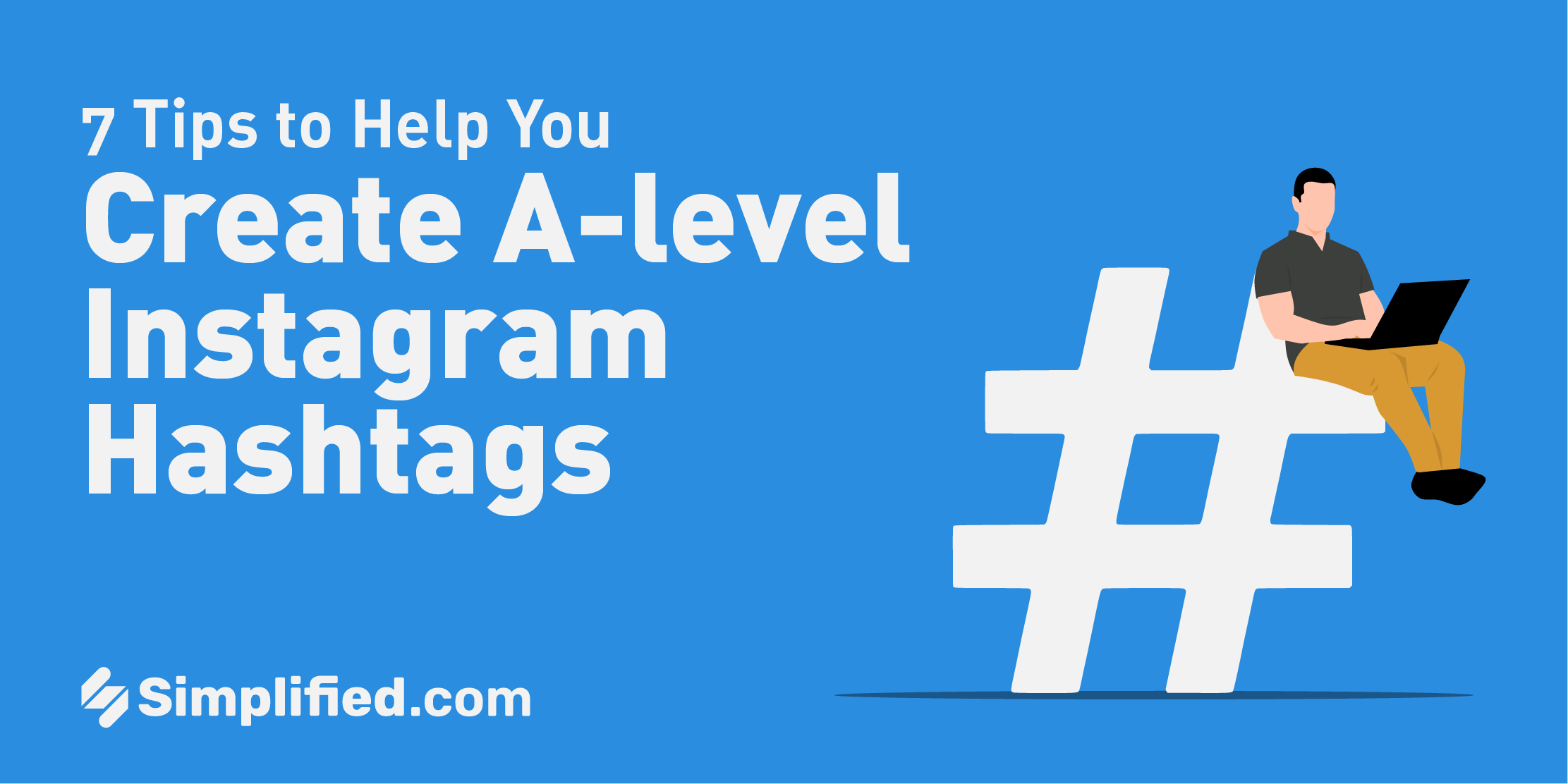 As one of the most popular social media platforms, Instagram has over 2 billion active monthly users. That's a LOT of people scrolling through their feeds every day – which means that businesses can easily reach new customers.
But with such a huge pool of users, how can you make sure that your content is seen by your target audience? The answer is simple: by using hashtags.
Hashtags are a great way to connect with like-minded people and attract new followers. But with over 500 million hashtags being used every day, it's important to use them strategically.
In this blog, we'll share our top tips for creating a winning Instagram hashtag strategy in 2023.
What are Hashtags?
A hashtag is a combination of letters, numbers, and/or emoji preceded by the # symbol (e.g. #TGIF). Hashtags in marketing are used to categorize content and make it more discoverable online.
Hashtags are also clickable. Anyone who clicks on an Instagram hashtag or conducts an Instagram hashtag search will see a page showing all the posts tagged with that hashtag.
You can use hashtags to follow a particular conversation, search for specific content, or see what's trending.
Related: What Are Hashtags And Why You Need Them For Your Business
Why is an Instagram Hashtag Strategy Important?
Hashtags are the secret sauce to success on Instagram. Using hashtags on Instagram (in the right way) is the best way you can gain exposure, followers, and the attention of the more than 800 million active users currently on the platform.
A great Instagram hashtag strategy doesn't just reach more people — it reaches the right people for your business.
💡 According to Instagram, hashtags can be used to help categorize keyword searches. So, the better your hashtags (and your caption, bio, and content in general), the more searches you'll appear in as well.
Think of Instagram hashtags as the Google keywords of Instagram. They require very little effort and zero cash investment, but they can lead people who are interested in your content right to you. That's why you need to be strategic about the hashtags that you use to help you reach your social media marketing goals.
So, just as promised, here are 7 top tips for finding the best Instagram hashtags to reach your target market and grow your engagement:
1. Focus on SEO and Keywords FIRST
SEO stands for search engine optimization and as we mentioned earlier, Instagram is starting to pivot to be more SEO and keyword-driven.
This means that in the future, you and your posts can be discovered via Google. Also, within the app, you can search using keywords instead of hashtags — just like how you search using keywords on Pinterest!
2. Use Relevant Hashtags to the Theme of your Content
Be specific. The most important thing is to use hashtags that define what the post is about to target your desired audience. For example, if you share a photo with the caption sharing "5 tips for the best Instagram hashtag strategy", avoid irrelevant hashtags like #coffee #instagramreels #youtuber.
Instead, use specific hashtags that will help your fans easily search for your content. You can even create your own unique hashtags. Here's an example of unique hashtags for blogging in the image below.
3. Mix Well-Known and Niche Hashtags to Broaden your Discoverability
Varying your hashtags makes it possible to reach a wider and more diverse audience. People who search #sailing are not necessarily the same people who search #sailboats, but if you're a sailboat rental company, it's a good idea to reach all of them.
Or, if you want to attract a more specific audience, you can also include location-based hashtags. Using different hashtags in each post allows you to see which ones get you the most engagement.
Related: How To Calculate Your Instagram Engagement Rate For The Best Results
4. Figure out your magic number & test your Instagram hashtag strategy
Many top brands use 1 to 3 hashtags per post, so it's easy to assume that's the magic number for everyone… right? Well no – this isn't always the case. In fact, some brands have been more successful with groups of hashtags in the low 20s.
There isn't one method that will work for everyone. The point is, you can't know how many hashtags work best for you until you test them. For some, it can take several months to find a number that works best. During the trial period, range your hashtags from seven to 30.
Give yourself flexibility for trial and error.
💡 You can add up to 30 hashtags per post but Instagram has stated that the ideal number of hashtags for each post should be between 3 and 5.
5. Use Hashtags for Instagram in your Stories
When it comes to your stories' hashtags, you want to use your own branded hashtag. Why? Because when someone taps on that hashtag, it will take them to all the post results for that hashtag. That way, they'll see more of your posts, rather than someone else's.
The exceptions to this rule are if you're at a live event or running an Instagram contest with a limited timeframe. Using a narrower hashtag specifically for that event, venue, or contest works in your favor because people are only looking for it in that specific period.
If it's a typically branded hashtag for your business, keep these tips in mind:
Find the right length. Don't use a shortened acronym that's so common that other brands or people might be using it. Choose something unique, ideally in the 10-20 character range.
Keep it simple so it's easy to remember. Don't choose something complicated or hard to spell, otherwise, people won't use it or may struggle to find you.
💡 Pro tip: Try not to simply focus on hashtags for likes or hashtags for followers. Instead, make it your aim to create brand recognition. You can do this by using the right Instagram hashtags to represent your content and brand in the way you want it to be represented.
6. Keep your Target Audience in Mind
When you're thinking about which hashtags to use for your business, it's important to think about your target audience. What are their interests and hobbies? What kind of language do they use?
You can use this information to brainstorm hashtags that will be relevant to your target market. For example, if you're targeting millennials, you might want to use hashtags like #college, #studygram, or #studentlife.
7. Avoid Using Hashtags that are Too Broad
While you want your hashtags to be relevant, you also don't want to use ones that are too broad. For example, using a hashtag like #socialmedia is probably not going to be very effective as there are millions of posts that use this hashtag. This means that your post is likely to get lost in the shuffle.
The best way to avoid using this is to focus your Instagram hashtag strategy on the industry or organization you do business in.
For example, if you're a business that sells clothes, you could get really specific. This could mean listing the type of clothing you have with the hashtag. So, say you only sell summer clothes, you would use the hashtag #summerclothing.
However, even that hashtag may be too broad as there are quite a few stores that sell summer clothes. So, you could narrow it down and try something like #comfortableshorts or #breathableshirts. The possibilities are endless, and it's up to you to be creative.
FAQs For Instagram Hashtags
1. Where Should I Put Instagram Hashtags?
Caption or comment – it doesn't matter. Some studies say it's slightly advantageous to put them in the caption. Some people prefer to put them in the comment to hide them so they don't look spammy.
2. Should I use Hashtags in my Bio?
Instagram hashtags can and should also be used in your bio. The bio is the short text that appears under your profile name. The perk of including hashtags in your Instagram bio is that it allows you to link out to curated collections of content.
Simply use the hashtag or description of the posts you'd like to share. Use a hashtag that isn't already taken, so you can be sure all the content is yours. For example, if you have a branded hashtag for your business, you can invite your followers to also follow your unique hashtag.
Note: Your Instagram bio is restricted to 150 characters, so keep this in mind when deciding which (and how many) hashtags to include.
3. Where and How Can I Find Niche-Related Hashtags?
Find out which hashtags your audience is using and then decide which ones fit the content you want to publish. Your hashtags should be relevant and contain keywords that your audience is already searching for.
Always check out your competitors. This research will result in very useful information. It will help you figure out which hashtags on Instagram provide the most engagement. You may not want to compete for those specific hashtags, but you will get an insight into the kinds of things potential customers respond to the most.
Find the top Instagram influencers in your field. Their target audience will be the same or similar to yours. Check out the hashtags they are using. This is how you will learn which hashtags are bringing the most engagement on Instagram.
Find related hashtags. There are several ways to find the related hashtags for your Instagram marketing strategy.
The first and easiest is to look at the accounts you already follow and note which hashtags they're using.
Another way is to begin brainstorming various keywords and type them into the Instagram search bar. As you type, related hashtags will show up: