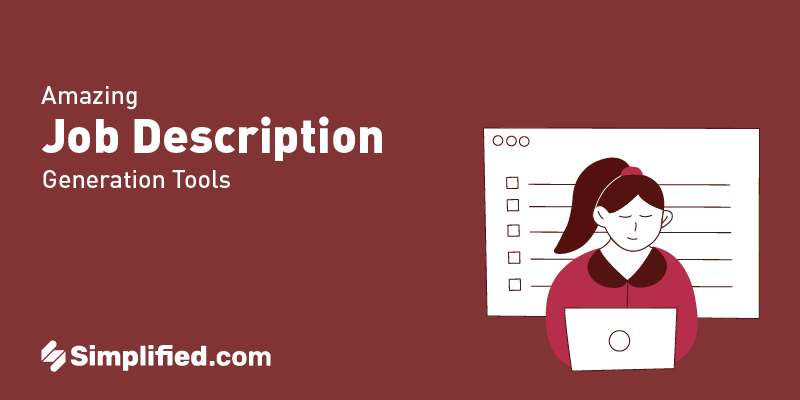 When it comes to attracting top talent, your job descriptions play a key role. It is the first bit of communication that helps your audience know about the role and the requirements.
A well-written job description can help you attract candidates who are a good fit for your company and the position. On the other hand, a poorly written job description can dissuade potential candidates from applying.
There are a few key things to keep in mind when writing job descriptions. While a clear and concise copy is a must, you must focus on highlighting the most important duties of the role. Most importantly, you must showcase what makes your company a great place to work.
If you keep these things in mind, you'll be well on your way to writing job descriptions that attract the right candidates for your open positions.
Related:
Why Use a Job Description Generator?
There's no doubt about it – writing job descriptions is tough. Not only do you have to come up with the right wording to describe the job, but you also have to make sure it's accurate and free of any errors. It's a time-consuming process, and it can be easy to make mistakes.
While many recruiters don't hesitate to copy and paste job descriptions, you must avoid them at all costs. Personalized and original job descriptions can get you must better leads, depending on your niche and industry.
Luckily, there are job description generators that can help you with all of this. A job description generator can take all the guesswork out of writing job descriptions, and it can help you create accurate, error-free descriptions in a fraction of the time.
If you're looking for an easier way to write job descriptions, keep reading to find the perfect solution.
5 Great Job Description Generator Tools
1. Simplified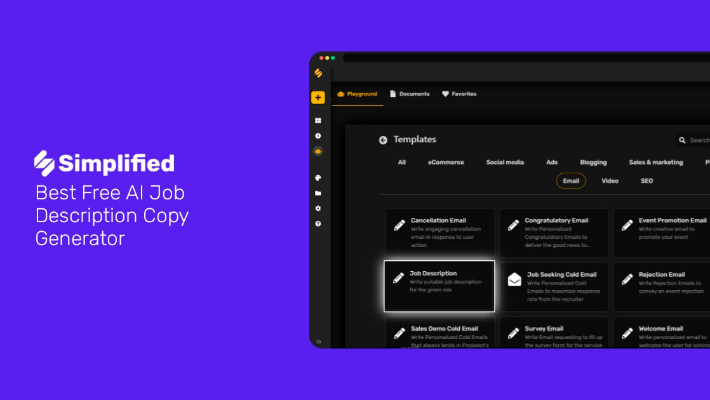 Looking for an easy way to create job descriptions? Look no further than Simplified! Our job description generator makes it quick and easy to create custom job descriptions for your business. Plus, our job descriptions are optimized for both SEO and conversion, so you can be sure your job descriptions are working hard for you. The document editor also allows you to edit your JD according to your brand tone before going live.
Creating a job description with Simplified is simple. Just enter a few pieces of information about the position you're looking to fill and our generator will do the rest. In just a few minutes, you'll have a professional, well-written job description that you can use to attract top talent. We also have Grammarly integrated into the AI writer so that you don't have to worry about those pesky typos. You can create professional and engaging job descriptions in over 30 languages. You can also explore a ton of graphic design templates to help you make your job postings better for different platforms.
What's more? It's absolutely free to use. With Simplified, hiring does get easier. Try it today and see for yourself.
2. Textio
If you've ever written a job description, you know how hard it can be to come up with all the right words to describe the role. But thankfully, there's a tool that can help. Textio's automated thesaurus is a great job description generator that can help you come up with all the right words to describe the role you're looking to fill. This can help you make sure you're using the most relevant and accurate words to describe the role.
Textio also gives you an advanced analysis of your language and relevant feedback to help you improvise. Textio offers a variety of other tools for modern recruiters. You can request a demo to start exploring.
3. Linguix Business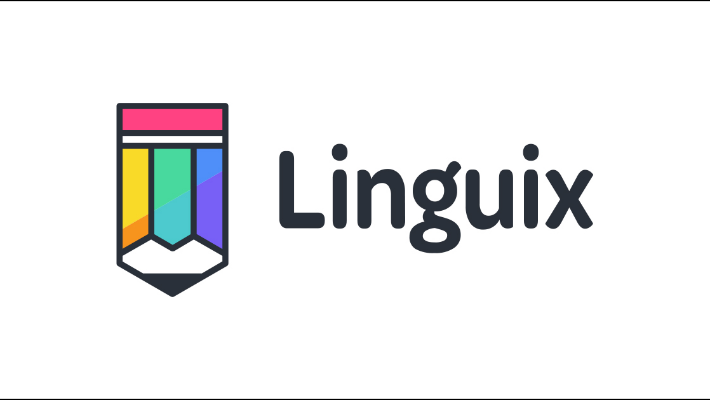 Linguix is a writing tool that helps you write professionally for every sales pitch, cold email, and marketing communication. It uses AI technology to help you write error-free content based on your unique needs. That's why we recommend that it can be a great job description generator for modern recruiters.
Linguiz offers you three plans for different types of needs. The individual plan is free to use and is good for basic writing corrections. However, to get more advanced corrections and insights, you must to the Pro plan priced at $5 per month. For teams, you can upgrade to the $20 per month plan.
Related: The Dos and Don'ts of Writing a Cover Letter For a Job Application
4. Job Description AI
With Job Description AI, you can quickly and easily create detailed job descriptions that are tailored to your specific needs. This can save you a lot of time and energy, and it can also help you attract better candidates. The tool offers you to break down the different parts of your job description to improve your candidate conversion rate. You can get the job skills, qualifications, role summary, along with grammar check.
The platform offers three pricing plans- Startup, Agency, and Enterprise. The Startup plan begins at $250 per month, offering you almost every feature to help you hire better. You can request a demo to find out if the tool is a good fit for you.
5. JDXpert
JDXpert is a web-based tool that helps you manage your recruitment process and make it smoother.
They offer an extensive content library with configurable templates to help you find the best candidates for your open positions. JDXpert can also help you assess candidates objectively and fairly.
JDXpert is a great tool for recruiters because it automates many of the tasks that are traditionally done manually. It helps you bring structure to your process and create a strong foundation to hire better. You can connect with their sales team to find out more about the pricing based on your specific needs.
Related: The Ultimate Guide to Writing Effective Cold Emails for Jobs (With Template and Free Tools)
Why Simplified is the Best Job Description Tool
Simplified is a free job description generator that offers you everything that you need to create a job posting. From the best hiring design templates to an exclusive JD writer powered by AI, it can't get better.
Whether you are a growing small business or a professional content creator, Simplified is the perfect all-in-one design and content creation tool. You get the most creative pre-made templates for digital marketing along with professional copywriting templates. The best part is it's super simple to use and you can also collaborate with your teammates. So what are you waiting for?