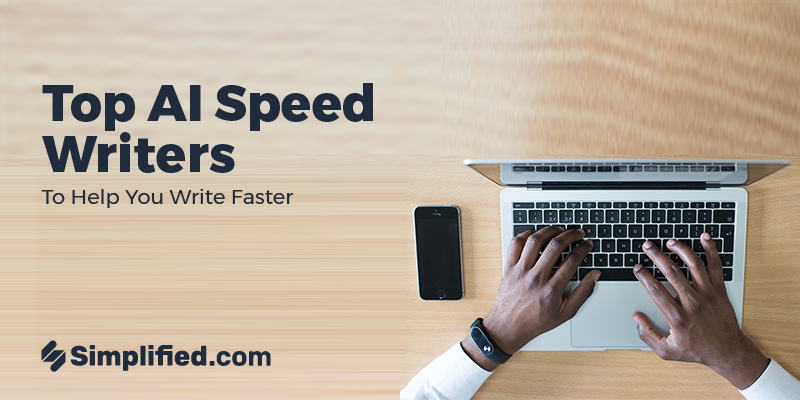 We all know how crucial it is to write fast and meet deadlines.
Whether you're a student trying to get through your exams or a business professional trying to get ahead in your career, being able to write quickly and efficiently is a valuable skill. But how can you increase your writing speed ?
There is a way and that is to combine forces with an AI writer. AI speed writer is a computer program that helps you write faster by automatically generating text based on your details.
In this article, we'll be taking a look at the 3 best speed writers on the market today to help you find the one that fits your needs. Let's get started !
1: Simplified [The Best & Free AI Speed Writer]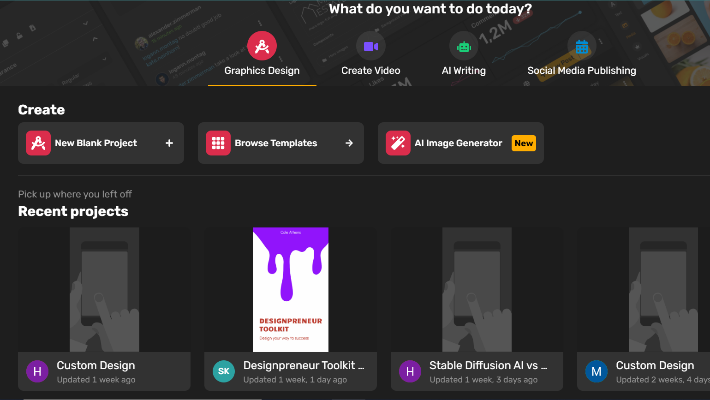 Simplified AI Speed Writing Tool is a free AI copywriting assistant that lets you create content faster than ever. The tool has been specifically designed to cater to the needs of content writers, bloggers, and marketers who want to create engaging copy for their online businesses. Also, it helps you generate high-quality content in just minutes!
With Simplified, you can select from more than 70+AItemplates to generate any kind of marketing content you want. And it also allows you to write your copy in 10+ tones and give access to 30+ languages. Indeed, with the help of this tool, you can easily reach your target audience in their native language.
Simplified generates error-free copy, thanks to the Grammarly integration. The integration activates grammar and spelling checks to provide the most engaging copy. Additionally, the AI speed writer is also integrated with a plagiarism checker to ensure the generated content is 100% unique.
Simplified also offers AI-powered design, animations, and video templates with Social media integration and team collaboration, making it an all-in-one app that meets all your content marketing needs. So, you won't have to switch between several apps or software to write and publish your content.
Key Features
Easy-to-use interface
Write a blog in under 2mins
70+ AI templates
30+ language options
Keyword-rich content
Paraphrasing tool
Free forever plan for users on a budget
Automatic paraphrasing & sentence rewording
Short and Long-form content 
Create unique text compositions with the help of copywriting templates.
A chrome extension to simplify your daily writing routine
Easy integration with all your social media platforms
Offers AI art, design, video editing, social media calendar & publishing in the free forever plan
Pros & Cons Of Simplified
| | |
| --- | --- |
| Pros | Cons |
| It is a Free Speed Writer Tool | It is full of features, and sometimes it is hard to find some features. |
| Totally Budget-friendly: Offers multiples Pricing Options. | |
| It also reduces manual writing efforts | |
| Integration with Grammarly and plagiarism checker to generate error-free copy | |
| You can generate unique & high-quality content | |
| It also offers team collaboration under a single dashboard | |
2: Quillbot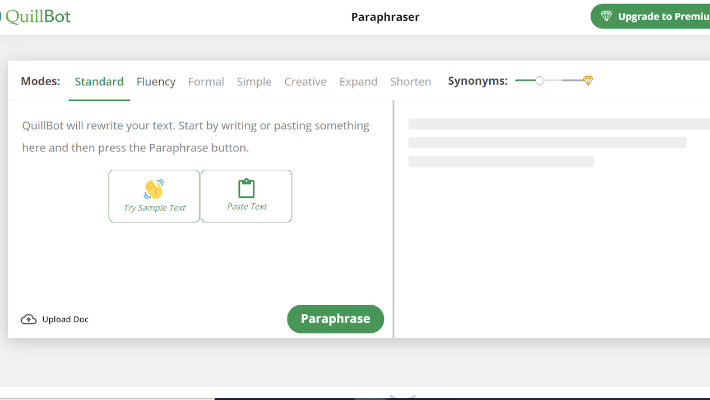 If you're looking for a paraphrasing tool that can help you write fast and professionally, Quillbot AI is a great choice. It uses natural language processing (NLP) and machine learning algorithms to understand your writing style and also suggests words and phrases that you can use to improve your writing.
With Quillbot AI, you can easily create documents of any length by adding different templates and writing styles. The app also has an editor that helps users add citations, headings, text formatting, images, and more.
The app's tone of voice is human like and natural, so it sounds like you're talking with a real person instead of an automated system. That's why it makes the whole experience feel more personable and real. Also, this tool has a built-in Grammarly and plagiarism checker tool, which will provide you with error-free writing.
Key Features
It has the best summarizing andparaphrasing toolcapabilities
It also has a vocabulary enhancement feature
Offers integration with Microsoft Word and Google Docs
It has an inbuilt citation generator
Pros & Cons Of Quillbot
| | |
| --- | --- |
| Pros | Cons |
| Generates Unique Copy | Gives limited paraphrasing capabilities than other rewriting tools |
| Integration: plagiarism checker and Grammarly | Quite expensive compared to other AI tools in the Market |
| Summarizer tool so that you can conduct good research. | |
| Offers a free trial period | |
Related: Quillbot Alternatives: 6 Free Options You Need To Check Out Today
3: Speedwrite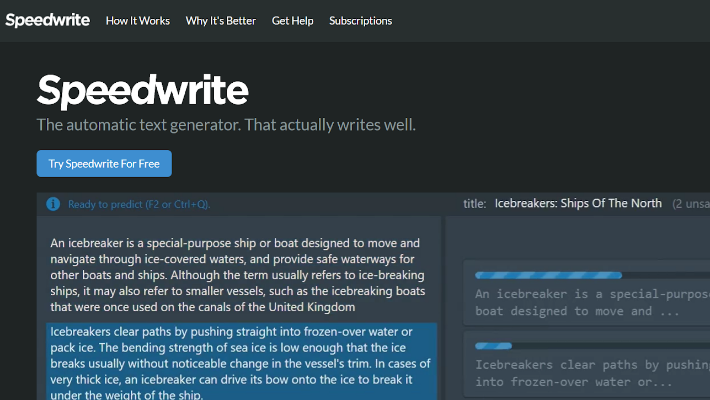 Speedwrite is a quick, creative, and intelligent virtual writing assistant. One of the most loved quality of this tool is its paraphrasing ability.
It enables you to refer to popular texts to write unique, fresh writing which is why it's more advanced than a simple article spinner or a paraphrasing tool. You can also quickly transfer your documents at any point in an alternative editor, such as Microsoft Word or Google Docs.
Although the software is intended to be clear about the facts, the creators of Speedwrite recommend reviewing the predicted text to ensure that nothing is unclear. The ability to modify text is available in the editor during your work. However, speedwriter will save documents and make them available as a backup. Additionally, it will also allow you to download and export the newly generated content.
This tool offers a free subscription with limited credits/predictions to start with. The amount of credits you receive in your free trial is not stated anywhere. However, in the premium Plan, you will get 6,000 credits/predictions per month.
Key Features
It is a great paraphrasing tool for rewriting content.
Advanced thesaurus.
Pros & Cons Of Speedwriter
| | |
| --- | --- |
| Pros | Cons |
| It is simple, easy to use, and inexpensive. | There's no room for choice if you want more or less monthly predictions. |
| Offers 6,000 predictions/month in the premium plan | Speedwriter isn't able to provide any additional functions beyond the Rewriting tool. |
| A trial version is free that includes a limited number of free predictions. | One prediction is used for each paragraph, which is only supposed to contain one crucial idea. You'll quickly exhaust all your predictions by creating lots of content, even with a paid subscription. |
| Speedwrite's generated text generally has excellent spelling and grammar. It is superior to other competitors in the field of the reformulation of larger pieces of text. | |
Related: 10 Types of Tones You Should Use in Your Writing
Conclusion
After trying out the three best tools, we found that Simplified was the best of the bunch. It's the fastest and most clear way to get your thoughts down on paper. Plus, it's easy to use and comes with a free trial. So if you're looking for the best way to fasten up your writing then try this !