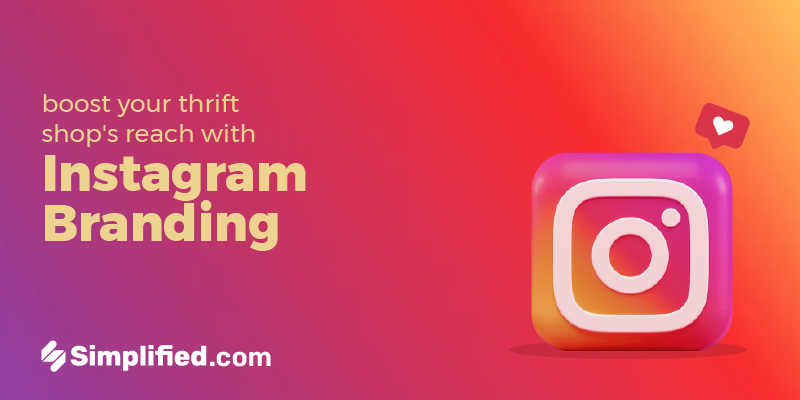 Thrifting is a great way to shop sustainably and save money, as it involves buying and using second-hand items from places like yard sales, donation centers, garage sales, and flea markets. If you own a thrift shop, Instagram can be a powerful tool for reaching customers and promoting your business.
In this guide, we'll provide tips on using Instagram branding to create a strong brand identity that's easily recognizable by your customers and help increase sales. Whether you're just starting or looking to expand your online presence, these tips will help you succeed on Instagram and grow your thrift shop. So, let's get started!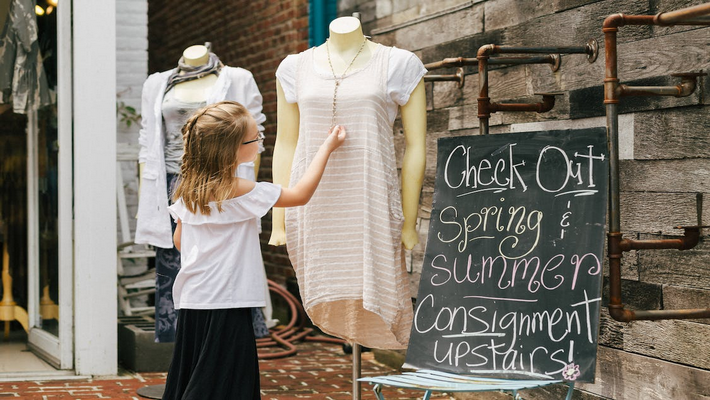 Tell Your Brand's Story
Online thrift shops are typically locally owned. This means that you have the opportunity to tell the story of your small business to connect with your customers on a personal level and encourage them to support local businesses like yours.
3 Steps to Make The Most of Instagram Branding:
1. Brand Logo 
The logo of your thrift shop should be clearly visible in Instagram's thumbnail view. Choose solid colors with minimal shapes, and only use the name of your store as text in the design. Otherwise, the graphic can get crowded.
Bonus: Think of a catchy tagline for your store!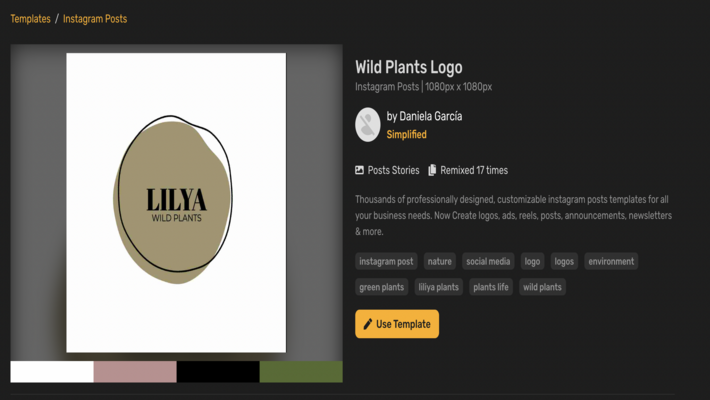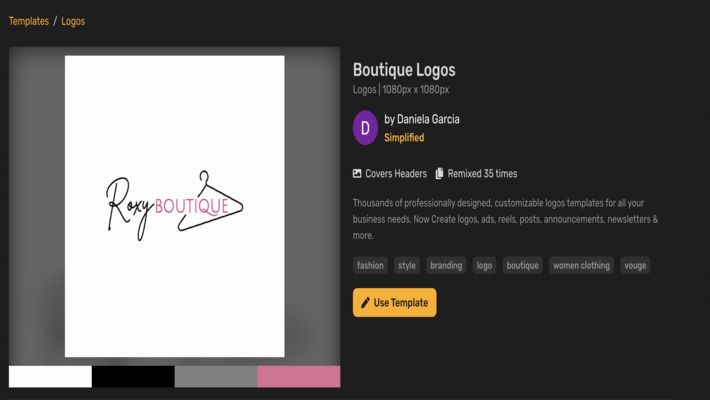 Related: Logo Design 101: How To Create A Logo That Captures Your Brand Essence
2. Your Instagram Feed Grid 
While your focus must remain on procuring high-quality products for your customers, pay close attention to how your Instagram feed looks to an outsider. Instagram squares are divided by multiples of 3, and this simple numeric information should influence your feed posts. If you upload a promotional post for marketing, the other two posts should ideally be of products that you're selling.
Scheduling your posts in advance allows you to focus on creating quality content without worrying about the timing of your posts. It also helps you to maintain a consistent presence on the platform, which can help increase brand awareness and drive engagement. Utilizing Instagram's scheduling feature can be a great way to save time and ensure that your posts reach your audience at the right time.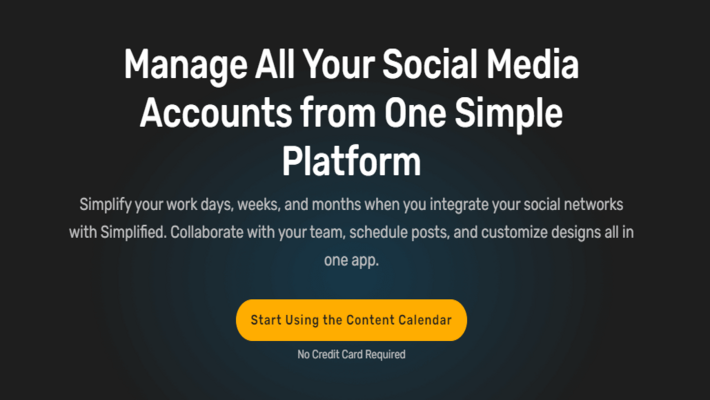 Simplified's social media scheduler is an excellent tool that can help you schedule your Instagram posts with ease. It allows you to plan, organize and schedule your content in advance. With this tool, you can easily keep track of your post schedule and make sure that your posts are reaching your target audience at the right time, ultimately helping you to achieve your campaign goals.
3. Color Scheme and Fonts
The color palette you choose for your brand logo is an important aspect of your overall brand identity. It sets the tone for your brand and establishes a visual identity that is easily recognizable by your target audience. However, it's important to note that the color palette you choose for your logo doesn't necessarily have to inform all the color schemes for your feed posts. While it's important to keep the color palette consistent across all marketing materials, you can still experiment with different color schemes for your feed posts.
One way to ensure consistency in your color palette across all marketing materials is to use the same font for your brand logo as you do for your feed posts. This will help to create a cohesive visual identity that is easily recognizable by your target audience.
Simplified's color palette generator is a useful tool that can help you to create a consistent color palette for your brand. It allows you to easily generate a custom color palette that is tailored to your brand, making it a perfect solution for thrift shop owners who want to create a consistent visual identity without spending a lot of time and effort on design.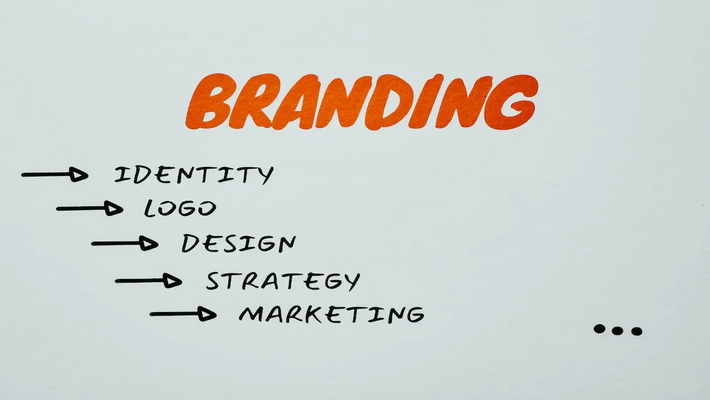 Design Ideas For Branding Your Thrift Shop On Instagram
Marketing and design in visual media are about balancing aesthetics and function. When using Instagram branding features to build your brand, it is easy to get caught up in numbers and the infamous Instagram algorithm, which has been the ire of many small shops and artists.
Fun Branding Ideas:
Utilize Instagram Reels: Reels are a way to showcase your thrift shop's products and create engaging content. You can create behind-the-scenes footage of your shop, showcase your products in action, or even create a tutorial on how to style thrifted finds. This can not only help to increase brand awareness but also drive engagement and sales.
Share User-Generated Content (UGC): Encourage your customers to share their own photos of them wearing or using your thrift shop's products. This helps to build trust and credibility for your brand, as well as showcase the different ways your products can be used.
Host Giveaways and Contests: Hosting giveaways and contests on Instagram is a great way to increase engagement and drive sales. You can use Instagram's built-in features such as polls or quizzes to make it easy for customers to participate.
Instagram Live: Instagram Live is a powerful way to connect with your audience in real time and build a sense of community around your brand. Use Instagram Live to showcase new products, host Q&A sessions, or give customers a behind-the-scenes look at your shop.
Create Instagram Stories Highlight: Creating Instagram Stories Highlight is a good way to keep your brand top-of-mind for your followers. Highlight the best of your products, behind-the-scenes, and customer reviews to showcase your brand's personality and give customers a reason to keep coming back.
Use Instagram's Polls and Questions: Instagram's polls and questions are a great way to engage with your audience and learn more about what they want to see from your thrift shop. Use polls to ask customers what products they'd like to see more of, or use questions to ask for feedback on your products and services.
Link Your Personal Account To Your Thrift Shop – While a lot of thrift shop owners are skeptical of linking their private and professional accounts for safety reasons, including your personal account in your thrift shop bio adds to your brand identity. Those who visit your shop online will trust the brand more if it is public knowledge that someone invested in fashion and art manages its operations. Customers trust what they can see.
Watermark On Stories – Instagram branding can be hugely rewarding, especially if you actively interact with your customers. If you sell vintage shoes, pick 3-4 images from Pinterest and post a 'this or that' poll to your stories. To make sure that your audience knows it's you, set yourself apart by adding a small watermark to each of the polls, questions, and countdowns you upload in your stories. Match the font of your watermark to the one in your brand logo.
Related: 7 Instagram Highlight Ideas To Beat Competitors
Power Up Your Thrift Shop's Instagram Branding with Simplified
Selling anything online is all about constantly being in the eye of your target audience with great content and exciting products. While the consistency of products is the thrift business's expertise, Simplified can really simplify your Instagram branding needs. Here's how!
4 Simplified Tools for Instagram Branding
Social Media Planner: Achieving consistency on social media can be difficult. It is because you constantly have to be on your toes and post content at the right times. With Simplified's social media schedular, you just have to worry about posting once. You can schedule all your content on not just Instagram but every social media platform integrated with your business.
AI Writer: Any enticing social media post needs great copy to put the message across in a precise and interesting manner. Maintaining consistency in quality can exhaust creativity. This is where using Simplified's AI writer can be the game changer. In a few seconds, you can get an amazing caption for your Instagram thrift shop that grabs attention and converts!
Video Editing Tool: Simplified's video editing tool is an AI-powered solution that makes it easy to create professional-looking videos for your Instagram account. Whether you're looking to create product demos, behind-the-scenes footage, or promotional videos, Simplified's video editing tool has everything you need to create engaging and compelling content that will help to increase brand awareness and drive sales. With its user-friendly interface and amazing templates, Simplified's video editing tool is the perfect solution for thrift shop owners looking to enhance their Instagram branding.
Graphic Design Tool: Simplified's graphic design tool is the perfect solution for promoting your Instagram thrift shop. With its user-friendly interface and wide range of customizable templates, it's never been easier to create stunning graphics for your social media posts and stories.
Whether you're looking to design promotional flyers, create eye-catching Instagram posts, or simply spruce up your profile, Simplified has you covered. You can even make use of AI images with Simplified's image generator.
You can even use the countless templates in the Simplified library so that you don't have to start from absolute scratch. Here are some lovely examples.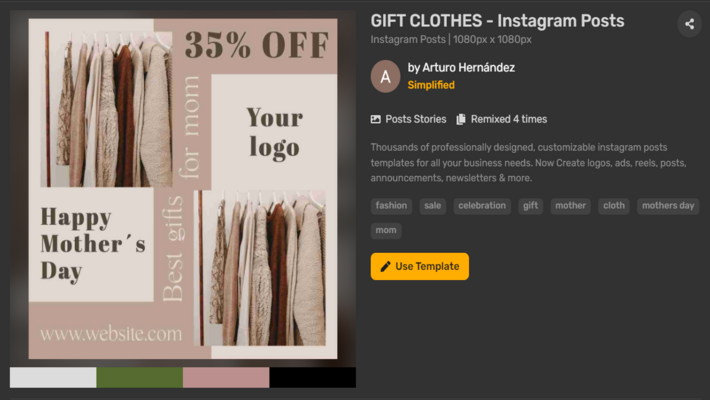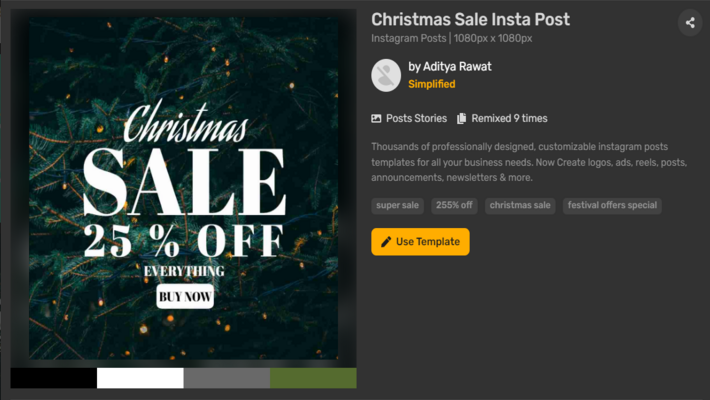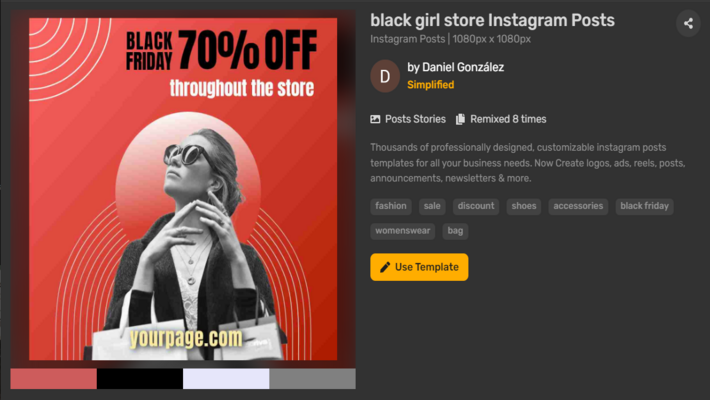 Create All Your Instagram Content in Minutes
Instagram branding is a powerful tool that can greatly enhance the promotion of your thrift shop. By leveraging the platform's visual nature and utilizing tools like Simplified's AI writer and graphic design tool, you can create engaging and visually appealing content that will attract and retain customers.
Additionally, using Simplified's social media planner can help you streamline your posting schedule and ensure that your content is being distributed at the best times to reach your target audience.
By utilizing these resources, you can effectively boost the promotion of your thrift shop and drive traffic and sales to your online store.
Experience the power of Simplified's AI-powered tools with their "free forever" plan, perfect for thrift shop owners and beginners looking to enhance their Instagram branding.