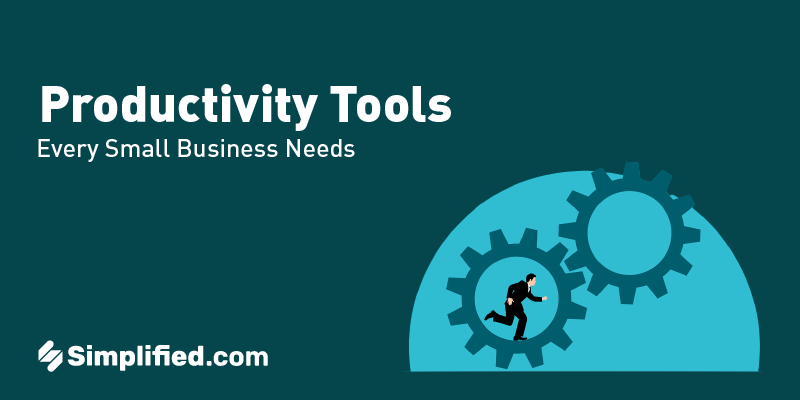 The COVID-19 pandemic has forced small businesses to change the way they operate. Some companies have had to close their doors temporarily, while others have had to adapt to a new normal. In either case, it's been a difficult time for small businesses.
But there's one silver lining – the pandemic has also forced businesses to become more productive. In order to survive, businesses have had to find new and innovative ways to operate. As a result, a number of productivity tools have been developed to help businesses achieve more with less.
In this article, we'll take a look at 10 of the best productivity tools for small businesses. These tools will help you stay organized, communicate better, and get more done in less time.
10 Productivity Tools for Small Businesses
1. Simplified
Are you tired of using multiple tools to create, design, and schedule your content? Well, we have good news for you! Simplified is the perfect content creation tool with which you can do it all in one place.
Creating content could not get easier than this ! With Simplified, you can quickly and easily create beautiful designs, schedule your posts, and publish your content with just a few clicks. You can access the amazing AI tool to create content from scratch. Whether you are looking for better captions or strong ad copies, you get it all.
What's more? You get tons of pre-made templates to design your social media posts, LinkedIn covers, Instagram stories, and website designs. Plus, our built-in social media scheduler ensures that you can publish all your content from one place. You can add your entire team to one workspace and organize every task.
So why wait? Simplify your content creation process today with our new tool. The best part is that you get all these amazing features in the Free Forever plan.
Related: The 10 Best AI Graphic Design Tools You Need To Know About
2. Asana
If you're looking for a productivity tool that can help you organize and manage your projects, you should definitely check out Asana. This is a great tool for both individuals and teams, and it can help you boost your productivity and get things done more efficiently.
Asana is a web-based tool that lets you create and manage projects, tasks, and to-do lists. You can also use Asana to track your project progress, set deadlines, and assign tasks to teammates. Asana is free to use for individuals, and there are paid plans for teams of 5 or more people.
If you're looking for a great business tool for startups, Asana is definitely worth checking out. However, it can take some time for new users to understand the flow. The free version is limited to 15 users, which can be difficult for businesses that hire freelancers. The premium version is priced at $11.99 per user/month.
Related:
3. Todoist
Todoist is a simple, yet effective, task manager that can help you get your work done and keep your business organized.
With Todoist, you can create to-do lists, set deadlines, and track your progress. You can also share your lists with others and collaborate on tasks. Plus, Todoist integrates with a variety of other apps and services, so you can use it however you want.
On the downside, the free version is limited to only 5 users and doesn't offer many features. The Pro plan begins at $3 per user/month.
4. Trello
Trello is a web-based Kanban board application that is simple, efficient, and easy to use. It's great for organizing anything from your personal to-do list to large projects for work or school. You can create boards to track any project, and then add cards to each board to represent tasks or ideas. You can also add comments, attach files, and assign people to each card.
The free plan offers a variety of features for up to 10 boards for one individual. The paid plan started at $5 per user/month with more features.
5. Workflowy
Workflowy is a great productivity tool to help you capture your ideas and execute them. It's simple to use and extremely flexible, which makes it perfect for everything from brainstorming to managing projects.
WorkFlowy is a free online tool that lets you create bullet-point lists. You can create nested lists, which is helpful for keeping track of different tasks and ideas. You can also share lists with others, which is great for collaborating on projects.
Related: What Is A Social Media Target Audience And How To Find Yours In 2023
6. Nozbe
Nozbe is a simple, yet powerful app that makes it easy to capture, organize, and prioritize your to-dos. It also integrates with all your favorite productivity apps, so you can get things done even faster. Whether you're a fan of Evernote, Trello, or something else, Nozbe has you covered.
If you're looking for a smart productivity tool for your small business, Nozbe can be a great addition to your toolkit. The free plan is limited to 5 projects and 5 people. The premium plan begins at $8 per month and offers a variety of exciting features to explore.
7. Focus Booster
FocusBooster is the perfect tool for anyone who struggles with focus and concentration. This simple, effective tool can help you get more done in less time, and with less stress.
FocusBooster is based on the Pomodoro technique, a time management strategy that breaks down work into short, manageable periods. This technique has been shown to improve productivity and focus, and it can also help to reduce stress and burnout. The free plan offers 20 pomodoro sessions per month. With the upgraded plan, you can also keep a track of your clients and revenue.
8. DeskTime
The DeskTime app allows you to track your time so you can focus on your work and avoid distractions. DeskTime is also great for businesses that want to increase their employees' productivity. With DeskTimer, you can see exactly how much time your employees are spending on tasks and make sure they are staying on track.
9. Airtable
Airtable is a cloud-based database that makes it easy to organize and store data. You can use Airtable to track leads, customers, projects, and more. Airtable is easy to use and offers a flexible, adaptable platform that can be customized to fit your needs.
Whether you're a small business or a large enterprise, Airtable can help you get your data organized and make your workflows more efficient. The free plan offers unlimited bases with 5 creators and you can upgrade at $10 per user/month.
10. Filestage
Filestage is a cloud-based file review and approval tool that helps teams to streamline their review and approval process. With Filestage, agencies can upload their files, add comments, and track changes in a central location. This makes it easy for the team to keep track of the projects and ensure that all stakeholders are on the same page. It is an excellent tool for businesses that require a lot of feedback and approval like creative agencies. The productivity tool is priced at $19 per seat/month with a free trial.
Gear Up For Success With Simplified!
With so many amazing tools, running a small business can bring you a lot of joy and success. Modern startups struggle a lot to come up with great designs and copies for marketing. This is why we recommend Simplified as the best tool for marketing teams.
You can work with stunning pre-made templates and get copies in over 30 languages! Moreover, you can explore more than 50 copywriting templates to create strong copies. The publishing calendar makes it very easy to bulk-schedule your content on multiple platforms. Plus, you can easily add your team members and manage projects from one place!
Simplified is easy to use and has loads of features for free, making it the #1 tool for startups and small businesses. But don't just take our word for it – try it out for yourself and see how much more productive your team can be !