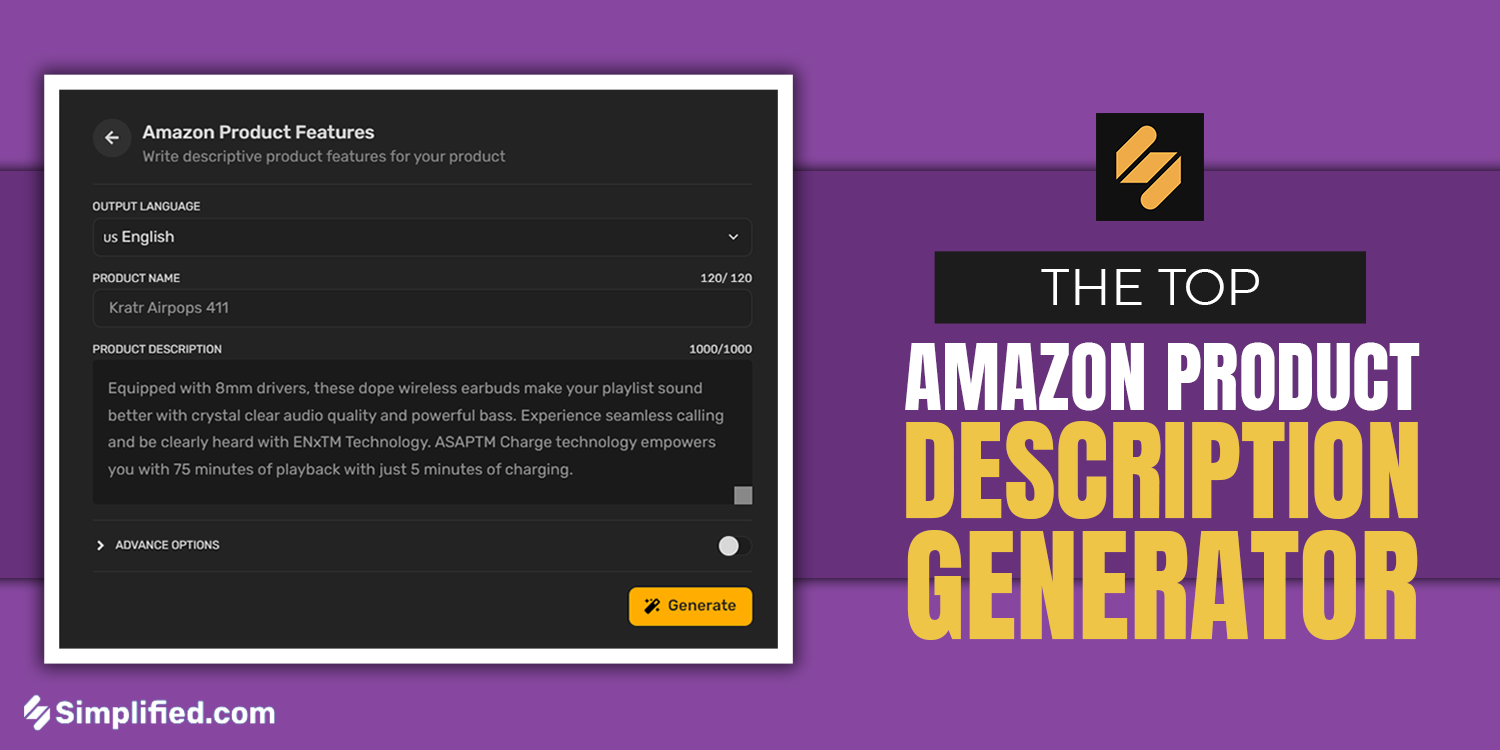 If you're a seller on Amazon, one of the biggest challenges you face is coming up with product descriptions that are good enough—and long enough, to help boost your sales.
Amazon's search algorithm rewards long, detailed descriptions that answer all potential buyers' questions about a product. A good description will tell users what they're getting, why they should get it, and what makes it unique. But if you're like most sellers, you don't have time to write these things yourself.
That's why this list will make up our top Amazon description generator tools to help you quickly create high-quality descriptions for your products.
Related: 10 Amazing Product Description Examples For Increased Sales
1. Simplified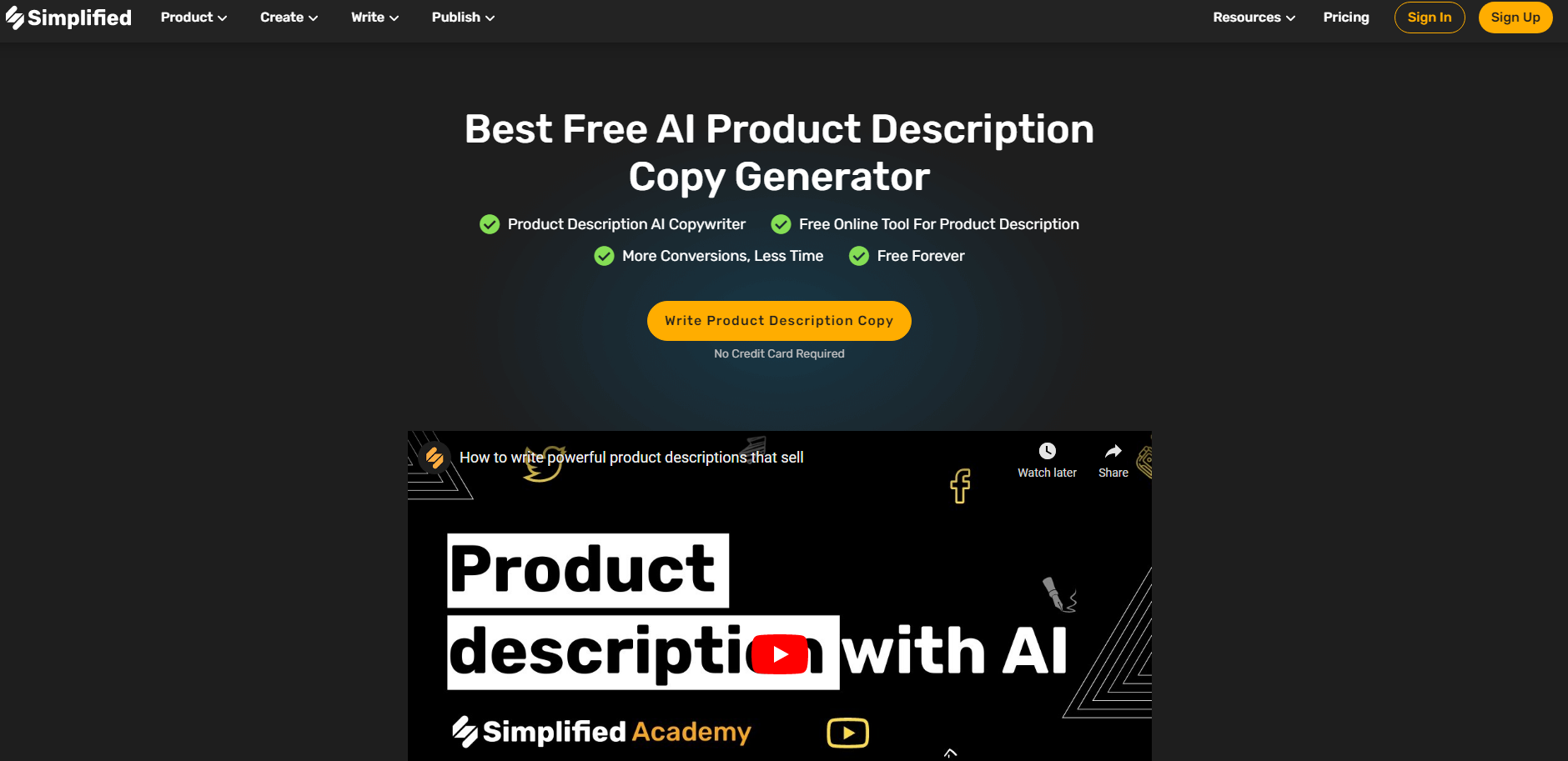 Simplified is one of the best Amazon description generator tools to help boost sales. Armed with an AI-driven product listing copywriter that makes it easy to create Amazon product listings in seconds. It's a free online tool for Amazon product listing generation and does not require coding or programming skills.
Simplified makes it easy for you to create better quality listings and increase your conversion rates with its powerful AI-driven copywriting engine. It uses a combination of artificial intelligence, natural language processing, and machine learning technology to generate high-quality, human-like text.
With our free forever plan, you can try out the AI writer tool and more!
Related: Copywriting for Amazon Listings: Secrets to Increase Conversions
2. Descrii Description Generator
Descrii's Product Description Generator was developed to help e-commerce store owners develop proven, high-quality copy and to help them to generate content faster and easier.
Using this tool, you can create the perfect product descriptions for Facebook ads, blog titles, and more to help boost your sales and attract new customers.
3. Hypotenuse AI
Hypotenuse AI is one of the best Amazon product description generators because it makes it easy to connect your eCommerce CMS to the platform and enter all your product information.
The platform supports multiple languages and gives you the ability to generate descriptions in bulk. That way, if you have many items for sale on Amazon, you won't have to spend hours—or days, individually writing descriptions for each and every one of them.
4. Rytr
Although it's one of the newest contenders in content generation software tools, it's grown fast in popularity. Rytr offers support for over 30 languages with over 30 use cases to cover every aspect of your business. With its extensive use-case directory, you'll have a variety of content generation options to help you write great copy within minutes.
5. Copysmith
Copysmith is a cloud-based platform that automates product description generation that, translates text in 60+ languages, and employs copywriting formulas to optimize descriptions for Amazon SEO requirements. Their A9 algorithm provides content enhancement tools such as keyword expansion, title optimization, and more. Other features include offer management tools, keyword research tools, and an analytics dashboard to track progress over time (or lack thereof).
Conversion.ai is an AI that autogenerates website content, copywriting, articles, social media posts, and books—in any language. It auto-tunes each topic's keywords and synonyms for more naturally sounding text. You can also use it as a keyword research tool or a brainstorming resource if you need help coming up with ideas for products or marketing campaigns.
6. Anyword
Anyword is a great AI-powered product description tool that uses incorporates data science to generate effective marketing copy for various use cases and platforms such as Amazon.
With Anyword, you simply put in keywords that you'd like the AI to include in each variation. Successful digital marketing campaigns are all about having a strong SEO presence, so having assistance in figuring out these keywords is a great feature.
7. Snazzy AI
Recently acquired by Unbounce, Snazzy AI is a copywriting tool that lets you generate product descriptions for Amazon products and more. With over 90 use cases to choose from, Snazzy AI trains its AI with high-converting copy that generates optimized copy with the goal of helping to convert customers. You can try it free for 14 days. However, after that, the prices start at $90.
8. AutoWriter
AutoWriter is an AI article generator tool that lets you create engaging product descriptions in minutes. AutoWriterPro also offers several other features, such as a blog post generator, text-to-speech converter, website research tools, and more, all within their app.
9. ItemScribe
ItemScribe is a simple Amazon product description generator tool. Its simple interface allows you to easily use and generate copy for products, ads, emails, social media, and more. ItemScribe also offers no email sign-up for three days at no added cost, so you can try it out for yourself without committing to anything!
Related: 5 Lessons To Learn From Amazon Brand Strategy
10. AdZis
Around since 2015, Adzis is one of oldest Amazon product description generator tools. Because of this, it offers an extensive knowledge base and a highly trained AI model to get high-quality copy for a variety of use cases. It also provides bulk description writing and SEO suggestions.