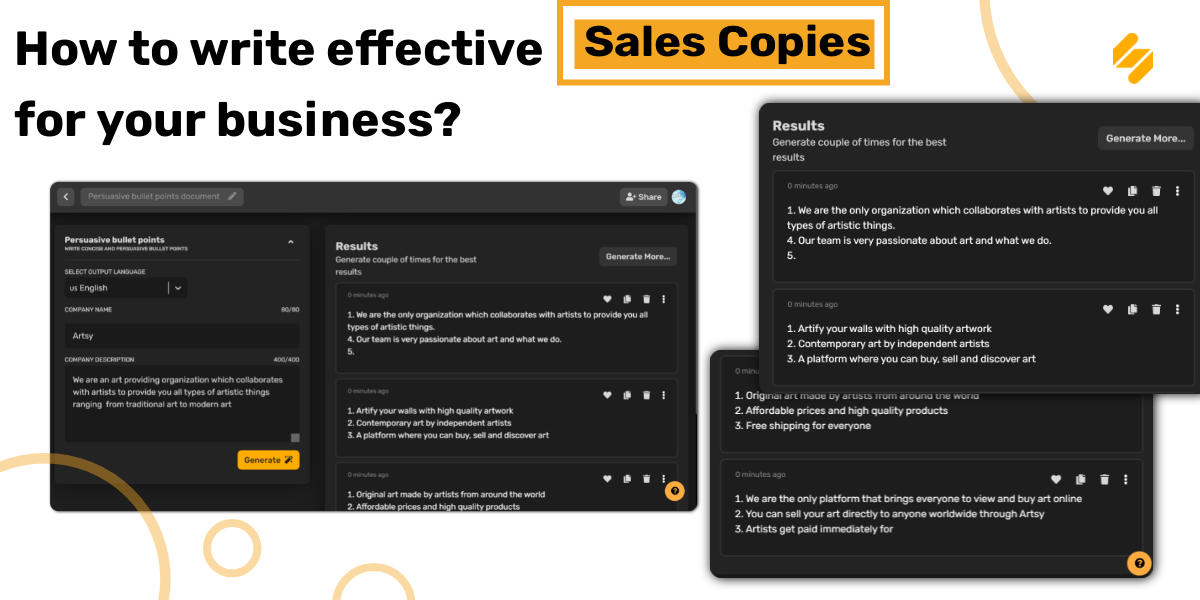 Although images and illustrations are important for a holistic marketing strategy, designs alone don't sell your products or service. Copywriting for sales is just as essential for generating revenue. This writing helps consumers make informed decisions and lets your brand stand out from the crowd. Most importantly, sales copy highlights the benefits of the product to your target demographic.
Done right, sales and marketing copy can be extremely effective. However, there is no one singular template you can follow. For example, some companies find success with persuasive bullet points in their web copywriting efforts. Whereas other companies boost revenue via email copy.
While the copy can differ, there is one common factor: engagement. All effective copywriting for sales is highly engaging. So, here are some tips on how to write effective sales copy for your business.
What Is Copywriting for Sales?
Sales copy is the text that persuades your audience to buy a product or service. Of course, it can also be used to influence the reader to take other forms of action. For example, these are common calls-to-action: "subscribe to our newsletter," "join our email list," "follow us on social media," and much more.
Copywriting for sales can be used in multiple forms such as simple sentences, longer paragraphs, persuasive bullet points, professional bullet points, a list format, and even on media like images or videos.
So, how does sales copy work?
Well, the copy revolves around the consumer's problem and its solution, which is your product. Other than how your product can potentially benefit them, the sales copy should also be engaging as you only have a few seconds to hook the reader.
Effective sales copy will help your brand stand out among all the other brands trying to grab your audience's attention. While people have become relatively numb to marketing efforts, it doesn't mean your sales copy won't work. All you need to do is make it attractive, engaging, and valuable.
Sales copy is important to any business as it's closely related to growth and revenue. So, it makes sense to refine it and make it work for you. However, it can be difficult when you're starting. The worst thing you can do is create dry sales copy that doesn't engage the reader.
Related: 5 Best AI Copywriting tools for freelancers
How to Identify If Your Business Needs Copywriting for Sales
Not only does sales copy increase revenue and profits but it also helps businesses compete with their rivals. For example, if two companies are selling the same product, and one uses sales copy while the other doesn't, the businesses that use sales and marketing copy will make exponentially more revenue.
So, how to identify if your business needs it? Well, is your business revenue-driven? If so, then you absolutely require a sales copy.
Now knowing how sales copy works, here are some tips on how to create standout copywriting for sales.
Related: How Simplified's Copy Writing AI Can Help You Create Formidable Content
How to Write Persuasive Sales Copy
1. Get the Basics Right
At the end of the day, sales copy is text. So, to be extremely effective, get rid of the syntax and grammatical errors and ramp it up by making it clear and concise.
In addition to being easy to read and coherent, it would help if you can keep it engaging by addressing pain points and potential solutions in the form of your product benefits.
Of course, the compelling text also has to be credible. So, focus on how the product adds value to the reader's life. Most importantly, it needs to be persuasive. Therefore, encourage the reader to take action.
2. Define Your Goal and Choose One Focus
Before you start the campaign, you need to set your goal. For example, are you planning on selling one product or are you promoting a free resource to upsell a major service? How you define the goal and what action you want your readers to take has an impact on how your copywriting for sales works.
Once you set the goal, you can test your copy multiple times, seeing how the changes affect the conversion or click-through rate. This is a process called A/B testing.
However, to truly write effective sales copy, it's important you stick to only one factor. For example, just focus on one benefit that's solving one problem instead of cramming everything into the copy. Sticking to one focus makes the copy easy to comprehend.
3. Identify Your Target Group
If you don't understand your target audience, then your sales copy will never convert. The wrong target group won't have the problem your product solves. So, they won't be interested.
Even when you broadly know your target audience, it is important to zero in on subgroups to really streamline your market. The best way to do this is to create a persona. How? Imagine a hypothetical person and list out their characteristics like income, location, lifestyle, pain points, hobbies, etc.
Sales Copy Examples
Intelice Solutions
Intelice Solutions is an IT company that supports growing businesses with their day-to-day IT needs. This online sales copy/promotion shows how the company creates a roadmap for their clients' IT needs as they scale.
DropBox
DropBox, on the other hand, doesn't beat around the bush. Their sales copy keeps things simple by simply stating the benefit and letting the audience worry about the problem. The short text is quick and to the point, yet conveys the most important information. Most essentially, it is designed to invoke immediate action.
Brand mentions
This sales copy from BrandMentions is quite different as they keep it light, engaging, and fun. They use humor and compare their audience's pain points to the game of whack a mole to immediately hook the reader. And then offer a solution without mentioning any of the technical jargon.
How to use Simplified's (Free) Persuasive Bullet Points Generator AI copywriting tool
Here are a few examples of how the Persuasive Bullet Points generator can help your brand:
Example 1: Using Persuasive Bullet Points generator for a skincare brand
Company name: Minimalist
Company bio: We are a skincare company creating sustainable and clean beauty products for all.
Example 2: Using Persuasive Bullet Points generator for an IT Brand
Company name: Apple
Company bio: Apple Inc. designs, manufactures, and markets smartphones, personal computers, tablets, wearables, and accessories, and sells a variety of related services. The Company's products include iPhone, Mac, iPad, and Wearables, Home, and Accessories. iPhone is the Company's line of smartphones based on its iOS operating system.
Example 3: Using Persuasive Bullet Points Generator for a Footwear and Apparel Brand
Company name: Nike
Company bio: Nike, Inc. is an American multinational association that is involved in the design, development, manufacturing and worldwide marketing and sales of apparel, footwear, accessories, equipment and services.
Learn how to use all our AI & design features on Simplified Academy.
To wrap up, the "persuasive bullet points" generator can help make copywriting for sales easier, and your text clearer and more effective. In fact, tools like Simplified AI save your business a ton of time and money.
One Free app to design, collaborate, and scale your work – try Simplified today.