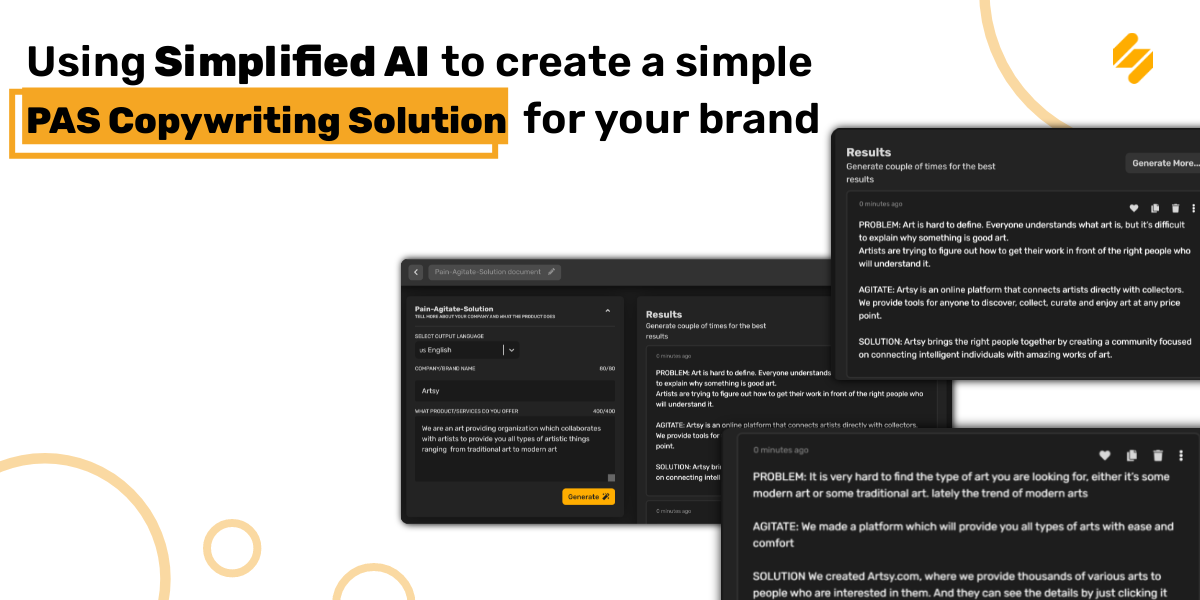 Are you frustrated because your content doesn't lead to engagement or conversion? Well, you're probably using the wrong formula. If you want to sell your products, then you need to use the right formula which might a combination of different approaches for you. We're here to tell you about one such formula which is the PAS copywriting framework.
This proven conversion-oriented copywriting formula gives you the necessary structure and sequence for effective communication with your audience. Additionally, this formula is effective regardless of industry. Most importantly, the PAS framework can be used in all types of copies, from flyers and articles to massive digital ad campaigns.
Now, what's truly brilliant is newer copy AI tools like Simplified AI that come with a pre-built PAS copywriting framework. So, not only does this AI tool do the heavy lifting for you by generating copy in seconds, but the copy is also highly effective as it automatically incorporates PAS.
Read on to find out how a free AI copywriting tool can create a simple PAS Framework Generator for your brand.
What Is PAS Copywriting Formula?
The PAS or the pain-agitate-solve framework is a highly effective copywriting formula that works for all kinds of marketing. It specifically creates persuasive messages that users identify with. If you break it down, it really helps put yourself in the shoes of your audience especially since this framework communicates a solution to their problem.
This copywriting formula can convert as it begins by calling out the audience's problem. Of course, you need to do your research and really state the essence of the problem straightforwardly.
Next is the agitate part of the formula. This is where you get into the nuts and bolts of the problem and how it could potentially impact the audience.
Lastly, state the solution, which is your product.
Simply put, the PAS framework is about creating a context for your readers to think about their problem and then framing your brand as the best solution for it.
Now, while this PAS formula is proven and acts as a template, you still have to take the to time write the actual copy.
Fortunately, all of these steps are automated by Simplified. All you need to type in the required prompts, and you'll have an effective PAS copy in seconds.
The PAS framework is important because its effective formula has driven sales for businesses consistently for decades. Additionally, it keeps your brand's communication consistent. However, it's the precision and persuasion that truly make this framework valuable.
It also helps you become efficient at creating content, which saves any business time and money. Coincidentally, it also dissects your competition's communication.
By analyzing their messaging, you can adapt your communications and come up with even more compelling content.
Most importantly, the PAS formula is versatile and can be used for any copy.
Writing blog posts and emails or social media captions? Follow PAS, and you'll avoid the dreaded writer's block.
Related: How To Use AI Sentence Expander For Essay Writing?
Benefits of Using PAS for Copywriting?
The PAS formula is perfect for driving action. These actions include buying products, clicking call-to-action (CTA) buttons, sharing content, liking a page, and engaging in other ways.
However, the primary benefit isn't the versatile nature of the formula. It's actually the easy-to-digest structure that brings the audience closer to a buying decision.
This framework uses a "beginning-middle-end" structure broken down into clearly defined parts, with each portion tying into the reader's emotions. These emotional connections make the copy effective.
PAS starts negatively and progressively gets worse before it ends with a positive solution. This mix of frustration, pain, and satisfaction helps convert the audience.
Related: Simplified AI Tools For Small Businesses: Generate Review Responses Easily
The Secret Sauce That Makes PAS Work
Although it's – Problem, Agitate and Solve, it's the Agitate aspect that makes the framework work. You might be able to capture the short attention span of a reader by stating the problem. However, to keep them hooked and even close the sale, you need to position yourself as the expert in the copy. So, how can this be done?
In the agitation step of the copy, you need to demonstrate that you understand the pain point and talk about the effects of the uncomfortable problem to further align with the reader's negative emotions.
Then, by letting them know you've experienced the pain points, you build their trust in your expertise on the matter. With your position as the authority, your audience will accept your recommendation for the solution. Yes, you can do all of this by simply articulating their problem in detail.
How is PAS Connected to Human Psychology?
The PAS framework works so well on an emotional level because it leverages the audience's empathy. They align almost immediately because they have similar, if not the same, problems.
For example, If somebody's dealing with a frustrating issue, they constantly think about it. Now, by tapping into this core emotional factor by stating their problem, you automatically capture their attention. Additionally, stressing various aspects of the problem (agitate and solve) adds validation. And this gives the person a favorable outlook of your solution.
PAS Copywriting Formula: A Case Study
Neil Patel's blogs are great examples of PAS effectiveness. For example, in his How to Never Run Out of Topic Ideas article, he clearly states the problem as highlighted above. After he mentions how he struggles with coming up with blog ideas, he agitates the audience by mentioning the editorial calendar.
Content marketers align with the stress of constantly updating the content calendar with new ideas.
Once he hooks the reader in with the agitation, it's time to provide the solution. In this case, it's to come up with one topic and find multiple ways to approach it through research.
Dive straight into marketing and learn how to use already-made design and AI templates on Simplified Academy:
To Wrap Things Up
The PAS copywriting framework is a highly effective problem and solution approach that audiences resonate with. This framework is much easier to use with Simplified's Copy AI Assistant. You don't need to be a professional writer to use this tool. It's free, effective, and will help you save time. So, you don't have to do any of the content heavy-lifting, just sit back and let the AI do all the magic!
Write Instant Marketing Copy With a Free AI Copywriting Generator