In today's competitive marketplace, a strong value proposition is essential to winning customers over.
But what's a value proposition anyway? Simply put, it's a statement that articulates the unique benefits of your product or service.
A good value proposition will highlight what makes your offering superior to other options on the market and convince potential customers that they need your product or service in their lives.
In this blog post, we'll take a look at 5 compelling value proposition examples that have helped companies win customers over.
Whether you're crafting a value proposition for a new product or trying to breathe new life into an existing one, these examples will show you what it takes to craft a winning value proposition.
5 Compelling Value Proposition Examples
Let's check out 5 compelling value proposition examples from well-known businesses.
1. Slack: "Slack is your Digital HQ"
Whether you work in an office or from home, chances are you've heard of Slack. Slack is a popular productivity and messaging platform that is used by businesses and individuals all over the world. And for good reason – Slack is an incredibly powerful tool that can help you stay organized and connected with your team. Collaboration among teams is made easier as communication is organized into channels that are easy to create, join and search. In their value proposition, "Slack is your Digital HQ", the company uses a five-word sentence to perfectly demonstrate and explain the services they offer to their customers.
2. Constant Contact: "Powerful Email. Real Results."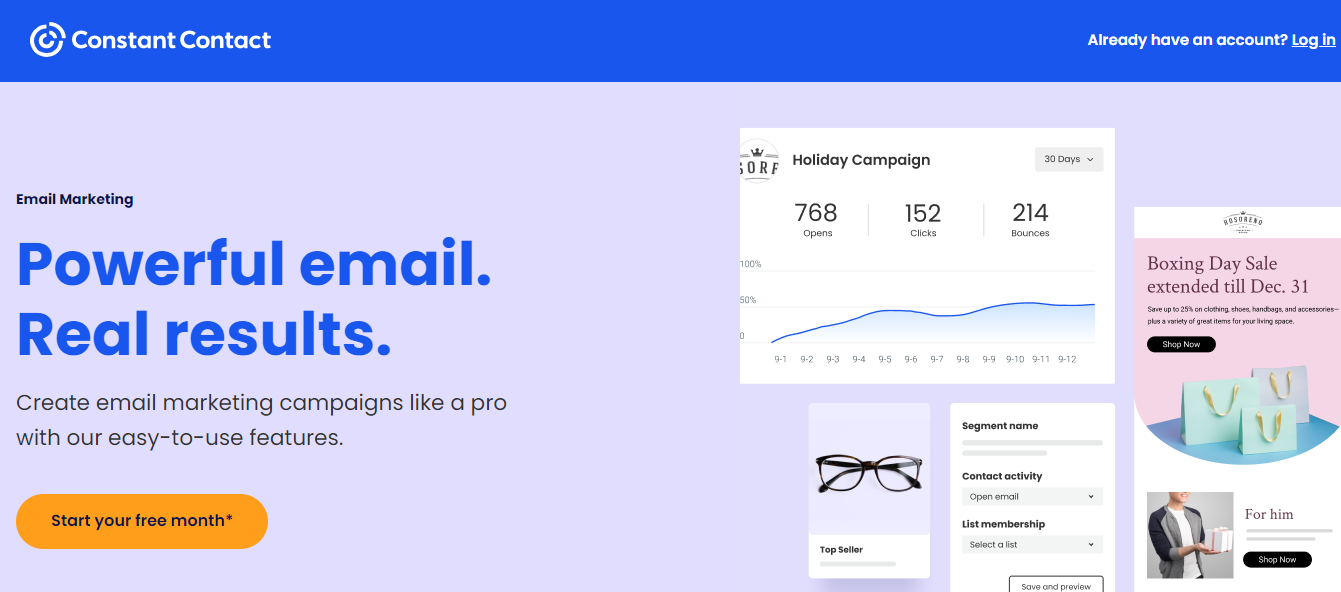 Having been in business for over 25 years, Constant Contact is one of the leading email marketing platforms. And perhaps what has set the company apart is its unique value proposition. Their tagline, "Powerful Email. Real Results." is short and sweet. But makes readers want to know more. And as they scroll down the homepage, they'll see all of the platforms many offerings like, email marketing, social media management, and a list of growth tool services they can enjoy.
3. Grammarly: "Great Writing Made Simple"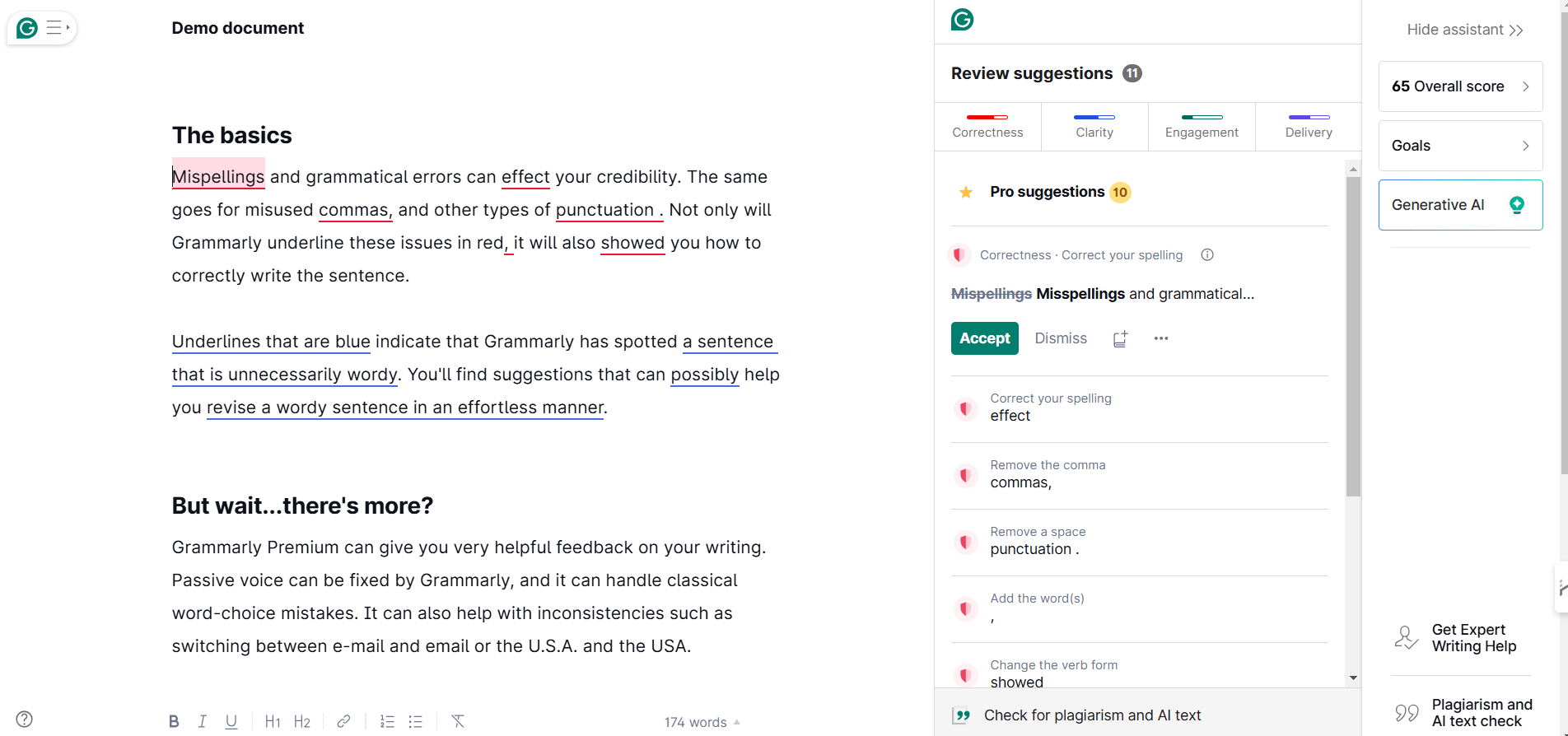 Ah, Grammarly! This app has been a game-changer for many. From helping writers fix grammar mistakes to adjusting the tone of voice, Grammarly has become a must-have writing tool. It's simple to use and can help you spot errors in your writing that you might not have noticed otherwise.
That being said, Grammarly's value proposition, "Great Writing Made Simple"
checks all the boxes: it's short, clear, concise, and highlights the services offered perfectly.
Connect Grammarly with Simplified's Long Form Writer
Create mistake-free written content when you integrate Grammarly with our Long Form Writer. Check spelling, grammar, and punctuation instantly, get great suggestions for rephrasing, and communicate what you want to say clearly and effectively. The key(word) to SEO writing is Simplified!
4. Ubounce: "Smart Marketing Tools To Grow Your Business"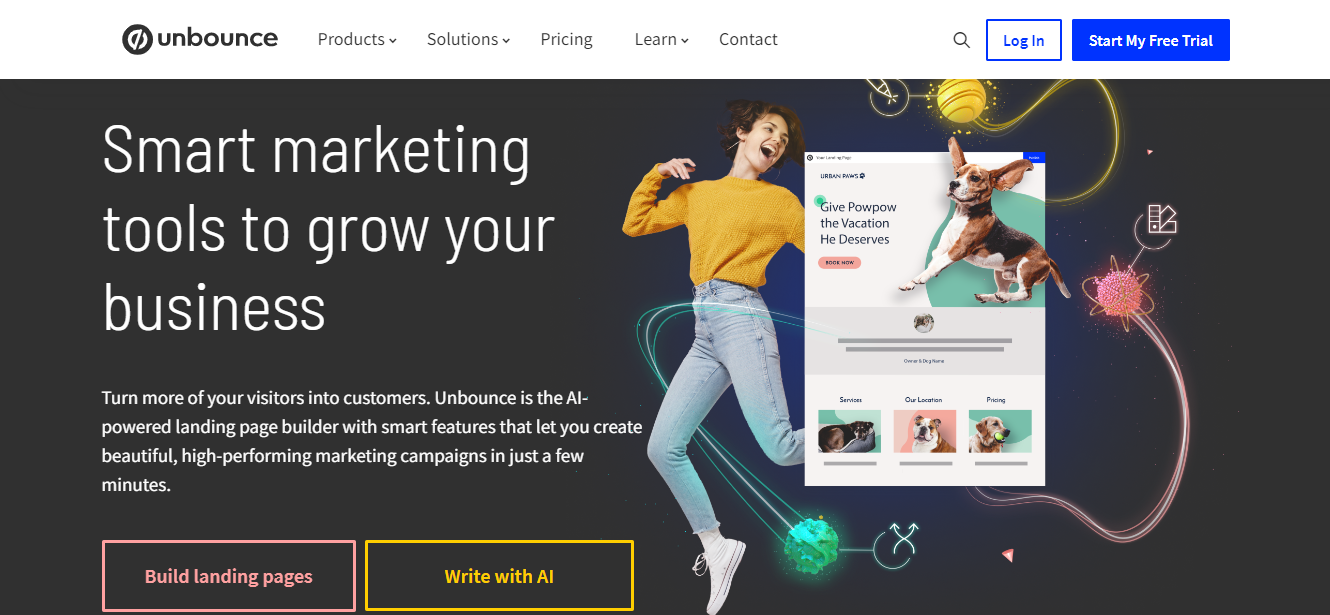 Ubounce is a powerful marketing platform that helps you reach your target audience, track your results, and boost your bottom line. With Ubounce, you can create targeted marketing campaigns, increase your leads and customers, and amplify your sales.
The company's homepage highlights many features that explain their value proposition "Smart marketing tools to grow your business". For instance, you'll see how Ubounce helps businesses create and manage landing pages using AI to improve marketing and increase sales and conversions.
5. WordPress: "Welcome to the World's Most Popular Website Builder"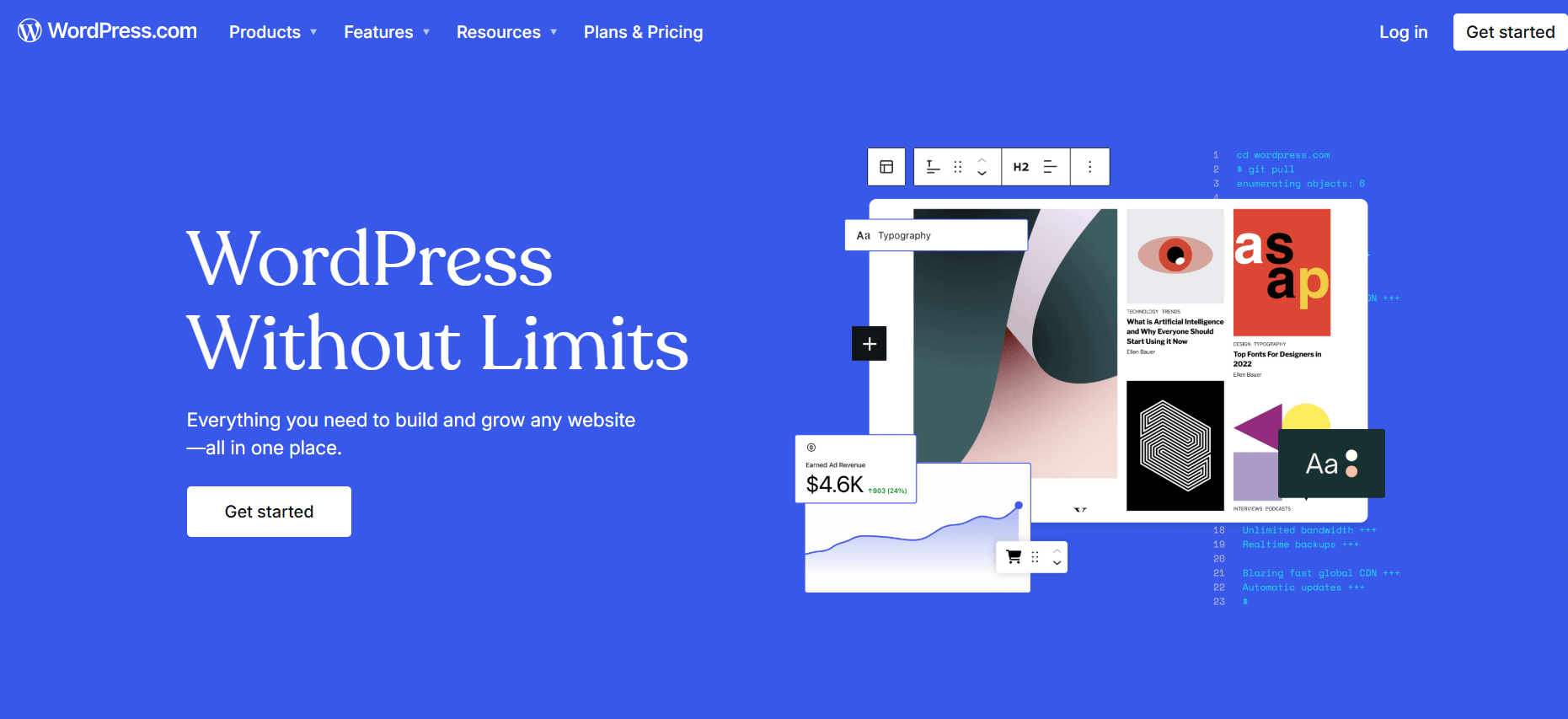 Statistics state that 43% of the web is built on WordPress. They've definitely earned their bragging rights. The value proposition, "Welcome to the World's Most Popular Website Builder," is further amplified by the homepage, which shows all the benefits of using WordPress to create a website. It showcases all the features offered, such as building websites without coding experience, having a personal domain name, e-commerce, built-in marketing, website designing, and real-time analytics. With all this, It's easy to see why it's the world's most popular website builder.
How To Write A Value Proposition
There are two ways to get started writing a value proposition:
1. The Traditional Way
Researching and writing multiple drafts. Understanding the key components of a good value proposition.
2. Using an AI Writer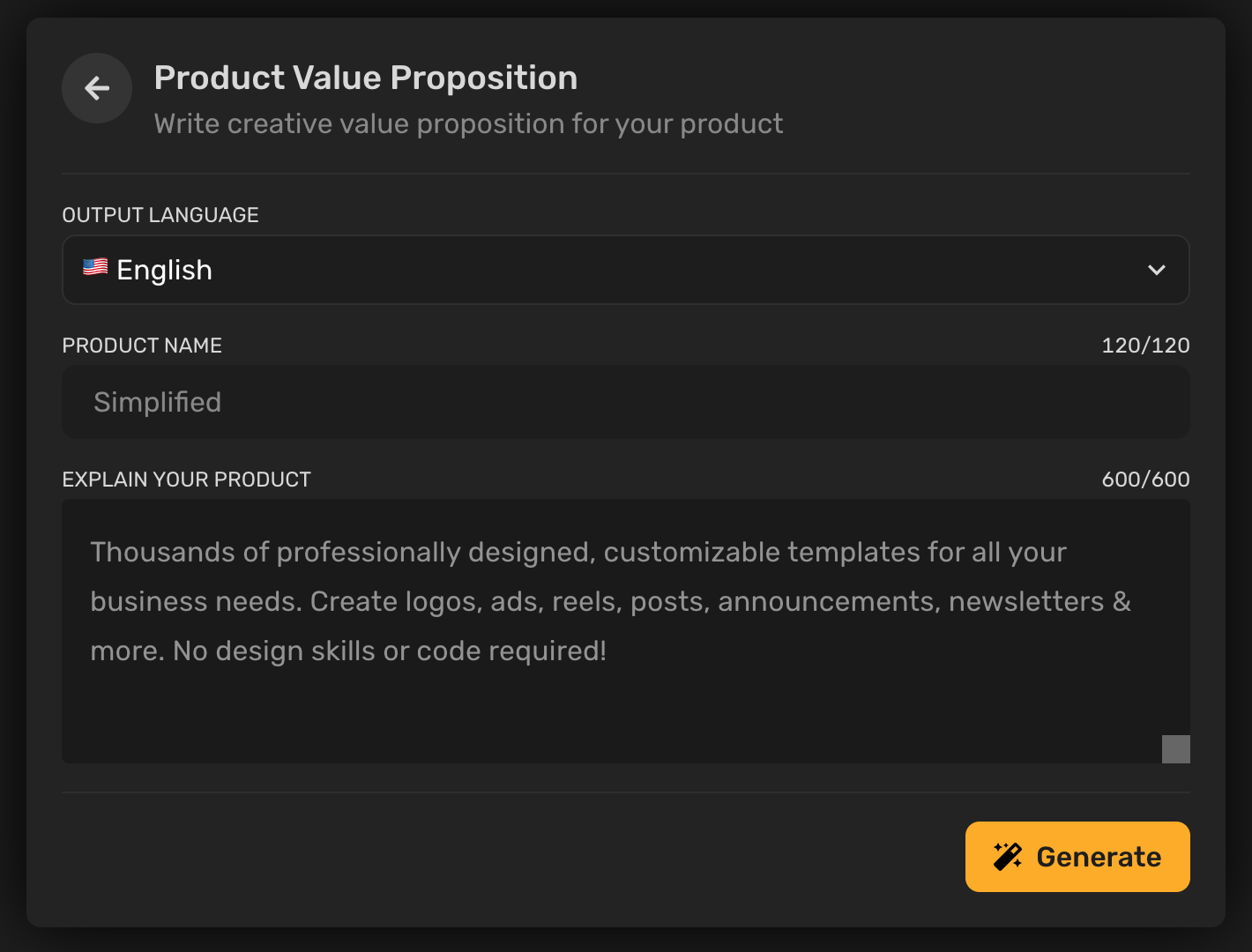 AI writers, like Simplified, are trained to know and understand the key components of a value proposition. With just a few simple inputs, it can generate multiple drafts for you to choose from, saving you valuable time and resources.
How to Create The Best Value Proposition Using Simplified
If you've been looking for an easy way to generate value proposition ideas for your business, look no further. We have just the right tool for you! Simplified's Product Value Proposition Generator is a powerful tool that can help you quickly generate dozens of value proposition ideas.
All you have to do is enter in some basic information about your product, and our generator will provide you with creative and compelling value propositions that you can use to market your product. It's super easy to use, and best of all, it's completely free!
So why wait? Give our Product Value Proposition Generator a try today and create a value proposition that will make your target market sit up and take notice!