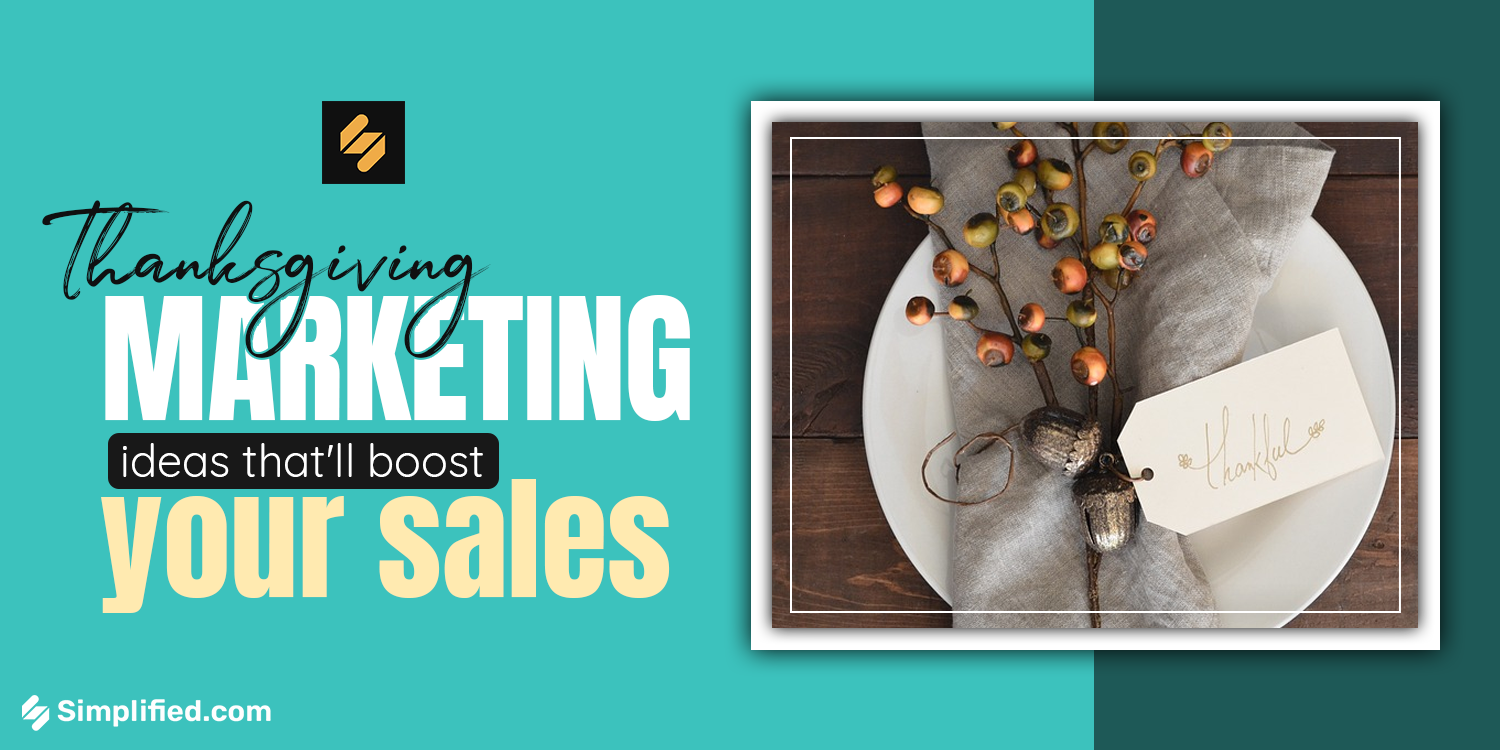 Thanksgiving is a beautiful time of year – a time to give thanks, be with family, and eat! It's also a great time to boost your sales. With Thanksgiving just around the corner, now is the perfect time to start planning your marketing strategy. And there's no need to overcomplicate things – a few simple, creative, and budget-friendly ideas are all you need to bring in the sales.
In this blog, we'll share 10 surprisingly easy Thanksgiving marketing ideas that'll help boost your sales this holiday season. From leveraging social media to hosting a contest, these tips are sure to help you drive more business this Thanksgiving:
10 Thanksgiving Marketing Ideas To Try Out This Year
1. Give thanks to your best customers
Thanksgiving is a time to give thanks, and what better way to show your appreciation than by reaching out to your best customers? A simple Thanksgiving card or email can go a long way in showing them how much you appreciate them. Here's a tip: it's better to craft personalized messages and send them to your customers. It'll make your messages more meaningful.
2. Offer Thanksgiving discounts
Thanksgiving is a great time to show your customers how much you appreciate their patronage. One way to do this is by offering special discounts and Thanksgiving promotions. Here are a few ideas to get you started:
Offer a discount on all purchases made during Thanksgiving week.
Give a freebie with every purchase made on Thanksgiving Day.
Run a promotion where customers can enter to win a prize if they purchase on Thanksgiving Day.
Whatever you do, make sure your discounts are attractive and enticing.
3. Create Thanksgiving-themed content
Creating thanksgiving-themed content is a great thanksgiving marketing idea that'll help attract new visitors to your website and social media pages. By creating blog posts, videos, or graphics that are related to Thanksgiving, you can show your audience that you're thinking about them during this holiday season.
Plus, this type of content is always popular around Thanksgiving time, so you're sure to get some extra traffic and social media engagement.
Related: Fresh Social Media Engagement Ideas For Your Brand
4. Run a Thanksgiving contest
This Thanksgiving, why not host a contest on your social media channels or website? You could offer a prize to the winner, and it would be a great way to engage your customers or followers.
Let the contest be relevant to your brand. For example, if you sell kitchen appliances, you could have a contest where people have to share their best Thanksgiving recipes. And make sure to have a prize that people would want to win!
5. Partner with other businesses
One great way to get your business noticed during the Thanksgiving season is to partner with other businesses in your area. Find businesses that are complementary to yours and team up to offer a joint Thanksgiving promotion. Here are a few ideas to get you started:
Team up with a local restaurant to offer a discount on Thanksgiving dinners
Partner with a grocery store to offer a discount on Thanksgiving ingredients
Join forces with a florist to offer a special deal on Thanksgiving flowers
6. Give back to the community
Giving back to your community is another solid Thanksgiving marketing idea. You can donate a portion of your business sales to a local charity or food bank or volunteer your time to help out at a local soup kitchen or food pantry. Or better still, you can simply make a monetary donation to a worthy cause.
7. Sponsor a Thanksgiving event
This Thanksgiving, consider sponsoring an event in your community. There are several types of events you can sponsor, from parades and turkey trots to community meals and coat drives. Whatever type of event you choose, your sponsorship will help build brand awareness and make it possible for others to experience the spirit of giving.
8. Get creative with packaging
Another Thanksgiving marketing idea you can try out this year is getting creative with your product packaging. It'll help make your products stand out this holiday season. You can dress up your products with Thanksgiving-themed stickers and labels or even create your custom design.
Another thing you can do is put together special holiday gift baskets filled with your products and other items like gourmet food, wine, or even a festive mug or ornament.
Related: 9 Father's Day Marketing Ideas For Every Small Business
9. Offer free shipping
Thanksgiving is a great time to offer free shipping to your customers. This is because many people are shopping online for holiday gifts and they are looking for deals. Doing this helps you to attract more customers and boost your sales.
And, since this holiday is all about giving, what better way to show your customers that you appreciate their business than by giving them free shipping? This Thanksgiving promotion will surely bring in some extra business during the holiday season, so be sure to advertise it early and often.
10. Extend your hours
The Thanksgiving weekend is one of the busiest shopping periods of the year. If you want to attract holiday shoppers, you need to be open for business. Extend your hours and keep your doors open for longer during the Thanksgiving weekend to accommodate holiday shoppers.
This will give you a competitive edge and help you boost sales. Just make sure you're prepared for the increased traffic and customer volume.
Bonus: How to Use Simplified For Your Thanksgiving Marketing Campaign
We know how daunting trying to implement all these Thanksgiving marketing ideas can be, but we have something that can help. Simplified is an all-in-one marketing platform for planning and executing your Thanksgiving marketing campaigns.
With our tool, you can:
Use our AI writer, graphic design tool, AI art generator and video editor to up your Thanksgiving advertising
Share your Thanksgiving promotions on social media with our stunning templates
Plan and discuss Thanksgiving marketing ideas with your team using our team collaboration features
Schedule all your Thanksgiving social media posts with our content planner