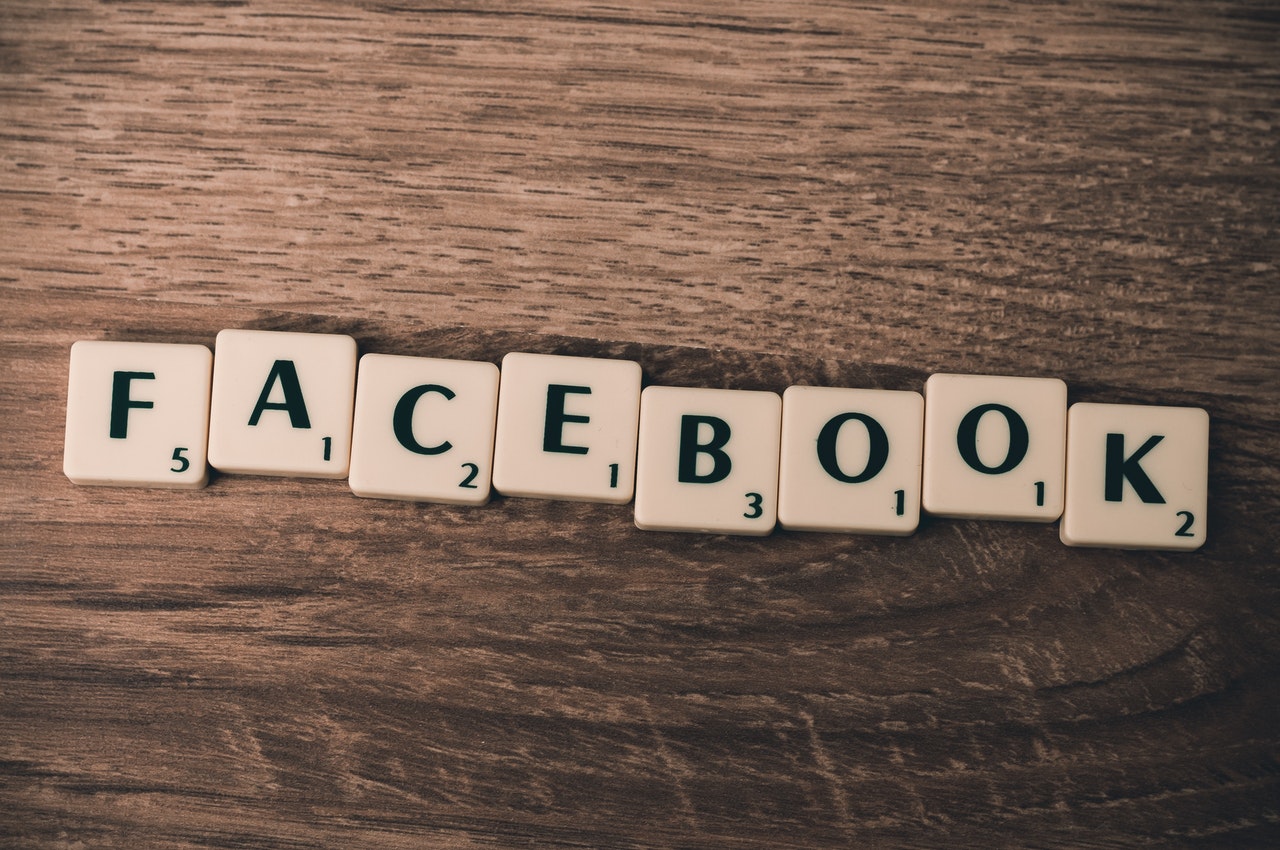 You've probably noticed a blue tick next to the names of certain pages on Facebook. In case you're not sure what it means, that's the Facebook verification badge. Getting verified on Facebook is a great way to add to the authenticity of your brand. It can be a laborious process, but it's surely worth the effort for that reason alone.
Both large brands and local businesses can be verified on Facebook. Along with authenticity, it helps your Facebook Page show up higher in search results. If you're looking to get a blue badge on your account, you've come to the right place.
In this blog, we will walk you through the process of getting verified on Facebook. Keep reading to find out how to increase your chances of getting and staying verified on the world's biggest social media platform.
What does it mean to be verified on Facebook?
The verified badge appears next to the account name on a Facebook Page or profile. It means Facebook has confirmed that the Page or profile is the authentic presence of the public figure or brand that it represents.
An example of a verified Facebook page
For example, celebrities have multiple fan pages and clubs. Without the verification badge on the celebrity's profile, it would be difficult to know which was the authentic account.
The verified badge is a tool that helps people find public figures and brands' real Pages and profiles. If a Page or profile has the verified badge, Facebook has confirmed that it represents who it says it does. If the badge isn't there, it may not be the real Page or profile.
In other words, the checkmark is immediately recognizable as a sign of credibility. And thus, it can have a big positive impact on your social media marketing efforts.
Who can get verified on Facebook?
Broadly speaking, anyone can get verified on Facebook. However, there are certain standards your Page or profile needs to meet before you're given a blue tick. Facebook looks at a number of factors when evaluating Facebook Pages and profiles. This is done to determine whether or not they're in the public interest and meet the verification criteria.
To be verified on Facebook, profiles need to be:
Authentic. They have to represent a real person, registered business or entity.
Unique. Your Page must be the only official presence of your business on the platform. Only one Page or profile per person or business may be verified, with exceptions for language-specific Pages and profiles. Facebook doesn't verify general interest Pages and profiles.
Complete. Include an about section, Page or profile photo, and recent activity, including at least one post.
Notable. Your Page should represent a well-known, often searched person, brand or entity. Facebook reviews Pages and profiles that are featured in multiple news sources and doesn't consider paid or promotional content as sources for review.
This is the bare minimum you have to do to get verified on Facebook. To increase your chances of verification, you should publish engaging content in various formats such as videos, memes, infographics, etc.
How to get verified on Facebook
To get verified, you'll need to use the desktop version of Facebook. Just visit facebook.com. Once you are on your Page, you'll need set your account to "public figure."
Once you've done that, here's how to get your page verified on Facebook:
Step 1 – Go to the Verification Request Page
In order to be considered for Facebook verification, you'll need to fill out and submit this request form.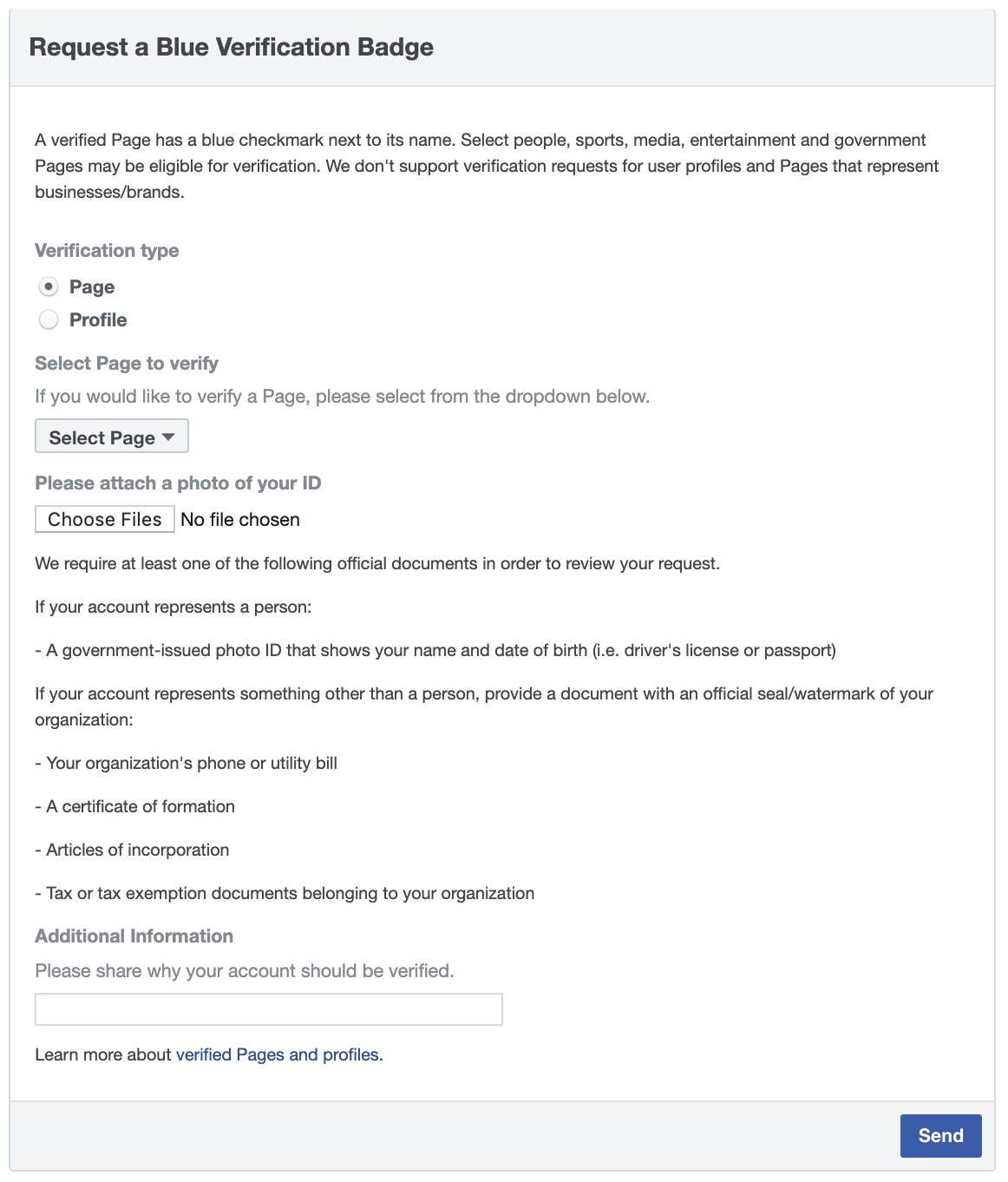 Step 2 – Choose Verification Type
Choose the verification type – that is, whether you want to get a Page or a profile verified. You should be aware that, although you can get your profile verified on Facebook, the approval criteria is more stringent than for a Facebook Page.

Related: How To Get Verified On Twitter (And STAY That Way!)
Step 3 – Select which Page to verify
Next, if you are verifying a Page, select your Page from the drop-down list. In case of profile verification, you'll need to provide your profile URL instead.
Step 4 – Select the right category for your account
Categorizing your account correctly is important because it helps Facebook establish whether or not you have enough influence in a certain industry to warrant verification. So, be sure to select the right category and the country your business is registered in.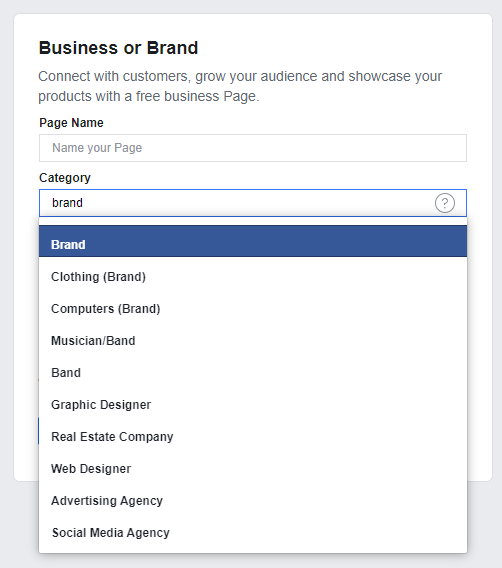 Step 5 – Attach identifying documents
Facebook needs rock-solid proof that you are exactly who you say you are. So, the next step is to provide Facebook with proof of ID.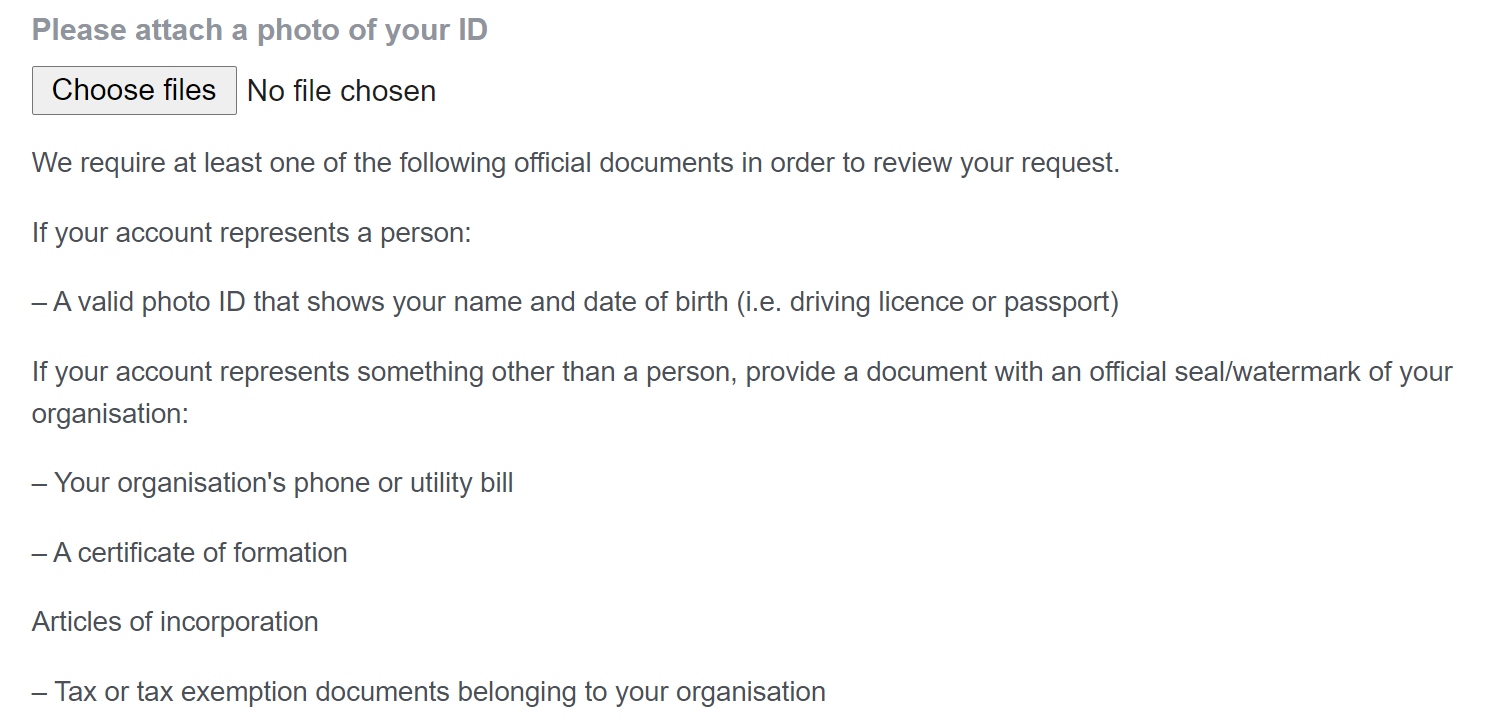 Step 6 – Explain why you're pursuing verification
Finally, Facebook will ask you to provide a reason as to why your Page or profile should be verified. This is a critical step in receiving the blue verification badge from Facebook. You must provide a compelling reason for why you're seeking verification.
Tell Facebook how having a verification badge will help make your account stand out and grow your business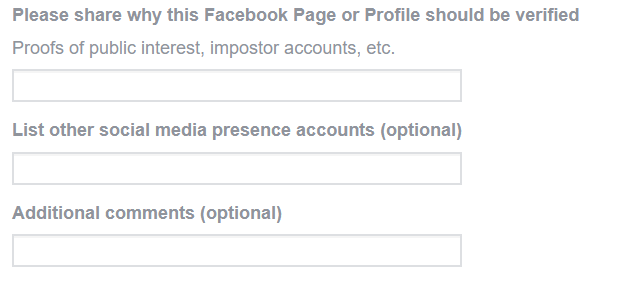 And voila… you are done! Just click the "Send" button at the bottom of the page. Once Facebook receives your application, they will review your request and either approve or deny it. This can take anywhere from 48 hours to 45 days.
Tips and Tricks to get verified on Facebook
Facebook verification is not an easy nut to crack. Now you know how to go about requesting verification, we will share a few helpful tips that will boost your chances of getting verified on Facebook.
1. Post regularly to Facebook
If you want to get verified on Facebook, it is important to be an active user of the platform. An inactive account is the least likely to get verified. A regular posting schedule and engagement with your audience are also essential to effective Facebook marketing.
2. Build an active community
Your follower count and engagement play an important role in Facebook verification. Collaborate with influencers on Instagram, run contests with big names in your niche, and build a rapport with them. This greatly increases the chances of your brands getting verified on Facebook.
3. Do not take shortcuts
Do not resort to buying Facebook likes, as it will hinder rather than help your chances of getting verified. Likewise, do not buy followers. That always leads to an inactive community, and ultimately, will make your profile seem less credible.
Conclusion
To summarize, the blue verification badge can positively impact your social media marketing efforts. It is a great way to make your business look credible to your audience. As we discussed, the key to getting verified on Facebook is publishing engaging content and building a great community.
At Simplified, we want to make it easier for you to publish great content on Facebook. Our AI tool comes with hundreds of free templates that you can use to make engaging posts. Using the tool, you can create picture-perfect Facebook posts in minutes.
And that's not all! Simplified also has an excellent AI copywriter that generates optimized copy for your posts. So, what are you waiting for? Become a part of the Simplified family and get access to the best tools with amazing features, all for free, today.
One Free app to design, collaborate, and scale your work – try Simplified today.