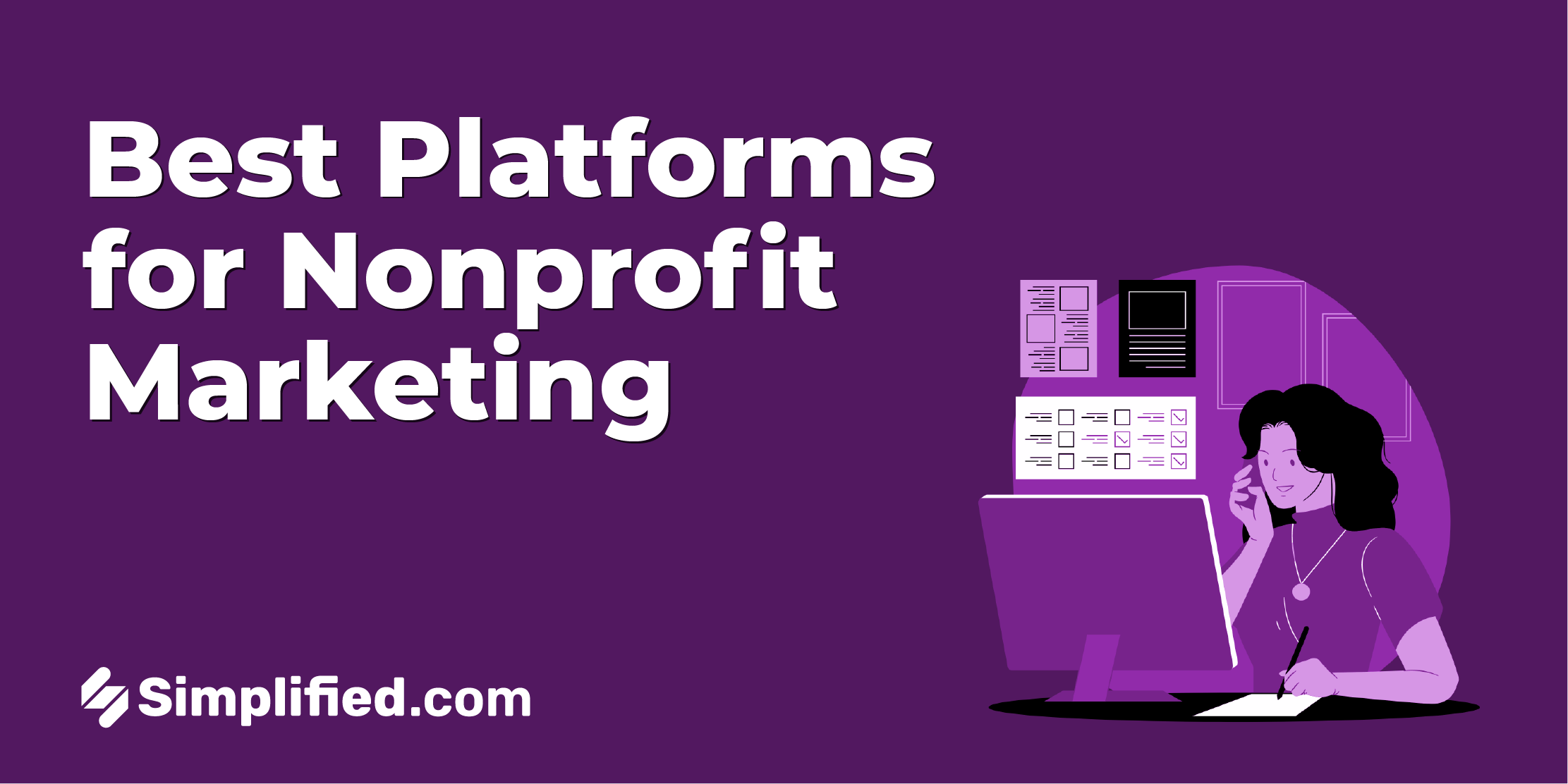 Nonprofit organizations have a unique challenge when it comes to marketing. Unlike for-profit companies, nonprofits don't have products or services to sell. Instead, they rely on donations and support from the public to achieve their mission. But in order to attract that support, they still need to get the word out about their cause. And with so many digital marketing platforms available today, it can be hard to know where to start.
That's why we've put together a list of the top 4 platforms for nonprofit marketing. These platforms have been specifically chosen for their ability to help nonprofit organizations reach their target audience, build relationships with supporters, and grow their organization's impact.
In this blog post, we'll take a closer look at each of the top 4 platforms for nonprofit marketing. We'll explain what each platform does, how it can help your organization, and what you need to know to get started.
So, whether you're a small nonprofit just starting out, or a larger organization looking to expand your reach, read on to learn more about the best platforms to achieve your goals.
Create SMART goals
Your nonprofit may have a vision, but to bring it to life, you need direction. And direction comes from laying down what your organization's goals are. Remember to make your goals SMART:
S– Specific: Ensure your nonprofit marketing plan is distinct and not vague.
M– Measurable: You should be able to track your progress toward your goals.
A– Attainable: Make sure that your goals are ambitious but can be achieved practically.
R- Relevant: Take account of all the current resources and the needs of your nonprofit.
T- Time-Based: Your nonprofit marketing goals should be executable and can be achieved by a given end date.
4 Platforms for your Nonprofit Marketing Plan
1. Website
A website is like an online office. It is a place of representation where you have all the control!
Building a website is a fundamental tool for your nonprofit's marketing and also for providing a home to all your initiatives, past work, mission statement, and so much more.
It is the go-to place for anyone to find out more resources on how to help your organization. The website is also where all your other marketing efforts can be linked back to. The possibilities are endless for your marketing if you have your own website.
Some important features to include on your website are:
Information about your organization
Donation details
List of future and past events
Social media links
Contact details
Image gallery
2. Email Marketing
There are fewer personal ways of reaching your audience than emails and newsletters. Email marketing offers a terrific way for you to personalize your messaging to prospective donors or supporters. Emails with catchy subject lines and newsletter titles have a high open rate.
Whenever someone signs up to be a part of your organization and support your cause, offer them more ways to connect with you. Since you can't individually text or call people for your future events or give them news related to your mission, email newsletters can widen your reach! You can also write interesting copy using AI with Simplified's AI writer!
Related: 10 Powerful Examples Of Graphic Design For Nonprofits
3. Blogs
Although an extension of your website, the blog section has too much to offer to be ignored! Through blogs, you can talk at length about important topics related to your nonprofit venture. You can also use the blogs as an opportunity to add relevant keywords that your target audience will look up on search engines. If you follow SEO practices in your blogs, you can make your website rank higher.
With Simplified's AI writer, you can write full SEO-rich blogs in a matter of minutes!
4. Social Media
Having a strong social media presence can significantly help in signal-boosting your events through shares and reposts!
It can be difficult to budget a website developer and domain, especially if you are a grassroots organization. But with social media, you can find and grow your reach through organic nonprofit marketing tactics – for free!
Social media: Find out which platforms your supporters use most. The most popular nonprofit advertising takes place on Instagram or Twitter.
Hashtags: Follow social media hashtags that you support.
Stories: Post stories about events related to your nonprofit mission.
Engagement: Engage with your followers via comments, live streams, DMs, and resharing their posts.
Related: How to Build a Small Business Community
Upscale your Nonprofit Marketing with Simplified
Your nonprofit marketing efforts will need all the help they can get. Once you have a unified marketing strategy that implements the use of Website, Email Marketing, Blog, and Social Media, you will need tools to develop and circulate quality content across these channels.
Simplified is a powerful platform that can be used for a variety of non-profit marketing tasks. The AI writer feature can be used to create compelling and persuasive copy for fundraising campaigns, while the graphic design tool can be used to create eye-catching and engaging visuals. You can also leverage the vast collection of templates in the Simplified library to get started.
The video editor feature can be used to create powerful and emotional videos to raise awareness of a cause or to tell the stories of those who have been impacted by the non-profit's work. The AI image generator feature can be used to create unique and impactful images that can be used in social media posts and other marketing materials. The social media planner feature can be used to schedule and optimize social media posts, helping non-profits to reach a wider audience and increase engagement.
Overall, Simplified is a valuable tool that non-profits can use to create effective and impactful marketing campaigns, which help to raise awareness, engage donors, and drive fundraising efforts. Sign up and use Simplified today!