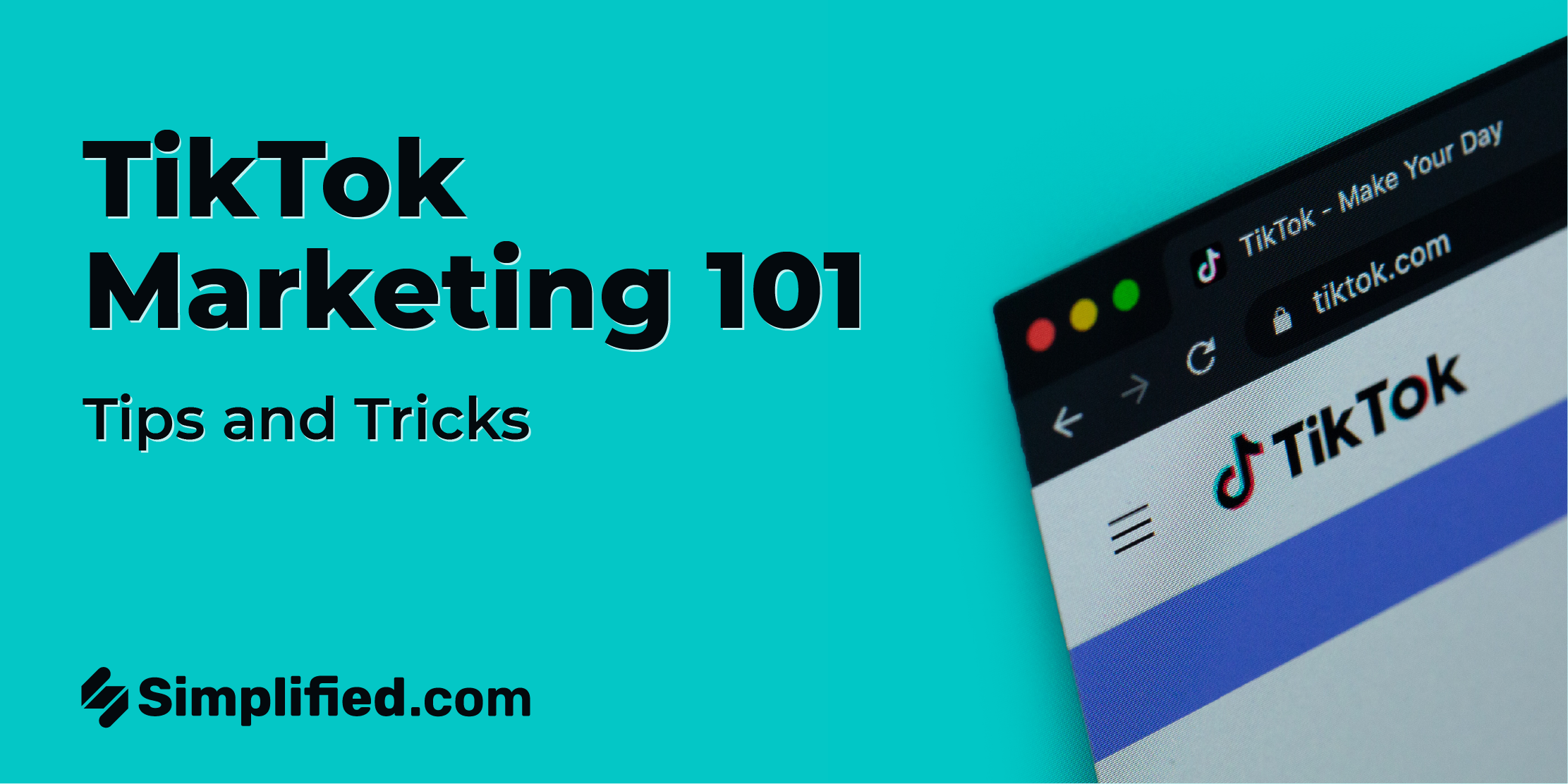 TikTok has over 732 million monthly active users worldwide. And since 2022, the app has been growing exponentially, especially with the increase in visual content since the pandemic hit. And so, what better way to promote your brand? Through TikTok marketing, of course!
This 2023, creating buzz around your brand on TikTok is a smart marketing move to grow, get noticed, and drive sales.
If you're a marketer, entrepreneur, business owner, or freelance creator, don't miss out on TikTok's popularity. The social media giant offers a major opportunity for brands to get creative and make a splash.
In this guide, we'll explore marketing on TikTok in-depth, from hashtags to TikTok ad products to influencer marketing. Let's begin!
TikTok Marketing: 3 Steps to Getting Started
1. Set up a Professional Account
If you want to make money on TikTok, you need to have a professional account. A professional account is also great for monitoring your brand's performance on the platform.
Plus, signing up as a seller on TikTok Shop streamlines your branding and sales all in one place!
You can sign up as a seller through their website or email [email protected]. All you have to do is submit your phone number and email address, and create a password!
2. Optimize TikTok Video Lengths
Every video-sharing platform, including TikTok, has different length suggestions for optimized video content. And the optimal video length of a TikTok video is 15 seconds, but it was recently increased from only 60 seconds to 3 minutes.
You can record your video for 3 minutes straight, upload an already edited video, or edit on the app itself. As long as you keep the video length to 3 minutes or less, your content will be discoverable (especially with an attention-grabbing opener!).
Furthermore, here's how you can get the right video length for your TikTok marketing for free with Simplified video editor. You can trim the duration of videos, add audio, overlay images, and so much more!
If you're looking for an all-in-one video editing platform, you've found it!
3. Observe What Works
If you're new to TikTok, bear in mind that the platform's contents and styles are different than on other social media channels. If you simply observe for a few weeks, you'll get a feel of how it all works.
Once you feel like you're well-versed in the TikTok culture, it's time to use the app as a marketing channel. For your first posts, try to mimic your favorite content that aligns with your brand's point of view.
Then, see how your engagements fared. Did you get the about of likes and followers you were looking for? If not, try different styles of videos until you're closer to your goal.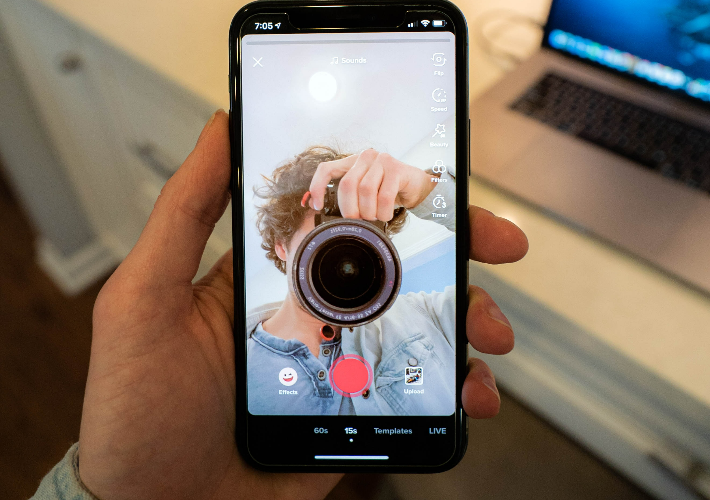 And remember: the more you observe and become a participant in the platform, the more you'll know what works!
For new users, TikTok might seem overwhelming with billions of videos and millions of brands.
Related: Instagram Marketing 2023: 11 Powerful Tips [+ Free Content Scheduler Tool]
10 TikTok Marketing Tips for Viral Video Content in 2023[+ FREE Tool!]
Whether you're a beginner on TikTok or already a maestro, it never hurts to refresh, or even rethink, your content strategy.
Below, you'll discover influencer marketing, how to optimize SEO for TikTok, and the best ways to get started with Simplified's free AI and design tools. With our 10 TikTok marketing tips and tricks, get ready to make the leap into the world of viral video content!
1. Stay Relevant: Participate in Trending Challenges
Following TikTok trends is a smart marketing move because they give you ideas for fresh and engaging content. They change every week, and sometimes, even daily! Therefore, it's important to stay up to speed with what interests your audience.
Why should I participate in TikTok challenges?
TikTok challenges improve brand discoverability by being clustered by hashtags. You can reach a wider audience by showing them that you're interested in what they're watching.
To drive sales, you need to come up with a unique way to showcase whatever you're selling, whether it's a product or service, within the challenge.
How do I participate?
Find out what kind of content is performing well on the app, and try your hand at it. 
Search for brands that align with your content and interact with them. For example, The Tonight Show host, Jimmy Fallon, expands his personal brand by tapping into trending challenges! With TikTok, he's reaching a younger demographic who doesn't typically watch his shows.
2. Hack TikTok Best Practices
Hashtags are important for most social media platforms, including TikTok. However, there are other TikTok hacks that will help your brand increase followers and potentially drive more sales.
Below, let's look at some important FAQs for marketing on TikTok:
What are the best times to post on TikTok for increased brand visibility? It depends! But generally, the best times to post on TikTok are 5 to 10 in the morning and 7 to 11 in the evening. During these times, there's a larger audience pool so you can gain more traction and viewers. Nonetheless, you should try posting at different times of the day to see what works best for your audience.
How long is a video caption on TikTok? TikTok allows for 2,200 characters per video post including keyworded hashtags. You can use Simplified's advanced AI to generate high-converting video descriptions and maximize TikTok's character limit.
How many hashtags can I use for one post? While there's no limit to the number of hashtags you can use per video, it's best to focus on roughly two to three hashtags per post. You can focus on strong descriptions that lead to an increase in the click-through rate of your posts.
3. TikTok Influencer Marketing: Partner with Creators
One of the best ways to really push your campaign or brand into the spotlight is through influencers. So, if you're struggling to grow your following on TikTok, consider partnering with relevant creators.
For instance, if you're in the digital marketing niche, create videos with other digital marketers that have more followers.
Here's how you can approach creators to partner with you to create TikTok marketing content:
When you come across a relevant creator, send them a brief and friendly message to let them know you're interested. A simple "Hi, I like your content" goes a long way!
Not sure what to write? Don't worry, we got you! Try out Simplified's Short Form AI Writer to craft the perfect message template.
Once you've sent the message, wait for a couple of days before sending out feelers to other contacts on the platform. And always make sure to follow up!
4. Browse Simplified's Templates for TikTok Inspiration
Let's say you have all the sales copy you need and stunning videos to boot. Now, how do you go about compiling all this content into one video post?
One of the simplest TikTok e-Commerce tips is to find an online drawing board. When you have a creative block, a digital platform where you can collect all of your ideas is super helpful.
Here, Simplified's templates are a great starting point for beginners, as well as teams short on time!
An all-one-one AI and design platform, Simplified offers a rich library of templates for your brand to succeed on TikTok! Take a look:
5. TikTok Content Strategy: User-Generated Content
One question: who doesn't love great deals and exclusive offers?!
TikTok is a fun platform to browse, especially if you're getting user-generated content (UGC) for your brand!
In a nutshell, by providing an incentive or reward, you can encourage users to create content and participate in branded campaigns.
To get started with UGC, answer the following questions:
What does your company do best?
Which values does your brand add to your audience's lives?
What promotions and deals are you willing to offer for increased brand awareness? For instance, Spotify has partnered with TikTok to offer their premium services to new customers for 4 months. All they have to do is follow Spotify on TikTok and spread the word!
If you're not sure where to start, take Simplified's AI copywriting tools for a quick spin!
Product Description Generator: Simplified's free copy AI writes keyword-centric and SEO-focused product descriptions that attract customers and increase sales.
Company Bio Generator: Your company's mission statement needs to effectively communicate who you are and what you stand for. So, a solid company bio is one of the most important pieces of sales copy for your brand!
Persuasive Bullet Points Generator: Simplified's AI copywriting tool can help you come up with impactful persuasive bullet points that share your strengths.
For example, INTO ACTION is a popular collective of designers and creators that publishes stunning content centered on world issues. Their latest UGC campaign encourages TikTok scrollers to register to vote.
Isn't it simple and effective all at once? We certainly think so!
The rewards of a customer-centric marketing approach are aplenty, especially if you're looking to boost brand awareness on TikTok!
6. Publish Attractive Videos
If you want your content to be a class apart, a crucial element is making sure your video content is always high-resolution and visually captivating.
You might want to consider hiring a professional videographer when you start posting. Especially as a new account, you want to ensure quality. However, if you're on a tight budget, Simplified's free video editor is your new best friend!
When in doubt, look at how some of the hottest brands are crushing their TikTok marketing strategies. Take a cue from Gymshark – their videos are always high-res, on-brand, and so very clickable.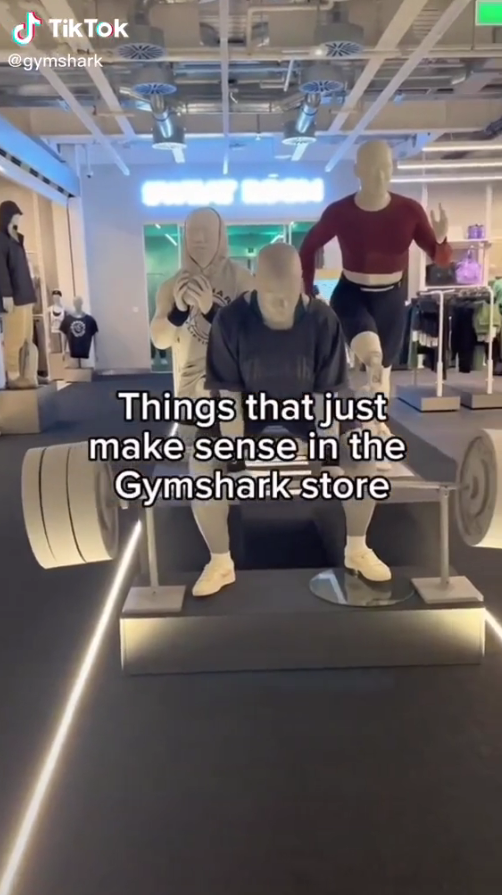 The best TikTok marketing campaigns are memorable, interactive, and visually stunning!
7. Consistency is Key
Before you invest in a TikTok content strategy, remember that your audience is bombarded with an overwhelming amount of virtual content daily.
So, how do you stay fresh in your audience's mind? The easiest trick is to deliver content that's consistently on-brand. That means uploading videos daily to promote your brand on TikTok.
Be consistent and upload at least twice a week. Once you have a solid number of followers (set by your standards and goals!), you can increase the number of uploads to every other day. The more you post, the higher the reach of your brand on the platform.
Looking for TikTok engagement ideas? Check out Netflix's TikTok feed below, which highlights its most trending TV shows and movies!
Whether you're a small business owner or a freelance creator, we know how exhausting brainstorming content engagement ideas and publishing on social media can be. That's why Simplified offers you the ease of automated publishing with an AI-powered social content planner.
We're with you all the way, from brainstorming video content ideas to sharing on social media!
8. Build a Community
Social media is all about communities. Facebook has Facebook Groups, Twitter Circle for Twitter, Close Friends on Instagram, and many more. But for TikTok, communities are more specific, making it a bit more special than the rest.
Users easily find new ideas and topics in TikTok and as a business, it's essential that you contribute to the conversation and build a like-minded community.
You can make videos answering queries or spreading your advocacy campaign by using your own hashtag. There's a lot you can do to build a community and share ideals, interests, and inspirations with your audience.
For example, eBay partnered with TikTok to push their own campaign called #SneakerShowdown which attracted sneaker-heads. This campaign resulted in over 1 million participants in the voting polls and a 54% increase in comments.
9. The 6 TikTok Ad Products for TikTok Advertising
A successful TikTok content strategy requires you to research your advertisement options.
All brands have differing targets. For this reason, you have to make an informed decision (from your goals!) on which kind of TikTok ad will help fulfill your brand's mission.
To get started, first, you'll have to create an advertiser account, which is as easy as filling out a form.
Whether it's increasing followers or driving traffic to your website, there are six TikTok ad products available that will help you reach your goal. Let's take a quick look below at what purpose they each serve (with examples!):
In-Feed ads: In-Feed ads are TikTok's standard ad format, which auto-plays on users' 'For You' page. These are similar to Instagram stories.
2. Branded Hashtag Challenges: These ads are a new format developed for TikTok that allows brands to tap into their audience's creativity. 
Best for: Fitting in with TikTok's user-generated content aesthetic.
Brand Example: Mercedes Benz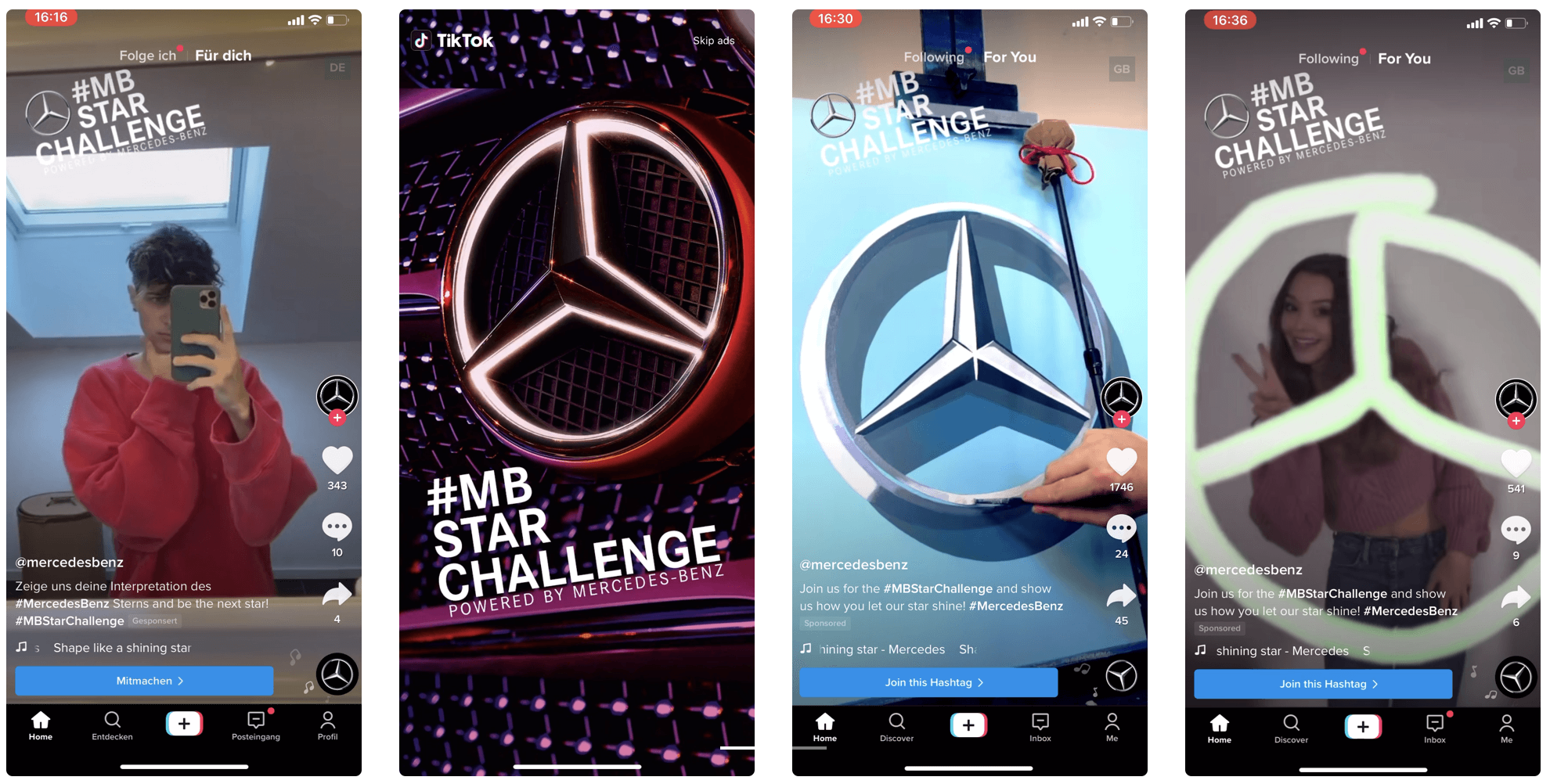 3. Top-View ads: A Top-View ad is the first ad that users see when they open TikTok. These ads allow you to create videos up to 60 seconds long, giving a more focused and immersive experience. 
Best for: Increasing brand awareness as these ads have a wide reach and a high number of impressions.
Brand Example: Celine
4. Branded Effects: Branded effects encourage brands to embrace their playful side by creating shareable branded stickers, filters, and effects. These effects can act as standalone campaigns or be integrated into your Branded Hashtag Challenge. 
Best for: Immersive and engaging experiences, leading to higher levels of engagement.
Brand Example: PUMA
5. Brand Takeovers: Brand Takeovers are full-screen static or dynamic displays, similar to YouTube's non-skippable ads or bumper ads. 
Best for: Directing traffic to external landing pages.
Brand Example: Vans
6. Collection ads: Collection ads are currently in testing so it's not available for everyone yet. But essentially, it's a type of in-feed video ad that leads users to an Instant Gallery Page where they can browse through your products.
Best For: Easy engagement with your products and an instant shopping experience.
10. Check your account's Analytics
Since every brand's mission is created and marketed differently, the brand analytics that's most important to you will differ too. Luckily, TikTok's suite of analytics reports has all the information you need to prove your campaign's success!
How to check your TikTok Analytics:
Tap on 'Account' from your profile's dashboard.
Click on Privacy and Settings.
Scroll down and select "Analytics".
Your brand's analytics section can show you:
The number of followers you've gained or lost in the past week or month.
The number of users who have viewed your content.
Your highest performing videos.
The general locations of your audience.
The time your audience is awake or most active.
It's ideal to routinely check your brand's insights on TikTok to know where your content is hitting the mark and where it's falling flat. Analytics also come in handy if you're thinking of revising your TikTok content strategy.
🔥 TIP: You can download the analytics data for personal use directly from your dashboard! We recommend doing this on your desktop.
Related: The Ultimate Guide To Starting a Profitable Social Media Marketing Agency in 2023
The Next Step to a Trending TikTok: Simplified!
We've come to the end of this comprehensive guide on TikTok marketing 101. Whether you're a small business owner, digital marketer, or content creator, TikTok is a great platform to spread your branding.
And apart from these tips above, there's an all-in-one social media management app that can help you rise to stardom in TikTok: Simplified!
Use Simplified's video editor that's equipped with one-click editing tools and a thousand ready-made templates to craft that perfect TikTok video. Create a brand kit to easily save all your brand's elements.
Need help in thinking of a caption? Simplified's AI writer can help with that. It can generate short-form content in an instant! And for hashtags, use Simplified's Hashtag Generator.
Plus, planning and publishing with your team is effortless with the Social Media Scheduler. You can schedule posts, shorten links, and even collaborate with your team members. This way, you and your team can work together to streamline your brand's messaging without any hiccups.
You never have to miss a beat or compromise your brand's content with Simplified.
There's something for everyone on Simplified. So, Grow Your Business with the TikTok Scheduler for Posts and Stories and create engaging content every day only with Simplified. Get started for free!