Instagram has transformed from a photo-sharing software to a powerhouse of brand activity over the last ten years and more. Instagram marketing uses the social media platform to boost brand recognition and introduce fresh products. 83% of Instagram users discover new products and business-related services on the platform. It's become a worldwide platform that allows businesses to personalize their content, acquire fresh talent, promote services, and inspire users.
Furthermore, Instagram users are not just active but also heavily engaged. As a result, optimizing your account through an extensive Instagram marketing strategy is a smart move.
Whether you're a small business owner or a freelancer trying to build your client portfolio, Instagram is the ideal place to market your brand. If you're like most business owners, you're probably thinking about how to get the most of Instagram for your brand. So, let Simplified help you become an Instagram guru. In this post, we'll take you through a step-by-step Instagram marketing strategy and how you can level up your business from scratch.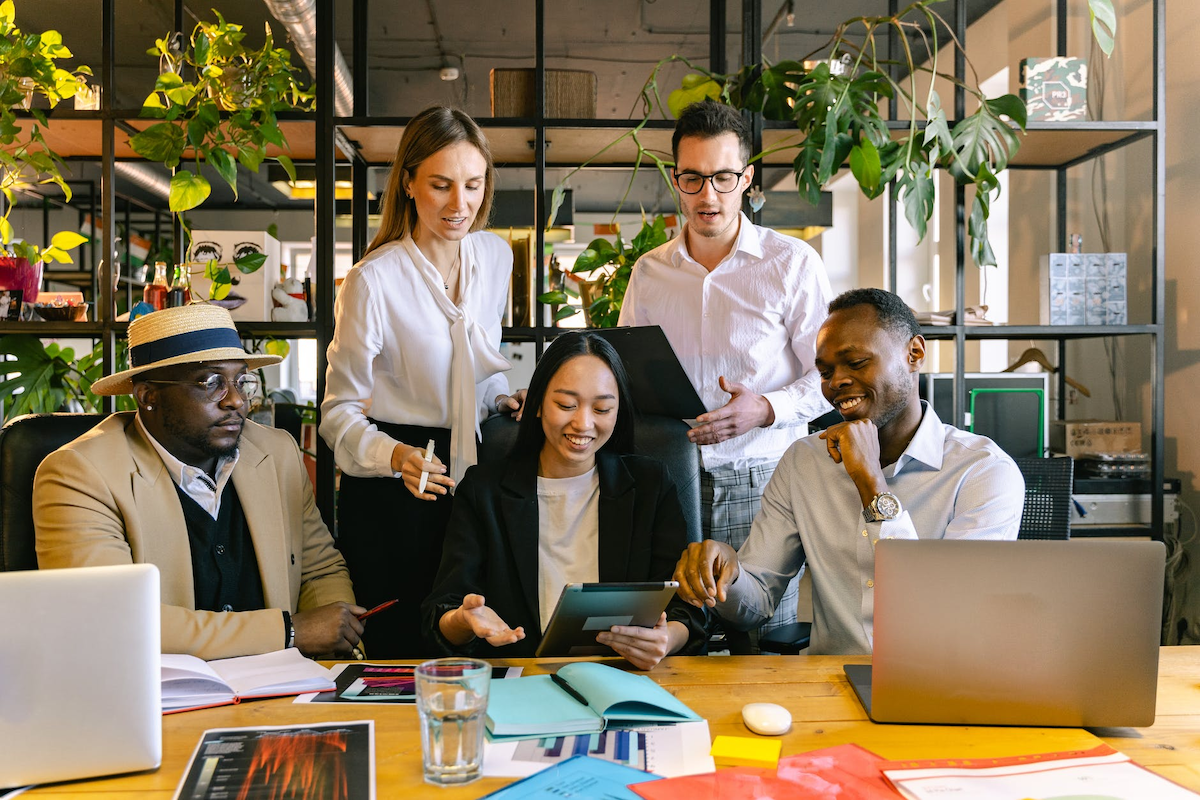 Instagram marketing can help you grow your brand awareness and introduce new products.
Powerful Instagram Marketing Tips
Instagram allows you to personalize your brand and communicate with your fans. It's a terrific avenue for innovators and businesses trying to expand organically, with over one billion active users. Build your marketing plan with the following tips to level up your branding.
1. Create A Business Account On Instagram
The stepping stone for a successful Instagram marketing strategy is to set up a business account. Instagram users have two free professional profile options: Instagram business accounts and Instagram creator profiles. Instagram Business accounts look slightly different from standard personal profiles, and starting a professional account allows access to a variety of features not available to personal users.
These additional social media marketing tools and services include:
Instagram metrics for reach, impressions, and demographics of followers.
The ability to run Instagram advertising and promote posts.
Your brand gets access to many contact options, such as a phone number, an email address, and a physical location.
Integration of action buttons.
If you run a company and have an Instagram plan for selling things, marketing your business, or simply increasing brand recognition, you'll profit through engagement from a business account on Instagram.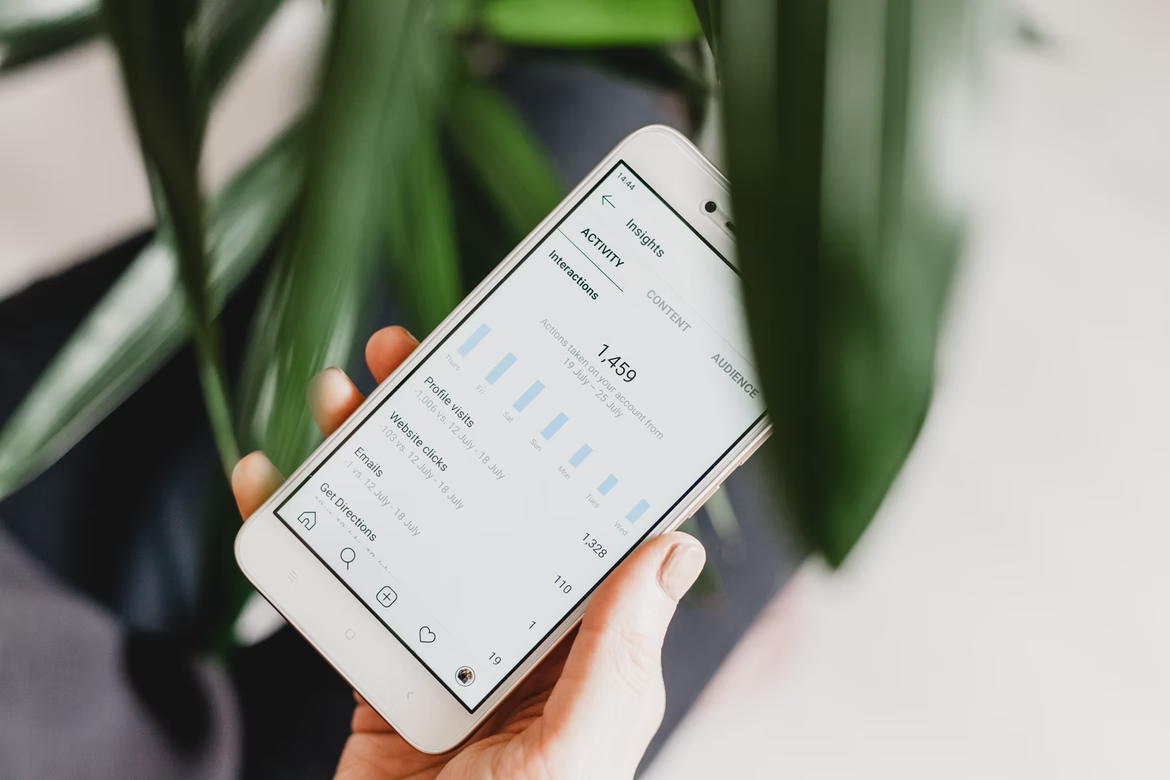 Tracking analytics helps your brand form new strategies for Instagram marketing.
Track analytics to form Instagram marketing strategies
A business account on Instagram allows you to boost your posts.
Adding links to your Stories is now possible (if you have 10,000 or more followers).
You get native analytics access that provides insights into your account performance, including reach, engagement, followers, and Instagram ads. This information makes it easy to compare content, measure campaigns, and see how individual posts perform.
Features like Shoppable posts let you sell straight from your Instagram posts.
There's the option to add branded partner accounts that may post on your behalf.
Add clickable CTAs that direct customers to your website and allow them to make in-app appointments.
2. Optimize your Instagram profile to get verified
An Instagram badge signals a lot more than a verified account, and it also reflects the power to influence and shape decision-making behaviors.
Instead of becoming merely another social media presence, you'll stand out in your field. You may already have a large number of followers, indicating that your content is worth following. However, having a blue-tick Instagram verification establishes that you are. It's also far more difficult for anyone to impersonate a verified account. Plus, you'll have exclusive early access to new features making your Instagram marketing process more effective.
We've all heard about the multitude of fake followers on Instagram. You should audit your Instagram followers because they have the potential to harm the credibility of your business. So, if fake profiles on Instagram are following your business, you'll want to eliminate them.
You'll also come across real profiles while analyzing your following list, which will inform you how successfully you're interacting with your target demographic. Cleaning out fake followers on Instagram is a definite plus on the road to getting verified!
If you wish to deep dive into how to conduct an Instagram audit, we've got you covered!
Get Verified on Instagram in 4 Easy Steps
Before we begin, keep your legal documents handy because you will be asked to provide the information to confirm authenticity.
Step 1
Log into your Instagram profile and tap the three lines on the upper-right side of the screen.
Step 2
Click on "Settings" and scroll down to "Request Verification."
Step 3
On the next screen, you'll see "Apply for Instagram verification" where you have to fill in the form with your ID and website links.
Step 4
Hit the "Submit" button and keep your fingers crossed!
3. Automate Instagram posts and scale your social media marketing
Successful Instagram marketing depends a lot on the coordination of quality content and timely posts. Simplified can help with both! Curate your marketing content and schedule Instagram posts with a content scheduler and planner. Simply connect your social accounts and share designs directly to your feed, captions, and all! Get from concept to finished product in no time, with an all-in-one content planner.
4. Set Up Your Instagram Shop (3 Easy Steps)
Step 1: Review the eligibility checklist
For your business to start selling on Instagram, ensure that your profile meets the following required eligibility criteria:
It must have Instagram for Business mode activated:
Login → Settings → Switch To Business Profile.
Must be located in one of the approved countries for the shopping feature.
It must be selling physical goods.
Adhere to the commerce policies.
Link your account to a Facebook page.
Step 2: Connect your catalog.
Step 3: Submit for a review!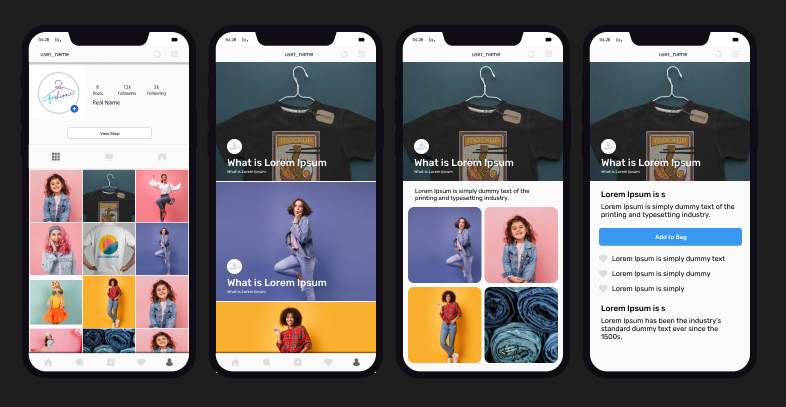 Tips to incorporate in your Instagram marketing strategy that will boost selling on Instagram:
Collaborations with Instagram models and influencers are a very successful investment for businesses to increase organic sales and engagement.
Make extensive use of Instagram stories and include product information along with Instagram shoppable links your viewers can easily browse through.
Reposts of customer-generated content may also assist boost brand recognition for small companies looking to start selling on Instagram.
Related: How to Use Instagram Branding To Promote Your Thrift Shop
5. Strategize your Content according to Current Trends
Your Instagram content and marketing strategy needs to revolve around trends. Being able to absorb them quickly can help you create superior content. Current trends that will follow through 2022 and beyond:
IGTV & Reels
People today place a higher emphasis on authenticity than ever before. Viewers are not only interested in real-time videos, but they are also afraid of losing out if they are unable to join the live broadcast. As a result, an increasing number of businesses are using live video for marketing gain.
For instance, Global Citizen, a non-profit organization, used Instagram Live to promote their #TogetherAtHome campaign — an effort to encourage social distancing in order to slow the spread of Coronavirus.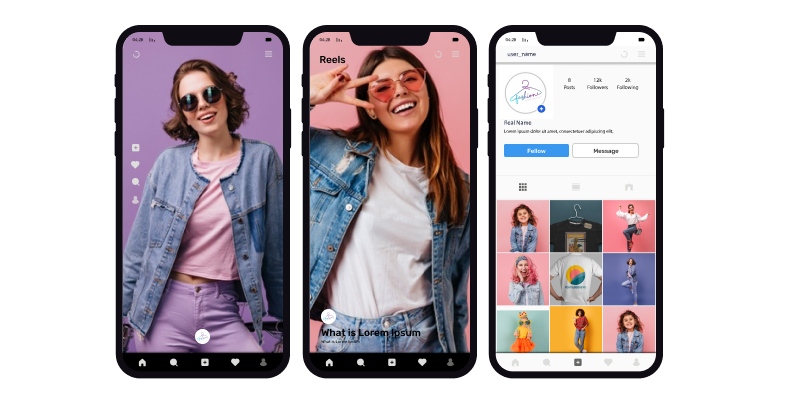 So, it's important to keep an eye on IGTV in 2022, especially with the rise of Instagram Live and Instagram Reels content.
The Explore Tab
All social media platforms have the same goal: to keep users of the platform on the platform for as long as possible. To that end, Instagram has created the Explore tab.
Here, Instagram pushes interesting, not yet well-known content. And it works! More than 200 million Instagram users access the Explore tab every day to find new ways to entertain themselves.
The advantages of appearing in the Explore tab include potential spikes in reach, impressions, and sales for brands. It's a great place to grow your audience and build community. Through continued refinement of the tab, making it easier to use and navigate, it's more than likely that time on the Explore tab will increase and be a highly beneficial Instagram marketing trend.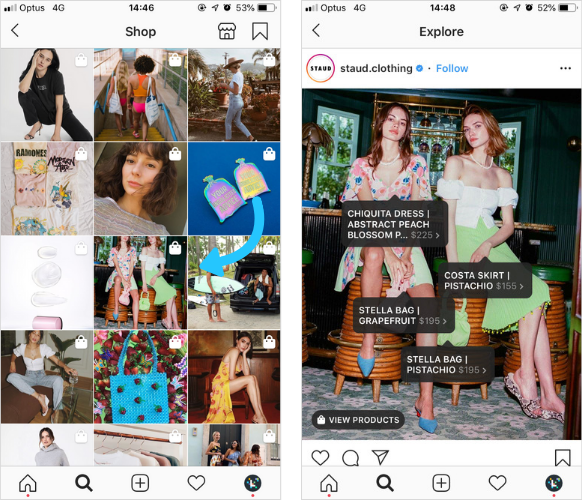 Visual Storytelling
Your brand's Instagram presence will be just as vital (if not more significant) than your website in 2022. Potential customers are searching for brands and businesses on Instagram more than ever before, instead of Google.
And first impressions matter in everything, especially for Instagram marketing! This is why so many businesses invest in their branding and visual storytelling on Instagram – it's one of the most effective methods to grow a huge and engaged audience.
A great historical account can capture people's curiosity. This fantastic example tells the narrative of a historic rivalry between legendary Italian manufacturers Lamborghini and Ferrari, which only a few fans of both sports car powerhouses are aware of.
As a brand, you need to show how you are making a difference in the world and contributing back to society. When individuals give to charities, they want to know that their money isn't going to waste because of administrative expenditures. Charity Water does a fantastic job of providing total transparency and presenting the stories of the people who have benefited from better water.
6. Do your research on Instagram post dimensions
An integral part of Instagram marketing is knowing the proper aspect ratios. Using the wrong dimensions can downgrade the quality of the posts and even impact the messaging of the brand. Here's your cheat sheet on Instagram post dimensions for all formats across the app.
1. What are the standard Instagram post dimensions?
2. What is the dimension of an Instagram profile picture?
3. What is the dimension of an Instagram story?
4. What are the dimensions of the Instagram video?
Just like photo posts, you have the option of using square, horizontal or landscape videos in your feed. However, the ideal Instagram sizing for each are:
Square and Carousel – 1080px x 1080px
Portrait – 1080px x 1350px
Landscape – 1080px x 608px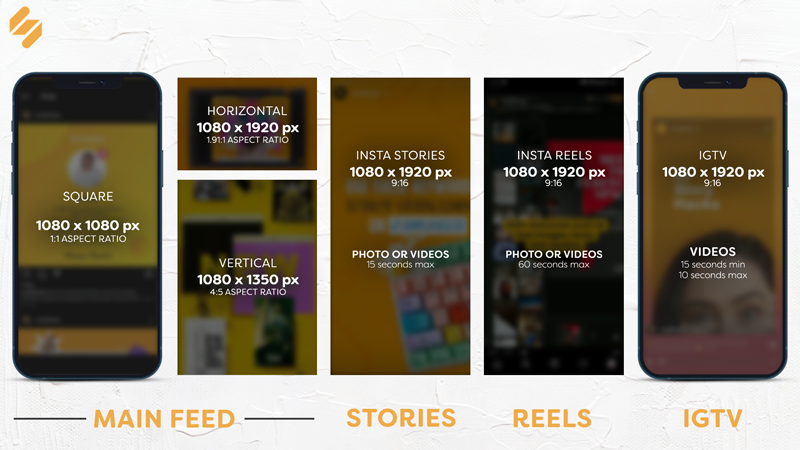 5. What is the Instagram aspect ratio for videos?
1:1 aspect ratio for square and carousel videos
4:5 aspect ratio for portrait videos
16:9 aspect ratio for landscape videos
6. What are the Instagram landscape post dimensions?
The aspect ratio for landscape photos is 1.91:1.
7. What are the Instagram portrait post dimensions?
The aspect ratio for portrait photos is 4:5.
7. Use Instagram hashtags smartly
The secret sauce for successful Instagram marketing is hashtags. Using hashtags correctly on Instagram is the single most effective approach to garner visibility, followers, and the attention of the platform's users. A good Instagram hashtag strategy reaches more people and the ideal individuals for your brand.
Why are hashtags on Instagram important for marketing?
Hashtags and Instagram are intrinsically tied. Brands attempting to spam them, on the other hand, don't fully grasp their purpose. If you use irrelevant hashtags, you can actually do damage, from annoying potential followers to getting penalized by Instagram's algorithm.
Hashtags on Instagram not only help new followers find your content, but they also inspire others to share pieces that are relevant to your business. So, read more on our top tips for finding the best Instagram hashtags to reach your target market and grow your engagement!
8. Make the most of Instagram stories & turn them into highlights
Instagram story marketing is currently the most popular sort of content on the platform. With over 1 billion daily users, stories are no longer a novelty for e-commerce companies and stores.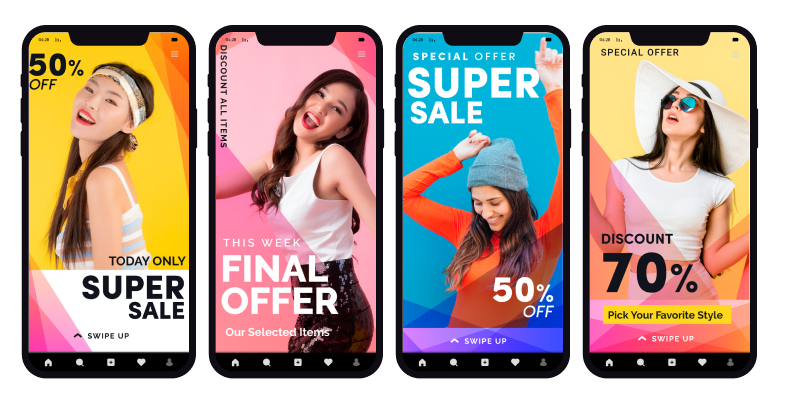 In terms of product promotion, stories provide marketers with a lot of creative flexibility. Do you want to share a spontaneous selfie? A set of professional product images with a clear call to action? You can achieve both using Instagram story marketing while also placing your brand front and center in your followers' Instagram feeds.
Don't forget to create specific Instagram story highlights on your profile, so the engagement keeps coming in!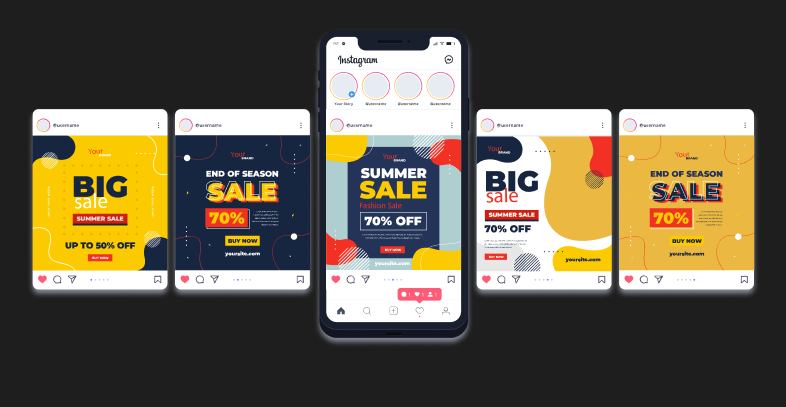 9. Track Instagram Insights
Instagram analytics is a good place to start if you really want to expand your Instagram account. The large quantity of data at your disposal will aid you in determining the effectiveness of your marketing activities and identify potential where you should experiment.
Understanding different audience analytics available at your fingertips will help get a view of who you're talking to. Consequently, you can tailor your Instagram marketing strategy.
1. Follower Growth
The follower growth graph depicts how your following grows over time.
Quick Tip: Keep track of this over time and compare it to your content strategy to determine what your target audience responds to. If you see an increase in followers after going live, for example, you could shape your future marketing approach accordingly.
2. Most Active Times
When it comes to Instagram marketing, there is no best time for posting. As a result, researching your audience's most active hours will help fine-tune your publishing approach.
3. Some other Audience Insights are:
Gender: The gender percentage split of your followers
Age Range: The age brackets of your followers
Top Locations: The top cities and countries that your followers are from.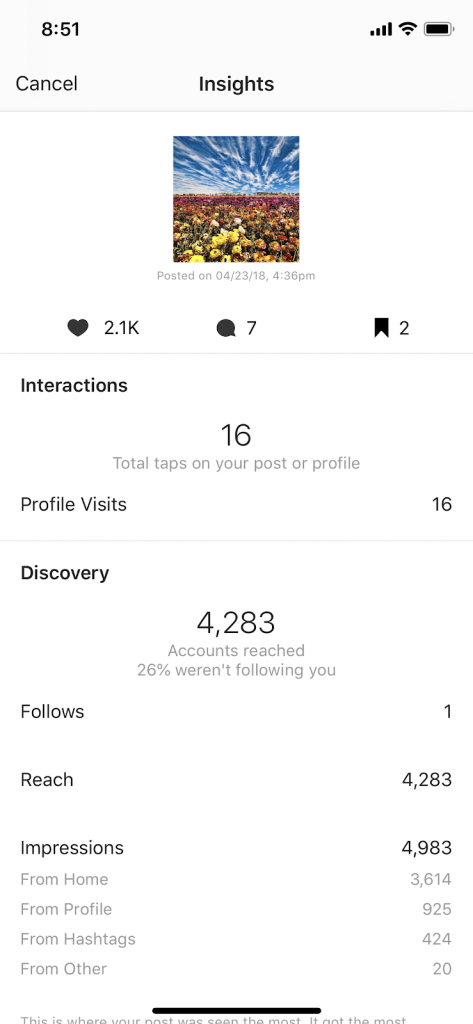 For a more detailed performance overview of your content, tap "View Insights" under your published post. You'll typically see the following metrics that'll shape your business' Instagram marketing strategy:
Likes, Comments, and Sends: This is a terrific approach to determining which posts get your Instagram followers to engage.
Saves: This is a valuable measure for determining which types of content have a longer shelf life and excite your community.
Website clicks: This is a good sign that your visitors enjoyed what they saw and wanted to learn more.
Reach: The frequency of unique accounts that have seen your content.
Impressions: This metric indicates how well your post is doing. Take note of where your impressions originated from (home, profile, or hashtags), the time of publishing, and whether there are any relevant content patterns for high-performing posts.
10. Curate and Promote User-Generated Content
Instagram customer reviews can transform your brand.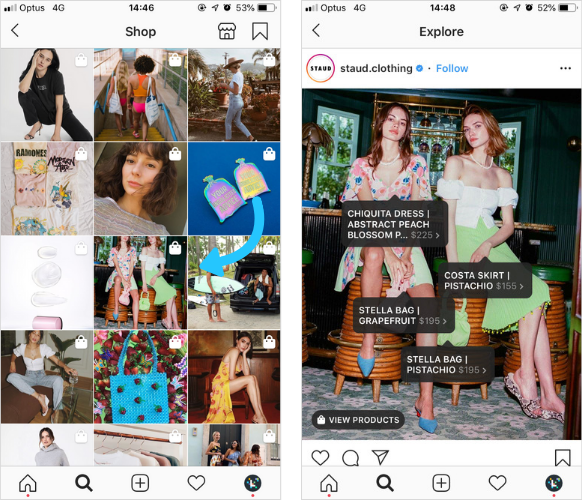 From a marketing standpoint, Instagram testimonials are pure gold. User-generated content isn't the newest trend, but it's growing massively on Instagram and is here to stay. One of the most effective methods for Instagram marketing your product and brand to the audience is to fill your content calendar with user-generated material, such as Instagram customer reviews.
It is feasible to find these photographs. However, it will take some time. If your business is new, digging through hashtag mentions, tags, and customer reviews is the way to go!
11. Don't aim to be aesthetic, be Unique!
You must develop creativity on Instagram to break through the noise and succeed. Brands that can carve out a niche or trademark are more likely to have a large following.
And the more followers you have, the more chances you'll have to sell anything. There is no "one-size-fits-all" approach to making an impression on your followers, but let's look at some creative Instagram posts.
1. Optimize Your Bio
Your Instagram bio gives your followers their first impression of the business. That's why you need to make your bio interesting, informative, and engaging. Your bio can include a simple description of your product, information about the type of content you want to offer, brand hashtags, connections to other social media sites, and more.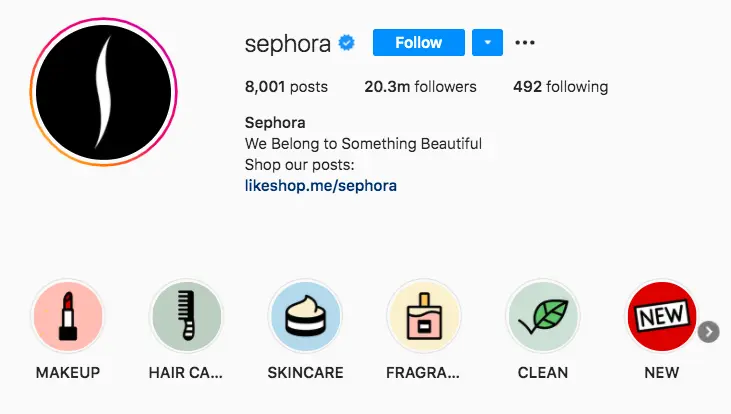 2. Align Visuals with Brand Goals
Simply build your Instagram marketing content around brand awareness, motivational quotes, and fun visuals!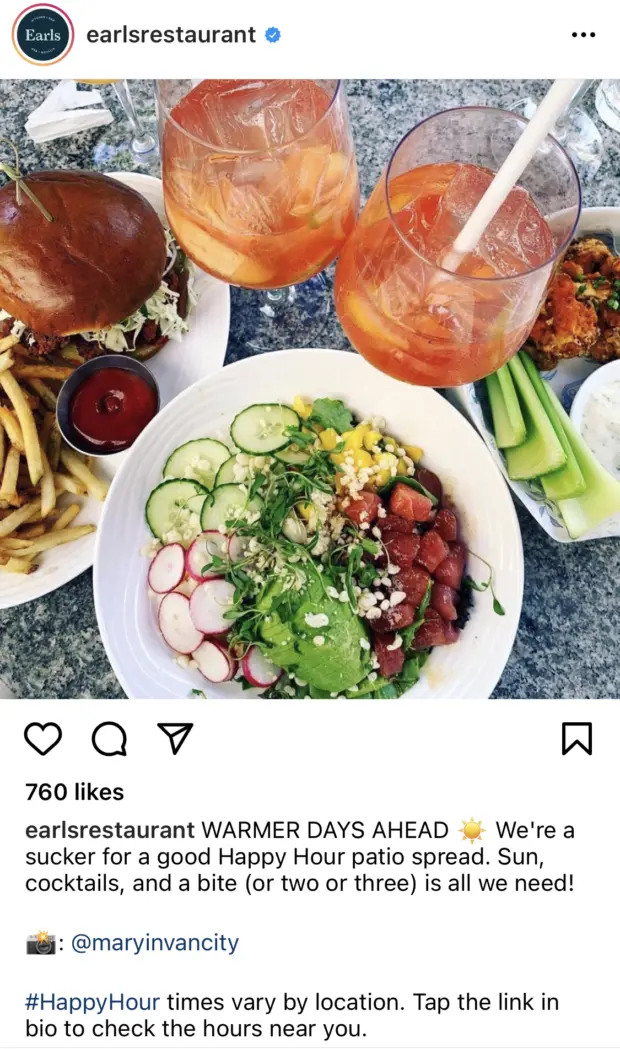 3. Use Witty Interactive Captions to Stand Out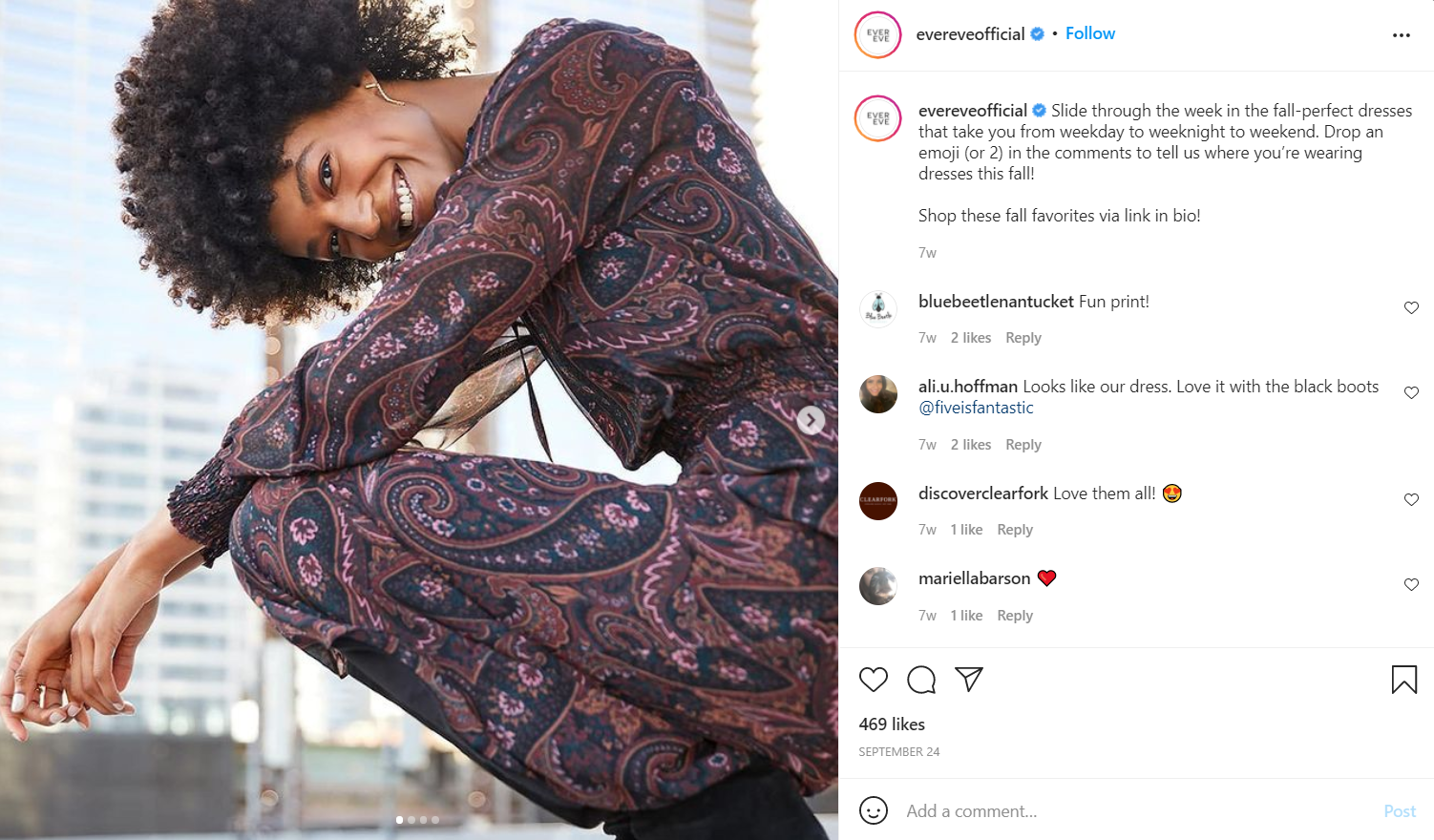 Build Your Instagram Marketing Strategy With Simplified
All businesses and marketers should incorporate Instagram into their marketing strategy.
If you're just getting started with an Instagram marketing strategy, embrace it wholeheartedly by digging through its diverse angles with passion. Offer a lot of content regularly and connect with your audience. You might be amazed at how soon the results start to flow in!
Design Instagram ads, posts, and stories using premium Instagram templates on Simplified. Spark engagement and tell your story with original graphics and layouts—all for free. Moreover, speed up your social media content planning with a faster, easier workflow.
You can start and finish your design, bring your team in for collaboration and approvals, and publish to your feed all in one app!
One Free app to design, collaborate, and scale your work – try Simplified today.