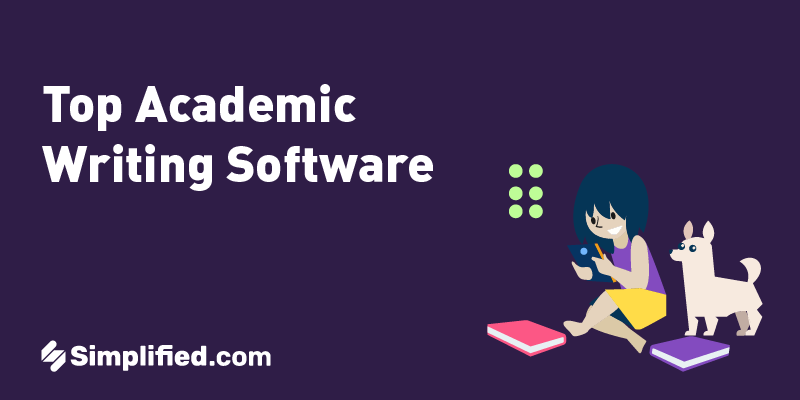 Are you struggling to write that killer research paper or thesis that will propel your academic career? Do you find yourself buried under piles of notes and struggling to keep track of your references? Fret not, for the solution is right at your fingertips!
Thanks to the wonders of modern technology, a plethora of academic writing software tools are available to assist you in your journey toward academic success.
In this blog post, we will take a deep dive into the top ten academic software that will transform your writing game and give you the competitive edge you need to excel. So buckle up, and let's dive in!
Types of Software used for academic writing
There are usually four types of software used for academic writing, which are:
Word Processing Programs – These are programs that help users write, format, and edit text documents.
Grammar Checkers – These are programs that analyze text for errors and provide suggestions to improve grammar, punctuation, and spelling.
Plagiarism Checkers – These are programs that check documents for plagiarism, ensuring the document is original and not copied from other sources.
Writing Assistants – These are programs that use artificial intelligence to generate text and provide suggestions for improvement.
Top 10 Academic Writing Software
1. Simplified (Free Forever)
Looking for a tool that can help you save time and write faster? Look no further than Simplified AI Writer! Our platform offers a user-friendly document editor and advanced AI text generation capabilities to streamline your writing process. Whether you're a student or a professional writer, Simplified AI Writer can help you create high-quality content quickly and easily.
With team collaboration features and the ability to rewrite articles, our platform is the perfect solution for anyone who wants to take their writing to the next level. Plus, Simplified AI Writer supports over 25 languages and includes customizable templates to get you started. Give it a try and see how it can simplify your writing process today!
Key Features:
Free-flow document editor
Team collaboration features
AI copywriting features
Plagiarism-free content generator
Content rewriting feature
70+ AI templates
25+ languages
Different tones of voice
Sentence expander
Article summarizer
"Free Forever" basic plan, with paid plans starting at $21/month
2. Microsoft Word
Everyone knows and uses MS Word, it's the pioneer in word-processing programs and has been around for a long time. Even today, it's a popular choice among students and professionals alike for writing all sorts of academic pieces like essays and dissertations.
One of the best things about it is that its part of the Microsoft Office suite, which means it's widely used and easily accessible. Plus, if you use Office 365 or Microsoft OneDrive, you can collaborate with your classmates or professors in real time.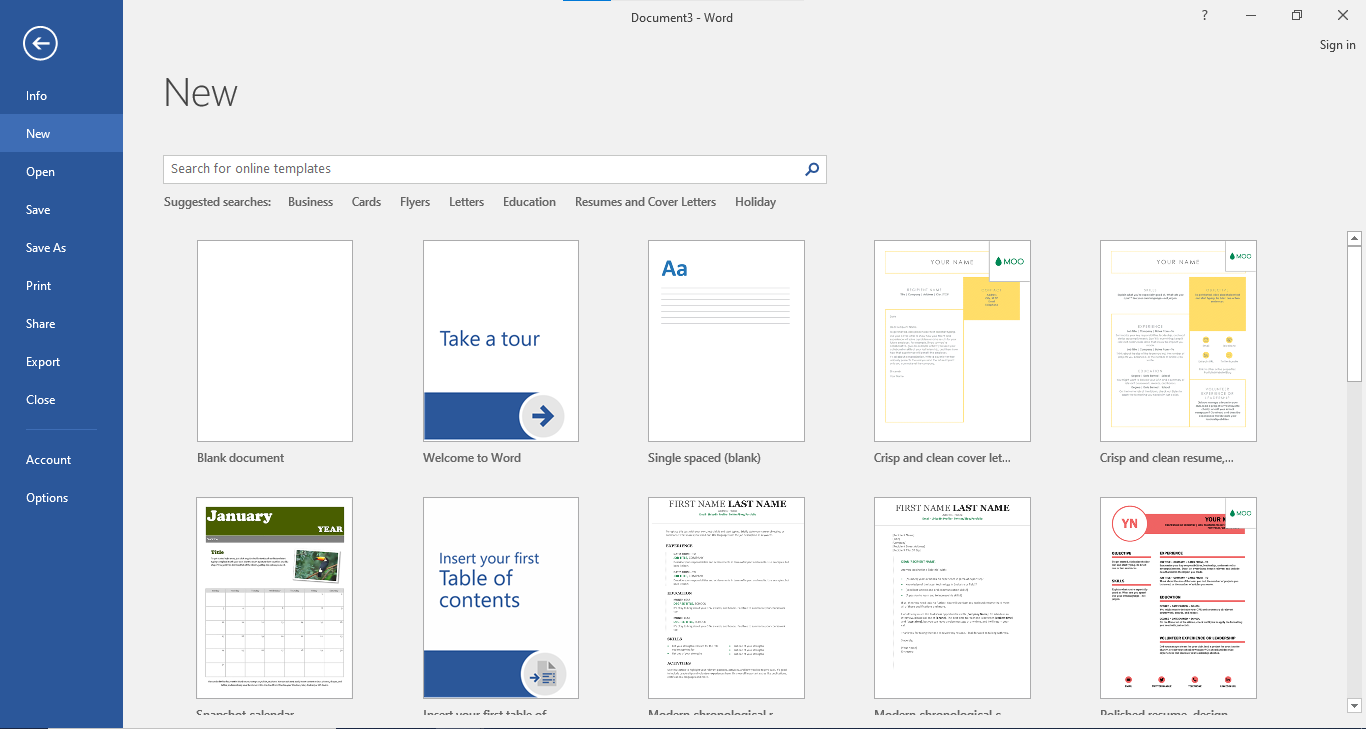 Key Features:
Word-processing program
Integrates with Office 365 and Microsoft OneDrive
Allows for collaboration among students and professors
Supports over 20 languages
Offers access to a vast library of premium templates, fonts, stickers, icons, and graphics
Includes dictation, voice commands, and transcription features
Provides up to 6 TB of cloud storage (1 TB per user)
You can buy MS Word for $159.99
3. Google Docs
Google Docs is a free and convenient online word-processing tool that enables real-time collaboration with your teammates, ensuring you can work on the same document simultaneously.
It also automatically saves your work as you type, making it easy to access your files from anywhere on any device. With its seamless integration with other Google apps, Google Docs is an excellent option for students looking to collaborate on assignments or projects.
Key Features:
Free online word processing tool
Real-time collaboration and syncing
Automatic saving
Mobile and laptop access
Integration with all other Google apps
Google Docs has a Freemium system, paid plans starting at $6/month
4. Grammarly
Another great academic writing software is Grammarly. It's an AI-powered writing assistant that helps you avoid grammar and spelling errors, improves your writing style, and provides suggestions to make your writing more engaging. It is available as a browser extension, desktop app, and mobile app.
Key Features:
Advanced grammar and spelling checker
Suggestions for writing style improvement
Plagiarism checker (in the premium version)
Integration with various platforms including Microsoft Word, Google Docs, and WordPress
Personal dictionary
Goal setting and progress tracking
Free plan available, with premium plans starting at $15/month
5. Citavi
Citavi is a reference management software that helps researchers to organize, manage, and cite sources. It is particularly useful for larger research projects such as a dissertation or thesis.
Key Features:
Reference and source management
PDF annotation and note-taking
Draft outlines and templates for writing
Team collaboration features
Built-in citation styles for easy referencing
Integrates with Microsoft Word and LaTeX
Citavi offers a Free trial for new users
Related: The 5 Best AI Writers Of 2023 – Ranked and Reviewed
6. Nuance Dragon Anywhere
Nuance Dragon Anywhere is a cloud-based voice recognition software that enables users to dictate and edit documents by voice on their mobile devices.
Key Features:
Customizable voice commands and vocabulary
Dictation in noisy environments
Syncs with Dragon desktop for seamless editing and sharing
Auto-text and templates for frequently used text
Sharing and collaboration features
A variety of packages for all levels, starting at $14
7. Turnitin
Turnitin is a plagiarism detection software widely used by educational institutions to ensure academic integrity. It checks for originality and citations in written work.
Key Features:
Online plagiarism detection
Provides detailed similarity reports
Can check against its extensive database of academic papers
Instructor feedback and grading tools
Integrated with various learning management systems (LMS)
Turnitin offers a Free trial for new users
8. EndNote
EndNote is a citation manager that helps researchers organize and cite references. It has an extensive database of citation styles and can automatically format citations and bibliographies in your chosen style.
Key Features:
Reference management and organization
Integration with databases and search engines
Customizable citation styles
Collaboration and sharing features
Bibliographic formatting tools
You can buy the licensed version starting from $99.95
9. Mendeley
Mendeley is a reference manager and academic social network that allows researchers to organize, share, and discover research papers. With Mendeley, users can store and annotate references, access cross-publisher articles, and import desktop documents in real-time.
Key Features:
Bibliography creation and citation management tools
A web importer tool that allows you to quickly save references and metadata from web pages
Social networking capabilities to connect with other researchers and discover new research
PDF annotation and highlighting tools
Mobile apps for iOS and Android
Integration with Microsoft Word and other popular word-processing software
Mendeley has upgrade options as well as limited free storage
Related: 10 Best Email Writing Tools To Help You Write Better & Faster
10. Zotero
Zotero is a free, open-source reference manager designed to help researchers collect, organize, and cite research content. With Zotero, users can collaborate remotely with project members, create web-based bibliographies, and more.
Source: Zotero
Key Features:
A web importer tool that allows you to save references and metadata from web pages with a single click
A powerful search function that allows you to quickly find and organize your references
Integration with popular word processing software like Microsoft Word and LibreOffice
Support for a wide variety of reference types, including books, articles, websites, and more
Automatic syncing across devices and platforms
PDF annotation and highlighting tools
Advanced search capabilities that allow you to search across all of your references at once
Zotero has free storage of 300 MB, with paid plans starting at $20/year
Conclusion
Academic writing software is a valuable tool for students and researchers alike. Each software has its own set of features that can help with different aspects of the writing process, from grammar and spelling checks to reference management and plagiarism detection.
While there are many options available, Simplified AI Writer stands out for its all-in-one solution that combines features like a free-flow document editor, team collaboration, and AI copywriting features in one platform.
We encourage readers to give Simplified AI Writer a try and experience how it can help streamline their writing process. As a leading AI writing tool, Simplified can help students, researchers, and professionals to create high-quality content more efficiently.
Sign up at Simplified today, and start with our "free forever" plan, perfect for beginners and students on a budget!