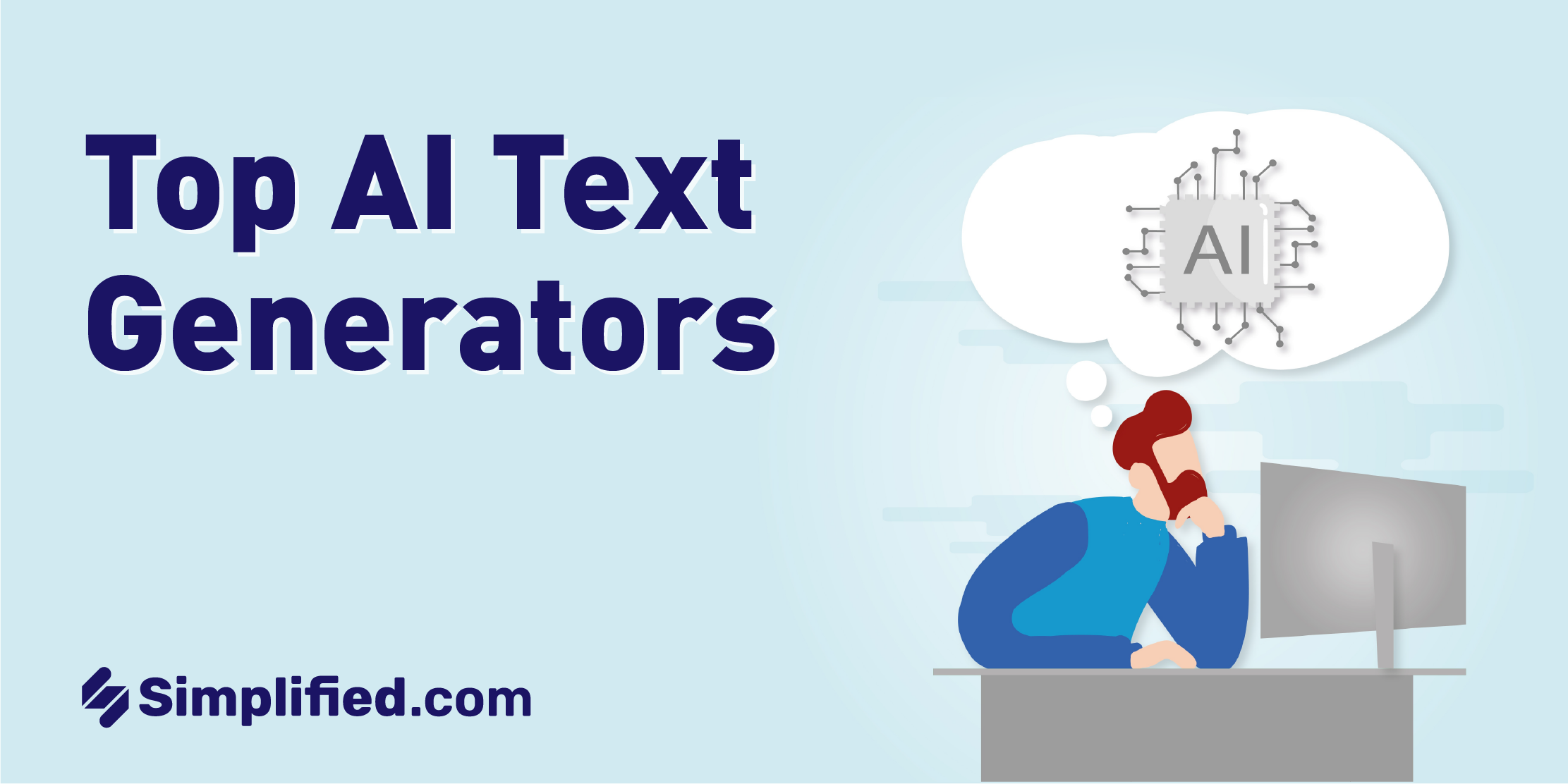 Tired of spending hours crafting stellar and perfect content for your blog, social media, or marketing materials? Or to craft SEO-driven copy that's plagiarism-free, persuasive, and engaging?
AI text generator is what you need to write content that's both engaging and creative!
In this blog post, you'll discover the best AI text generators of 2023 that can help you with all your content needs. No matter if you're an individual seeking an all-inclusive platform or a small business searching for ways to optimize your workflow and boost teamwork, or even a marketing team aiming to enhance collaboration, we have you covered.
Let's get started!
Top 5 Best AI Text Generators Every Business Needs In 2023
With so many AI text generators available in the market today, finding a tool that meets your needs can be overwhelming. So we went in and picked the top AI writer tools for you to give you a comprehensive breakdown based on features, pricing, and capabilities:
1. Simplified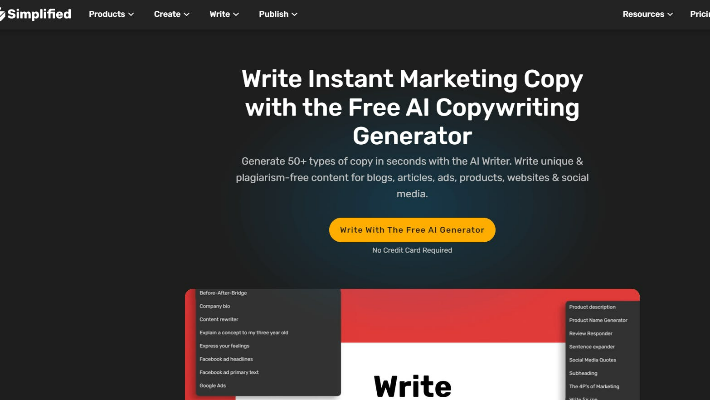 Want to create engaging content for FREE? Simplified can help!
Simplified is the world's first design and AI tool. With thousands of designs and AI text templates available, you'll have everything you need to create stellar content. This AI text generator can help you create different types of short-form content, such as headlines and titles.
You can also create content for videos, ads, quotes, products, blogs, articles, and more with Simplified's free content writing tools. Interestingly, Simplified's affordable pricing plans make it easy to scale your content creation efforts as your business grows.
Key features:
Simple and easy-to-use interface
Generate content in 25+ languages.
Generate content and share directly on WordPress and social media.
Scale content-writing for multiple brands, social media platforms, and accounts
Integrated Grammarly for perfect spelling and grammar
Includes useful features such as a plagiarism checker, thesaurus, and dictionary.
Offers exceptional tools like the long-form writer, article rewriter, sentence expander, AI paragraph generator, and document editor.
Provides a variety of templates (70+AI Templates) and allows the selection of tone of voice and creativity level.
Collaborate in real-time with team members on documents and create team folders.
Millions of free stock photos & videos
Pricing:
The simplified AI text generator has four pricing plans. They include:
Free Forever: Ideal for personal use, with scheduling for 3 channels and UTM tracking.
Small Team: Perfect for small teams and freelancers who are just starting out with digital marketing. This plan is priced at $21 per month.
Business Plan: Designed for growing teams who are expanding their creative, social, and blogging efforts. This plan is available for $35/month.
Growth Plan: Tailored for larger teams and high-growth businesses. You can access this plan for $85/month.
Related: The 5 Best AI Writers Of 2023 – Ranked and Reviewed
2. Jasper AI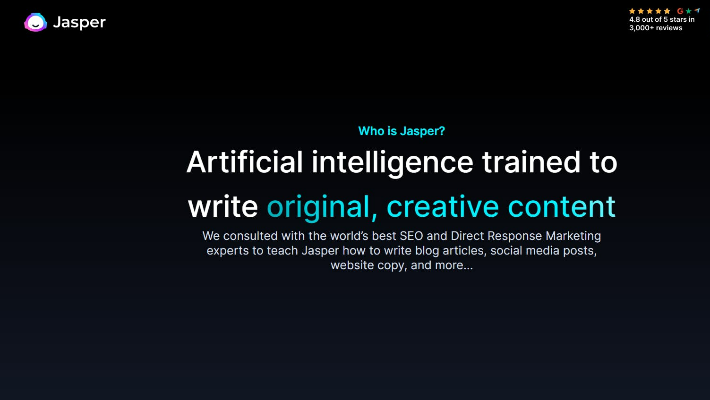 Jasper AI is a powerful text AI generator designed for individuals, businesses, and marketing teams who want to churn out content fast. However, the downside of the software is that using the plagiarism detector will cost extra, whereas most tools offer this feature as part of the subscription.
Jasper AI has a free 5-day trial to test all the application features. It has two plans with varying features, and pricing depends on the chosen word count. You can upgrade your word count as needed.
key features:
Supports 26 languages for writing.
Has a team collaboration feature.
Integrates with Surfer SEO for keyword optimization.
Offers a Chrome extension for convenient use.
Provides good customer support and resources.
Pricing:
Boss Mode: This plan is ideal for individuals, bloggers, and content marketers who want to create engaging content quickly. It is priced at $82 per month.
Business: Enterprise and big teams who need advanced features and tools can choose this to get a custom plan & price.
3. CopyAI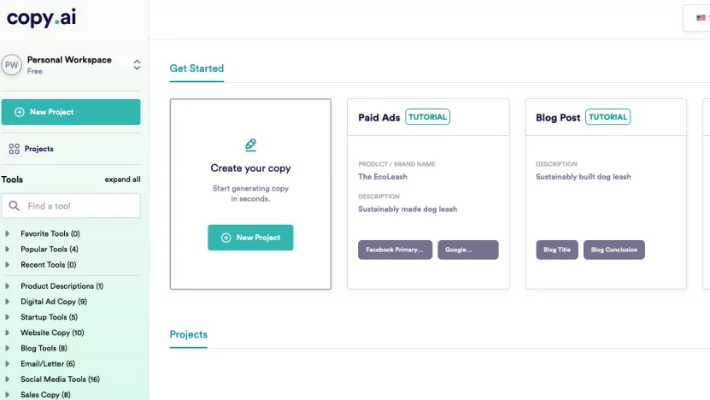 From website content, and social media copy to blog content, and email marketing, with CopyAI you can create both long-form and short-form content in minutes. CopyAI also boasts a user-friendly interface, generates unique content, and offers prompt and efficient customer support services.
Key Features:
Content can be written in 25+ different languages.
CopyAI provides helpful resources to learn more about its features.
Built-in templates to save time and generate content 10x faster.
Priority email support is available on the paid plan.
Grammar and tone checker to ensure error-free and audience-appropriate content.
Pricing:
Free version is available with limited features for one user only.
Pro: Upgrading to Pro unlocks all powerful features for $49/month.
Enterprise: Offers custom pricing and is ideal for big teams & businesses who want a plan tailored to their needs.
4. WriteSonic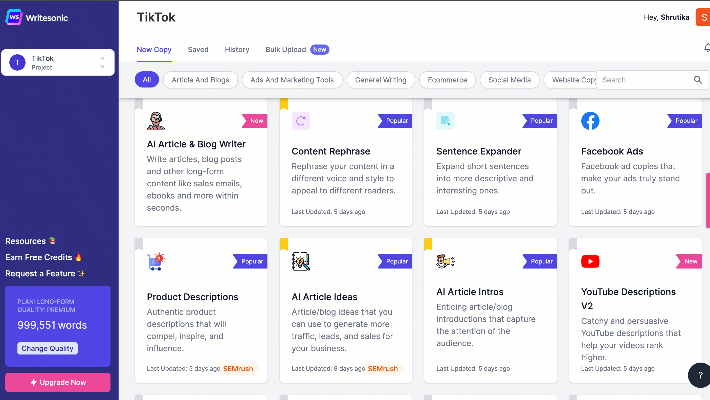 WriteSonic is another excellent AI text generator program that serves as an all-in-one tool that can enhance productivity as well as streamline the workflow and improve team collaboration.
The tool enables, individuals, copywriters, businesses, and more to produce their content faster. With the software, you can generate any form of content you want.
You can use WriteSonic to create SEO blog content, sales copy, reports, and many more. The software also has in-built editing tools such as a paraphraser, expander, and shortener that you can use to refine your content to make it perfect.
Key features
Rapidly produce articles and blogs of 1500+ words on any topic
Optimize content for search engines with Surfer SEO integration.
Create high-performing Facebook and Google ads.
Summarize content with a single click using the Summarize tool.
Generate catchy AI article ideas to engage the audience.
Offers a 7-day free trial for users to try out the platform before committing to a paid plan.
Pricing
WriteSonic offers four pricing plans: Free, Long-Form & Custom
Free: Free Plan with limited features.
Long Form: Priced at $19/month.
Custom Plan: Offers customized pricing and credits according to the user's needs.
Related: The 3 Best Speed Writers: We Tried Them, And This One Is The Best!
5. Copysmith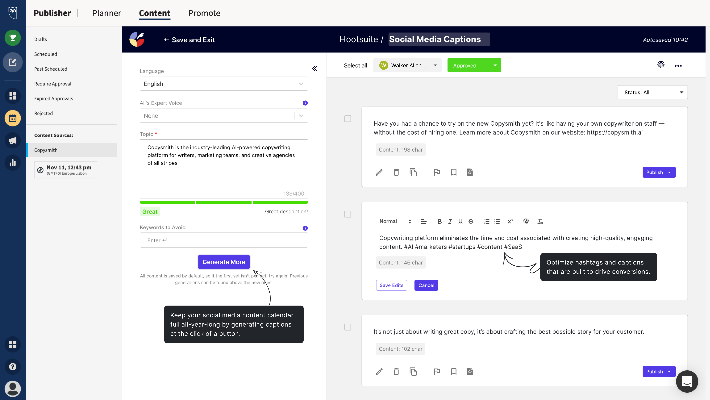 Unlike the other top AI-content generator on our list, Copysmith places a significant emphasis on creating marketing and sales copy that can effectively drive conversions. With the application, individuals, businesses, and especially eCommerce platforms can produce top-notch marketing material quickly and easily.
Key Features:
Supports 100+ languages for content creation.
Unlimited AI-generated content
In-file translation for instant translation of existing content.
Bulk content creation for thousands of copies in a minute.
Integrates with popular tools and platforms such as Frase, Google Ads, WooCommerce, and Microsoft Word.
Seamless integration with Google Docs to eliminate copy-pasting.
Pricing:
Starter Plan: Designed for Individuals and beginners is Priced at $19.00 per month or $190 per year.
Professional Plan: This plan is created for large teams and organizations and cost $59 per month and $590/year.
Start Up: Pricing for 20 members starting at $299/month
Key Takeaway
AI text generators offer various benefits for individuals, small businesses, and marketing teams. They can help you create personalized and high-quality content quickly and efficiently. In this blog post, we have discussed the best AI text generators of 2023 that can assist you in various content creation tasks.
However, if you're looking for an all-in-one platform to write, design, edit videos, and publish content for your socials- then Simplified is the perfect fit for you. With 25+ languages, over 70 AI templates and the ability to choose your tone of voice- writing long-form and short-form content will never be challenging again. Try the Simplified AI Text Generator !
Content Writing Made Easy-Breezy & Free With Simplified!