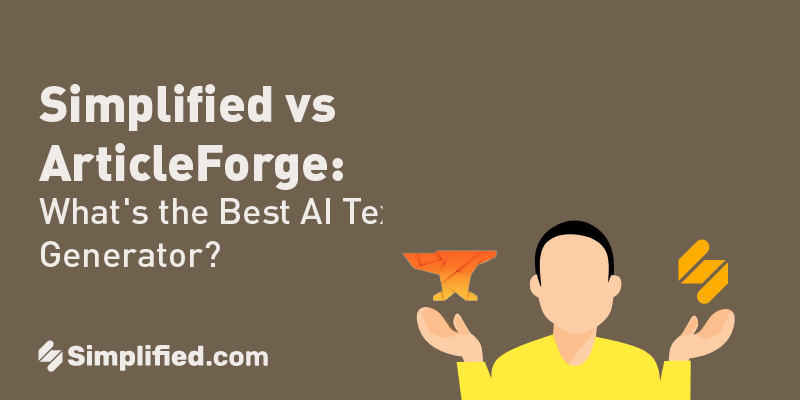 Have you ever experienced writer's block before a big deadline? Have you paced around the room, trying to find inspiration and creativity for your brand? It doesn't have to be this frustrating! That's why AI content generators (like Simplified and ArticleForge) are now becoming accessible to everyone.
When it comes to written content, we can now use AI writers to ideate, create, and get inspired. From Insta captions and Google ad headlines to perfect blogs – writing is easier than ever. And especially for copywriting, there are tons of AI copywriting generators available to use now, but which one's the best? Let's find out.
In this blog, you will follow a comparison between two AI copywriters – Simplified and ArticleForge.
Simplified vs. ArticleForge
| | | |
| --- | --- | --- |
| Basis | Simplified | ArticleForge |
| AI Technology: GPT 3 | ✅ | ✅ |
| Free Trial | ✅Free Forever | ✅ 5-day free trial |
| AI Templates | ✅ 70+ AI Templates | ❌ |
| Grammarly and plagiarism-checker integration | ✅ | ❌ |
| Built for teams: members and team sharing | ✅ | ❌ |
| In-app Customer Support | ✅ | ✅ |
| Real-time Collaboration: assign roles + share your workspace + comment while designing | ✅ | ❌ |
| Organizing: Folders | ✅ | ❌ |
| Unlimited workspaces | ✅ | ❌ |
| Premium Community | ✅ | ✅ |
| Integrations | ✅Grammarly, Google Drive, Google Sheets, Shopify, Chrome Extension, LinkedIn, Storyblocks,Pixabay, Unsplash, Brandfetch, Pexels, Zapier | ✅SEO Autopilot, WordAI, CyberSEO, RankerX, GSA Search Engine Ranker, SEnuke TNG |
| Mobile Friendly | ✅ | ❌ |
| Supports multiple languages | ✅Supports over 25+ languages. | ✅Only has seven languages. |
| Content Planner + Scheduling Posts (Publish to Facebook, Instagram, LinkedIn) | ✅ | ❌ |
| Generate images from text | ✅ | ❌ |
We'll closely compare Simplified to ArticleForge and dive into the features each one offers. Hopefully, at the end of this blog, you'll know what suits your needs best.
Usability: Which AI platform offers the best UI/UX?
The interface of both AI content generators is clean, accessible, and easy to navigate.
ArticleForge has a white & orange theme with a sidebar menu of the AI writer's different features. This menu could be confusing for some users as you might have to look around the categories and spend some time searching for a project you need.
On the other hand, Simplified has a refined black and yellow theme, whose interface is clean, making important buttons hard to skip. You can also easily switch from dark to light mode if you prefer having a white background.
On Simplified's homepage, you can choose to start from scratch with different options (create a new document, templates, or the AI wizard) or edit an old document that you have.
Related: Choosing the Best AI Copywriting App: Simplified (Free Forever) vs. Jasper AI ($984 paid annually)
Organization: How well can you manage your workflow?
Simplified and ArticleForge allow users to create various projects and save the generated copy in the respective folders. Another feature that Simplified offers is the ability to upload your own copy in a folder and use the tool to work with what you already have.
After Simplified's AI software has created the copy that you need, you can save it and move it into a folder. At the top of the page, you have five options: Assets (all of your media files), Brand Kits, Folders, Brand Templates (templates that you've saved and your own customized ones), and Components.
You can also add your own media files without a problem right below and move them into different folders. It's easily accessible and organized!
However, with Article Forge, all of your projects and pieces are gathered in 'My Articles .' You have to practically search for them in the folder, which is a key difference between the two AI content generators.
In Simplified's AI copywriter, all your work will be neatly organized regardless of the type of content – be it Instagram quotes, blog outlines, or even a Facebook ad. When you use Simplified, you'll find it easier and 'simple' to keep everything sorted.
Pricing: Which is more affordable?
Although ArticleForge offers a 5-day free trial, you'll have to add either your credit card or your PayPal. So after five days, you'll have to pay to use the tool.
In contrast, Simplified has a Free Forever plan perfect for those starting or on a strict budget. You can use Simplified's AI writer and do almost everything you need! However, if you want to use Simplified to its full potential, you could pick from their other cost-effective plans.
Let's take a closer look at how pricing for the two AI copywriting platforms compares side-by-side.
Simplified vs. Article Forge Pricing
| | | | |
| --- | --- | --- | --- |
| Packages | Simplified's Pricing | Article ForgePricing | What's the difference? |
| Free Forever Plan | $0 Free Of Cost | N/A | Simplified's Free-forever plan is for everyone! |
| Small Teams | $30/monthYearly: $21/Month | $57/MonthYearly: $27/Month | Both Simplified and Article Forge's plans offer a concession if you buy the yearly plan. However, Article Forge has only two plans, and it's apparently way more expensive as compared to Simplified's plans for small teams and businesses. |
| Businesses | $50/Month Yearly: $30/Month | Contact their sales for the price. | Simplified caters to each person and has plans for everyone and for every business stage. |
| Growth | $125/month Yearly: $75/month | N/A | Simplified's Growth plan is perfect for businesses with already high growth and continues improving their social media marketing. |
| Enterprise | Talk to us about the best plan for your enterprise! | N/A | Simplified provides the chance to customize your plan on the basis of your needs. Get connected and create your own miracle. |
Looking at the table above, we can easily see that the answer is pretty 'Simplified' when it comes to affordability.
Collaboration: Is it good for teams?
ArticleForge has no collaborative features, making Simplified a better choice in case the work has to be distributed amongst teams. The AI text generator was designed with teams in mind, and there is so much to choose from.
For example, when using Simplified's AI copywriting tool, you can add members to certain documents and working spaces. If you're working on a blog title with a colleague of yours, you can invite them to the project so they can help and work with you.
Team members can also give you feedback by using Simplified's real-time commenting and editing feature. Plus, you can set reminders to invite people who haven't accepted yet with just one click of a button. This makes project management easier than ever.
Related: The 5 Best AI Writers Of 2023 – Ranked and Reviewed
AI Copywriting Templates
The concept of AI copywriting templates is to have different types of generated copy using AI like Google Ad headlines, blog headlines, or email subjects. While there are many similarities between Simplified and ArticleForge, such as the generation of copy, there are many notable differences.
Tone of voice: Changing the tone of your copy is important. In Simplified, you can choose the tone of voice from over 10 options so that you can express yourself freely.
You can use any tone you have on your mind ranging from conversational to competitive or even empathetic. This feature isn't supported in ArticleForge, which generates your copy based on the keywords that you've entered.
Supports other languages: With more languages, you can reach a wider audience! ArticleForge supports other languages but only seven, while Simplified has over 25+ languages available.
Saves time: Unlike ArticleForge, on Simplified, you don't have to explain your company. Just type in your company's URL, and Simplified's AI assistant will gather all the necessary data while you sit back and relax in your chair.
Templates: Simplified offers 70+ unique AI templates, which is a feature that Article Forge lacks. You can use it for Google ad descriptions, YouTube video titles, LinkedIn ads, and more.
Integrations: When writing copies on Simplified, you don't have to worry about making spelling mistakes with the Grammarly integration. Moreso, you can check for plagiarism and ensure your copy is 100% original.
The Verdict: Simplified vs. ArticleForge
All in all, AI content generators have decent pros and cons. While ArticleForge is solely for writing and creating longer pieces, Simplified offers a lot more.
With Simplified, you can do more than write. You have thousands of ready-made templates, can create unlimited Brand Kits, edit videos, upload your own fonts, generate images from text, collaborate with multiple clients and team members, and schedule posts months in advance.
Copywriting and social media management are made easier with Simplified.
We hope this blog will help you decide and choose the best software that fits your needs.
Write instant marketing copy with the free AI copywriting generator and elevate your brand's marketing copy with Simplified. Sign up today!