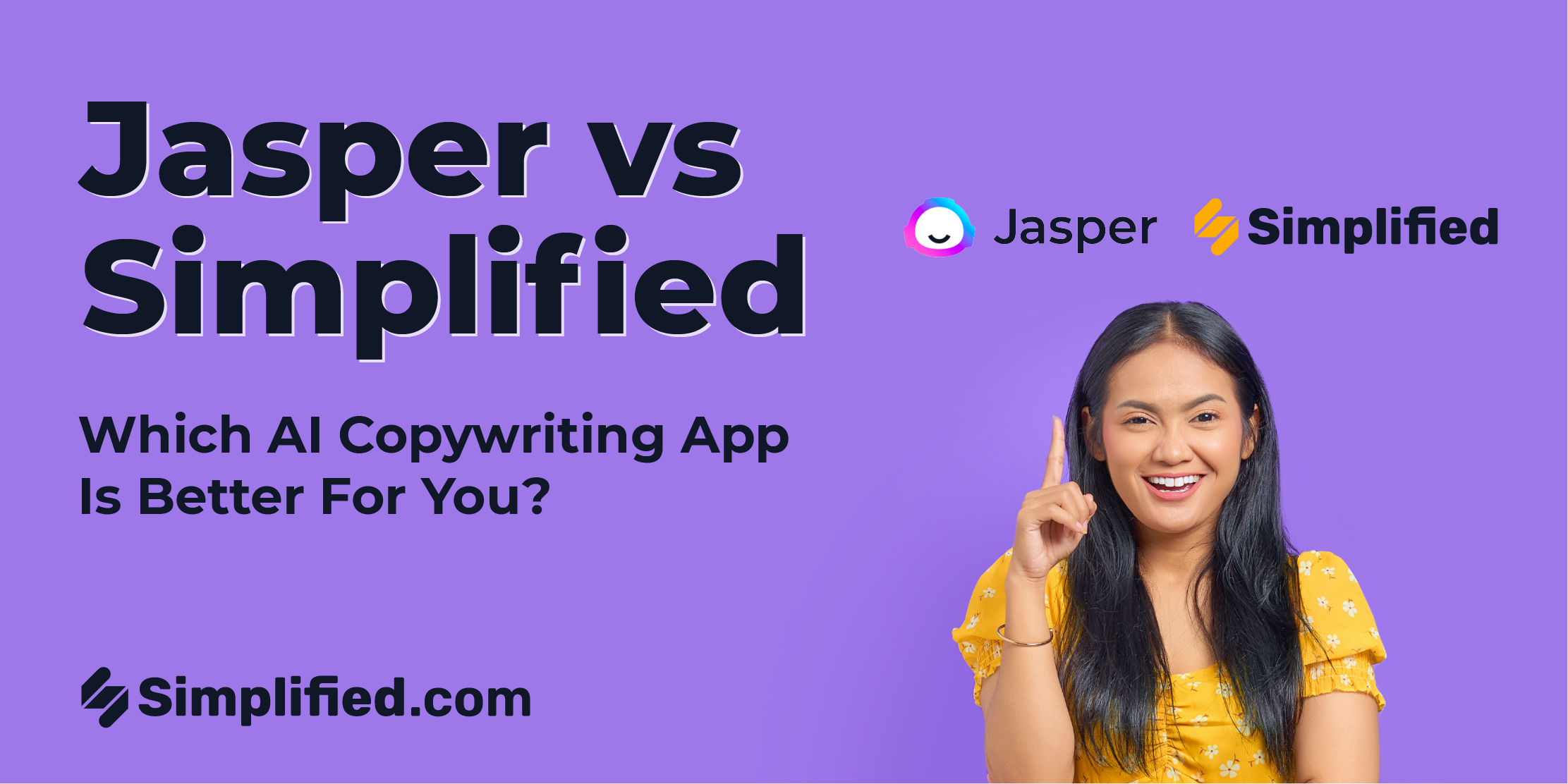 AI copywriting tools are all the rage right now… and for good reason! Why? Simply put, they reduce human time and effort while generating data-driven content for your brand. For businesses, whether big or small, AI copywriting tools streamline management resources, thereby cutting costs. In this blog, we'll walk you between the choices of Simplified vs Jasper AI and which AI copywriting platform best suits you and your brand!
Let's begin!
Choosing the Best AI Copywriting Platform: Simplified.com vs. Jasper AI
Simplified.co vs. Jasper: Features beyond AI Copywriting
| | | |
| --- | --- | --- |
| Basis | Simplified | Jasper AI |
| AI Technology: GPT 3 | ✅ | ✅ |
| Free Trial | ✅Free Forever | ✅ |
| Templates | ✅ | ✅ |
| Built for teams | ✅ | ❌ |
| Customer Support | ✅ | ✅ |
| Commenting | ✅ | ❌ |
| Organizing: Folders | ✅ | ❌ |
| Premium Community | ✅ | ✅ |
| Integrations | ✅Shopify, Google Sheets, Google Drive, Unsplash, Pixabay, Pexels, Brandfetch, Storyblock | ✅SurferSEO |
| Mobile Friendly | ✅ | ❌ |
| Multilingual | ✅ | ✅ |
| AI Art Generator | ✅ Free | ✅ |
| Videos | ✅ | ❌ |
| Unlimited brand kits | ✅ | ❌ |
| One click animations & Video editing | ✅ | ❌ |
| Design Templates | ✅ | ❌ |
| In-built Languages | ✅ | ✅ |
| Social Media Scheduler | ✅ | ❌ |
| Over 70 AI Templates | ✅ | ❌ |
There is little doubt that most businesses will benefit from using an AI copywriting tool. However, if you're serious about using the best AI writer for your business, then let's take a closer look at the features offered by Simplified vs. Jasper.
Usability: Which AI Copywriting Generator Offers the Best UI/UX?
Both interfaces are streamlined and easy to use, which makes them ideal for multitasking users. Jasper offers a dark interface with holographic text and white buttons for navigation. Nonetheless, for new users, the text size is relatively small and can make it fairly tedious to look for the relevant buttons.
In comparison, Simplified's design is sleeker to Jasper AI. Positively, its black and yellow theme is easy on the eyes and the app doesn't have too many buttons to push around.
Besides this, you'll find two more features that give Simplified's UX a foothold over its AI copywriting competitors-
Firstly, Simplified is organized with defined categories for specific AI templates. For example, categories like Social Media, Blogging, eCommerce etc., makes finding and navigating templates within the platform as easy as pie.
Secondly, you have the ability to switch between dark and light modes based on your preference. Our goal is to bring more fluidity to your workflows, so that you can focus on creating new content.
Related: Copy AI vs Jasper AI: Which Is Better For You?
Organization: How Well Can you Manage your Workflow?
One of the best things about Simplified is its ability to learn from your previous content and writing patterns. For instance, if an individual writer writes in a certain style, the AI Assistant will learn from it and begin to emulate their writing style over time. Therefore, this allows for a more personalized experience as well as consistency throughout all of your documents.
Once you have generated the copy for your project, it is easy to save it as a document and "heart" it. This helps you access your content and reuse it for other projects in the future. Further, to make it easier for users to navigate through the site, Simplified has created two tabs on top of their main page. Namely, "Documents" and "Favorites".
Similarly, Jasper displays projects on your dashboard which can be accessed when you log in. However, with Jasper, you can store your documents under different names according to your project, but there aren't any separate tabs for the copies you love the most.
Simplified is an AI-based copywriting platform that generates relevant content for you in seconds. You don't have to worry about missing opportunities because your Twitter bio isn't updated or because there's not a hashtag in your Instagram post. With Simplified, you'll always be able to produce relevant content on time effortlessly.
Pricing: Which is More Affordable?
Free Forever Plan
Simplified's Free Forever Plan is for everyone!
Small Teams
Starting at $40 per month
Simplified.co vs. Jasper AI Pricing
Packages

Simplified's Pricing

Jasper AI Pricing

What's the difference?

Free Forever Plan

$0 Free Of Cost

Free trial for 5 days

Simplified's Free-forever plan is for everyone!

Small Teams

$10/Month


Yearly: $8/Month

$40/month $480 Billed Yearly

Simplified's plan for small teams offers a concession if you buy the yearly plan. Similarly, Jasper also allows for concessions in its yearly plan. However, you'll find that Simplified is much more cost-effective.

Businesses

$30/Month
Yearly

:$24/Month

$82/month $984 Billed Yearly

Simplified caters to each person and has plans for everyone and for every business stage. Meanwhile, Jasper has a 'Boss Mode' for bloggers & content marketers.

Enterprise

Talk to us for the best plan for your enterprise!

O

ffers custom words/user packages and billing options

.

For larger businesses, Jasper offers custom words/user packages. Simplified too offers a custom plan designed for your company's needs. Get in touch today!
Collaboration: Is it Good for Teams?
Simplified is unlike any other AI copywriting tool on the market, because of its unique collaboration capabilities. Moreover, it allows multiple people to write and edit the same copy simultaneously. This offers a number of benefits including accuracy, speed, and increased buy-in from clients or supervisors. Further, Simplified's unique feedback system allows your team to collaborate in real-time.
As a member of the workspace, you can invite other members into your document and they will have access to all of the progress made so far, allowing them to give you feedback on what works and what doesn't. So, Simplified is not only a team management software but also a project management tool that helps you create tasks, assign them to team members and share files among the group.
Above all, with the built-in reminder function, if your teammate hasn't accepted your invitation to collaborate yet, you can send him/her a friendly reminder right away!
AI Copywriting Templates & More!
In an effort to help marketers and copywriters with their daily tasks, Simplified has created a set of AI templates that can be used as inspiration for any type of content you wish to create.
Both AI copywriting platforms, Simplified.co and Jasper AI, are great tools to create high-quality content effortlessly. However, there are a few important distinctions:
Changing tones: On Simplified, you can use literally use any tone you want! From professional and conversational to friendly and – you're in control of how you choose to express yourself and your brand through compelling copy!
Intuitiveness: Unlike Jasper, Simplified streamlines your setup process based on needs and productivity. You can select free plans as an individual or a team and get started with generating great content in seconds.
Simplified's Unique Features Not Available on Jasper:
Amazon product listing,
Stunning design templates
Unlimited brand kits
Review responder to respond to customer reviews,
Free AI art & meme generator
Quote generator for social media,
One click animations & video editing
Instagram copy based on feelings, and
Sentence expander when you hit the infamous writer's block.
Evidently, Jasper is most suitable for e-commerce stores as advertised on their website. Also, it's ideal for agencies looking to enhance their marketing copy. However, Simplified is an all-in-one platform! The platform is a great tool for content marketers who need an app for designing, scheduling posts, AI-powered copywriting and art generation.