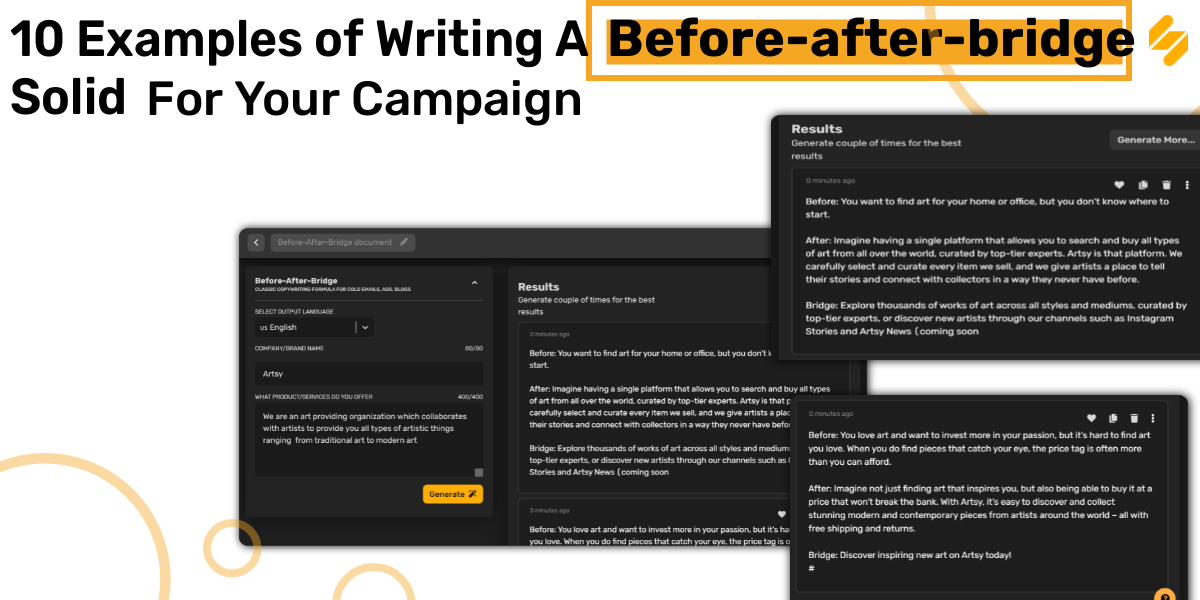 Do you know how to write copy that converts? Before-after-Bridge copywriting is a great way to create effective sales, landing page, blog content, and increase CTR of emails. The Before-After-Bridge marketing is all about telling a real-world story with a fairytale ending. And it works!
BAB copywriting :
Describes a problem a customer is experiencing
Imagines a solution, and
Solves that problem in a positive way.
Learn how Simplified can help you use this copywriting technique to help you increase email CTR and increase conversions on all of your marketing campaigns.
How Can Before-After-Bridge Copywriting Technique Help Marketers?
BAB builds trust with your audience: Once you show your customer you care about their issues, you create a bridge to the solution. Before-After-Bridge builds an emotional connection between your brand and the customer.
Connect to the (AI copywriting) power source: No other marketing model works as well as Before-After-Bridge. Increase conversions with emotive keywords that make your customers feel heard.
Before-After-Bridge Copywriting Formula
Whether you want to increase CTR of emails or write an appealing headline, the BAB formula can help you achieve it. The formula has three parts to it. When followed correctly, it makes it easy to write great copy that compels your audience to take action.
What is Before?
You begin by painting a picture of the reader's world. The key aspect of the technique is for the readers to recognize themselves in the image and realize that the problem you're describing is in fact a part of their reality.
Example: For over a decade, design and copywriting teams have struggled to collaborate effectively. Keeping your content organized and on-brand is hard.
What is After?
Next, show the target audience how the world would be different with your solution in place. Focusing on a benefit that the reader cares about, such as gaining customers or generating income, is the key to this section of the marketing copy.
Example: Imagine a platform that allows you to run your marketing team like a business. With one dashboard, you can see at a glance which campaigns are working and which ones aren't. You'll be able to easily measure your email CTR performance and collaborate with your team on the fly.
What is Bridge?
It's time to provide your solution as a bridge between the two worlds now that you've made the reader aware of the problem. And further, show them how much better their life would be if the problem were fixed.
Example: Simplified is a FREE design, copywriting and collaboration platform specifically built for marketing teams. You can manage everything in one place - from social media to landing pages, from blog posts to email campaigns! With our real-time collaboration features, you can easily share ideas with your teammates and measure the impact of your work (and get promoted!).
How to Use Simplified's (Free) Before-after-Bridge AI Copywriting Tool
Simplified's AI Assistant enables (free) BAB copywriting and guarantees that you stand out and stand above competitors.
Generate new Before-After-Bridge copy AI in seconds. Once AI gets your unique copy ready to go, it's broken down into Before, Bridge, and After sections. Cut your work time in half with an easy, pre-formatted copy. It's that simple!
Here's what the Simplified BAB copy AI tool generates for different brand niches.
Related: How Simplified's Copy Writing AI Can Help You Create Formidable Content
Example 1: Using Before-After-Bridge AI Copywriting For A Soaps and Scents Company
Input: We at Margo manufacture herbal soap and scents. We believe in sustainability and affordability for all!
Before-after-Bridge copywriter in action!
Example 2: Using Before-After-Bridge AI Copywriting For A Thrift Store
Input: Thrift store that promotes sustainability. Crimson Closet believes in slow and up-cycled fashion.
Example 3: Using Before-After-Bridge AI Copywriting For A Car Service Company
Input: Using Before-After-Bridge AI Copywriting For A Car Service Company
Generating a BAB marketing copy was never so easy!
Example 4: Using Before-After-Bridge AI Copywriting For A Book Store
Input: Our store Bookertape offers more than 50,000 novels, guides, encyclopedias.
Example 5: Using Before-After-Bridge AI Copywriting For A Restaurant
Input: We prepare authentic Italian cuisine and serve the best variety of pizzas at Cafe & Co.
Example 6: Using Before-After-Bridge AI Copywriting For An Electronic Store
Input: TechSpot is an all-inclusive electronic store of top brands.
With Simplified, get original copy that stands out!
Example 7: Using Before-After-Bridge AI Copywriting For A Pet Store
Input: At Pluto's we sell dog food, toys, beds and other accessories. One-spot destination for all your dog needs!
Use Before-after-Bridge copy AI tool like never before!
Example 8: Using Before-After-Bridge AI Copywriting For For A Gym
Input: Gain: An only-women gym so that you feel empowered to be you.
Example 9: Using Before-After-Bridge AI Copywriting For An SEO & Copy Writing Team
Input: Copy Editor offers SEO specific services. From high converting email campaigns to appealing sales copy, we have it all!
Sit back and watch Simplified's copy writing tool do its magic!