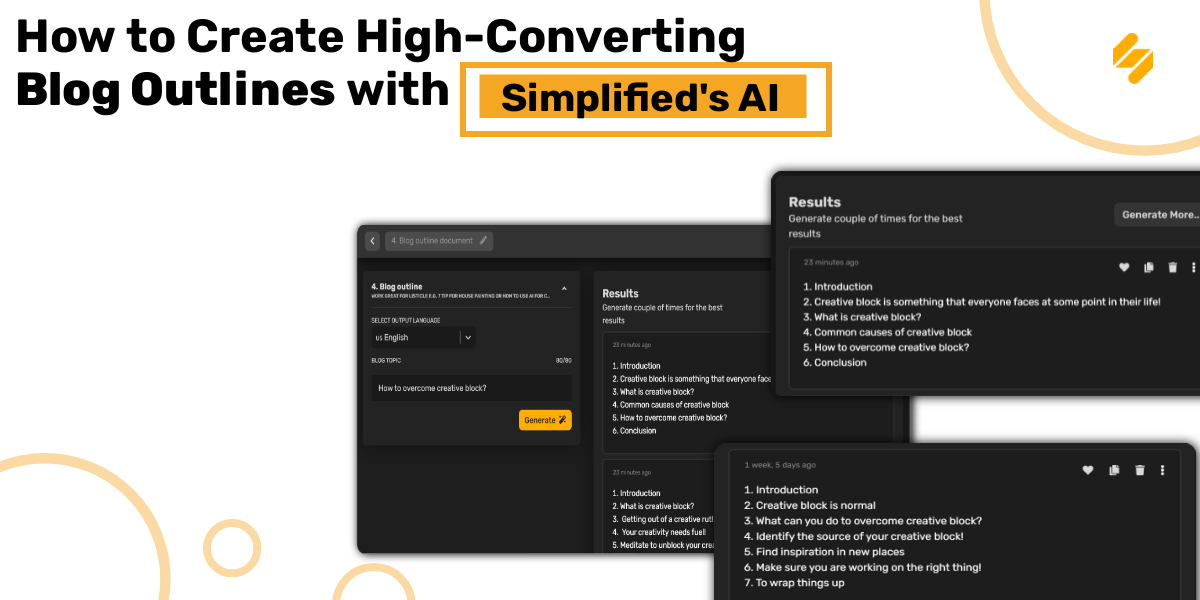 Do you have unfinished blogs that you deserted when the ideas ran dry? Do you struggle with structuring your blog pieces? There are many reasons why your blogs could be missing their mark with your targeted audience. Whether you've recently started a blog or are looking to improve your writing game, having a great blog post outline to jump-start your writing process, can make all the difference. Let's explore the ultimate guide to outlining a blog post together (following along with a free AI blog outline tool).
Often, people struggle with organizing their thoughts and figuring out which sections are important and which aren't so that they can meet their word count goals without over-fluffing certain sections of their blog. Your blog needs to be structured so that your readers can follow your train of thought from beginning to end with a clear message. An effective way to establish a good flow of ideas is to construct a skeleton of your blog – a blog outline. In this guide, we'll detail a simple formula for you to create high-converting blog outlines for your brand using Simplified AI Blog Outline Generator.
What is a Blog Outline?
For some bloggers, outlining is like breathing. For others, it's an afterthought. No matter what camp you fall into, if blogging is something that interests you—even remotely—it's helpful to learn the basics of blog writing outlines before jumping in headfirst. Outlining is the process of planning something which includes writing down notes or recording them in some way prior to writing the final piece of work. With this in mind, we are going to show you how outlining can help you with your blogging process.
Related: Create Blog Outlines Using Simplified's AI Content Generator
Top 3 Reasons Why You Will Benefit From Using A Blog Post Outline
If you're not convinced about using a blog post outline, or you're not yet sure if it's something for you, here are the benefits we've noticed while writing them. The infamous writer's block has haunted even the best of us. Writing on a deadline is even harder when you don't know the direction your blog post will take. To hook your readers with catchy headlines and clear information formatted in ascending importance, a blog outline is an important tool in your toolbox. There can be no building without a blueprint and likewise, a blog post will greatly benefit from a roadmap.
1. Save Time
We at Simplified want to help you structure content and organize ideas. Why should writing be any different? in fact, a blog outline serves as a roadmap that saves time because it allows you to structure your thoughts beforehand. Moreover, saving time means you write in a more eloquent, efficient, and quick manner. With a blog outline to refer to, you do not have to keep sifting through the same information but instead, rely on already established headings. Furthermore, using a blog outline generator like Simplified's AI tool will help you reach your writing goals that much quicker!
2. Format Information
Do you tend to go off track when writing? A blog outline helps you stay on path to detail the focal point of your blog without the messiness of unrelated examples or headings. Writing is not always easy. It's hard to get started, it's hard to find the right words and when you do find them they don't sound quite right; there are so many things that can go wrong with your writing. You can avoid one of the major pitfalls of poor writing by fleshing out a comprehensive blog outline, rather than just jotting down some random bullet points.
3. What to Include/Exclude
When you're researching information for your blog post, it is almost impossible to include everything you find interesting. Similarly, you might have to let go of potentially important information because of time or word constraints. In this context, constructing a blog outline helps you by streamlining your writing process to determine what goes in and what stays out. While brainstorming, you'll realize what information is necessary to your blog and what doesn't belong or lacks substance.
Related: How Simplified's Copy Writing AI Can Help You Create Formidable Content
How to Use Simplified's (Free) Blog Outline AI Copywriting Tool?
The first step of outlining is the brainstorming phase. This is where you make your list of topics that you want to cover on your blog. It's just a simple list with ideas, so don't worry about making it perfect. Blogging is hard work! However, Simplified's AI will simplify your blog writing for you.
And there you have it! Simplified's AI will generate clear headings for your blog outline to provide structure and organization to your writing!
Example Topic 1: 10 Habits of Highly Effective Content Writers
Example Topic 2: 3 Tips for Making Better Decisions
Example Topic 3: Tips To Combat Fatigue
Example Topic 4: Helpful Rules to Keep Distractions Away and Increase Productivity
Example Topic 5: 10 Ways To Protect The Environment
Check out the video below to get a clear understanding of how Simplified's Blog Outline tool works. You don't need to be a pro to use these tools. It's easy and will help you save time. Learn how to use all our copy AI & design features on Simplified Academy.
Related: Choosing the Best AI Copywriting App: Simplified vs. Jarvis AI
3 Tips When Using a Blog Outline Generator
1. Work on a Working Title
The title of your blog post will determine whether your audience will click on the link or scroll past your brand. We call it a "working title" because you can change this title up until the very second your blog is scheduled to be published. The stronger your working title is, the more success you will have with Simplified's blog outline generator!
2. Research Focus Keywords
While Simplified's AI assistant will do all the heavy lifting for you, it is important for you to identify focus keywords that will make your blog more searchable on the internet. For example, if you want to write a blog post on writing successful blogs, one of the following keywords should be in your blog title – blog writing format, SEO blog writing, blog writing apps, and so on.
3. Identify the Word Count
When it comes to writing, one size doesn't fit all. For this reason, you will have to tailor your research and the blog post outline generated by Simplified's AI according to how much information the word count allows. For instance, an 800-word blog post will not have the same number of headings and sub-headings as a 1200 word blog post.
Simplified AI Blog Outline Generator is the answer to all your blogging woes!
One Free app to design, collaborate, and scale your work – try Simplified today.