The colorful spring festival of Easter is not all about fun and games. Easter is a prime opportunity for businesses to increase brand awareness and launch marketing campaigns. With some creative Easter marketing ideas, companies can promote their campaigns and connect with customers in a refreshing way.
Whether you want to launch a new product or increase sales, this is an excellent opportunity to do both! With the internet and social media platforms, Easter advertising is also easier than ever before. Read more to learn about the best Easter marketing ideas and expand your business.
9 Creative Easter Marketing Ideas in 2022!
Every brand is unique with a specific target audience. You will have to employ multiple platforms to reach out to them. Identify which platforms work best for you- YouTube, Facebook, LinkedIn, or Pinterest? Understand your audience to know which platforms you can use to try these amazing Easter campaign ideas.
1. Launch limited edition Easter bundles
Nothing is more attractive than an exclusive deal for your customers. Tempt your audience to shop at your store by offering unique Easter deals that they cannot find anywhere else. Setting a timer around Easter dates will create more urgency for customers to hit the purchase button.
Some brands may offer a discounted rate on items, but you can set your own terms and conditions. It could be the same price but with some customizations or even a surprise gift. You may also offer a new product in the bundle and let them know why they must have it!
2. Host a special festive giveaway
Hosting a giveaway is among the best Easter marketing ideas for any business. This is a sure-shot way to engage with customers and increase brand awareness. You can offer an Easter-themed item from your catalog to connect with the occasion. Add some candies, decoration goodies, and stickers for the festive spirit. Use attractive posters and catchy slogans for your Easter marketing on social media.
3. Create a memorable virtual Easter Egg Hunt
An Easter egg hunt is a classic way to win the hearts of your customers this festive season. However, conducting a physical Easter egg hunt can be logistically difficult for many. Modern technology has you sorted with virtual Easter Egg Hunts.
Host an interactive game from your website itself. Generate a new URL for the landing page, and customers can navigate to your website to find the rewards. With the help of cookies, you can make the process smooth and user-friendly. Once cookies recognize the tokens, the customer can get a discount code or a special reward during check out.
That is just one way but you can go ahead with other gamification tools that are convenient for your brand. Try this amazing Easter marketing idea to generate more traffic on your website!
4. Add surprise gifts at check out
Easter is all about surprises. Offering surprise gifts to your customers will make them feel more valued and satisfied. So, go ahead and add some extra goodies to their bags. You can add terms for the gifts depending on the purchase amount. This is one of the best Easter marketing ideas to boost sales in physical stores as well as online stores.
While choosing these checkout gifts, make sure that they are small and not too expensive. You also do not want to offer clutter to your customers that they will throw away. To connect with the theme, you can look at offering Easter candy bars or decoration items. Or else, you can add something unique that is associated with your brand. If it's a cosmetic store, you may offer a sampler of a new product. A cute bracelet can work for a jewelry store.
Related: 5 Blogs You Need To Follow To Up Your Marketing Game
5. Organize a contest for your customers
Offering an experience is always the best way to engage with your audience. Create a special contest for your customers who want to celebrate Easter. It could be as simple as a lucky draw or even more elaborate, like an in-store event. You can allow your customers to enter the contest with minimal spending and host a simple game.
For example, you can host an Easter egg painting contest. Participants can paint their eggs and post pictures online. You can use their content to get more traction for your brand as well.
6. Open a referral program
Referral programs can be an excellent Easter promotion idea to create a marketing network. Tell your impressed customers to refer their friends and colleagues with QR codes and links. Encourage them by offering small rewards or discount coupons.
Easter is also an excellent opportunity to start influencer marketing. Connect with small influencers to promote your Easter collection. You may even ask your audience to become an influencer for your brand with referral programs.
7. Gamify your store for an Easter sale
Easter can be the perfect occasion for a sale as the second quarter of the year begins. But how can you make it special? Gamification is an excellent Easter marketing idea to get more traffic. It could be a prize wheel on your home page or in front of a physical store as well. You can encourage your audience to solve a puzzle for a special reward. Add pop-ups across your website and let them find the clues. This will not only increase brand awareness but also make your users feel rewarded.
Related: What We Learned From The Best Marketing Campaigns of 2020
8. Collaborate with another brand
Collaboration is one of the best Easter promotion ideas for small businesses. It allows you to reach a fresh audience and also share resources with your partner company. Exchanging ideas will definitely help you grow as a brand and connect with new customers.
You can create a limited edition Easter bundle together or conduct joint giveaways. Host an event together or even an Instagram Live to introduce each other's brands.
9. Offer a special discount for email subscribers
Email marketing in 2022 is one of the most effective marketing channels. On this occasion, you can encourage your audience to subscribe to your newsletter for a special discount. This would help them to stay in the loop about the latest offers and discounts in your shop.
For Easter marketing, you can redesign your email newsletters to make them more eye-catching. Go for a colorful palette and announce your special events in your signature brand style!
Create the Best Easter Marketing Content with Simplified!
Looking for the perfect design tool to create attractive Easter campaigns? Simplified has you covered! This all-in-one tool can help you create stunning graphics for posters as well as edit your video greetings for Easter.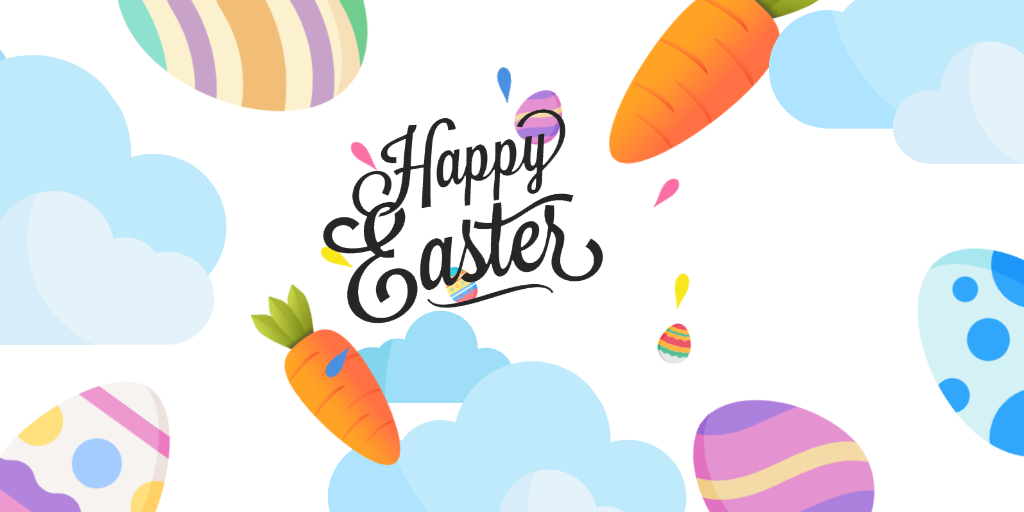 Begin by exploring their variety of Easter templates for Instagram stories, Facebook posts, or cover designs. You can import stock images, gifs, and music from their expansive library. Their stunning collection of stylish fonts will give a fresh look to your campaign designs. Write powerful headlines with their AI writer and create unlimited brand kits.
One App For Modern Teams
You can collaborate with your entire team on one platform. You can even plan your content in advance with Simplified's new content calendar. Check it out right now and be ready to get the best of Easter!