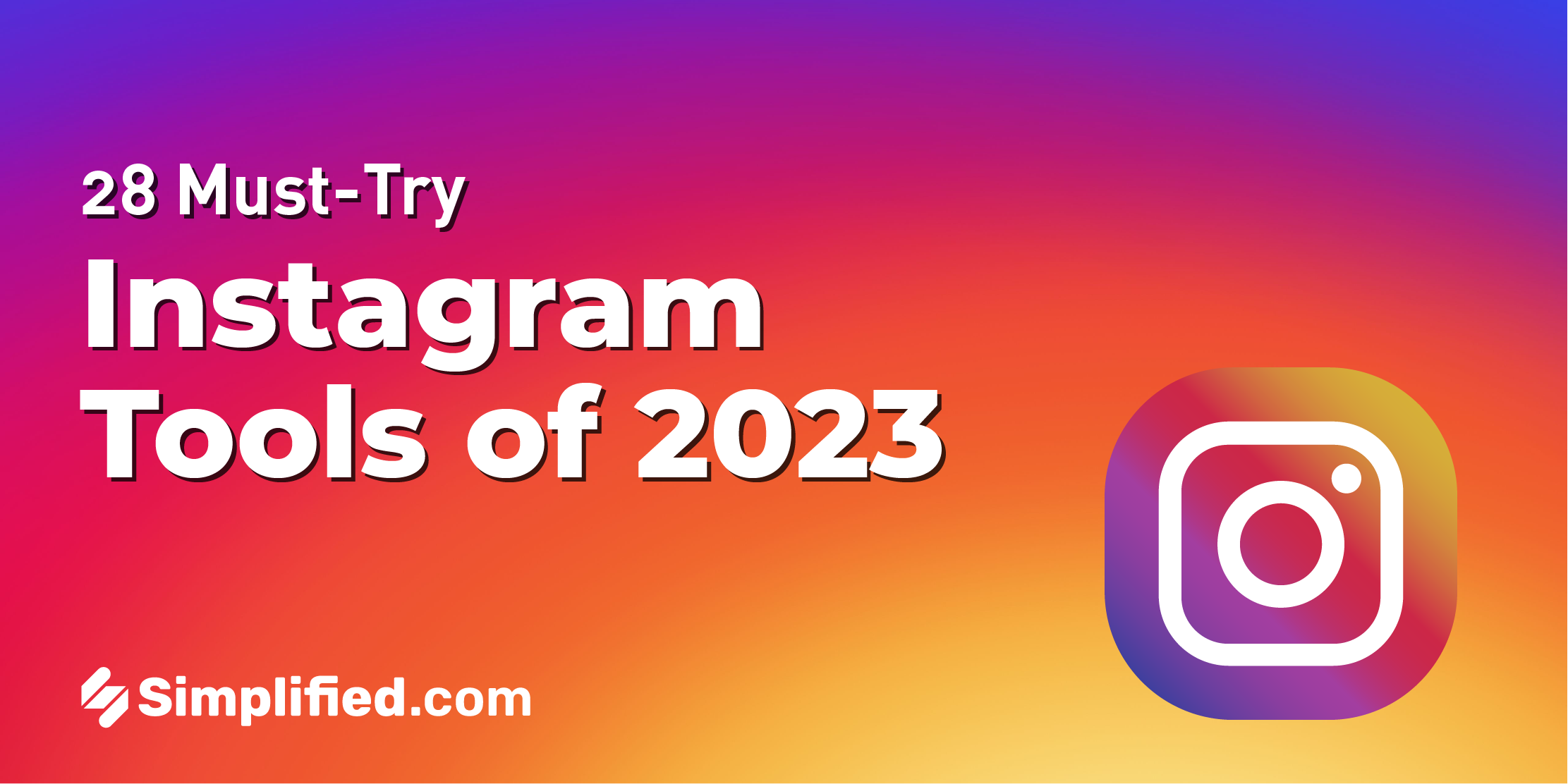 Are you looking for new ways to step up your Instagram game?
With over 1 billion monthly active users, Instagram is a goldmine for businesses and marketers. If you want to get in on the action, you need to have a solid Instagram marketing strategy.
But with so many options out there, it can be tough to know where to start.
Don't worry – we've got you covered. In this blog post, we'll share 28 of the best Instagram tools to help you boost your Instagram marketing strategy in 2023.
From planning and scheduling tools to analytics and reporting tools, there's something for everyone. So whether you're a small business or a large enterprise, you'll be sure to find an Instagram tool that's a perfect fit for your needs.
Psssst… most of these tools are free forever.
Instagram Scheduling Tools
1. Simplified Content Calendar
Never miss a beat (or in this case, a post) with the Simplified Content Calendar. You can plan your posts in advance, curate your feed, customize content for posts & stories, write catchy descriptions and upload creatives on the fly. What's more? You can publish directly from your desktop or phone.
With Simplified, you can manage multiple social accounts from one easy-to-use interface and easily deliver images, videos, descriptions, and ad campaigns. So, you can say goodbye to last-minute and rushed posts with this Free Instagram Scheduler.
With Simplified, collaborating with your team, scheduling posts, and customizing designs have never been easier!
Simplified's bulk scheduler
This tool lets you schedule posts in bulk, so you have the time to plan and streamline your social media campaigns. With Simplified's Bulk Scheduler, you can post up to 350 posts in advance across all social media platforms, such as Instagram, Facebook, Twitter, and more.
Related: Instagram Marketing: 11 Powerful Tips [+ Free Content Scheduler Tool]
Instagram Content Creation Tool
2. Simplified Free Design Tool: Posts, Video Editing & animation
Tell your story with Simplified's free design tool. With one-click editing features, designing stunning creatives, editing videos, and adding animations are easier than ever, even for people who have zero design experience.
From thousands of pre-made Simplified design templates, stock photos, assets, and more— creating your next Instagram post will be like a walk in the park.
What you can do with Simplified's free forever design tool
Instagram Stories Tools
3. Adobe Lightroom
Lightroom is every photographer and content creator's favorite photo editing app, which goes beyond the basic Instagram filters and editing. Try Adobe Lightroom if you want to take your Instagram stories and posts to the next level.
4. Snapseed
Made by Google, this photo editing app is fast with a selective editing feature so you can tweak and fix specific areas in the photo rather than having to apply edits to all.
5. Prequel
From retro to pop aesthetic, Prequel's filter and templates can help you stay trendy and get the look your brand wants. With Prequel, you can also create video stories and add text overlay to create unique, artistic Instagram content and posts for your business page.
6. Simplified Instagram Story Tool (Free Forever)
Design stunning creatives and Instagram stories with pre-made premium templates, animations, access to millions of stock photos/videos, creative text overlays, and more. Level up your story game with Simplified today. It's free forever!
7. VSCO
A classic photo and video editing app popular among photographers for its selection of vintage filters and pro tools that help you create an aesthetical feed. VSCO membership starts from $7/month and offers a free trial for 7 days after signing up.
Instagram Hashtag Tools
8. Keyhole
Need hashtags for your next Instagram campaign? Keyhole lets you track and calculate your branded hashtag's ROI. It also enables you to measure the impact of your collaboration with influencers and other brands.
9. Display Purposes
This is a free online hashtag generator that gives you a variety of hashtags, from brand/niche specific to general hashtags that boosts your visibility on Instagram. With Display Purposes, you can add your details on the platform, and it will generate hashtags tailored to your brand.
10. Synapview
This tool lets you measure and track the hashtags your competitors are using on Instagram. You can save streams that monitor your competitors and use their analytics feature to see where your hashtags are being used.
11. Simplified Free AI-Enabled Hashtag Generator
Gone are the old ways of copy-pasting hashtags from the internet. With Simplified AI Hashtag Generator you can find relevant and unique hashtags for your copy in seconds. What's more? You can also create unique, plagiarism-free copy for all your posts using Simplified AI writer. Take your marketing strategy to the next level by using this Free AI-enabled Hashtag Generator.
Instagram Ads tool
12. Simplified's AI-Enabled Instagram Ad Design Tool
With this tool, you can create compelling Instagram Ads that look and sound great using pre-made templates plus an AI copywriter. Head over to the AI assistant, type in your keywords, describe your product/services and see your Ad get ready in seconds like magic. Pick the Instagram Ad you like and post it!
13. Ads Manager
Related: Inspire & influence with Simplified's Instagram Caption Generator
If you've ever run ads on Facebook or Instagram, you must be familiar with the Ads Manager. This Instagram business tool enables you to create, track ads, and run campaigns across both platforms with ease. It also offers metrics for advertisers to measure performance, respond to comments/queries, and track the amount spent per ad.
14. AdEspresso
Like a shot of Espresso to all Groggy mornings, AdEspresso is a pick-me-up for all digital marketers trying to make the most of their Google ads budget. This tool offers a customizable dashboard that allows you to measure the metrics for each of your campaigns, tag them, and organize them, especially if you have multiple clients.
It helps you filter and view metrics that matter to you. This tool provides constant suggestions to help you improve your campaign while they're still running.
Their pricing packages range from $49/month to 259/month.
15. Adview
Everyone runs ads for their brand, but it's essential to engage with the audience interacting with your Ads. With Adview you can optimize your Instagram & Facebook Ad campaigns, and focus on brand engagement, user acquisition, and even retargeting -all in one platform!
Instagram analytics tool
16. Instagram Insights
If you're a creator or a business page, you must be familiar with the platform's native analytics tool that provides insights into your account performance. The key metrics that this app allows you to track includes reach, followers(even the ones that dropped out), Instagram Ads, and engagement. It's 100% free and lets you in on key analytics to help you refine your marketing strategy.
However, the tool is limited to just basic metrics. If you need more detailed insights you will need to look at other tools and combine the results of both data sources for more cohesive, long-term Social Media reporting.
17. Simplified Analytics
Popular among many social media managers and digital marketers, Simplified analytics help you look beyond the basic Instagram metrics. It helps you track your progress and run customizable reports on data from the past. The app allows users to understand the best time to post their content, set performance benchmarks, and also monitor improvements over time.
18. Phlanx
Analyze what your competitors are doing, or check the engagement rate of your favorite celebs— this Instagram tool lets you do just that and more. You can also discover the right influencers for your brand, monitor collaborations, track brand mentions, get insights, view engagement rates, calculate average likes and manage social media campaigns with Phlanx.
19. Digimind
Digimind is a great Instagram tool for marketing research. It allows you to research your competition, track your industry, and find out what's happening in your market. You can even use this tool to create custom reports and track your own performance. With Digimind's vast features, you can easily choose the most relevant channels to communicate with your audience.
20. Iconosquare