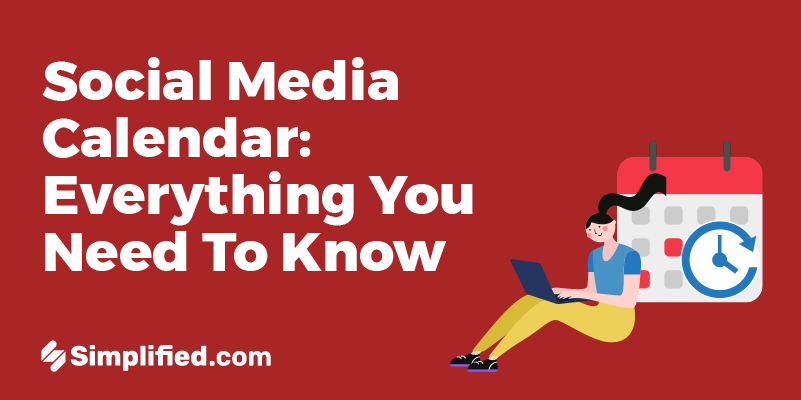 With social media algorithms promoting accounts with a higher post frequency, organizing your content has become a necessity. According to a Lucidpress survey, delivering a consistent brand image through a regular posting schedule can greatly benefit online visibility. But in these competitive times, how can a business stay organized across all platforms? It's right where the power of social media calendars comes in to save the day- literally!
Moreover, with structured marketing delivery, you can easily beat the algorithm odds without compromising on quality. In this blog, we will take you through the steps of building one for your brand. Further, we'll go over some practical tips on what, when, and how to post. So let's get started!
Purpose of a social media calendar
"75% of marketers credit social media marketing with increased web traffic, and almost 90% say it has improved business exposure."

– responsify, 2022
As with any personal calendar or bullet journal, a social media calendar allows you to plan your social branding strategies ahead of time. It's important for any social branding process so that you never have to worry about any last-minute posts. No more hasty captions and misspelled hashtags after a random burst of midnight inspiration!
Additionally, a social media calendar gives you the medium to keep up with deadlines, manage campaigns and track user analytics. So no matter what app or format you use to create one, a well-structured calendar will accurately reflect what your audience enjoys and how you can improve.
How to Create Your Own Social Media Calendar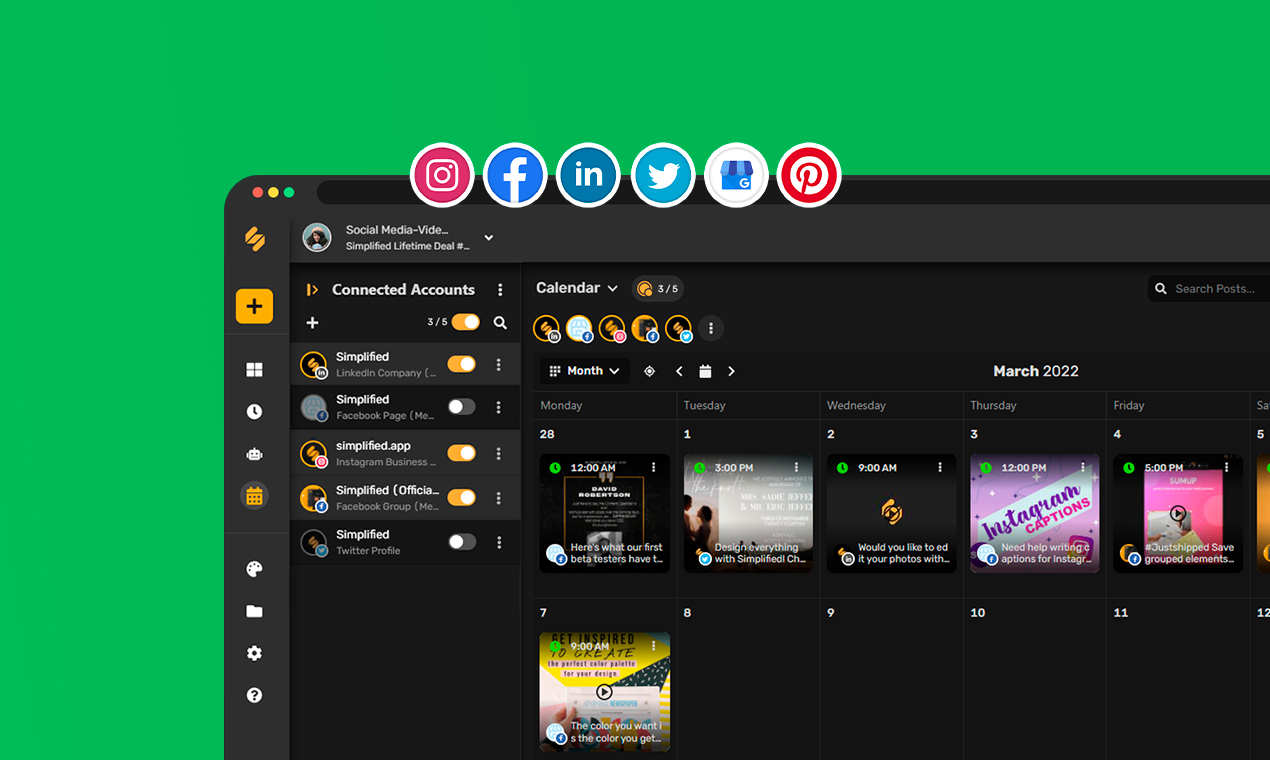 Step 1: Log in to Simplified. 
Go to Simplified and log in from your mobile device or laptop. If you don't have an account yet, click on 'Sign Up' and create an account.
From your dashboard, click on 'Social Media Publishing' to head on over to your Content Calendar. 
Step 2: Go to 'Content Planning'.
Once you click on 'Content Planning', your calendar will appear on your dashboard. You can view your social media calendar in three ways: Board, Calendar, and List. Board divides your posts by approval (awaiting approval, rejected, or approved) which you can set when you create a post. The calendar view is an overview of all your posts by date, and the list view is a list of all your posts.
Step 3: Create a draft and you're done!
In Simplified Content Calendar, you can choose from three modes: Publishing (to schedule posts), Planner (to plan posts), and Analytics (to track posts). Plus, you can easily add multiple accounts and have a summary of all your posts in one social media calendar.
3 Tips on creating a Social Media Calendar: 
1. Find relevant themes and topics
The goal of every social media strategy is to create appropriate, and most importantly, relevant content. And whether it's finding trending topics via hashtags or using an authentic brand voice to give your two cents on Twitter – social branding plays a vital role in your online presence.
Simplified Tip: Use your platform to show representation for diversity and inclusion. Maybe do an account takeover by employees during Black History Month or Pride Month! Read our artboard guide to build your designs- right here on Simplified.
2. Organize post dates
Knowing and planning in advance when to post your planned content can help even the best brands on social media to gain higher engagement. For instance, taking note of the peak hours of online users, the demographic details, and what posts peaked with which hashtags.  To be more specific, stick to consistent post schedules (using your social media calendar!) and always engage with your followers (comments, DMs, or story polls).
So strike when the iron's hot: the more you know when to reach them, the higher chances of them interacting with your CTAs (Call-to-Action)!
Simplified Tip: Play by the algorithm rules to boost your online visibility. Most preferably,
Instagram

: 1-2 posts/day

Twitter

: 15 tweets/day

Facebook

and

LinkedIn

: 1 post/day

Pinterest: 11 pins/day
3. Draft your copy
The last tip for your social media calendar is to gather all your fun ideas, brand campaigns, announcements, etc., and decide how to describe them. Make sure to include CTA phrases in the form of landing pages ("Link in Bio") and engaging power phrases (like, "Stay tuned!" or "Check out now!"). Further, remember that with any copy, it's essential to stay true to your brand voice. Not only will this help you in standing out from the crowd, but it will build a persona that's unique to your social media brand.
For example, using quick-wit in your replies to people's tweets can gain you loads of followers or even get you trending!
Simplified Tip: Follow the KISS method in writing your caption- Keep It Short and Simple! Ideally, Instagram: 241 characters + 11 hashtags Twitter: 103 characters and 2 hashtags Facebook: 111 characters + 0 hashtags LinkedIn: 149 characters + 0 hashtags.
In Conclusion
Creating and sticking to a social media calendar can be a game-changer for your social media strategy. By taking the time to plan out your content, you can ensure that your social media posts are timely, relevant, and engaging. But it can be overwhelming to try to manage all your social media accounts by jumping from one platform to another, and this is why we recommend using Simplified, the ultimate all-in-one tool for any business.