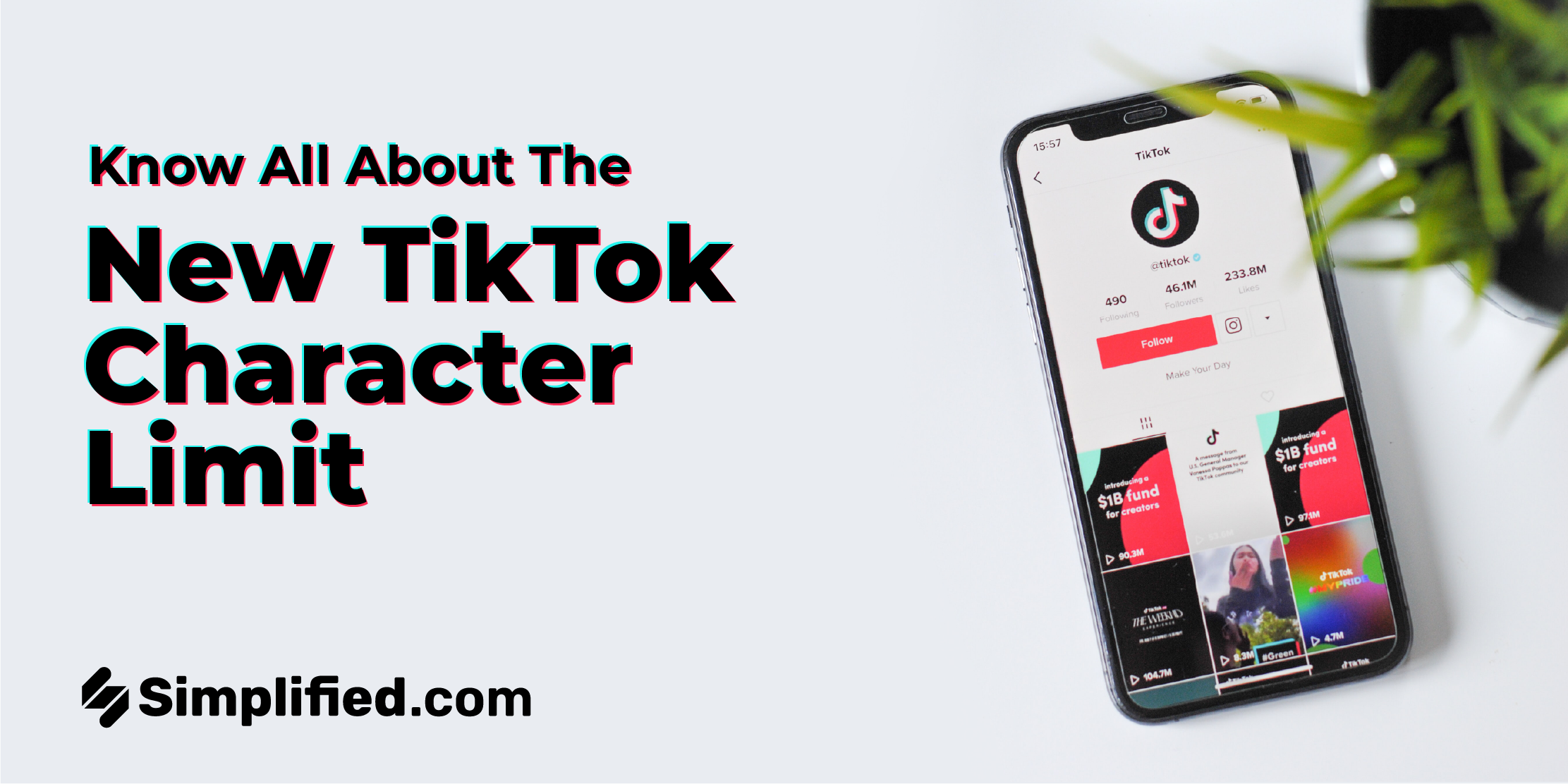 Since it was first introduced in 2016, TikTok has become one of the most popular social media platforms in the world. Not only is it an amazing tool to share your creativity but also an excellent space for brand marketing. TikTok has a number of different features that make this platform unique but like any other app, the features keep evolving with time.
The TikTok caption character limit was previously set to 300 characters. This might seem like a lot for a platform that majorly works on visuals. Most people use the caption to describe the visual content and any background details that may be necessary. However, 300 characters often did not allow the creators to express too much on the subject.
But not anymore! TikTok has recently made an upgrade to have a 2,200-character limit for video descriptions. This is the same as Instagram captions and opens many opportunities for creators. Read on to find out how you can get the best of the TikTok character limit and optimize your content.
Related: 8 Mind-blowing TikTok Marketing Examples to Inspire Your Next Campaign
Why the New TikTok Character Limit is Awesome for Creators?
2,200 is a lot of characters for TikTok which has so far been thriving at 300 character limit. So, is this new TikTok caption character limit practical? How is going to help upcoming creators on the platform? Let's find out!
1. Express more about your content
TikTok is all about creativity and self-expression, and often, the 60-second videos are not enough. You might what to say more about the creation of the video or perhaps, explain some context to your audience. Your Tiktok videos should be a reflection of your brand story and what you stand for. Use the captions to show off your unique voice and style. Good captions can truly enhance your TikTok marketing plan.
Related: TikTok For Business: How To Promote Your Brand On TikTok
2. Describe what your video shows
While TikTok videos are very small bite-sized pieces of content, you can use your captions to describe more. If it's a how-to video, you can describe each step in detail. If it's a recipe video, put it down with the details in the caption as well. This will make your videos more insightful and help the audience to stay interested.
3. Get close to your audience
Expressing your unique voice can help you connect with your audience. For instance, if your video is about a new experience, you can use the caption to describe your journey and personal challenges. Tell them how much effort it took you to reach a milestone and share your valuable tips as well.
4. Make your content more SEO friendly
Finally, you can use the new TikTok character limit to make your content more searchable. Do your keyword research and add them to your videos as per relevance. Use keywords and hashtags that will help your content rank higher in searches on the platform.
When done right, Tiktok videos can be a great way to build connections and drive traffic to your website or blog. Longer captions are not always necessary but at times, they can be really valuable working with the TikTok algorithm.
What is the Character Limit on TikTok Comments?
The TikTok comment section is an important space for discussion and engagement. However, the TikTok comment character limit is only 150 characters. This can be very restrictive when people want to express more in the comment section.
Related: The Definitive Guide to Get the Right TikTok Video Size
How to Get the Best TikTok Character Limit?
While the greater TikTok character limit does help in many ways, framing the best caption can be a challenge. Let's not forget that most people in modern times have a short attention span. No one has the time to go through long captions, especially when they are badly written.
Check out the following tips and tricks to find out how to use the TikTok character limit to your best capacity.
Use shorter words and sentences: Make your sentences easy to read. Avoid using any heavy words, phrases, or sentences. Anything that makes them leave the screen will make them lose interest. You must frame short sentences that are skim-friendly.
Use bullet points: Another excellent way to make your TikTok caption skim-friendly is to use bullet points. They make your content easy to read and add more structure to the content. You can use 3-4 bullet points in captions and keep them short.
Get to the point: Even though, you may feel the 2,200 TikTok character limit allows you to say a lot, don't overdo it. You must get to the point quickly and give your audience the hook in the first few lines itself. If the reader is interested, they will surely read till the end.
Use emojis and other graphical elements: Emojis and small graphic elements can also help in making your caption easy to digest. They also make it easier to connect with the audience.
Always add hashtags: TikTok hashtags are a great way to expand your reach. Add hashtags that are relevant to your content. The hashtags should be accommodated within the 2,200-character limit.
With these tips, you'll be able to make the most of the 2,200-character limit and create engaging, bite-sized videos your TikTok audience will love.
Related: The Ultimate Guide On How To Sell On TikTok
The Best (& FREE) TikTok Caption Generator- Simplified!
Creating a successful TikTok is not easy with so much competition! Everything matters- including your design template, caption, and what time you post your TikTok. That's why we've created the all-in-one platform to help you build your brand on TikTok – Simplified!
Simplified is an all-in-one design and content tool for modern creators. It is easy to use and gives you the freedom to create unique TikTok videos reflecting your brand personality. Explore a ton of stunning design templates to create videos from scratch. Edit your videos and add GIFs, stickers, and creative fonts.
Try the AI Writer to create the best TikTok captions. You can also create relevant hashtags in seconds using the Hashtag Generator. Create convincing copies with over 70+ copywriting templates.
Sounds too good to be true? Simplified is the complete platform that you've been waiting for. Get started for free today!