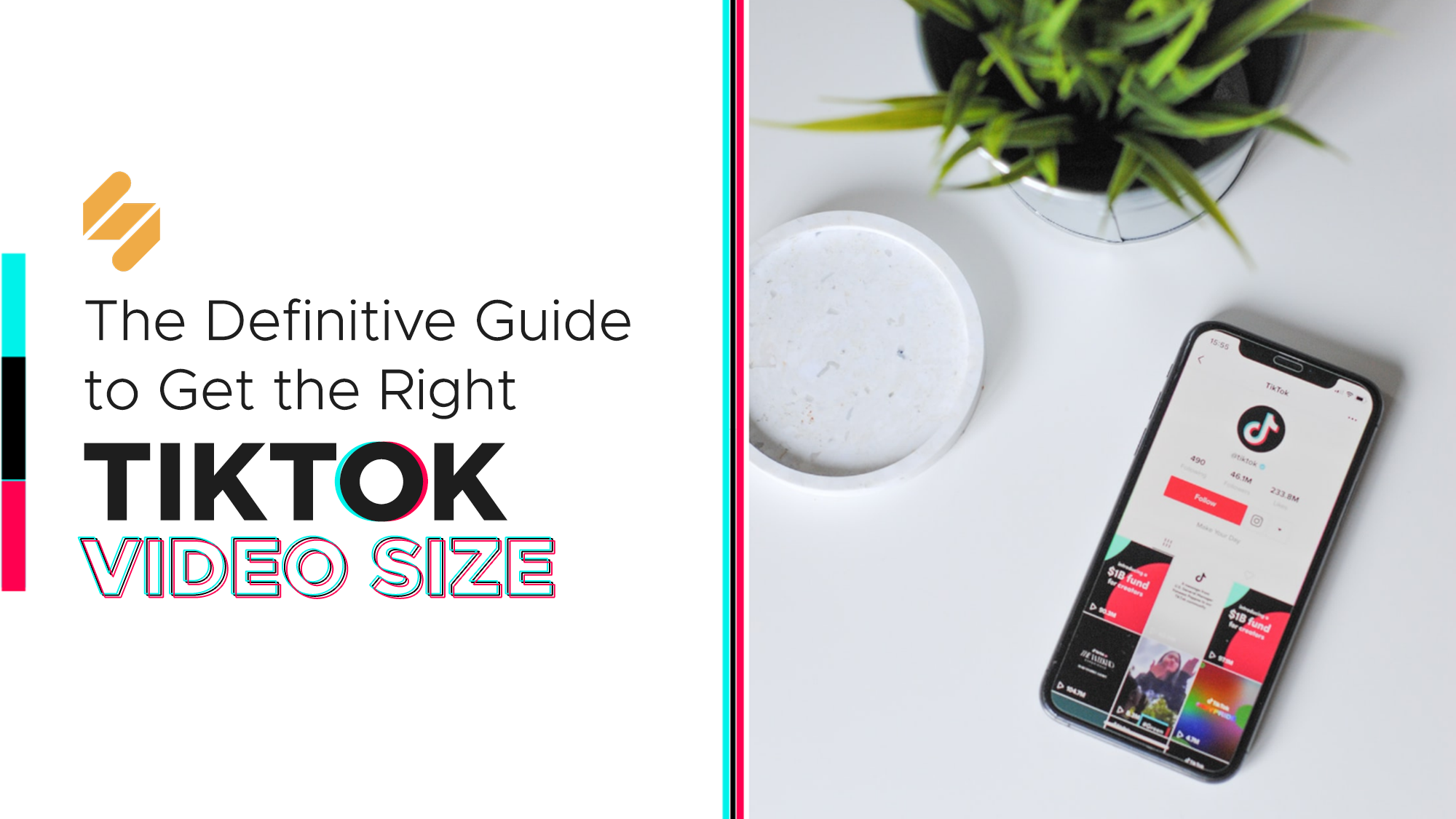 With the rise of social media marketing, brands and businesses have found a wealth of new ways to connect with their audiences. One of the most popular marketing tools right now is TikTok, which is quickly becoming one of the biggest social media apps in the world. It has over 350 million monthly users and is still growing. The key to boosting engagement on this platform is using the right TikTok video size – plus, of course, producing high-quality and relatable content.
Making videos has become much easier thanks to the online tools and software that are available now. Simplified is one such tool that can help you create exciting TikTok videos. But you must beware of the little technicalities. Getting the right TikTok video size, for example, is really important when you're using the platform for marketing purposes.
In this marketing guide, you'll learn everything you need to know about posting the perfect video on TikTok to scale your brand influence. We will cover all the details, from the recommended TikTok video dimensions to the perfect way to post TikTok ads.
Getting the Right TikTok Video Size
The standard TikTok video length is 5s to 60s. The size of the TikTok video, however, is not the same as the length of the video. The TikTok video size is actually determined by the overall file size. Video dimensions, resolution, and other factors can all have an impact on your TikTok video size. The platform offers a variety of options for uploading, but here are the optimum settings for creating a perfect TikTok video, according to Simplified.
What's the correct TikTok video dimension?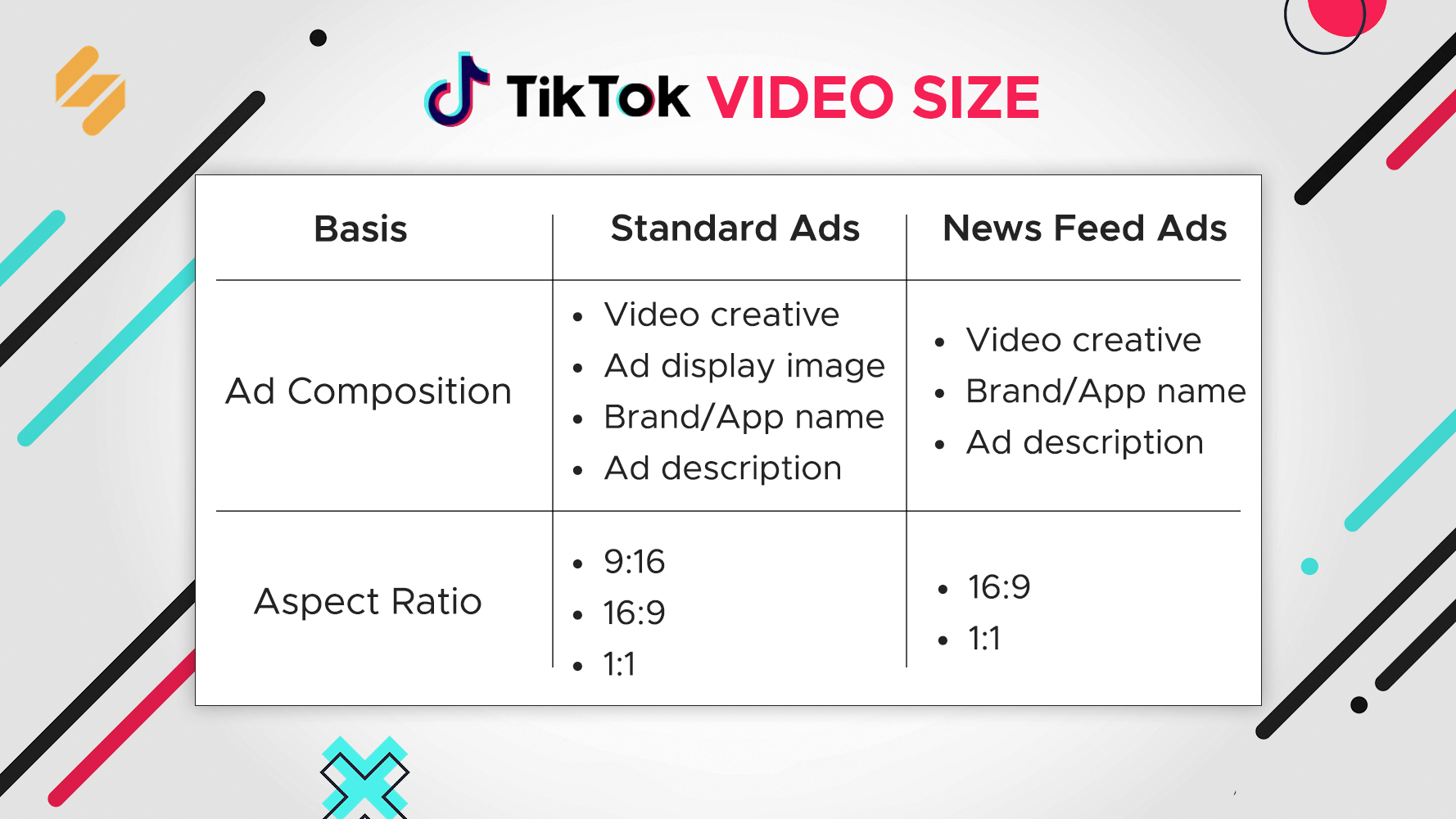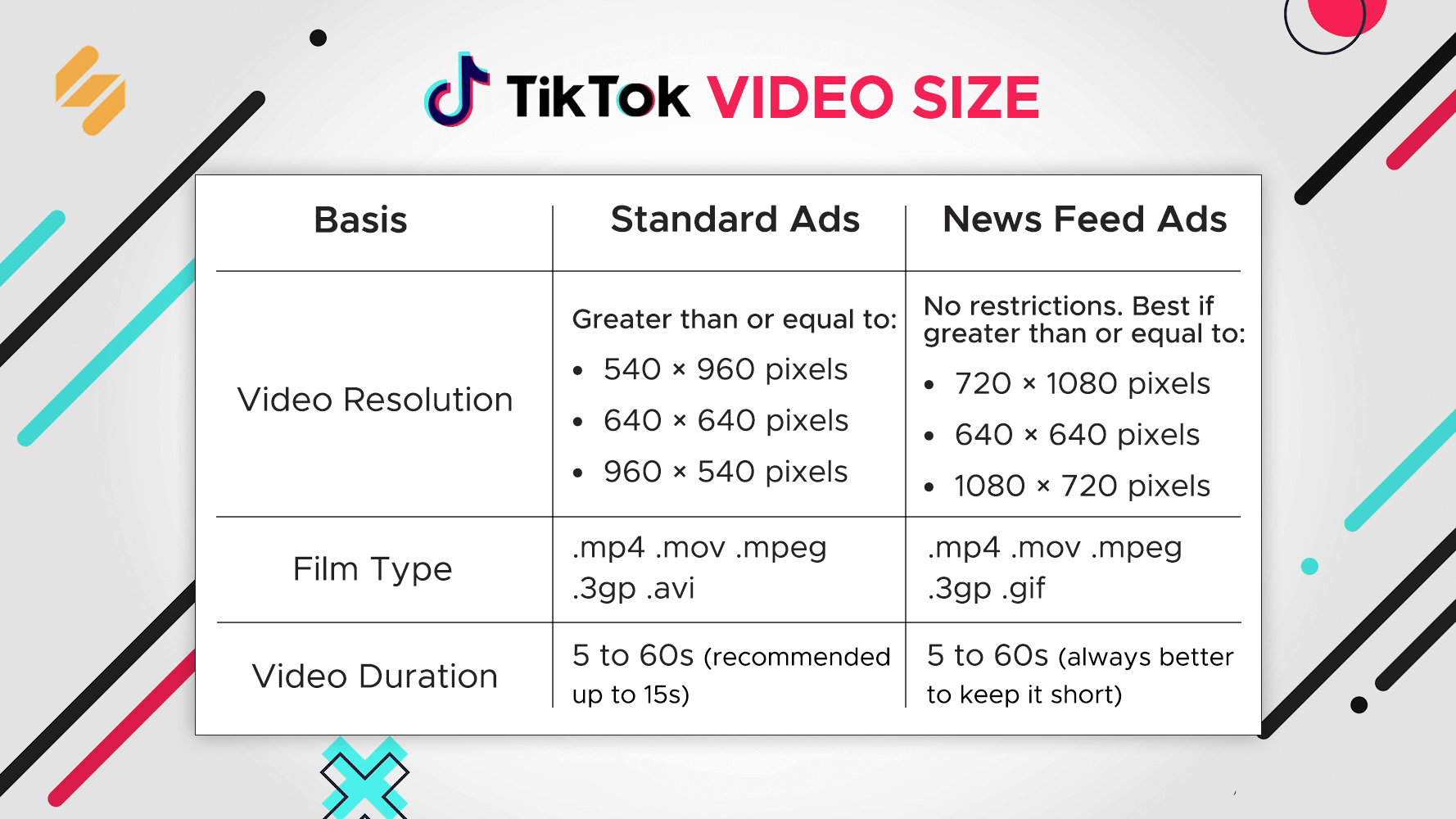 Audience engagement will depend on the quality of your video. Your TikTok video dimensions must be 1080×1920 for best results. The standard TikTok aspect ratio is 9:16 for the best visual experience. 1:1 is also supported, but it won't be as immersive as filling up the entire screen.
Related: TikTok For Business: How To Promote Your Brand On TikTok
Portrait or landscape?
For TikTok, it is best to film your videos in portrait mode. The TikTok algorithm displays videos vertically, so if your video is shot in landscape mode, it will automatically be optimized according to portrait view, which may have a negative impact on the quality of your video. Check out some of these pre-made, portrait-oriented templates from Simplified to help you get started!
So what is the maximum TikTok video size?
Interestingly, the maximum file size for a TikTok video varies depending on whether you are using an Android or an iOS device.
If you are uploading your video from an Android, you can use up to 72 MB. For iPhone users, it is 287.6 MB (that is almost 4x extra!).
Overall user experience is quite the same in both systems if you know how to edit videos. Right now, the longest videos you can upload to TikTok are 1 minute long, but rumor has it that this may go up to 3 minutes in the future. We wonder how that would affect the engagement rates!
Types of Video Ads on TikTok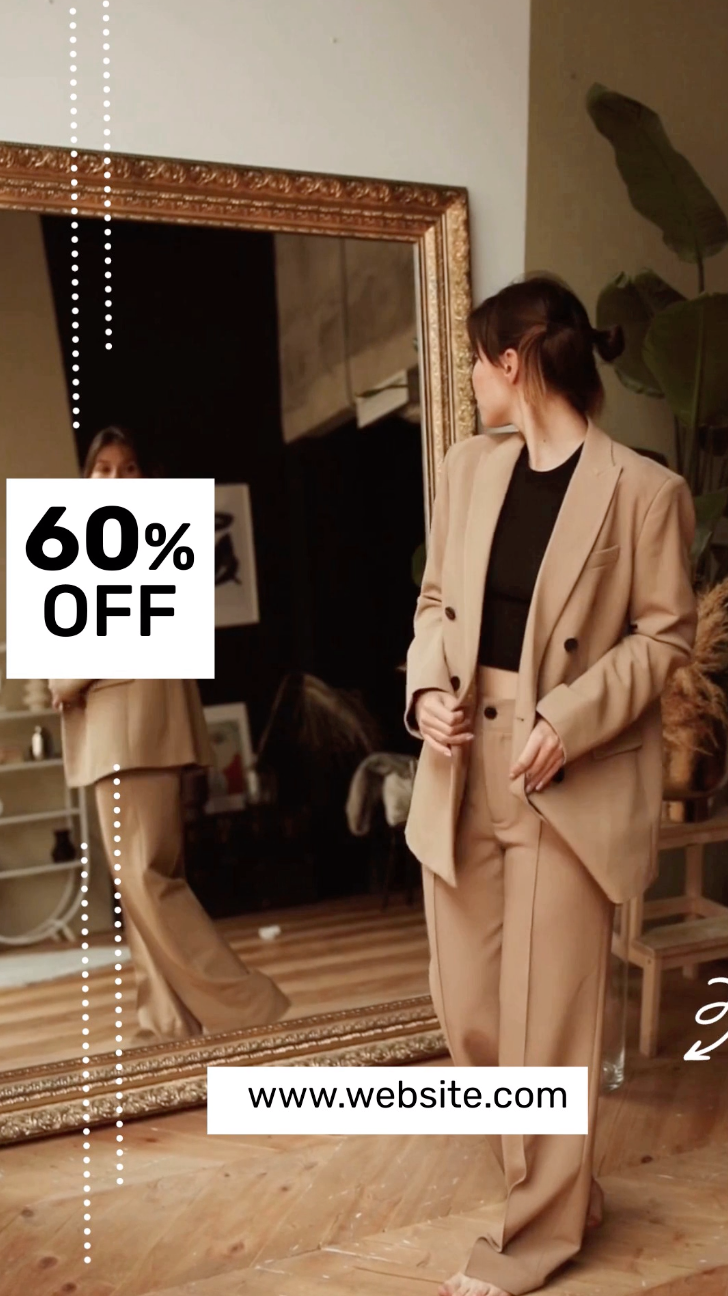 Most TikTok users are between 13 – 40 years old. By reaching such a wide target audience, including the Gen-Z population, TikTok video ads boost the business potential of this platform.
TikTok also offers a variety of advertizing tools and solutions to narrow down your target groups. But while making ads, you must be careful of the proper TikTok video size. The best thing is that TikTok allows up to 500 MB for ads. That gives you a lot of space for high-quality content.
TikTok video ads are a key component of your TikTok marketing strategy. Here are some important notes that can help you get the best out of them.
Related: Gen Z Marketing: Reaching Your Audience How They Want
How to optimize your TikTok Video Ads
TikTok video ads can be viewed in the standard format or in the News Feed. Go through the following table to understand the unique features of both types of ads.
Basis

Standard Ads

News Feed Ads

Ad Composition

• Video creative • Ad display image • Brand/App name • Ad description

• Video Creative • Brand/App name • Ad description

Aspect Ratio

• 9:16 • 16:9 • 1:1

• 16:9 • 1:1

Video Resolution

Greater than or equal to –
• 540×960 pixels
• 640×640 pixels
• 960×540 pixels
No restrictions. Best if greater than or equal to –
• 720×1080 pixels
• 640×640 pixels
• 1080×720 pixels

Film Type

.mp4 .mov .mpeg .3gp .avi

.mp4 .mov .mpeg .3gp .gif

Video Duration

5 to 60s (recommended up to 15s)

5 to 60s (always better to keep it short)
TikTok Videos "Simplified" right here!
Now that we've covered all the boring theory bits, let's dive into some TikTok tips and tricks for optimizing videos!
For the perfect TikTok video size, always record your videos in portrait mode. Then trim your videos to ensure proper symmetry.
Standard ads should not be longer than 9-15 seconds. Keep them short, simple, and to the point!
Attention-grabbing content is made of clear lines and contrasting colors with the perfect font.
Music is what makes TikTok so bold and powerful. Study your target audience well. Your music should be trendy but appropriate.
Don't forget your call to action (CTA)! Make it personalized and compelling.