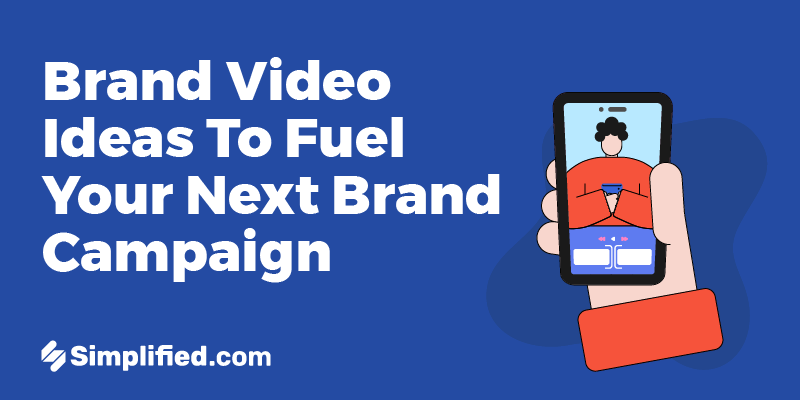 Jean Luc-Godard, a pioneer of the French New Wave, once said- "Photography is truth. The cinema is truth twenty-four times per second." And in the world of branding, showcasing your identity most truthfully is an absolute key to connecting with your audience. With social media algorithms placing video posts and stories ahead of photos, video marketing is more important than ever.
So how does one build a strong campaign with brand videos? Moreover, how do you ensure that you represent a cohesive brand image across your media channels? In this blog, we'll go over some unique strategies and examples to establish this awareness and trust. Let's get started!
The Importance of Brand Videos
93% of marketers say that videos have helped them increase brand awareness- Wyzowl, 2022
Apart from other forms of branding content like your logo, graphics, illustrations, product photos, infographics, etc, videos are by far the most tangible. By this, we mean that they have the power to communicate with your audience- with the sense of sound and showing movement. So take a step ahead of brand visibility and let your audience hear from you!
Read on to discover 5 amazing examples of brand videos to inspire you.
5 Examples of Brand Videos for Inspiration!
Brand videos can be super creative and fun- and there are endless ways that you can express you can express a story. You can focus on characters or a location, or a big idea that is impacting your target audience. In this section, we will be looking at 5 awesome brand videos that have truly resonated with modern audiences.
1. Be Inclusive Like Axe
Related: New Top 7 Best Video Trimming Tools In 2023
When you use your platform to break stereotypes, you create a space that's inclusive of an audience of all backgrounds. Axe addressed their target audience, i.e. men, to break gender role stereotypes and displayed that masculinity is diverse in every expression. Indeed a much-needed brand message!
2. Show The Story Behind The Story Like Netflix
Not exactly a brand video but this video marketing campaign does tell the audience why they must The Crown by Netflix. The popular OTT platform often uses YouTube as a medium to showcase extra content and connect with audiences. Behind the scenes, bloopers, educational videos, interviews, red carpet events, etc- the list is just endless! And, these are all official videos for fans to take away from what they've already seen or as a glimpse of what they have to offer.
3. Connect with Influencers Like Tinder Did
Pairing real audience interactions with influencer marketing, Tinder invites Jonathan Van Ness and Antoni Porowski to the stage. Our takeaway? Prominent media figures, micro-influencers, and well-known celebrities can add charm and drive attention to your social media presence!
And small business owners, don't be disheartened. You can always try featuring a customer spotlight and creating video content with your audience to display real experiences.
4. Play with Animation like Airbnb
Using new forms of animation and interactive visual displays can be an excellent way to connect with your audience. This refreshing video from Airbnb takes the viewer on a journey, much like how the brand services make travelers feel at home. The fast pace and the mini characters make this Welcome video feel like a game, delighting your audience perfectly.
5. Show How It Works Like Starbucks
Related: 5 Epic Ingredients For A Successful Social Video Marketing Strategy
Starbucks as a coffee brand always promotes how every process is about the customer. In this video, they have focused on the process of coffee-making that has also been customized as per the customer. Moreover, it also highlights the routine of young professionals- which is representative of their target audience. This fast and fun video is very engaging and definitely highlights the coffee brand's unique industry expertise.
In conclusion, video content marketing can be a great asset for any brand to show off its creative side. The secret to success is to just put your thinking cap on, and compel your brand audience to join you in this entertaining journey. So whether you're making simple demo videos, Instagram stories, TikToks, or even a big-budget short film- just be true to your identity.
Create Your First Brand Video With Simplified
Creating a brand video doesn't have to be complicated. In fact, with Simplified it's easy to get started no matter what your skill or expertise!